---
With the skincare market set to hit over $180 billion in 2024, it is safe to say we will never run out of new face masks to try.
Since I am on the road a lot more these days and refuse to pay airlines baggage fees (just call me the carry-on queen), I was skipping my weekly face mask skincare ritual each Sunday. Packing my giant tub of Aztec Clay and bottle of apple cider vinegar in my carry-on was not an option — and the prospect of the vinegar possibly exploding in my bag if I checked one wasn't ideal.
Not having a clay mask on-hand was causing my skin to freak out and I started getting hormonal pimples again. Now, that I think about it, the change in water from city to city, the recycled airplane air, and my lack of sleep were probably contributing to my blemishes too — which is why it's essential to be diligent with maintaining your routine when traveling.
So, over the holidays, I bought a new mask by one of my favorite skin care brands Philosophy since they were having a sale. Thank you, Cyber Monday. I always look at reviews on the brand's website and across the internet at Sephora, Ulta, and Makeup Alley before purchasing anything new.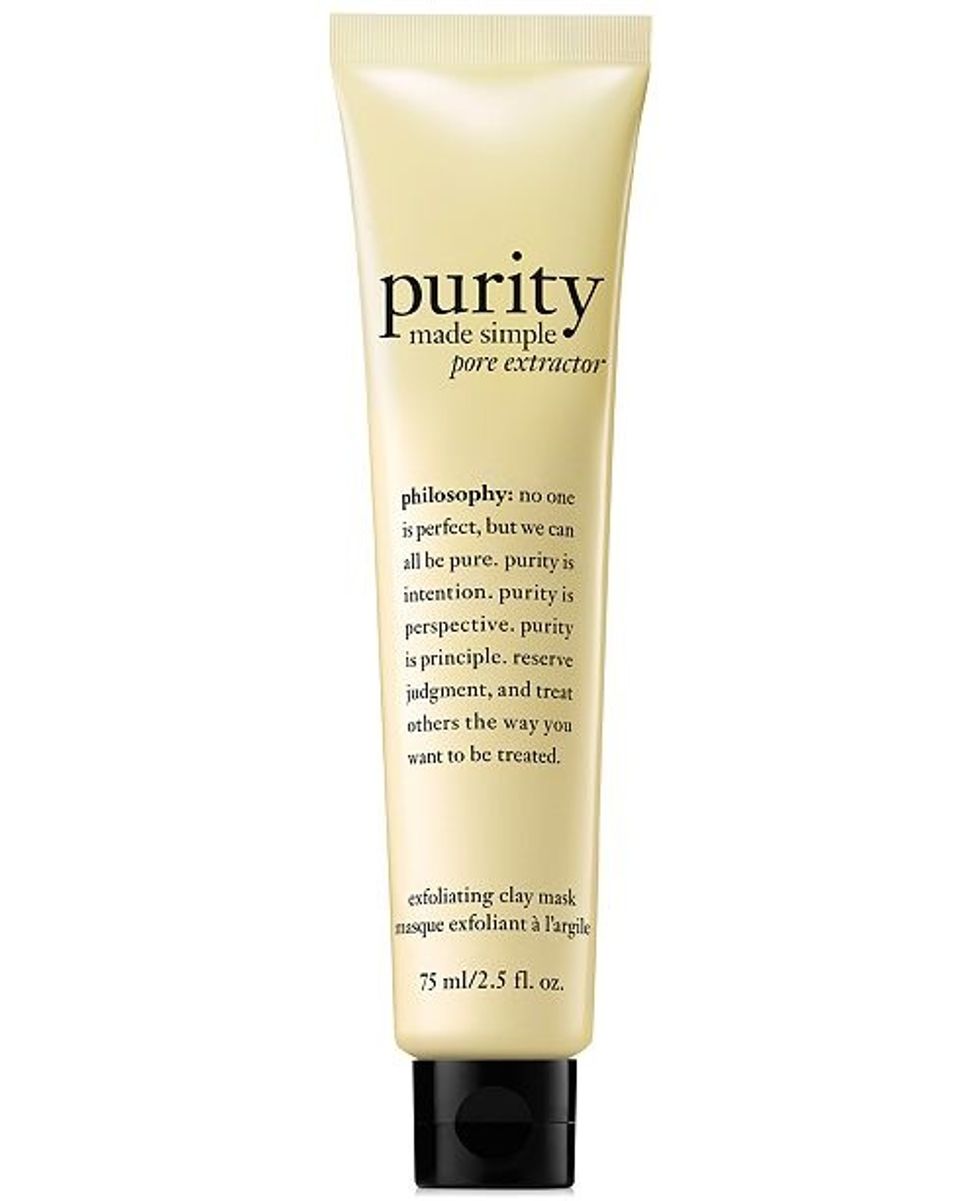 Shop Here
The Purity Made Simple Pore Extractor Mask jumped out at me because of its rave reviews and because it was an Allure Best of Beauty Award Winner. Not to mention it comes in a tube that is just under 3 oz, making it mess-free and perfect for trips that I am only packing a carry-on (which is 95% of the time).
When it arrived, I give it a shot on my Sunday self-care day after washing and toning my skin. One pro-tip an esthetician shared with me was to never leave a clay mask on until it's completely dry — it strips skin of moisture, which is counterproductive if you're looking to have balanced skin. I left it on for 10 minutes and went to remove it with warm water when I realized the mask doubled as an exfoliant too. Buh-bye whiteheads.
After taking it off, my skin wasn't tight like it can be when I use other masks, and two annoying little whiteheads around my nose were less visible. The instructions say you can use this mask a couple of times a week, but since I have relatively sensitive skin, I'll keep my use to a one-week maximum.

Since adding the mask to my routine, the whiteheads I get around my nose and temples are gone, and when they do show up, they go away in a couple of days. My Aztec clay mask will always be in my beauty regime, but it's nice to know I have an option that is travel-friendly and will keep my skin in great shape while I'm on the road.
Do you have any skincare faves you gravitate towards when you travel? Share them with us below!
Featured image by Getty Images.