---
This is Samuel and Thaina's love story, as told to Sheriden Chanel
Love and magic are intrinsically connected. We stand more boldly within that the more we find it and the more we see others find it. It's why we gravitate towards love stories, it gives us hope, and something to believe in. We see others get it right and hope that maybe one day we'll get it right too.
Samuel Blot, 29, and Thaina Madere, 28, felt nothing short of magic upon meeting each other. In fact, their union was quite serendipitous. The planets and the sun and stars were lining up to make sure everything in the world was right when they met each other time and time again: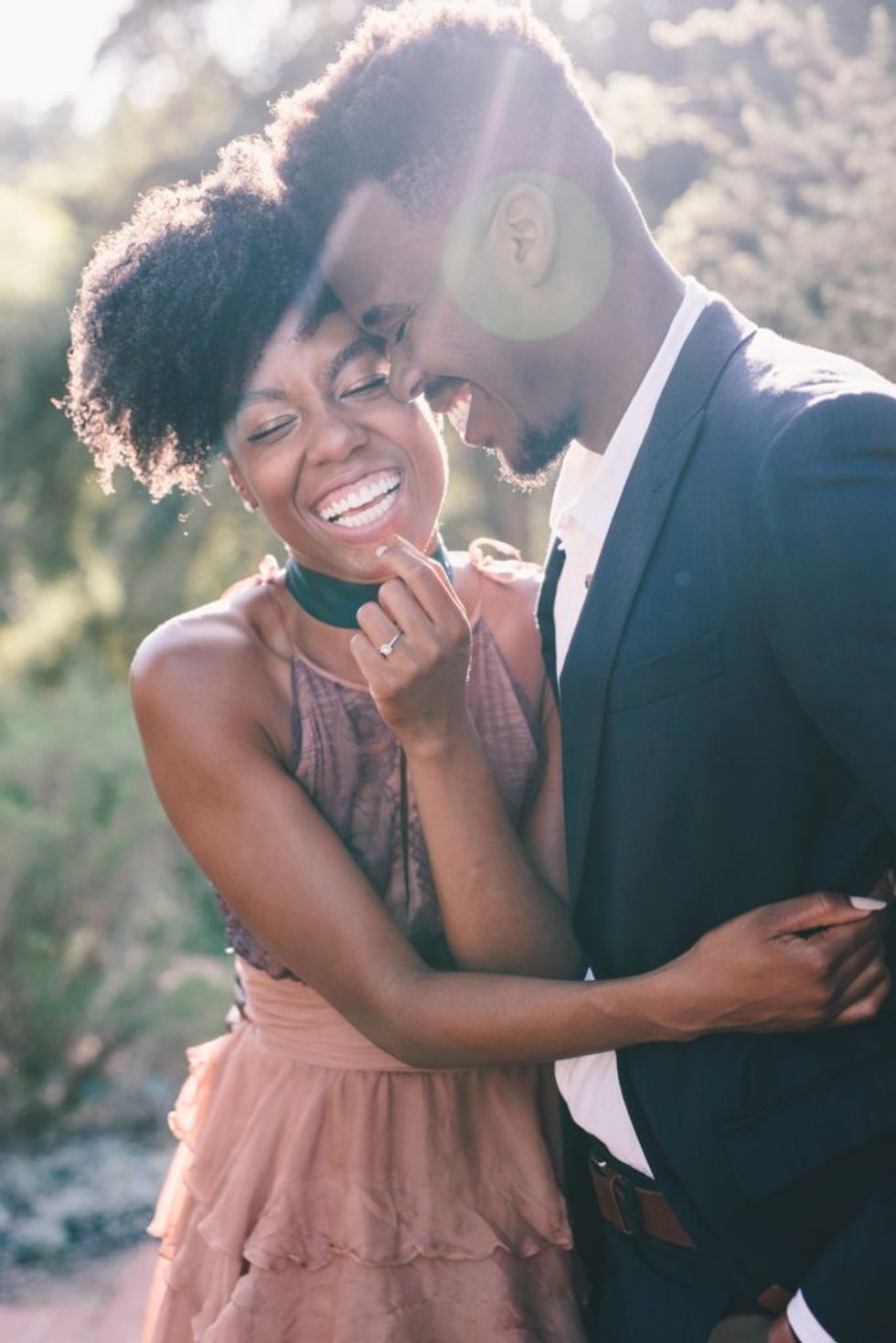 "We worked together, went to rival high schools, ended up at the same university and even had class together but I never knew her until it was the right time," Samuel recalls of his betrothed, "It wasn't until I saw her writing during a creative writing class that I started crushing on her. I started 'showing up' in the places where she would study and over time like… grew into love."
For Thaina, she insists that it was not at all love at first sight and she admits to never really noticing him until they were both creative writing majors at La Sierra University. They were strangers up until they became friends when she realized they kept running into each other, and Samuel began his crush. Over time, the two fell in love, rose in love, and grew in love together.
But, after a brief intermission for the couple that led to their untimely breakup, Samuel had time to think and realize the true value of the woman he loved.
"I knew that forever was what I wanted to be for her, and I knew I couldn't settle for anything less. It wasn't instant, but I won her back – and I've felt like I won the lottery every day since."
He was determined to get that old thing back by evolving into the kind of man he knew she needed and deserved. He come correct in courting Thaina for a second time. And, he loved it so much, he had to put a ring on it!
Read on for more about his personal journey to their proposal, which also included rewriting bad memories and forging new ones for his bride-to-be. #blacklovematters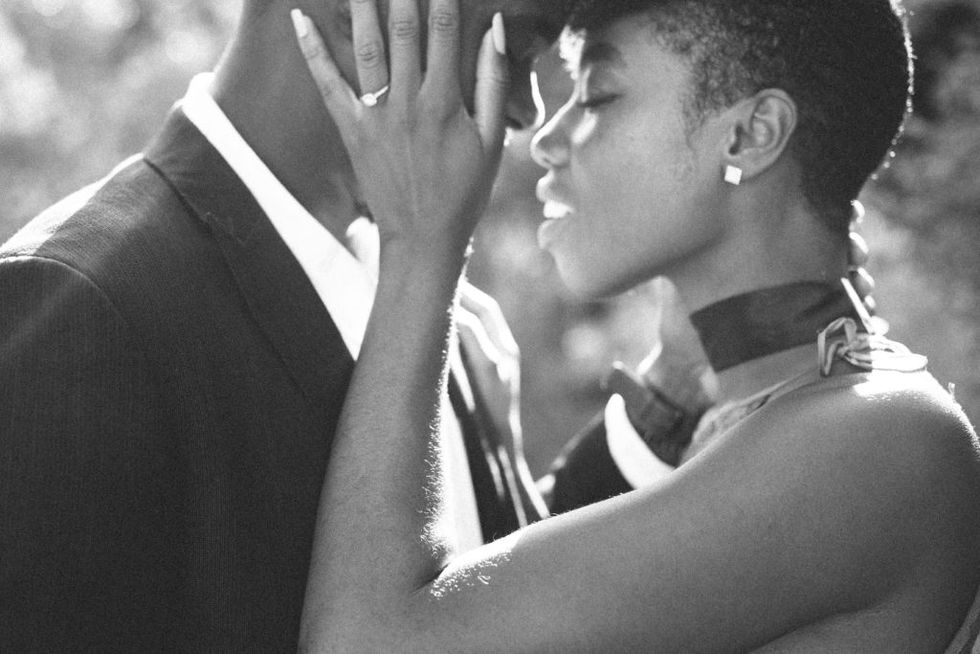 Reunited & It Feels So Good
Nine months after our breakup, I pursued her again. I had become best friends with someone who I could no longer call mine. It was tough and I kept telling myself that Thai deserved better than who I was. Then it happened, God told me it was true! She did deserve better than who I was; but God also told me that I didn't have to settle for who I was either. I could be better. I could be better for her. I knew I wouldn't and couldn't force her to be with me so I bided my time, fasted, prayed, worked on improving and discovering myself, came up with a plan (I'm a planner), and came to her correct.
When I thought of our life together I knew that I had the feelings of love, but I didn't have that level of commitment to cement the "love" I knew. When deciding that she was "the one" I looked at what love was and felt discouraged that I didn't have everything. Then I realized it was a decision to intentionally "be" everything that love is. Patient. Kind. Long suffering. Wise. Strong in prayer. The moment I asked myself if this woman was the one I was willing to be a complete picture of love for, I knew I had to risk everything to be one with her.
I knew that forever was what I wanted to be for her, and I knew I couldn't settle for anything less. It wasn't instant, but I won her back – and I've felt like I won the lottery every day since.

The Proposal
I knew I wanted to marry Thaina but the "how" evaded me. All I knew was that I didn't want to half have her anymore so on September 17, 2016, I'd ask her to be my Queen forever. The day came and I had all the details planned out. I contacted a photographer friend to do a photoshoot with her in a "garden setting". What she didn't know is that I would be hiding around the bend with her family and friends waiting to surprise her. I ducked away from the shoot and went to change into my suit. I sent her friends out a few at a time and after her friends all came out, her family followed along with a violinist playing the song "Thinking Out Loud" by Ed Sheeran.
I chose this song because we had broken up around the time the song originally came out. She loved the song when it first played but it was attached to bad memories so from then, even though we had been together for months at this point, she still didn't like the song. I knew that I didn't just want to create new memories, I wanted to re-forge old ones if I could. After her family came out, it was time. I had a long speech prepared, but when I saw her standing there in all her beauty I only had one thing to say:
"Will you marry me?"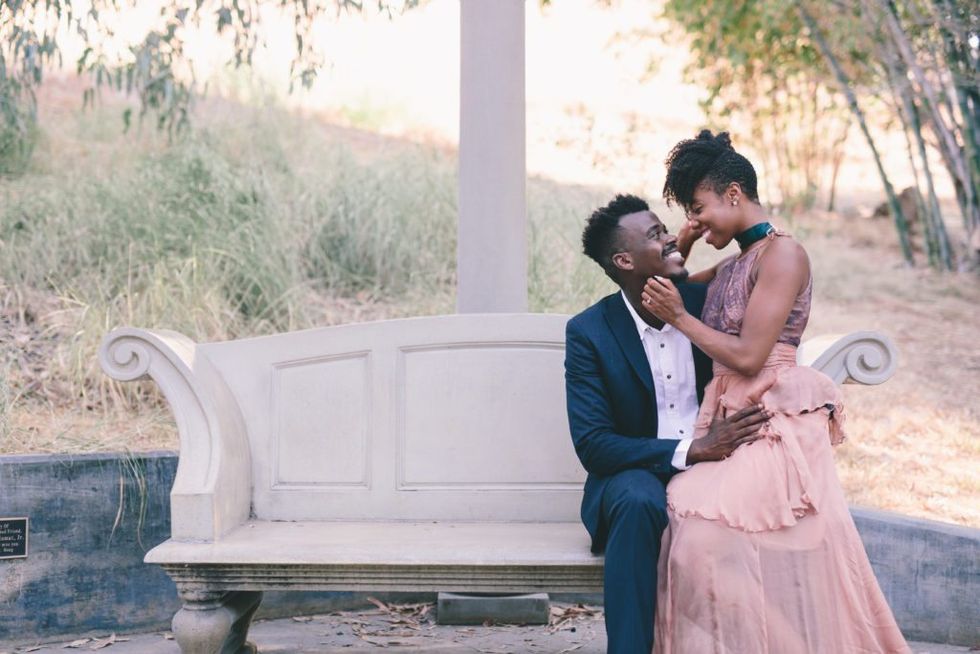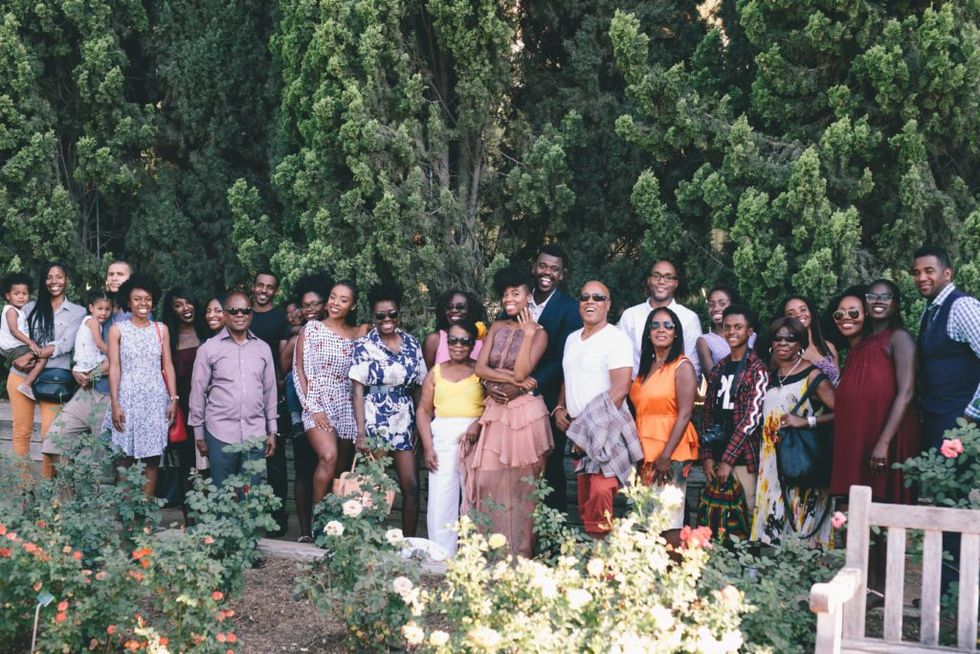 Follow the newly-engaged couple via @thainamadere and @samuelblot on Instagram. Find the original engagement post here.

All images provided by Samuel Blot and Thaina Madere