Can you think of a time when you were scared, hurt, or stopped cold in your tracks? Are you able to recall an event that forever changed your views on a certain person, place, or thing? What about an experience that rocked you to your core? One that you couldn't forget even if you so desperately tried...
---
The word "trauma" stems from a Greek word that translates, literally, to mean "wound." This is quite befitting, as the physical, emotional, and mental traumas that many of us are forced to face have become wounds that touch the innermost parts of our beings. Trying to pick up the pieces after a traumatic experience can be anxiety-inducing at best and life-altering at its peak. Searching for healing often means traveling right back through the darkness, and the courage that it takes to simply exist as a person that exuberates melanin magic is often a heavy enough burden to bear in its own right. Examining the ways that our pasts, presents, and futures coincide to create our personal trauma stories is no easy feat. However, one key principle is clear and undebatable:
You are worth whatever work it takes to find the courage to speak again.
Whether your personal form of "speaking" means simply telling yourself that it's OK to feel through the pain or encompasses beginning the healing work that many of us so desperately need, it's all worth it. Your voice, your pain, your experiences that continue to create the masterpiece that is wholeheartedly you - it all matters. From childhood woes to adult terrors, each event that any of us deems as traumatic is just as important as the next. There are no competitions in the realm of healing, no "less thans" or "should have beens." We each have a right to grieve, cry, yell, and process our experiences in whichever ways we deem most fit. What can we do, as women of color, to find our voices after trauma?
Here are some ways to allow your inner light to shine as you foster the strength you need to symbolically speak again.
Speak With A Trusted Source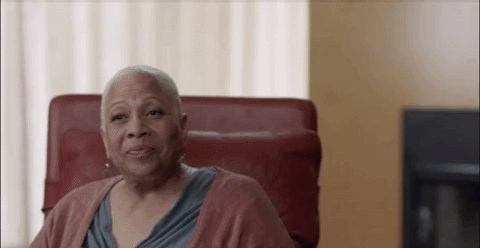 Giphy
You know what happened. You were there, you took every labored breath and lived through every moment, drawn out in time as if forever could be fully felt. But, have you shared it? Have you been able to talk about what happened; have you allowed yourself the privilege of expressing your truths? Speaking with a trusted source - whether a cherished friend, a mental health professional, or a spiritual counselor - can be a crucial step towards healing. Sometimes, just simply speaking it aloud can be the breakthrough we need to realize that our experience was truly, tangibly real.
Recognize Personal Triggers
Even after having been through similar experiences, each person's trauma can manifest in various ways. Know that it's okay to have completely different emotions than another survivor, and find solace in the fact that your journey is totally valid. Our "triggers" can manifest in many forms, from certain people and places to a singular song on a playlist. You may not even realize that a particular circumstance is bound to elicit a reaction until it does just that. Are there any things that you know of, today, that trigger personal negative responses? Recognizing the events that evoke painful feelings is a heavy step, but it can aid you in working towards having control of future reactions.
Find Strength In Community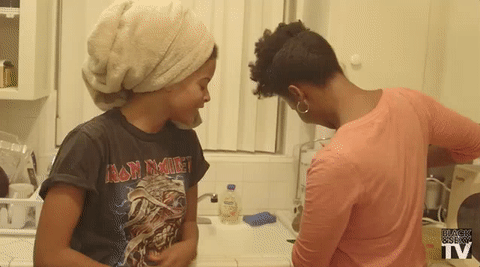 Giphy
One of the biggest strengths that we have is our innate bond in sisterhood; use your community to aid and uplift you. We, as black and brown women, are innately magical. We have shared experiences, whether big or small, that have the ability to foster a strong sense of external support. How can you help yourself to heal, and in turn become a source of help for others? What about your story is necessary to share so that the next sister can experience some much needed inspiration on her own journey towards truth-telling? Your story is all your own - and I'm willing to bet that it has the power to change the life of another community member.
Most Importantly, Be Honest With Yourself
Before anyone can find support from external sources, talk about their experiences, or acknowledge familiar triggers, they must begin the work within. You cannot start to heal from a source of trauma that you are not ready to recognize and be honest about. This doesn't need to involve another person, or even have to encompass total forgiveness, but it must be authentic. Being unapologetically you, trauma and all, means that you can start to recognize how your experiences have shaped the woman you are and will continue to become.
Your survival and resilience alone is a testament to your inner strength; your self-vulnerability is proof that you are worthy of going through it to subsequently grow through it. Being honest with ourselves is a process. It may not be easy or swift but it is necessary. As we begin to find our voices after a traumatic experience, we may uncover deep-rooted feelings that we weren't previously aware of. We may cry, sing, yell, write, share, or pray, dealing with our aftermaths can show up in a variety of ways.
However and whenever we choose to own our traumas, we are stronger than we know. Our voice will come in its own time, and when it does, it deserves to be heard.
Featured image by Getty Images
xoNecole is always looking for new voices and empowering stories to add to our platform. If you have an interesting story or personal essay that you'd love to share, we'd love to hear from you. Contact us at submissions@xonecole.com