---
I always say my power is my voice and my words inspire. And they do. I believe in the power of my voice to no end. But I didn't always have the courage and strength to use my voice. I wasn't always this outspoken. I wasn't always so quick to offer my two cents either. This part of me was suppressed for most of my life. Even when I didn't know my voice is the very essence of all that I am. Finding my voice was something that took time to do. I had to unlearn conditioned behaviors I learned as a child and as an adolescent. Like, don't ask questions or speak only when spoken to. I'm a Sagittarius y'all – it's only natural for me to be inquisitive by nature. I yearn for knowledge. I am opinionated AF. And I love to talk.
Imagine finding your voice, giving it power, and then feeling like you cannot speak. This was me. Recently, after a severe anxiety attack, I had to make a difficult decision to take down my Medium page. It wasn't something I wanted to do, but in this situation, protecting my peace and space is everything to me. In making this decision, I felt like my voice was taken from me. I felt like my voice was blocked and stripped. I had struggled for so long to be able to speak my truth. And what I didn't know was that sharing my truth could inadvertently cause me harm.
Now, there was a lump stuck in the base of my throat. A few days later, my ears started to hurt and my throat was sore. Mind you, throughout this whole pandemic I have yet to be sick. I ended up with a whole ass sinus infection. Most would have attributed this to the pollen count or allergy season. But nah, not this time.
Now, that I am spiritually aligned, I knew this was physically and energetically connected. Remember, the mind, body, and soul work as one. Your body will give you the answers you seek. I became so anxious I made myself sick. And I knew my throat chakra was blocked. It took me a while to feel like I could speak again, but after my physical symptoms went away, I was able to speak my truth once more. And now, I'm back on.
If you're struggling with communicating or using your voice, here is how to know if your throat chakra is blocked.
A Word About The Throat Chakra
The throat chakra is the fifth chakra of seven chakras in the body. It is the chakra of personal power and is related to our self-esteem and self-confidence. It is responsible for communication, creativity, self-expression, and the ability to speak your inner truth. When your throat chakra is imbalanced or blocked you may have a hard time communicating effectively. So, what causes blockages in the throat chakra? It's hard to say. We are all individuals, and our life experiences vary. But you must look inward for the answer to face your truth and remove the blockages.
Your Body Hurts
When your throat chakra is blocked, the flow of energy through this chakra is disrupted. And when that happens, you may experience any of the following physical symptoms below:
Hoarseness
Chronic sore throat
Mouth ulcers
Thyroid problems
Neck pain
Gum disease
Laryngitis
Your Emotional Well-Being Is Affected
Blocked throat chakras can show up as nonphysical symptoms too. Remember, I said the mind, body, and soul are interconnected. What shows up in the body will manifest mentally and emotionally too. Emotional signs of a blocked throat chakra include the following:
Anxiety
Depression
Shyness
Low self-esteem
Fear of speaking your truth
Inability to express thoughts
Inhibited creativity
Inconsistency in speech and actions
5 Ways to Open Up and Heal Your Throat Chakra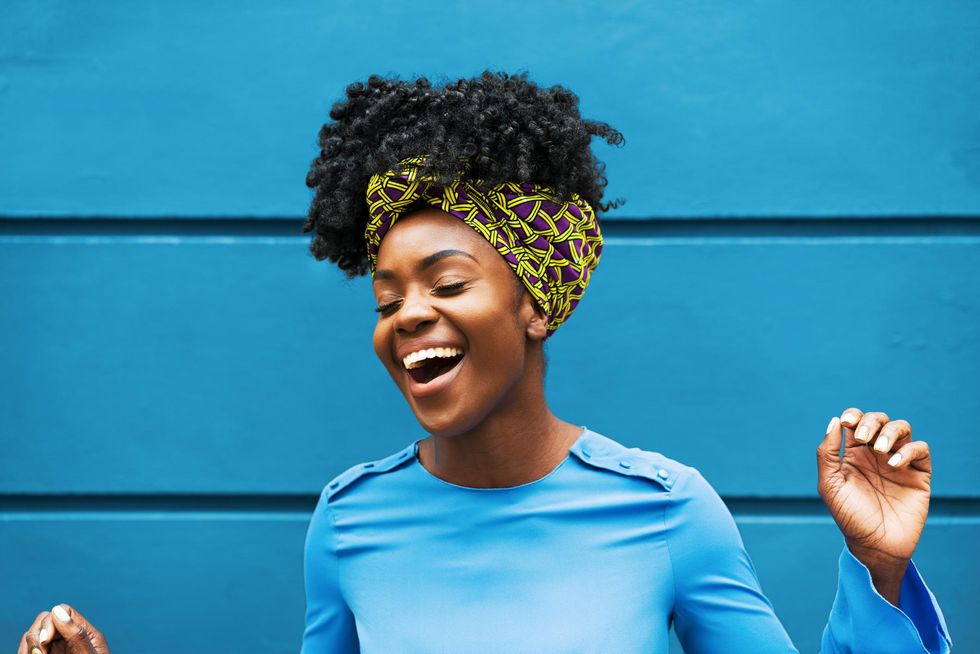 Getty Images
If your throat chakra is blocked, you need to clear it. This means learning to let go and trust your inner voice. You must work through and release negative emotions to restore the energy balance in the throat chakra. Inner work is never easy, it requires you to face yourself. Be prepared to deal with what you find.
1. Learn How To Journal
For me, journaling is how I started writing. But journaling can help you express your feelings when you're not able to vocalize them. It's a transformative practice that can help in different areas of your life. So, take time during your day or week to write down thoughts or feelings. It's not about spelling or grammar. It's about taking the time to acknowledge what you feel and be honest about it.
2. Put Some Blue In Your Life
The color blue helps free the natural energy that resides in your throat chakra. This could look like buying blue flowers, a blue candle, blue curtains, or adding blue bedsheets to your bedroom. Consider wearing blue jewelry or blue clothing too. This can also look like spending time outside under clear blue skies.
3. Get You Some Crystals Sis
Crystals for the throat chakra includes lapis lazuli, amazonite, turquoise, or aquamarine. You can keep these crystals under your pillow, by your nightstand, or use them as home decor. But my favorite way to use crystals is to carry them in my backpack or asjewelry. You can find crystals for the throat chakra at any metaphysical store in your local area.
4. Use Affirmations
Mantras or affirmations are another way to help heal the throat chakra. These can be used as a reminder, part of your journaling practice, or in daily meditation. And the beauty of it is, you can use any affirmation you want. You can say something like, "My voice is heard," "I claim and honor my true voice," "I speak my truth freely and openly," or "I'm not scared to speak my mind."
5. Book A Reiki Session
I really can't say enough about the power of reiki. Reiki is a spiritual healing art that stems from Japan. It is the life energy that flows through all living things. This healing practice can clear bad energy from the body, remove energy blockages, and rebalance the flow of energy. I typically do a reiki session a few times a year to balance my chakras and energy. After a reiki session, I feel so much lighter and renewed.
So, how do you know that your throat chakra is healing? Well, when your throat chakra begins to open, you become more aware of your own self and the people around you. You become calm and relaxed. You also start to feel confident in expressing your thoughts and ideas. How you communicate is clear and consistent.
I would also say listen to your intuition; you'll know when your throat chakra is no longer blocked because energy does not lie. Your voice is a gift. It is one of the greatest gifts next to life itself. It's what makes us original, authentic, and different.
I encourage you to find your voice, and then speak from your heart and your core.
Are you a member of our insiders squad? Join us in the xoTribe Members Community today!
Featured image by Getty Images