---
There are way too many legends roaming this earth every single day and never get enough of the flowers that are owed to them. And in relation to today's article, this is largely true in the dance community. High-profile dancers such as Debbie Allen, Misty Copeland, Fatima, and Josephine Baker, have all provided representation for the young girls who grew up to be the everyday women who also dance—the Jane Alexandria Kings of the industry, or the Alyshia Sherees, or Alisa Gregorys. After all, seeing black women perform in a realm in which we aren't often reflected on a mainstream level, legitimizes opportunities for any one of us to go after the same things—just as each of these women have done.
Someone that has helped catapult black dancers to the forefront, is Ashley Everett, dancer extraordinaire, right-hand woman to some of our faves in the game. Since the age of 16, when she moved from Chico, CA to NYC to train with Juliard and Alvin Ailey, she has become one of the most recognizable names in the industry, primarily due to performing with one of the best entertainers that music has ever seen—whichhhh we all know who that is.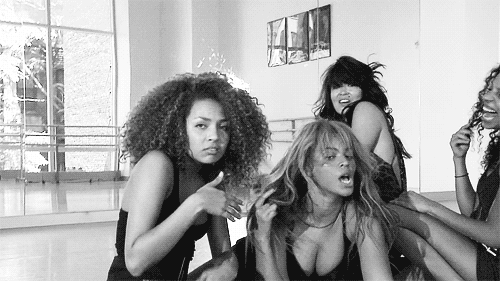 49.media.tumblr.com
We thought it would be dope to list out a few fun facts about our favorite dancing queen, so, Alexa, play "1-2 Step".
Here are 8 things you didn't know about Ashley Everett:
Her Resume is Unmatched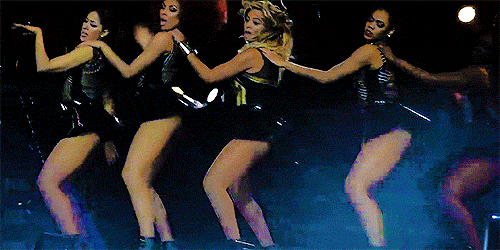 Giphy
Ashley began dancing at age 3, originating in ballet, but also training in tap and jazz. At 16, she moved to New York City to train at the Alvin Ailey American Dance Theater. During a training session, she met Frank Gatson, Jr., Beyonce's choreographer at the time. A few months later, Ashley attended an open audition for Beyonce, and after Gatson remembered her, she landed the gig of Beyonce's dancer. She was just 17 years old.
Since, she has danced on all 10 of Beyonce's tours, totaling over 500 shows. And this isn't even including the mass amounts of promo spots on a variety of televisions shows, Super Bowls, etc. etc. But sis isn't just tied to one artist. She has also danced alongside other mega-stars such as Ne-Yo, Usher, Tina Turner, Ciara, and Jennifer Lopez.
Additionally, Ashley is an actress, and has starred in shows such as Hit The Floor and Shake It Up. She was on Season 3 of The Masked Singer, and recently created her own line of fitness videos with NEOU Fitness. #bookedandbusy
Ashley Skipped Out On Attending Julliard As Her Career Blossomed
By age 19, Ashley Everett was promoted to Beyonce's dance captain. From here, she would go on to perform in a multitude of shows, a decision she made, that ended up working on her behalf. Prior to The Beyoncé Experience, Ashley was accepted and enrolled into the Juilliard School, but ultimately decided against attending, due to touring with Beyonce and wanting to pursue her dance career on her current path. Regarding her decision, she told ET:
"I was a girl when this started. She's just a huge inspiration in my life and so many others, obviously. I wouldn't take it back for the world."
Um, we absolutely do not blame you, girl.
Ashley Has Her Own Swimsuit Line
In 2019, Ashley Everett partnered with her best friend and business partner at Phae Design and created a swimsuit line that's an entire look! She announced the news via Instagram by saying:
"We are so excited to announce that #phae aka @phaedesign a swimsuit line by @hperrier36 and myself will finally be up for sale next week!! It's been a long process but we can't wait for you all to see and enjoy our new baby just in time for summer!"
Each piece comes in a variety of colors and styles and sis has been werking them all, all over her Instagram page. Visit or shop on their website at www.phaedesign.com.
Her Dog's Name is Hov
Ashley recently became a new pup mommy with her boyfriend, and they decided to name him Hov! The Lilac Tri American Bully even has its own IG page, complete with enough cuteness, pics, and captions to go around. Ashley says she took some time to get acclimated to the pup, but as you can see, they're doing just fine. Cuteness overload!
Ashley Once Choreographed A Personalized Fitness Routine For xoNecole
At the height of quarantine, Ashley hosted 'Fitness Friday' on our Instagram Live, where she showed up ready to work! She choreographed an entire dance and fitness routine and showed us just how she gets down—and whew, we were tired, m'kay? Set to the tune of Beyonce's "Before I Let Go" and harboring enough squats, turns, and sweat to go around, Ashley simultaneously showed us just how she gets down, and why we have a long way to go before we can get down with her.
Add this fun cardio routine to your workout and let us know how you do!
Click here for the full dance routine.
Ashley Has Revealed That The Hit Song "Single Ladies" Took 22 Hours To Shoot
Alongside Ebony Williams, Ashley took part in changing the scope of music videos forever, while dancing with the boss in 2008's mega-smash, "Single Ladies". But according to the starlet, the "Single Ladies" music video, which has amassed over 791 million views on YouTube, was anything but easy to shoot. She told Metro:
"I can't believe I've been dancing that long. I remember that shoot was like a 22-hour shoot or something, almost a full day. Of course that video is all dancing from top to bottom so it was exhausting because a lot of dance videos have a dance section or moment, but this was the entire video so we were tired to say the least."
It's one thing to dance for an hour, but 22 of them? Chile.
The hard work paid off as its music video went viral and secured it's rightful place in music and pop history.
Ashley's Signature Hair Color Was Beyonce's Idea
When Ashley Everett first joined Beyonce's camp, she was young and unaware of who she was as an artist herself. She revealed that one thing Bey has always encouraged her dancers to do, was embrace is their natural hair. She told Hello Beautifulin 2014 that Bey told her her to play around and find her signature hairstyle:
"She'll say what she likes on us. She'll be like, 'Ashley, I like when your hair is big.' She'll say what she likes and we do have room to play and change. But, for the most part, we try to stick to it because they want us to look the same. Like her, she doesn't change her hair too much."
From that moment, Ashley became a standout, as they settled on her trademark bright red curls.
"Beyonce asked me to dye my hair in 2009. She never gave an explanation but I imagine it was for variety. Then I just kept dying it brighter and brighter to the point that it became my trademark."
She Regularly Uses Dance To Inspire Women And Young Girls
Philanthropy is a huge component to Ashley's brand, as she is an advocate of passing the torch. She takes part in many charity activities and events, and is always open to teaching what she knows and creating a standard for what it means to be a black woman who works alongside one of the most profiled black women in the world. Her journey isn't unique to some, and she's had public ups and downs (something she had to learn to get used to), but she always manages to fly the flag of what it means to represent her position and pay it forward.
Even during a pandemic, she has hosted various virtual events to inspire the next generation of young dancers. She recently told NBC Boston:
"I love anything empowering women and girls and I just love to help the next generation in any way that I can. If I can inspire and educate in any way that's what I'm here for."
Ashley Everett has many personal projects in the works, as she is coming into the landscape of who she is a business woman.
Are you a member of our insiders squad? Join us in the xoTribe Members Community today!
Feature image by Kathy Hutchins / Shutterstock.com