It was December of 2009 that I made an impromptu decision to cut my permed hair off . My reason for making that drastic change was due to ending a dating relationship at the time and the painful experience I went through from relaxing my hair in my dorm a couple of months prior. Cutting my hair immediately left me feeling bold yet boy-ish whenever I found myself dressing down or not wearing lavish earrings. After several months experimenting with wearing twist-outs, dyeing it myself (I was extra bold with that) and even getting my first blowout (that later resulted in heat damage), I thought I'd been hiding my beautiful kinks due to laziness.
---
However, the truth is that I was intimidated by and ashamed of my hair.
Well 10 years after back-to-back crochet braids, sew-ins, wigs, and braids, I decided to just let my hair out to breathe for once! As a result, I learned five important things: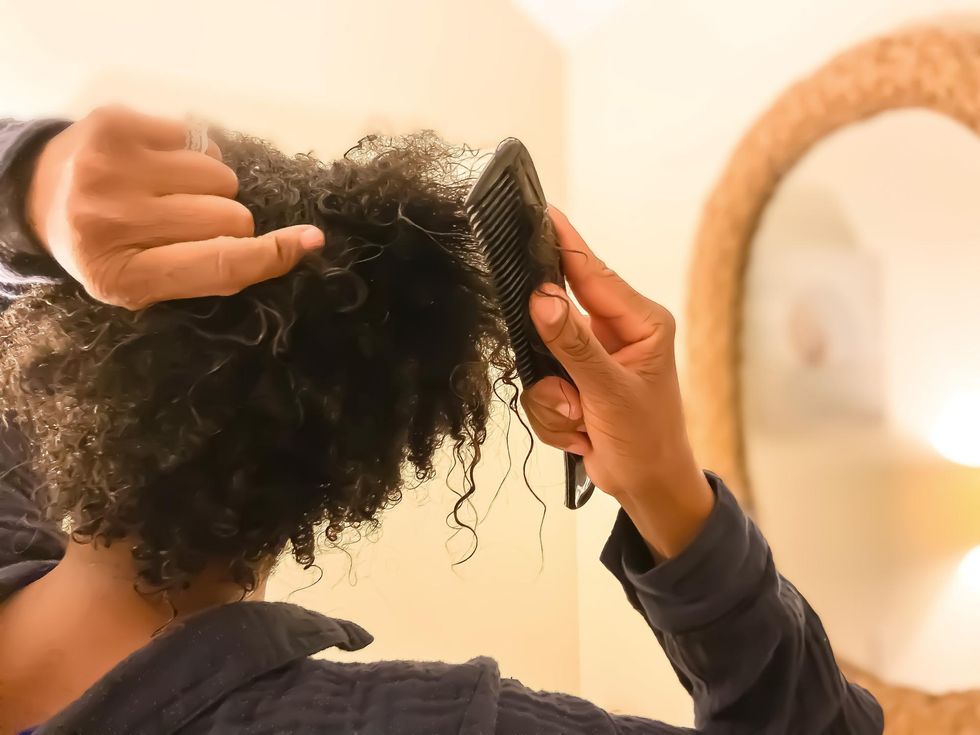 Getty Images
1. When you are not taught how to properly care for your natural hair, you see it as a barrier.
It was not until I was put in a position to care for my hair that I had no choice but to do it. It was a rocky start because I felt defeated and really believed I had no options until I gave experimenting on my hair another chance. The more I continued to play around in my hair, without a defeated mindset, the more I grew to love it and no longer felt intimidated by caring for it.
2. Finally wearing my natural hair ​actually ​boosted my confidence.
I felt more beautiful and confident when my natural hair was out. There is nothing wrong with wearing a weave or braids! (I repeat, there is nothing wrong! In fact, I will probably wear a protective hairstyle soon.) But it was not until I let my hair out in a 'fro that I looked in the mirror and embraced my strong jawline and beautifully shaped eyes.
I realized that my previous hairstyles were my hiding place and it was not until I let my hair out that I felt free. You need the confidence to rock any hairstyle, however, it takes a special kind of confidence to rock your hair in its natural state. That confidence is truly felt in every room you walk into.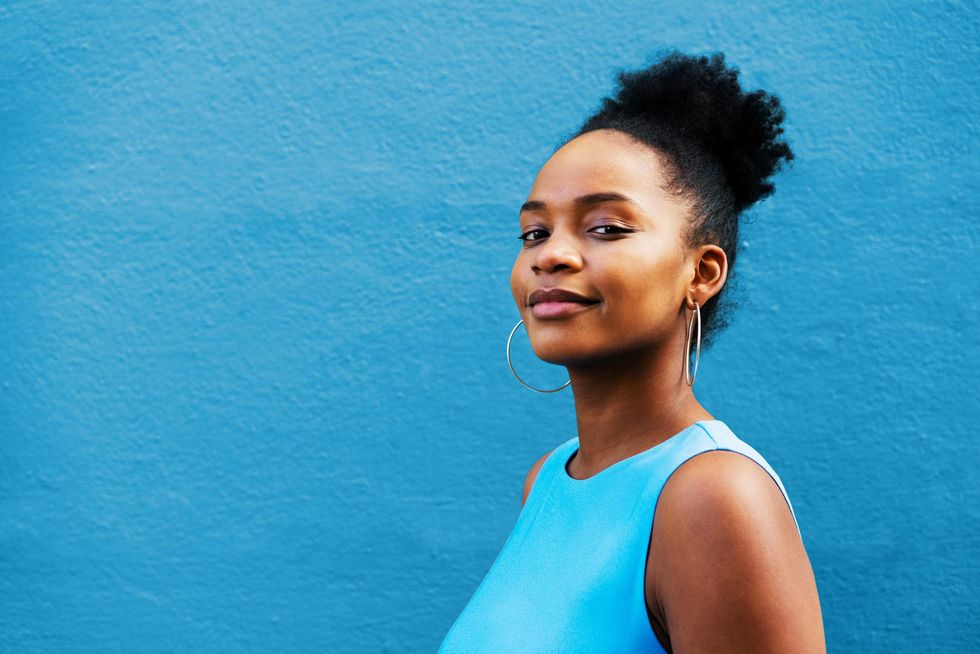 Getty Images
3. Hair is literally versatile from its roots.
Whether you decide to leave it out, cut it, relax it, dye it, wear a wig or braids , our hair is not one-size-fits-all and that is why Black hair is beautiful. Being able to do a multitude of things with my hair at any time is truly unique and empowering.
4. Media played a major role in how I viewed the beauty of my hair.
Since I rarely saw women with 4C hair in the media, I felt helpless with how I could care for my hair and as a result, wore my hair in back-to-back protective hairstyles. It was not until I came across Ijeoma Kola online that I felt seen because sis' hair looks just like mine and she always has amazing style tips!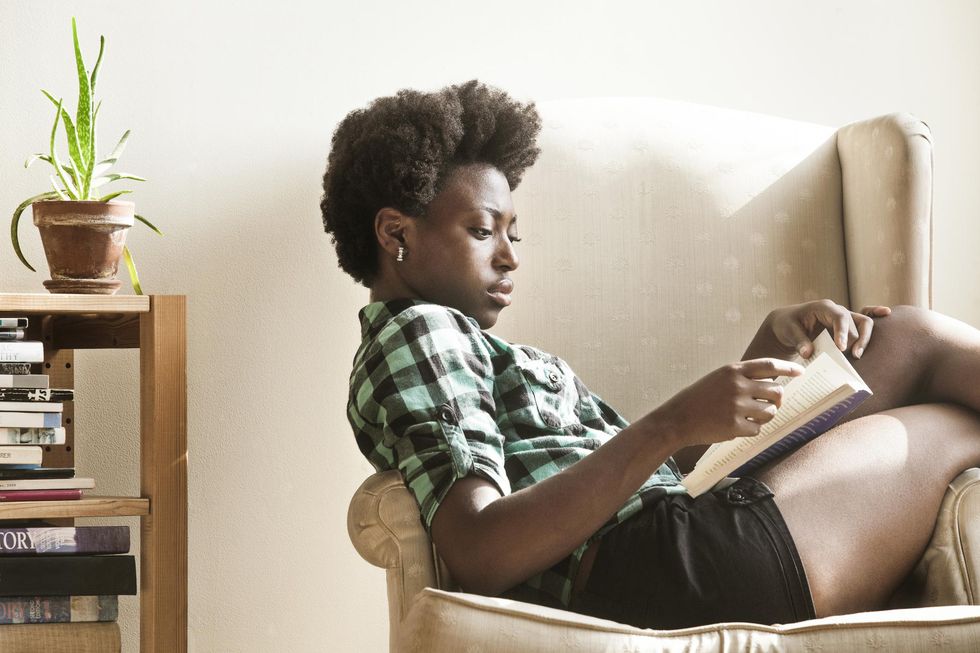 Getty Images
5. Starting over and cutting my hair was a really dope feeling.
When I did my big chop , I wanted a change and what better way to do so by cutting off dead weight: the hair that carried so many negative memories with the guy. There was a sense of freedom and relief when a pair of scissors caressed the strands of hair on my scalp.

As you can see, Black hair is not only beautiful, and it is a never-ending learning experience of self. My relationship with my hair has had its ups and downs, but in the end, it led me to a healthier outlook.
To get your beauty fix and to stay up to date with the latest trends, check out the xoNecole Beauty section here .
Featured image via Getty Images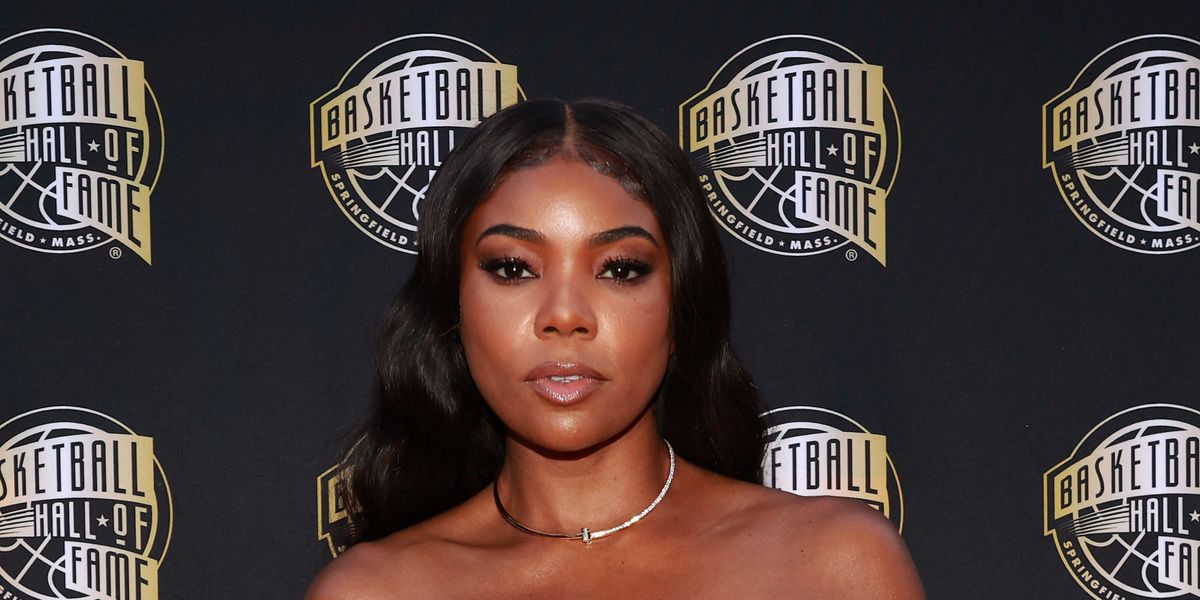 Whenever Gabrielle Union graces the movie screen, she immediately commands attention. From her unforgettable scenes in films like Bring It On and Two Can Play That Game to her most recent film, in which she stars and produces Netflix's The Perfect Find , there's no denying that she is that girl.
Off-screen, she uses that power for good by sharing her trials and tribulations with other women in hopes of helping those who may be going through the same things or preventing them from experiencing them altogether. Recently, the Flawless by Gabrielle Union founder partnered with Clearblue to speak at the launch of their Menopause Stage Indicator, where she also shared her experience with being perimenopausal.
In a xoNecole exclusive, the iconic actress opens up about embracing this season of her life, new projects, and overall being a "bad motherfucker." Gabrielle reveals that she was 37 years old when she was diagnosed with perimenopause and is still going through it at 51 years old. Mayo Clinic says perimenopause "refers to the time during which your body makes the natural transition to menopause , marking the end of the reproductive years."
"I haven't crossed over the next phase just yet, but I think part of it is when you hear any form of menopause, you automatically think of your mother or grandmother. It feels like an old-person thing, but for me, I was 37 and like not understanding what that really meant for me. And I don't think we focus so much on the word menopause without understanding that perimenopause is just the time before menopause," she tells us.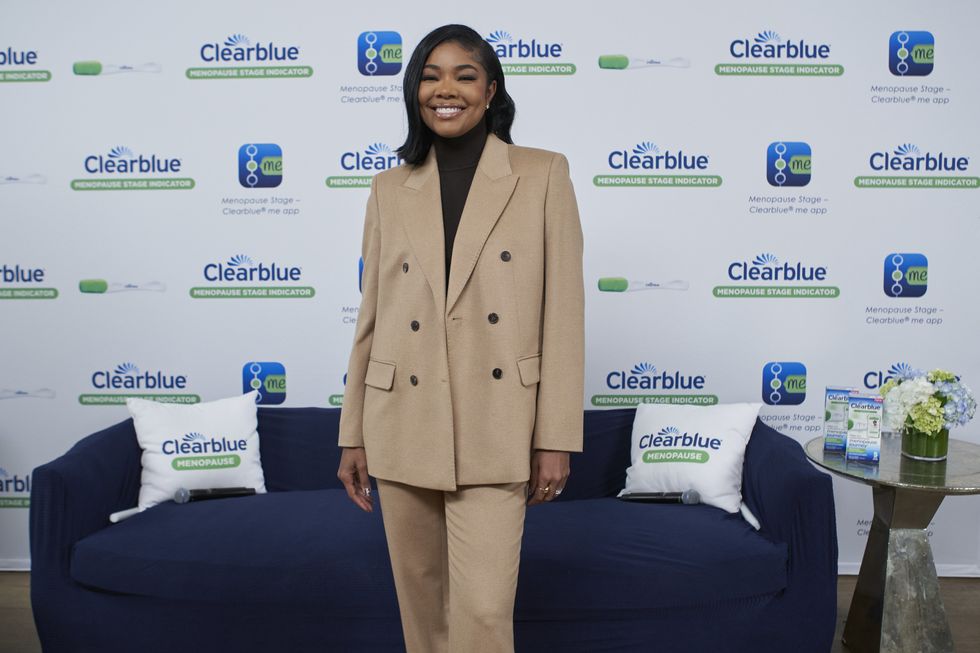 Gabrielle Union
Photo by Brian Thomas
"But you can experience a lot of the same things during that period that people talk about, that they experienced during menopause. So you could get a hot flash, you could get the weight gain, the hair loss, depression , anxiety , like all of it, mental health challenges , all of that can come, you know, at any stage of the menopausal journey and like for me, I've been in perimenopause like 13, 14 years. When you know, most doctors are like, 'Oh, but it's usually about ten years, and I'm like, 'Uhh, I'm still going (laughs).'"
Conversations about perimenopause, fibroids, and all the things that are associated with women's bodies have often been considered taboo and thus not discussed publicly. However, times are changing, and thanks to the Gabrielle's and the Tia Mowry 's, more women are having an authentic discourse about women's health. These open discussions lead to the creation of more safe spaces and support for one another.
"I want to be in community with folks. I don't ever want to feel like I'm on an island about anything. So, if I can help create community where we are lacking, I want to be a part of that," she says. "So, it's like there's no harm in talking about it. You know what I mean? Like, I was a bad motherfucker before perimenopause. I'm a bad motherfucker now, and I'll be a bad motherfucker after menopause. Know what I'm saying? None of that has to change. How I'm a bad motherfucker, I welcome that part of the change. I'm just getting better and stronger and more intelligent, more wise, more patient, more compassionate, more empathetic. All of that is very, very welcomed, and none of it should be scary."
The Being Mary Jane star hasn't been shy about her stance on therapy . If you don't know, here's a hint: she's all for it, and she encourages others to try it as well. She likens therapy to dating by suggesting that you keep looking for the right therapist to match your needs. Two other essential keys to her growth are radical transparency and radical acceptance (though she admits she is still working on the latter).
"I was a bad motherfucker before perimenopause. I'm a bad motherfucker now, and I'll be a bad motherfucker after menopause. Know what I'm saying? None of that has to change. How I'm a bad motherfucker, I welcome that part of the change."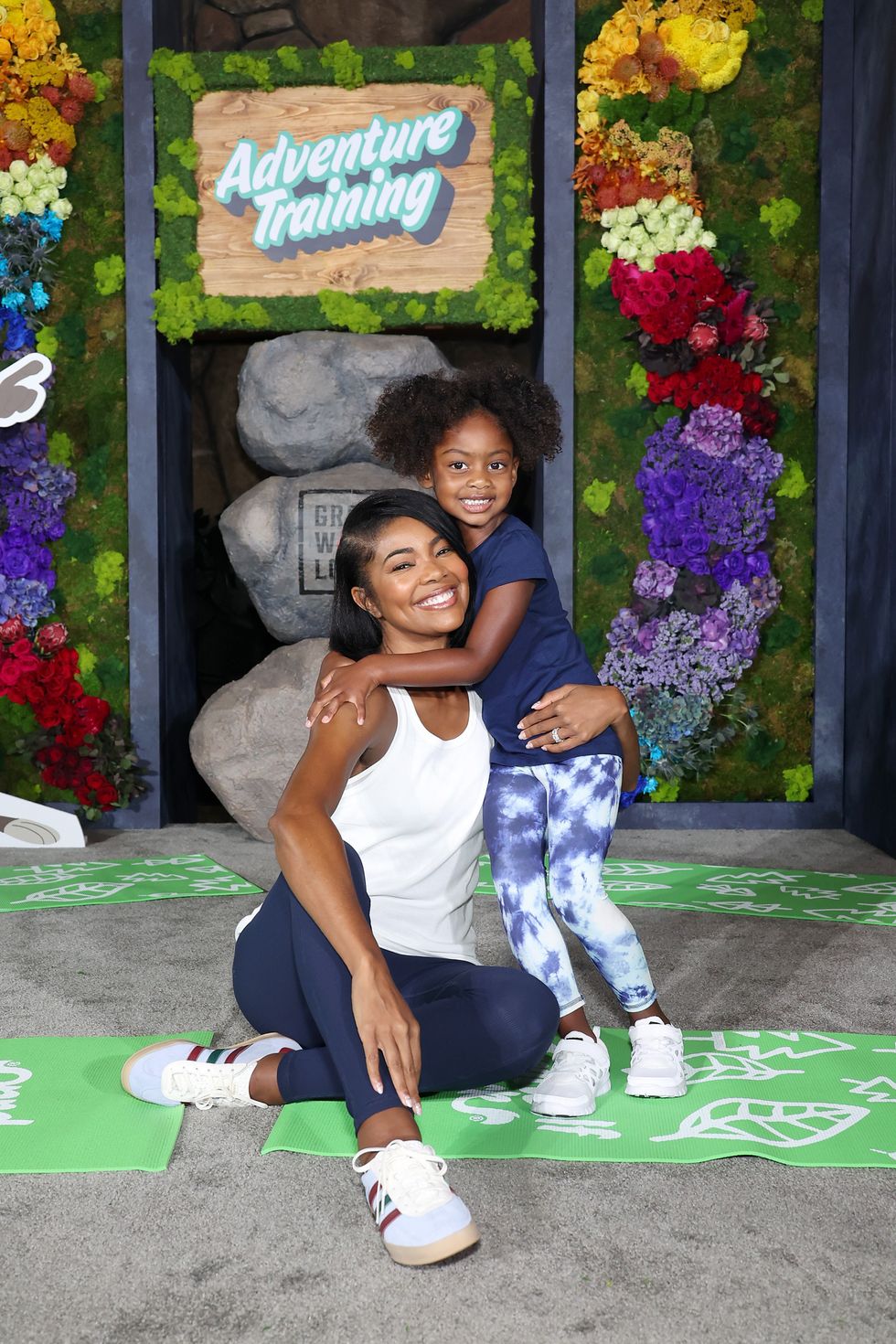 Gabrielle Union and Kaavia Union-Wade
Photo by Monica Schipper/Getty Images
"I hope that a.) you recognize that you're not alone. Seek out help and know that it's okay to be honest about what the hell is happening in your life. That's the only way that you know you can get help, and that's also the only other way that people know that you are in need if there's something going on," she says, "because we have all these big, very wild, high expectations of people, but if they don't know what they're actually dealing with, they're always going to be failing, and you will always be disappointed. So how about just tell the truth, be transparent, and let people know where you are. So they can be of service, they can be compassionate."
Gabrielle's transparency is what makes her so relatable, and has so many people root for her. Whether through her TV and film projects, her memoirs, or her social media, the actress has a knack for making you feel like she's your homegirl. Scrolling through her Instagram, you see the special moments with her family, exciting new business ventures , and jaw-dropping fashion moments. Throughout her life and career, we've seen her evolve in a multitude of ways. From producing films to starting a haircare line to marriage and motherhood , her journey is a story of courage and triumph. And right now, in this season, she's asking, "What's next?"
"This is a season of discovery and change. In a billion ways," says the NAACP Image Award winner. "The notion of like, 'Oh, so and so changed. They got brand new.' I want you to be brand new. I want me to be brand new. I want us to be always constantly growing, evolving. Having more clarity, moving with different purpose, like, and all of that is for me very, very welcomed."

"I want you to be brand new. I want me to be brand new. I want us to be always constantly growing, evolving. Having more clarity, moving with different purpose, like, and all of that is for me very, very welcomed."
She continues, "So I'm just trying to figure out what's next. You know what I mean? I'm jumping into what's next. I'm excited going into what's next and new. I'm just sort of embracing all of what life has to offer."
Look out for Gabrielle in the upcoming indie film Riff Raff , which is a crime comedy starring her and Jennifer Coolidge, and she will also produce The Idea of You , which stars Anne Hathaway.
Feature image by Mike Lawrie/Getty Images

Entrepreneur and community curator Chanise Robinson moved from her hometown of Seattle, Washington, to Los Angeles in 2015 for the life she'd always envisioned for herself.
From a young age, she knew her dreams were too big for the Emerald City so after a quick trip to southern California it was only a matter of time before she called it home. "I've always wanted to leave Seattle. There wasn't enough culture for me, and having grown up there, I knew every Black person, whether it was from school or church," says Robinson. Immediately after obtaining her Bachelor's degree from the University of Washington, it was then she decided it was time to make her move. "I exhausted all the options, opportunities , and resources I thought I could get from living there and knew I had to leave eventually."
After graduating from her Alma Mater as a first-generation college student, she chose to continue her education , completing her master's degree at USC. After entering the corporate world , she noticed a lack of information sharing within the Black community, which led to a strong desire to gather community peers, leaders, and experts through sit-down panel discussions. "In corporate spaces , white people are talking and sharing ideas with each other behind closed doors, and I felt Black people didn't have that same network, so I created that space where I saw the gap."
"In corporate spaces, white people are talking and sharing ideas with each other behind closed doors, and I felt Black people didn't have that same network, so I created that space where I saw the gap."
Receiving a little motivation from a friend, Conversations with Chanise was created in 2018 with the goal of hosting professional events people could resonate with. "A lot of the time, industry panels can feel dry and disconnected from our culture and community, so I wanted to build that network myself, using it as a platform for others to find knowledge, information, and resources needed to navigate corporate spaces, tools that I didn't have."
Featured image courtesy