---
There's nothing like the confidence that can come from a bomb, fly new hairstyle. I love my natural hair in all its beautiful and diverse glory, but I also love the versatility that comes from rocking hair extensions. Buying hair and then having to pay to get it installed, however, can be an extremely pricey and stressful experience. Who's the best stylist? What's the best hair to pick?
As someone who is NOT skilled in the hair styling arena and cannot do my own installs, I save getting a hair weave for special occasions only. When I heard about minority-owned hair company Mayvenn's new Mayvenn Install program, I knew I had to try it. The program allows customers to buy hair online and then get matched with a local licensed salon stylist who will shampoo, condition, braid down and, install the hair free of charge to the customers. Customers receive a pre-paid voucher via email that is scanned by the stylist, enabling them to collect payment from Mayvenn instantly.
To bring this service to fruition, Mayvenn raised $36 million in funding led by Andreessen Horowitz and Essence Ventures. "Now with Mayvenn Install, customers will be able to buy hair and the installation service for probably 40% less than what they normally would have paid," says Diishan Imira, Mayvenn CEO and co-founder. Though the program is marketed towards consumers, the company is dedicated to helping hairstylists develop their entrepreneurial talents and grow their own businesses. 25,000+ in-network stylists in over 250 cities are now being directly connected to customers in need of service, with Mayvenn fronting the install price. The company reports that some stylists are averaging 20-40 new clients a month because of Mayvenn install. In four months alone, the company has paid out over $20 million in commission to stylists who are part of the program.
As part of xoNecole's I Tried It series, the Mayvenn team allowed me to review the Mayvenn Install process. Read on to learn more about my personal experience, thoughts on the program, and whether or not I'd recommend it to our xoNecole readers.
Please note, this is not sponsored. The hair was provided free of charge for an honest review of the program.
The Mayvenn Install Process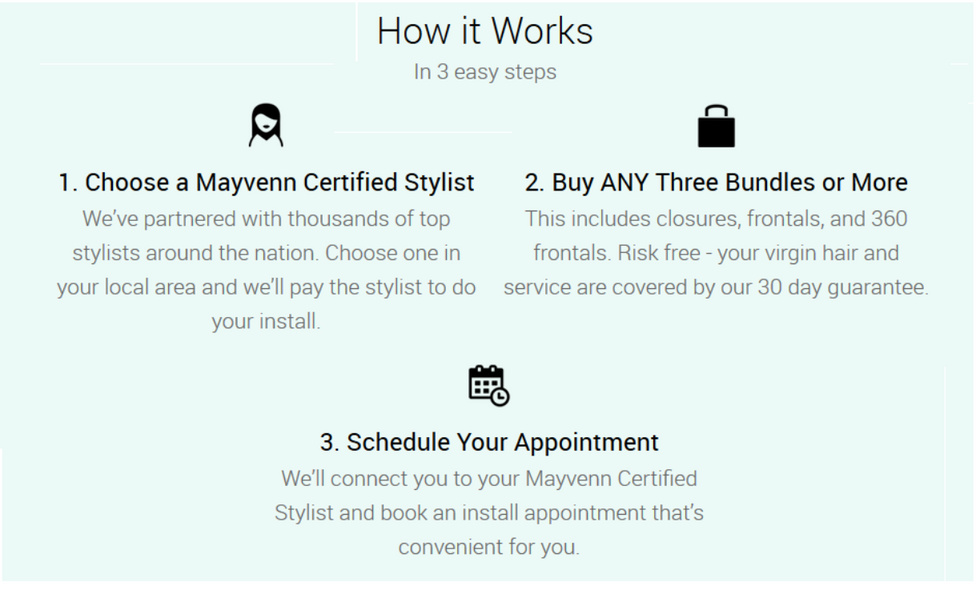 Mayvenn
Customers can access the free install program directly from Mayvenn's homepage. Once clicking "Get a free install", you are directed to a user-friendly customized webpage. The three-step process was simple and easy to walk through. First, I chose my desired hairstyle type, which was a closure. (Easy maintenance, please!) Then, after inputting my location, I was given a list of participating local stylists to choose from. I was able to read reviews and years of experience and choose the stylist that fit my preference. Finally, it was hair selection time, which was the most impressive part of this process.
As someone who wasn't sure what I wanted, I opted for the "show me looks for inspiration" button. I chose the "deep wave" texture option and scrolled through the multiple hair styles to choose the look that spoke to me the most. After browsing through several pictures of women rocking the deep wave texture in different styles and lengths (and since I love big curly hair), I decided on a 18" closure and 20", 22", and 24" bundles. After ordering, I received an email confirmation and pre-paid voucher that the stylist will scan in order to get paid.
Scheduling Your Appointment & Receiving The Mayvenn Hair
After payment is complete, you're connected with a Mayvenn assistant via text who helps you book an appointment with your chosen stylist directly. I was asked to send over time and date preferences to initiate the scheduling. To be honest, this is the part of the process that wasn't my favorite. Due to my stylist availability and the customer service lag time, it took me about one full-day to secure a date and time for the install. Being able to view the stylist's calendar directly without a third party would have made the booking much smoother.
The closure and bundles arrived in less than three business days and came in beautiful individual Mayvenn-branded satin-lined pouches. The hair was soft to the touch and the closure looked well-constructed with a realistic-looking part. A curly-hair maintenance guide was also included in my hair package. Having a FAQ booklet was helpful, especially when it came to knowing how to properly prep the hair for install.
The Mayvenn Hair Installation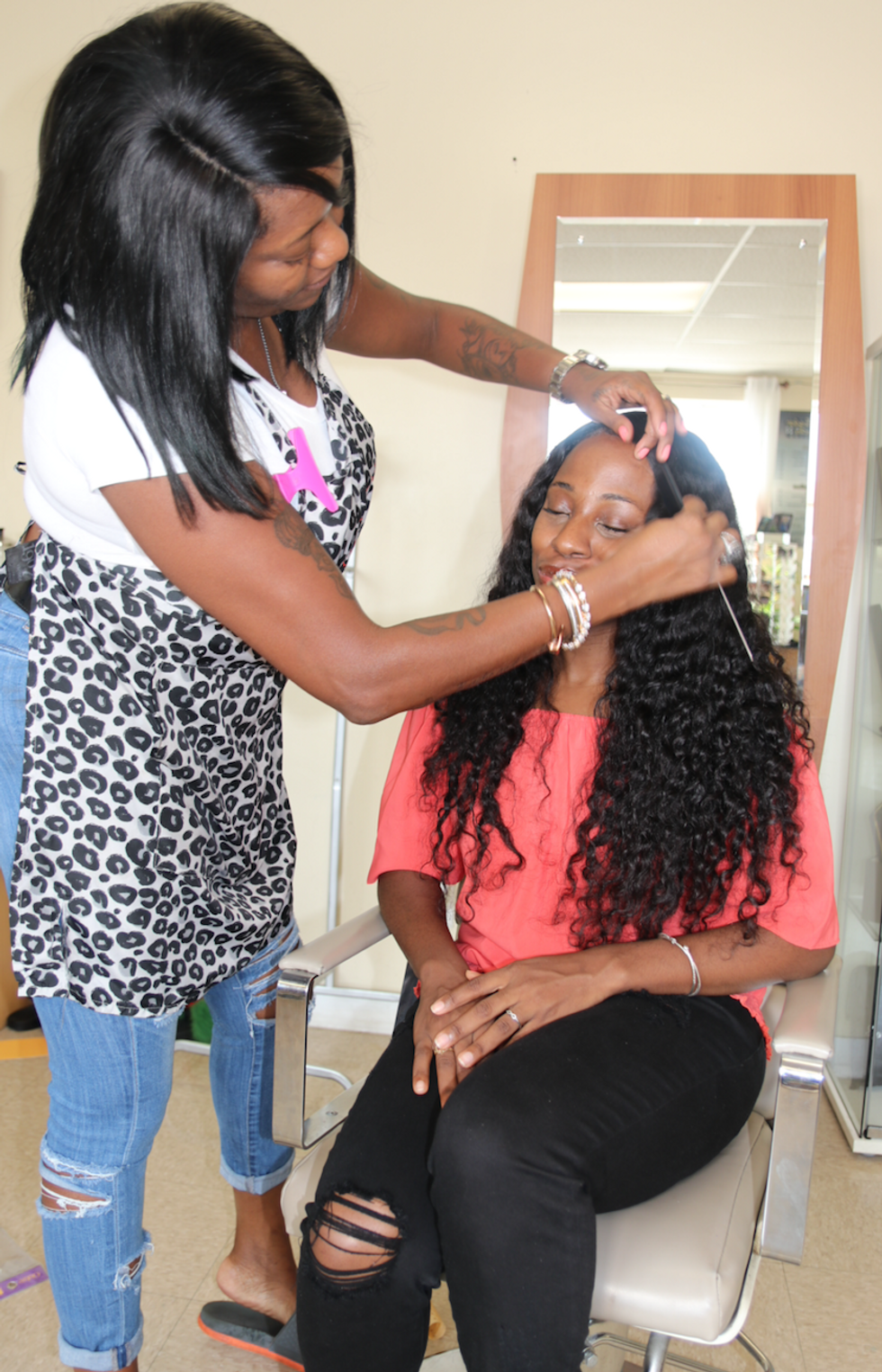 Writer Rana Campbell
I chose NJ-based stylist Lucky a.ka "The Weavemaster" to install my bundles. I arrived at her Union, NJ salon ready for a few hours of hair pampering. Her assistant, Anjail, meticulously detangled my hair and gave me an ultra-relaxing shampoo and condition. She then took her time (a major necessity for thick-haired naturals like myself) blow-drying my hair and painlessly braided my hair in flat, neat cornrows.
Then, Lucky put in work. In less than an hour, she installed all three bundles and even tweezed my closure part to make it look more realistic. After the install, she defined my curls and did a light style, making sure my hair was LAID - baby hairs and all. (Now, I know why she calls herself the weave master!) The sew-in wasn't tight and I felt like I'd still have edges when I decided to remove the extensions. At the end, Lucky scanned my voucher. Though the service was free of charge, I made sure to tip both her and her assistant, per Mayvenn's recommendations.
The Verdict: Is Mayvenn Hair Good?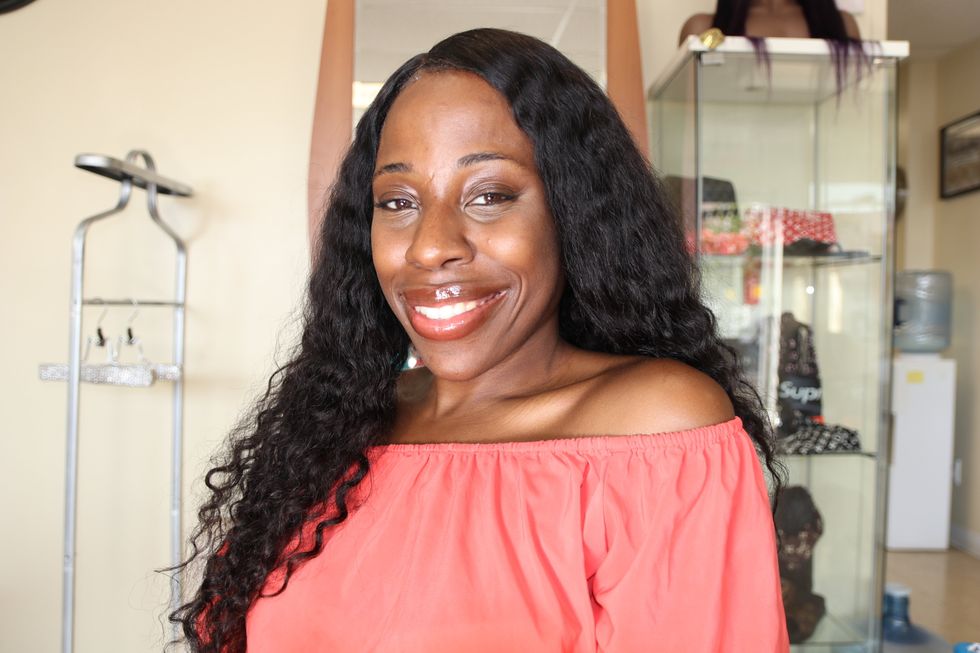 Writer Rana Campbell
So, would I recommend Mayvenn Install? HECK YES! The process was fairly simple. I already knew Mayvenn was trustworthy when it came to hair quality. I liked that I didn't have to worry about buying hair and then finding a qualified stylist to install. Lucky came highly recommended from the Mayvenn platform and the actual install experience was pleasant and relaxing. What surprised me was how popular the service was. Both customers before and after me were also Mayvenn clients.
As a hair stylist, Lucky appreciates being able to be part of the program. The ability to attract new clientele has positively impacted her business, she told me. She sees being part of the program as part of her overall marketing strategy. Though the money she receives from Mayvenn isn't as much as she normally charges for a regular sew-in, the sheer number of new clients she's able to bring in monthly and re-market to, balances it out. I now have a trusted hair weave technician that I'd love to support again either using my own funds or by participating in the Mayvenn Install again.
Overall, here are some of my personal noted benefits and potential limitations of the Mayvenn Install program:
Benefits: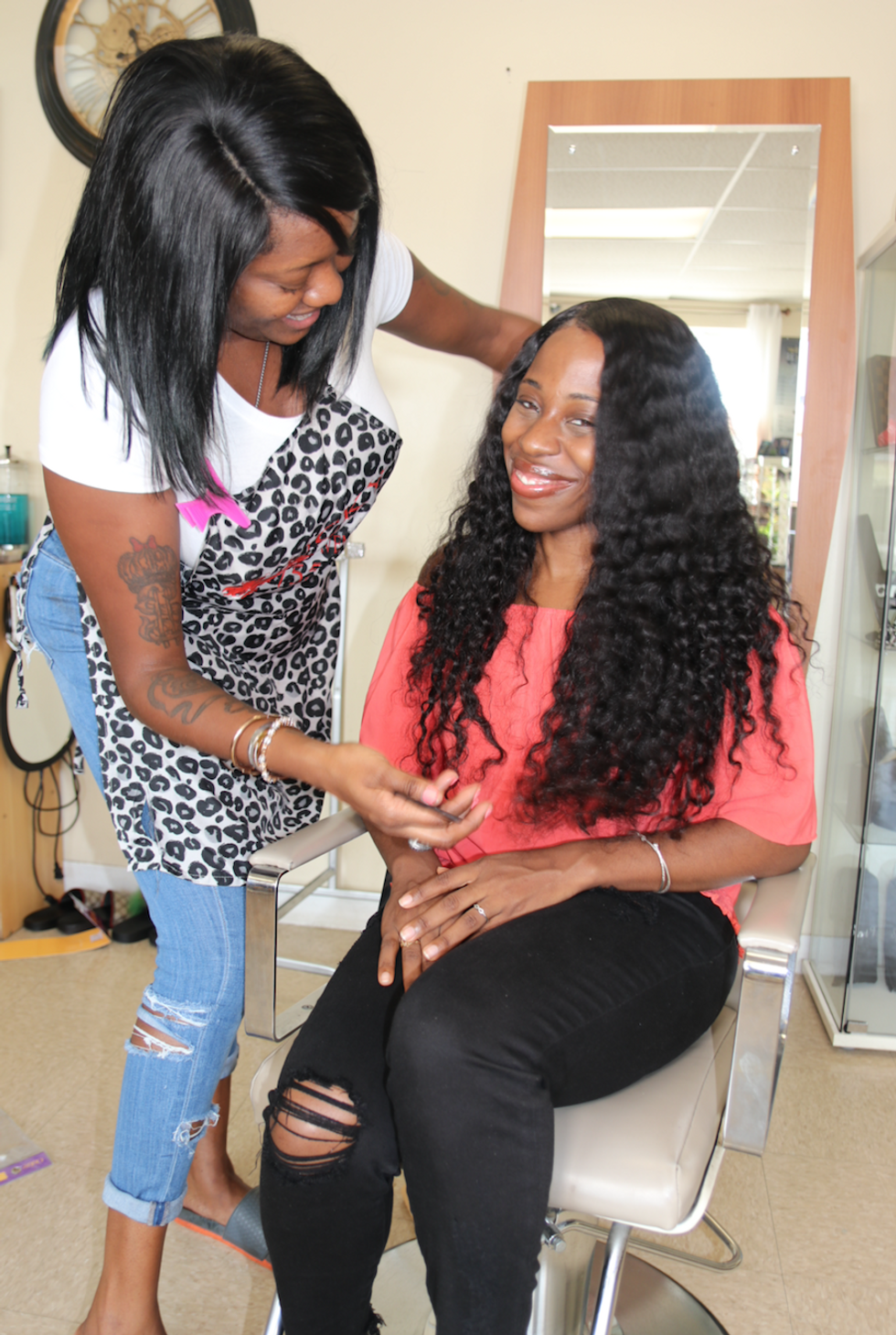 Writer Rana Campbell
The hair purchasing and stylist selection process is very user-friendly. The program is great for people who want to try weave for the first time. The technology allows users to have a customized experience when selecting a style and stylist.
Mayvenn hair quality is up to industry standard. Their 100% virgin hair is gently steam-processed and can last up to a year. I've had my hair in for about two weeks now with minimal shedding or tangling.
You're directly supporting a local licensed salon stylist. Instead of buying hair and having it sit around, you're able to empower and economically fuel a local stylist by scheduling time to get hair installed.
Free installs means you're saving a lot of money as well. Most stylists can charge upwards of $150 for a simple install. If you're a frequent bundle buyer - or even want to customize the hair, you'll still save hundreds over the course of a year.
There's a 30-day guarantee! Even if you wear, dye, or cut the hair and are not satisfied, Mayvenn will still exchange the hair and allow you to try another stylist.
Limitations:
In order to qualify for the program, you have to buy three bundles. If you want to buy less, then you can't take advantage of Mayvenn Install.
You have to use a Mayvenn-vetted stylist. If you already have a trusted weave installer, they cannot scan the voucher and collect payment from Mayvenn.
Installs are limited to installs only. If you'd like added styling, cut, or coloring, you are responsible for paying the service balance.
The booking process can be a bit frustrating depending upon your and the stylist's availability. Plus, booking is limited to Mayvenn's customer service hours.
To learn more Mayvenn Install or to try it for yourself, visit https://freeinstall.mayvenn.com/.