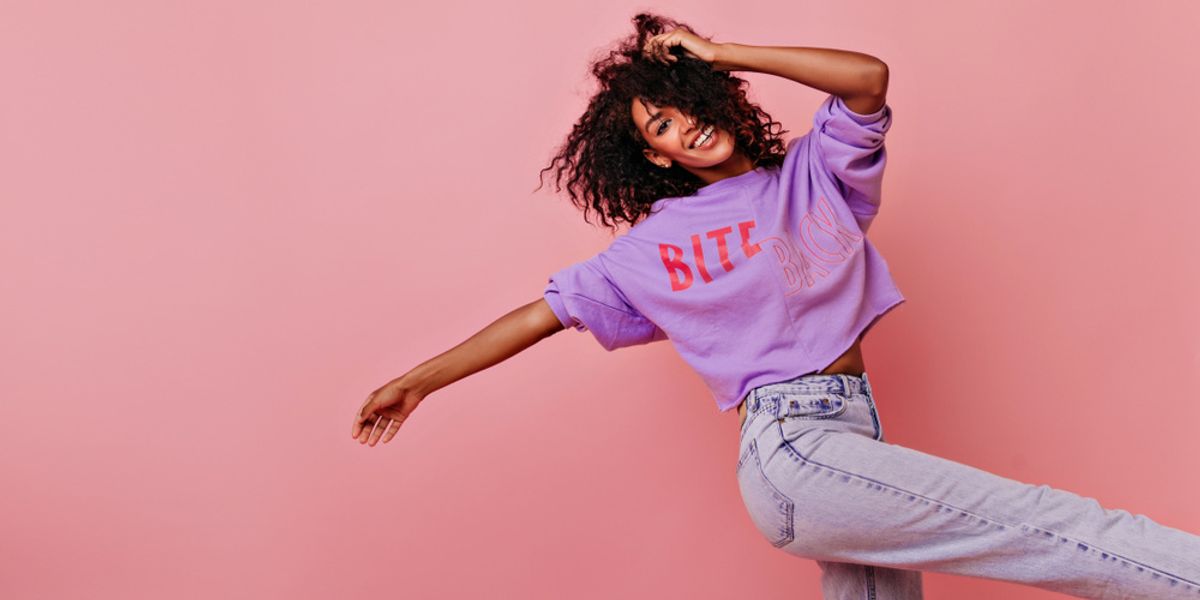 Inspiration
The Mishaps Of My 20s Equipped Me For The Dopeness Of My 30s
---
As I wrapped up the final days of my 20s, I did the usual reflection thing: the lists of lessons learned before 30 and spent a lot of time alone. I hear my thoughts best when it's just me and her and I am a huge believer in introspection. I added up the intensity of each milestone prior, divided by the overwhelming life teachers and decided that I was the average of everything I had experienced up until February 22, 2019.
I thought about the lovers, the Planned Parenthood scares, the friends laid to rest, the parties, the nights I can barely remember, and the times I literally fucked everything up. Overreacted, blew things out of proportion.
The fuck-ups were my favorites because now I can finally say with age, I begat wisdom.
Want more stories like this? Sign up for our newsletter here and check out the related reads below:
Lessons I Learned In The Stillness Of Recovery
4 Lessons I Learned From Losing Friends
When I Turned 27, Everything Changed
Featured image by Shutterstock
Danielle Smith
Danielle Smith is a Toronto-based Personal Development Junkie on the gram @youbettaglowgirl. She keeps her hands full as a Writer, Speaker, Stylist & Non-Profit Founder, all while doing her most important job as a full-time mama of one. Marching to the beat of her own drum and a playlist of her favourite 90s R&B, she's blazed a path of her own.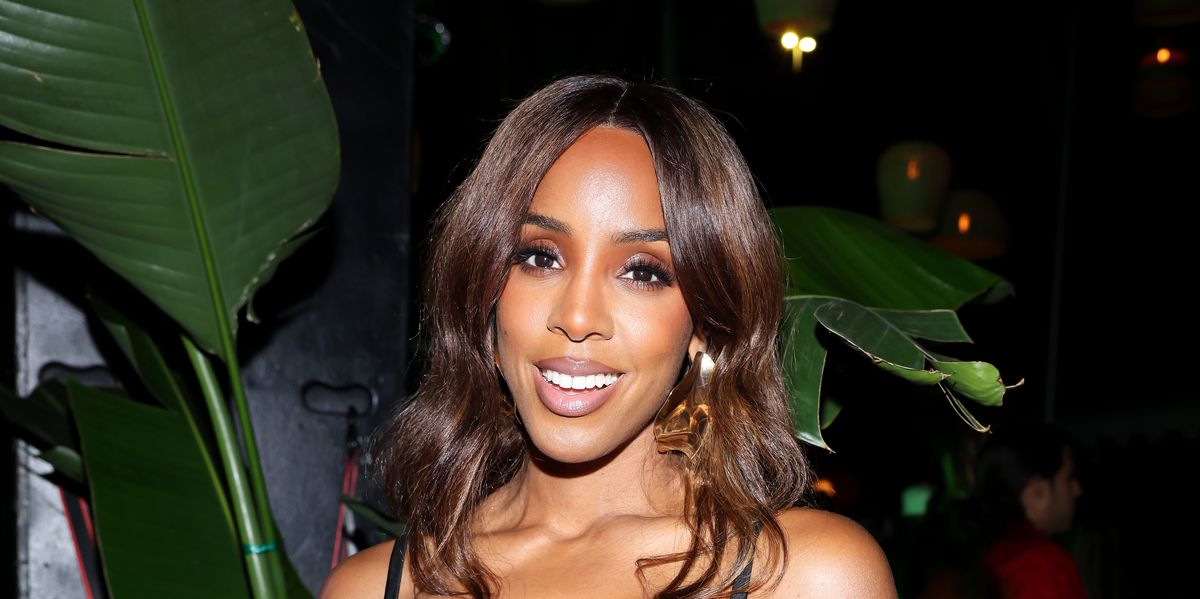 Kelly Rowland is like a bottle of the Earth's finest wine; she only gets better with time. Even in her early forties, the Destiny's Child member and singer has somehow found a way to age backwards, with a level of grace and class that we could only dream of. And she does so while juggling multiple hats and roles at once. In addition to giving us hits like "Motivation," the multi-hyphenate is also a wife, actress, executive producer, and, her greatest role of all, a mother.
Always proudly doting on her two sons , Titan and Noah, Rowland shares how teaming up with WaterWipes for their Hallowclean campaign and kickoff event in New York City on October 21 was an easy choice for her—as the brand is one that she keeps stocked regularly.
"WaterWipes has been in my household for I don't know how long. We don't just use them for Noah; I keep them in the car and my makeup bag, too," Rowland shares in an exclusive interview with xoNecole . "I also like the fact that they are natural. I'll definitely have them in my fanny pack for trick-or-treating. This is Noah's second Halloween, and I know he's going to be excited and digging in his pail to try the different candy, and his little fingers will be messy. He's going to want to get dirty. So, I love that WaterWipes is putting up ten Hallowclean stations across the country for parents to use; it's such a great idea. I just love Halloween, and I really love Halloween with my kids, so I thought this campaign was a really great idea."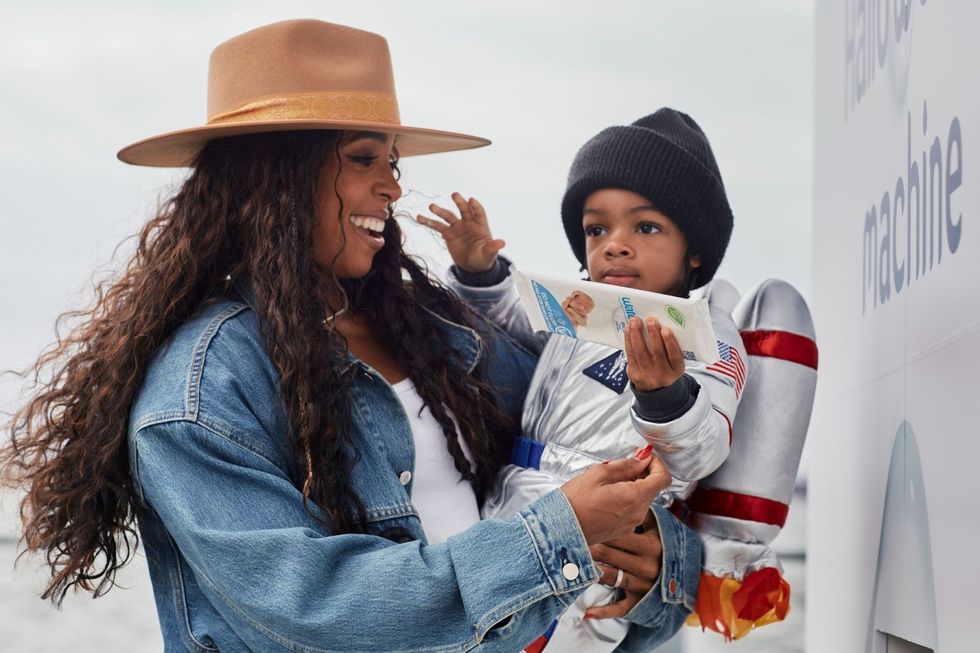 Kelly Rowland and son Noah at the WaterWipes Hallowclean Machine in Brooklyn, NY.
Photo courtesy of WaterWipes.
She and her youngest son, Noah, attended the event, where the two enjoyed a day of family-friendly activities while he sported the most adorable astronaut costume. But the Spooky Szn fun doesn't stop there for the Merry Liddle Christmas actress and executive producer.
We recently caught up with Kelly Rowland over Zoom to learn more about her Halloween (and holiday) plans, her keys to a healthy marriage, and she even dropped her go-to cold-weather skin routine —finally.
xoNecole: What are your family's upcoming trick-or-treat plans? Will you do a fun group costume, or is everyone going to do their own thing this year?
Kelly Rowland: I'm preparing for tour, so I've been in rehearsals and pre-production. And my husband's schedule has picked up, too. But the kids are going trick-or-treating; we usually go with people we know, so mommy and daddy will definitely be home to take them. We're actually letting the kids dress us up this year, which means my costume will be a complete surprise to me. I told Noah he could paint my face or even go to the costume store and pick something out—it's literally up to them. So, I don't know what that will be. And, right after, I'll be back to rehearsals.
xoN: Speaking of holidays, what do you look forward to most during the season?
KR: We love having people over, especially during the holidays. It looks like we will be home this year—thank God— just enjoying each other and spending quality time together. I like to decorate the house and go completely ham; it always looks like Christmas threw up in my house. From the stairwells to the exterior of the house and the lights—everything. We go so crazy. I also love the smells, it's one of my greatest memories with my mom, God rest her soul. So I love to play all of that up.
I like to bake something every day, I like to make sure there is something for the kids to do or make each day, we watch Christmas movies, and we even do a wine tasting sometimes. It's just all really sweet and cozy.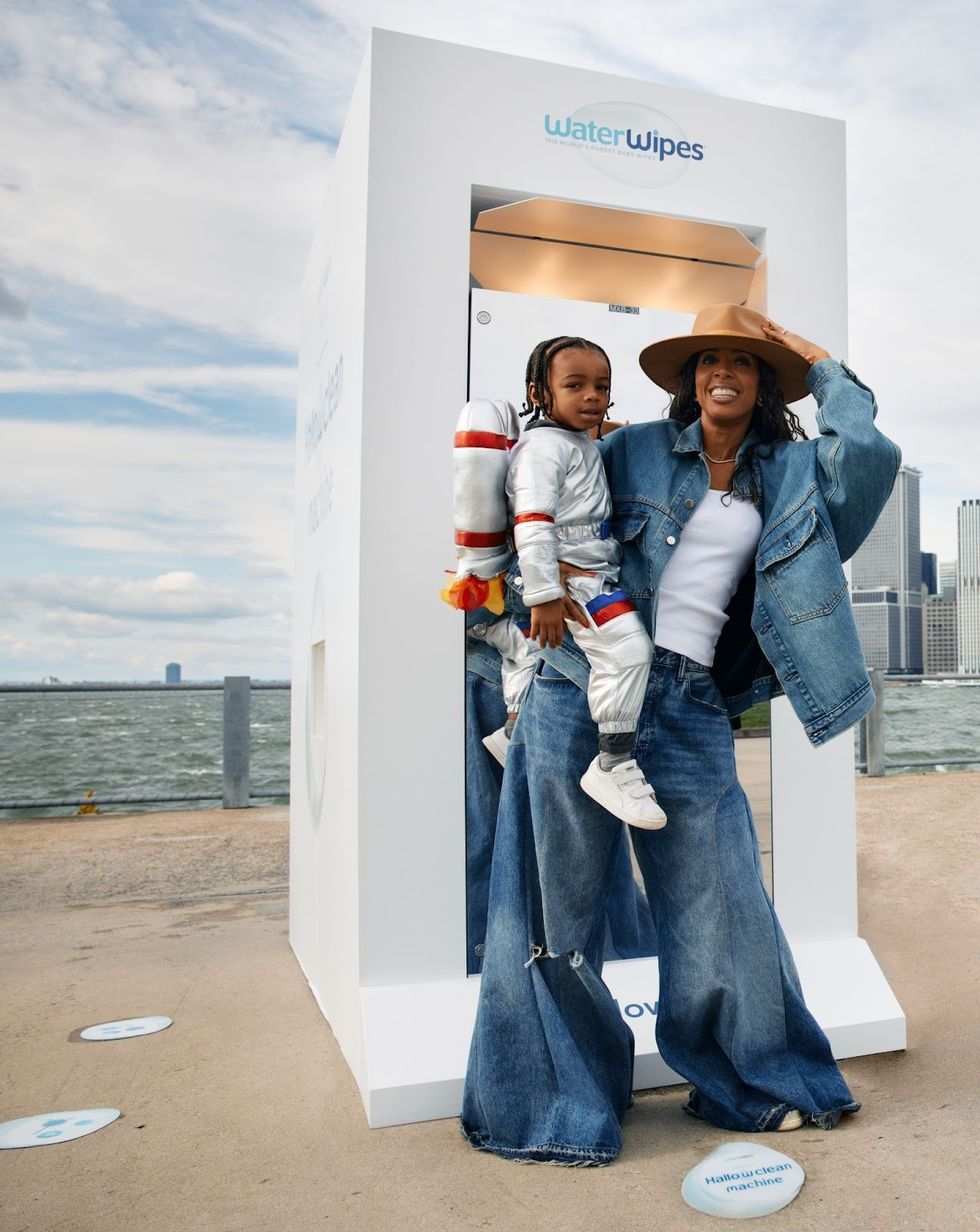 Kelly Rowland and son Noah at the WaterWipes Hallowclean Machine in Brooklyn, NY.
Photo courtesy of WaterWipes.
xoN: We love that family is so important to you, and it always shows in your posts, especially those with your husband. What would you say has been that "key" to a healthy marriage as partners and spouses for you two?
KR: I would say, each of us doing the self-work . I have not seen marriages last long in my lifetime. I haven't been given the tools to "make it last forever." We just try to do the work on ourselves and not sweat the small stuff.
Communication is key for us, too. We communicate everything. Whether I'm upset or I'm not sure about something, I communicate it. I also just like being around him, he's fun. He's a really great person and makes me laugh. We can literally sit together and watch a game and not say anything. We understand what true intimacy is, and now we're almost ten years into our marriage.
xoN: Now, Kelly, we have to ask. Skincare. What is your cold-weather routine and the products you're reaching for as temperatures drop?
KR: Right now, I'm all about moisture . I will wash my face morning and night, I do not skip. I'm obsessed with this 111SKIN toner. It smells good, but it also feels good on my skin. There's also this product from Vanessa Lee of The Things We Do. They are these coconut eye patches with these little beads. I place them under my eyes and around the corners of my mouth—talk about a game changer. I like to put them on at night and then rub in the extra serum all over my face. Between that and this lactic acid by Shani Darden , they are both game-changers for me this season.
xoN: So, since you've found the key to aging backwards, should we be on the lookout for the Kelly Rowland skincare line anytime soon?
KR: Honestly, that market is so saturated. I wanted to do it a while back, but I have to really think about what I want to bring to the marketplace to really impact culture. It's not just about a product for me. I love the way Selena Gomez has created a community. I want to be able to create a community as well. When it's not just about skincare, it turns into a space for people to be their most authentic selves. And that's what I love.
Feature image by Natasha Campos/Getty Images for Tres Generaciones

A few years ago, I wrote an article for the platform entitled, " Gaslighting, Love Bombing & 5 Other Triggers To Call Out In Your Relationships ." A part of the reason why I did it is because I totally agree with an article that ran on TIME 's site earlier this year: " Gaslighting, Narcissist, and More Psychology Terms You're Misusing ." As a life coach , I can tell you that it can be super annoying (at times) to see folks just throw words around when it's clear that they are just parroting what they heard someone else say.
---
An example? Narcissist . The more I watch people rant about how an ex in their life was a narcissist, the more I oftentimes see narcissism in that very individual. A narcissist is entitled. A narcissist has an inflated sense of self. A narcissist refuses to see someone else's side of things, they constantly need attention and validation, and they don't take criticism well. So no, someone isn't a narcissist simply because things didn't work out with you or they didn't get on the same page as you as far as your relational expectations are concerned.
Okay, but that's another discussion for another time. For now, what I want to talk about is another psychology term that gets worn out: toxic . While the dictionary defines it as something (or one) that is poisonous or harmful, in the world of mental health, toxic is about being an abusive type of individual — whether it's mental, emotional, verbal, spiritual, relational, or otherwise. Someone is not toxic just because they don't see eye to eye with you or their views differ from yours. "Toxic" is significantly detrimental to your overall health and well-being.
That said, can you have a toxic relationship with yourself? Absolutely. I'm about to share seven ways that it can manifest. And not from the casual TikTok angle either; these all can be significantly poisonous and extremely harmful if you don't get a hold of them — even if doing so requires therapy. And sis, there ain't nothin' wrong with that. Good therapy is toxicity's kryptonite.
Okay, so what are some signs that you truly have a toxic relationship… with you ?
Featured image by MoMo Productions/Getty Images