---
Are you more likely to recommend natural remedies or pharmaceutical drugs when treating minor ailments? Throughout my childhood and most of adulthood, I preferred the latter.

At the first sign of a headache or menstrual cramps, I would head to my medicine cabinet. Filled with over-the-counter (OTC) pills and syrups, it rivaled the local drugstore's shelves. In mere minutes, I'd feel better, but it never occurred to me that non-prescription medication could be detrimental to my health.
My go-tos were painkillers like aspirin, ibuprofen, and naproxen which can cause long-term side effects including indigestion, ulcers, and gastrointestinal bleeding that may require hospitalization.
According to The British Journal of General Practice, "Non-steroidal anti-inflammatory drugs (NSAIDs) are responsible for 30% of hospital admissions for [adverse drug reactions] ADRs, mainly due to bleeding, heart attack, stroke, and renal damage."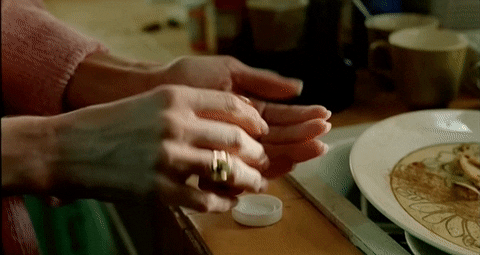 Image by Giphy
Using them sparingly reduces the likelihood of negative effects but it's not uncommon for some OTC meds to be used on a daily basis for other issues. A popular cold-and-flu medicine had been so widely used for sleeplessness that the brand created a formula specifically for treating insomnia. I've personally used this particular medicine for restlessness countless times before reading up on the recommended usage.

They warn that it should only be taken for "occasional sleeplessness" and advise that you should consult with a doctor if you're still experiencing trouble sleeping after two weeks of use. Considering that diphenhydramine, the main ingredient in some OTC sleep medications, can increase your risk of dementia, I decided to search for less harmful alternatives and stumbled upon herbal medicine.
Making the switch from traditional to natural medicine requires research and experimentation. It's an ongoing process, but I've found a few remedies that have replaced my past drugstore staples for good.
Ashwagandha Root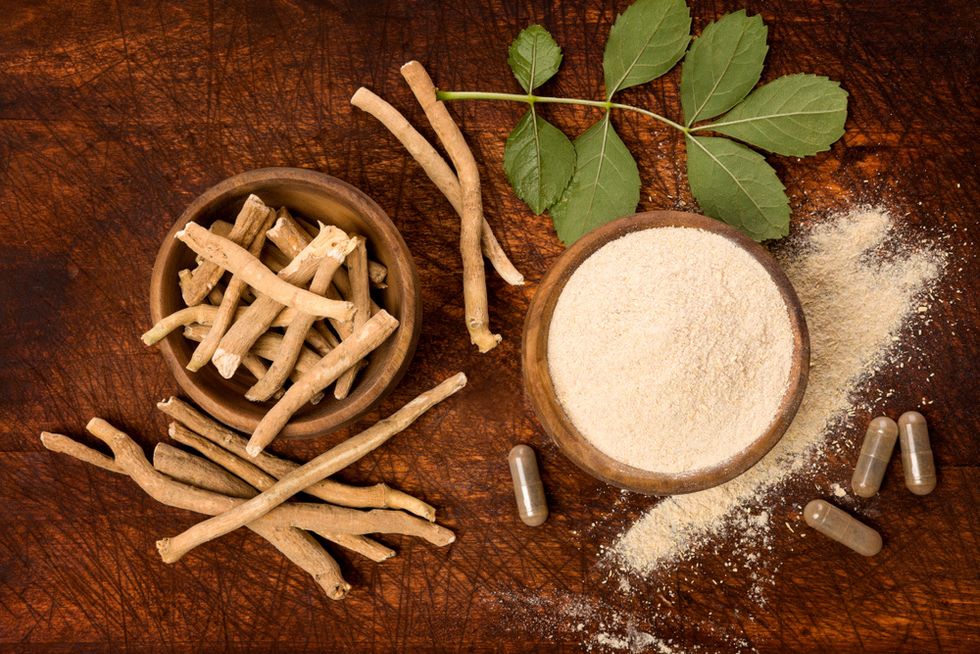 Image by Shutterstock
Ashwagandha is an Indian ayurvedic herb that has been successfully used to combat stress, anxiety, and inflammation. A 2012 study found that the stress levels of participants who took Ashwagandha root extract for 60 days were significantly reduced. The study required them to take capsules but I prefer it in tea form. I pack the loose tea in a strainer and drop it in a cup of boiling water. I usually let it steep for 10-15 minutes before consuming it. I prefer to take it at night because, within two hours, I can't stay awake.
Having Ashwagandha tea at least once a day has helped me reduce stress but more importantly, it has changed my sleep habits for the better. I am able to fall asleep and wake up much earlier, which allows me to get more done during the day. Regardless of which form you prefer to take it in, you can find Ashwagandha Root supplements, tea, or powder at your local and online health food store, tea shop, or Amazon.
Garlic & Ginger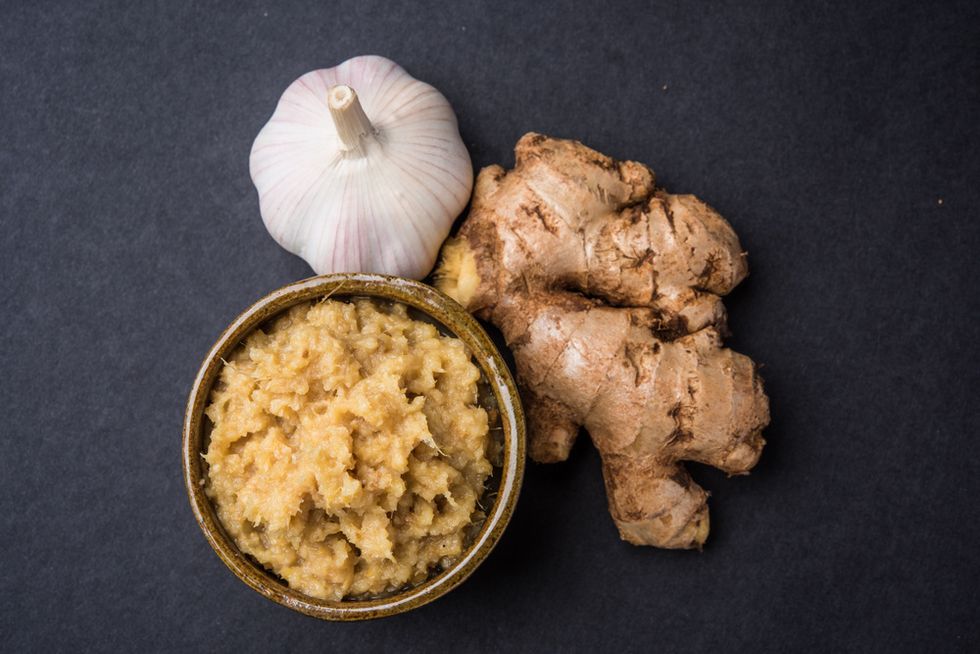 Image by Shutterstock
These are staple household spices used in nearly all of my family recipes but they're not just for satisfying your taste buds. Much like Ashwagandha, they have anti-inflammatory properties but these herbs are multifaceted. I always stock up on fresh garlic bulbs and ginger root whenever I feel a cold coming or during holidays when I have a tendency to binge-eat.
I make it into a tea by boiling the garlic bulbs and peeled ginger in a pot for 20 minutes before straining it into a mug. Although I throw the bits of ginger out, I toss the garlic into the mug and eat them after I'm done drinking the tea. Consuming raw garlic is almost painful but after boiling them they have a soft, mushy texture and are tasteless. This combo has prevented colds and reduced symptoms of nausea and bloating for me. If they aren't already in your pantry, you can easily find them in any grocery store.
Cannabidiol (CBD)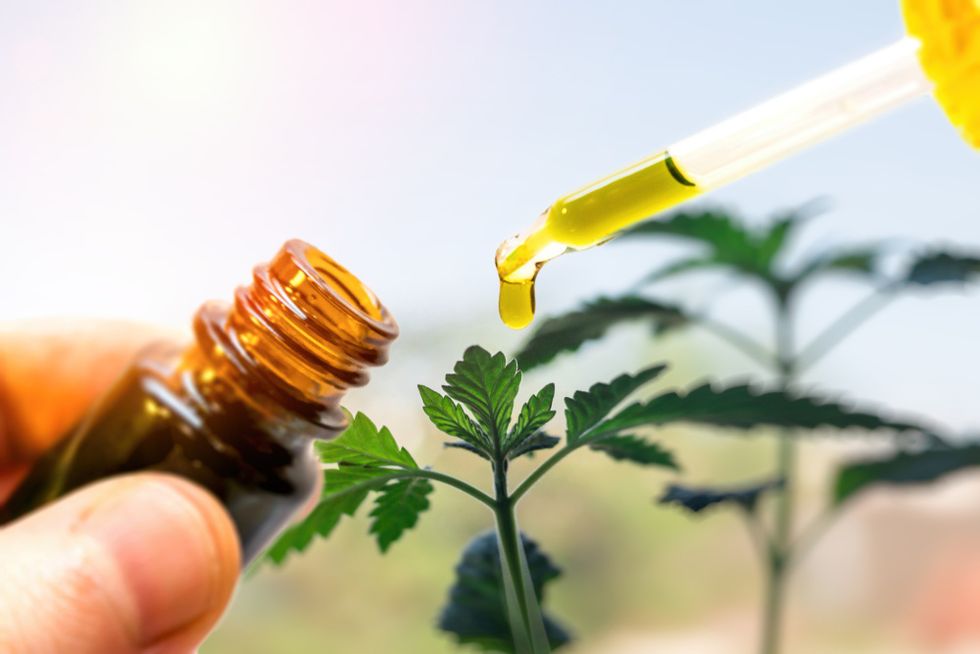 Image by Shutterstock
Like THC, it's derived from the cannabis plant but if you want to manage pain and anxiety without causing brain fog, fatigue, or failing a drug test, CBD is a life-saver. A rheumatoid arthritis support organization advocates for the use of the oil to treat symptoms of the condition. A European Journal of Pain study concluded that the topical use of CBD proved beneficial as well.

Full-spectrum CBD oil has helped me with less severe issues like body aches, migraines, and cramps without any adverse effects. Because of its non-psychoactive healing properties, CBD has recently gotten a lot of mainstream attention. Products containing CBD have popped up everywhere in drinks, oils, lotions, and foods just to name a few, but not all CBD products are made equal. As a result of its newfound success, the Food and Drug Administration is "continuing to evaluate the regulatory frameworks for products containing cannabis and cannabis-derived compounds" and warns of potential dangers.
I've personally found that the natural remedies I use are better for my overall well-being than conventional medicine, but you should always do your research. And of course, anyone who is thinking of trying a new natural or traditional medicine should consult with their doctor.
Want more stories like this? Sign up for our newsletter here and check out the related reads below:
Why I Decided Menstrual Cups Were The Answer For My Period
Overcome Premenstrual Dysphoric Disorder With These Natural Remedies
Featured Image by Shutterstock