Chantel Turner
Chantel Turner is a Los Angeles based writer who's passionate about mental health, philosophy, and pop culture. You can reach me by email at CTTWrites[at]gmail.com or https://chantelturner.contently.com.
They say life doesn't come with an instruction manual but if you're Christian, that's not entirely true. The Bible tells you exactly how to think and behave and what happens if you don't abide by those rules. I had never met a devout Christian who wasn't a black and white thinker. A person who didn't believe that there was room for discussion or a gray area when it came to religion. For a while, I thought like that too.
I was raised Catholic, a branch of Christianity, and although my family stopped going to mass while I was still a child, I attended church regularly.
My choice to attend was not my own. It was mandatory for most students who attended religious schools. In my first elementary school, a Baptist institution, all students had to memorize a new Bible passage every day. Anyone who didn't was given detention instead of recess as punishment. The school expected students and faculty to strictly uphold traditional Christian values and beliefs. Shortly after news got out that the staff was still using outdated discipline techniques like hitting kids with behavioral problems, my parents swiftly transferred me to a Catholic elementary school followed by a Catholic high school.
I was never super religious but I prayed, participated during Mass, went to confession, and got anxiety anytime I passed a church and forgot to make the sign of the cross. That changed during my junior year of high school aka rebellious teen years. I was old enough to see the news of the sexual misconduct allegations that plagued the church and the murky history of a particular Pope. Equipped with this information, I was no longer willing to be a blind follower. Especially when I felt the leaders of the church weren't living up to the same standards they held for lay people.
I didn't want to be a Catholic, Baptist or anything else under the umbrella of Christianity. I felt liberated and soon found myself exploring other religions and schools of philosophy until I eventually declared myself an atheist.
When I became an adult that religious freedom caused me to feel utterly lost. I hated to admit it but I missed the church community, the peace reading the Bible gave me, the inspiring sermons, and the overall sense of faith. Around this period, my family had found their way back to a non-denominational church that was more liberal compared to what we had been used to. I gave it a chance but was turned off. I noticed that much like my previous sect, this group wasn't without flaws. There were disagreements between the leadership team and the churchgoers that reminded me why I left in the first place. It was and still is a lovely community with great people but my bias skewed my judgment.
It wasn't until I saw a tweet from a writer whose work I admired, that I finally realized where I went wrong:
Najma Sharif, a talented writer, is an outspoken and proud Black Muslim women. Her ability to critique things like the antiquated views on gender roles in religion while still maintaining unwavering faith inspired me to reconsider my hang ups with Catholicism and organized religion.

It may sound silly but those tweets helped me rebuild my own personal relationship with God while I worked through my issues with Catholic leaders and parishioners. Instead of equating the leaders and parishioners with the religion and even God itself, I'm reintroducing myself to my religion and examining it with an open mind.
xoNecole is always looking for new voices and empowering stories to add to our platform. If you have an interesting story or personal essay that you'd love to share, we'd love to hear from you. Contact us at submissions@xonecole.com.
Featured image by Shutterstock
When I was younger I always thought everything in life would get easier with age because I'd have complete control of my life. Being underage meant my choices were limited when it came to making decisions. I always felt I fell into things rather than picked them especially when it came to friendships. As I got older I thought building friendships would be just as easy as it had been but better because I'd be making a decision based on shared interests instead of location. Personally, that wasn't the case for me at all when it came to making friends as an adult.
The truth about making friends as an adult is that it can be disappointing if you don't have the right mindset.
From grade school through college, finding your crew and becoming instant best friends was easy, but those were simpler times. Although there are plenty of apps and websites that make it easier to make friends as we get older, forging and maintaining friendships will take a little more effort. After I made a cross-country move, I knew I had to put myself out there if I wanted to make my new city my home.
If you're on the market for new friends because of a move or just want to expand your circle of influence, keep these three lessons I've learned in mind:
Be Cautious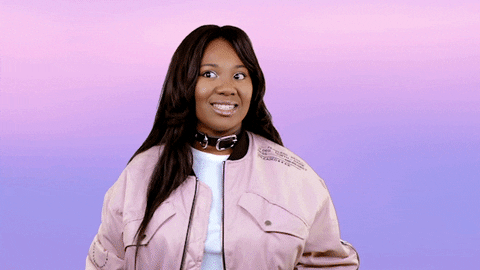 Image by Giphy
Although you get wiser with age, "stranger danger" doesn't just apply to children. Unlike school, your future friends haven't been vetted by the admissions office. On apps that connect you directly with other people looking for friendships, the proposed meeting place is usually in a bar or club, so be careful.
When I first heard of Bumble BFF, I was excited to try it but I quickly decided it wasn't for me. With girls that I had great conversations with, I nor the other person would ever suggest meeting up. I realized unless I was open to friend dates, the app was pointless, so I began considering taking the leap until something in my gut changed my mind.
The people who were immediately open and persistent about hanging out always had a similar story: They were solo-traveling women who were only in town for one day and wanted a partner to go clubbing with. It could've just been anxiety clouding my judgment but something about that always seemed off to me. Even though going out for drinks sounds fun, I joined the platform for long-term friends so it didn't seem worth the risk.
Many people have made lifelong friends on the app so I still suggest others give it a try despite my experience. Just be smart and trust your instincts!
Remain Open-Minded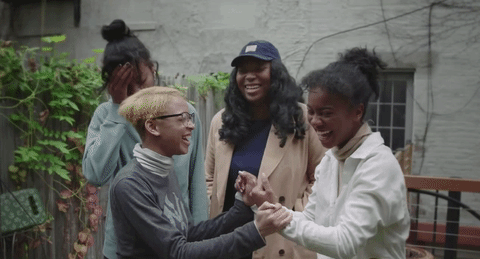 Image by Giphy
Apps like MeetUp that allow you to join social groups and clubs are a great no-pressure way to meet new people. After setting up an account, you can browse hobbies and groups that pique your interest.
Don't immediately filter your search results. Try doing something outside of your comfort zone or that you've been meaning to do.
For years, joining a gym has been on my to-do list but after a while, getting in shape wasn't enough of an incentive to keep me going. I found a jogging group in my area on the app that meets up a few times a week in the morning and evenings. I didn't initially love the idea of exercising outside but the sense of community from the group kept me motivated.
Staying open-minded doesn't just apply to your interests but where you're open to meeting friends. I met one of my best friends at my first job in Los Angeles. At work, I had a tendency to be introverted and preferred to keep my personal and private life separate, but ditching that rule proved extremely beneficial for me.
Don't Force It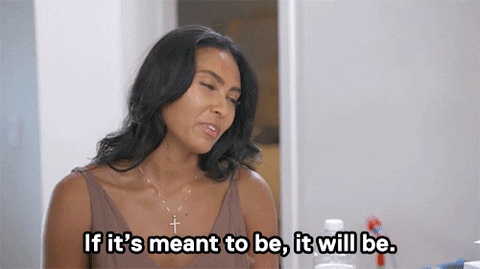 Image by Giphy
It's great to get out of your comfort zone but there's nothing wrong with stepping back inside of it. If you feel out of your element or lonely, you might stay in unpleasant situations for longer than necessary.

I've never been much of an athlete but a friend from home recommended amateur sports teams as a way to socialize. I joined a soccer league and although the people were fun, I was absolutely terrible at it and didn't have much in common with them except our love of after-game drinks. I quickly realized amateur players may have less patience for beginners than the pros so despite wanting to fit in, I knew it wasn't going to work out.
Thankfully, I found options that were more my speed. It didn't matter whether I joined Meetup, Bumble BFF, a book club, meditation group, or an amateur sports league. I know that the most important contributing factor to finding my core group of friends here was not an app, but a great mindset.
Want more stories like this? Sign up for our newsletter here and check out the related reads below:
How To Deal With You And Your Friends' Growth Spurts
6 Types Of Friends You Need In Your 30s
Is It Time to Initiate A 'Friend Divorce'?
Featured Image by Shutterstock
Are you more likely to recommend natural remedies or pharmaceutical drugs when treating minor ailments? Throughout my childhood and most of adulthood, I preferred the latter.

At the first sign of a headache or menstrual cramps, I would head to my medicine cabinet. Filled with over-the-counter (OTC) pills and syrups, it rivaled the local drugstore's shelves. In mere minutes, I'd feel better, but it never occurred to me that non-prescription medication could be detrimental to my health.
My go-tos were painkillers like aspirin, ibuprofen, and naproxen which can cause long-term side effects including indigestion, ulcers, and gastrointestinal bleeding that may require hospitalization.
According to The British Journal of General Practice, "Non-steroidal anti-inflammatory drugs (NSAIDs) are responsible for 30% of hospital admissions for [adverse drug reactions] ADRs, mainly due to bleeding, heart attack, stroke, and renal damage."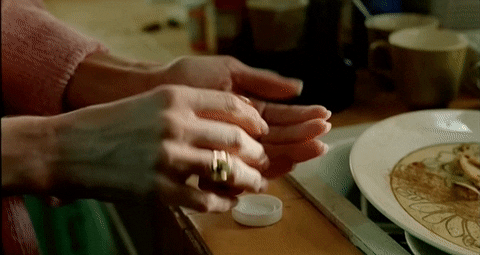 Image by Giphy
Using them sparingly reduces the likelihood of negative effects but it's not uncommon for some OTC meds to be used on a daily basis for other issues. A popular cold-and-flu medicine had been so widely used for sleeplessness that the brand created a formula specifically for treating insomnia. I've personally used this particular medicine for restlessness countless times before reading up on the recommended usage.

They warn that it should only be taken for "occasional sleeplessness" and advise that you should consult with a doctor if you're still experiencing trouble sleeping after two weeks of use. Considering that diphenhydramine, the main ingredient in some OTC sleep medications, can increase your risk of dementia, I decided to search for less harmful alternatives and stumbled upon herbal medicine.
Making the switch from traditional to natural medicine requires research and experimentation. It's an ongoing process, but I've found a few remedies that have replaced my past drugstore staples for good.
Ashwagandha Root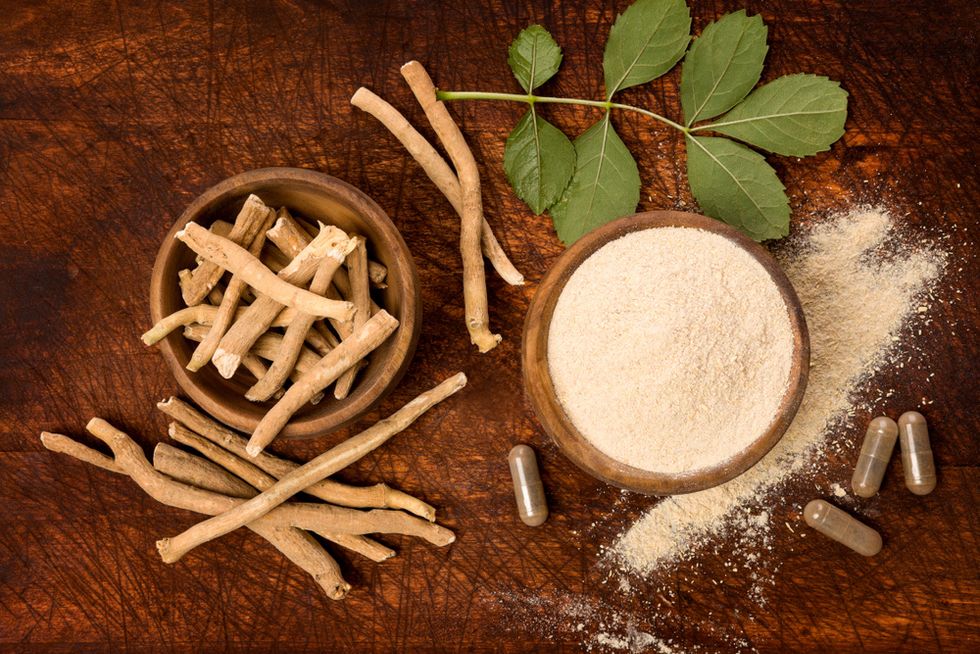 Image by Shutterstock
Ashwagandha is an Indian ayurvedic herb that has been successfully used to combat stress, anxiety, and inflammation. A 2012 study found that the stress levels of participants who took Ashwagandha root extract for 60 days were significantly reduced. The study required them to take capsules but I prefer it in tea form. I pack the loose tea in a strainer and drop it in a cup of boiling water. I usually let it steep for 10-15 minutes before consuming it. I prefer to take it at night because, within two hours, I can't stay awake.
Having Ashwagandha tea at least once a day has helped me reduce stress but more importantly, it has changed my sleep habits for the better. I am able to fall asleep and wake up much earlier, which allows me to get more done during the day. Regardless of which form you prefer to take it in, you can find Ashwagandha Root supplements, tea, or powder at your local and online health food store, tea shop, or Amazon.
Garlic & Ginger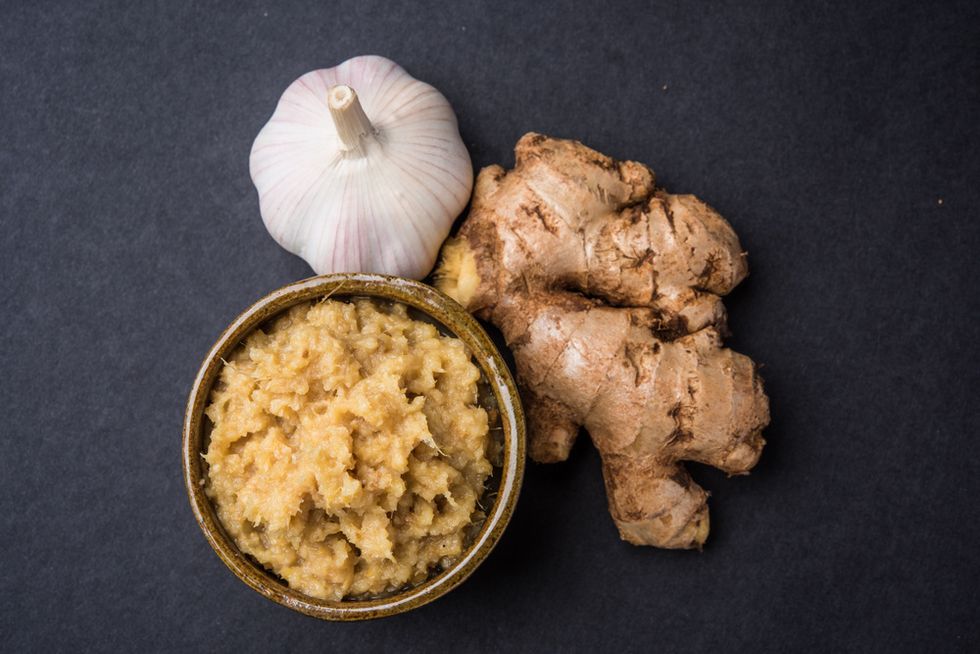 Image by Shutterstock
These are staple household spices used in nearly all of my family recipes but they're not just for satisfying your taste buds. Much like Ashwagandha, they have anti-inflammatory properties but these herbs are multifaceted. I always stock up on fresh garlic bulbs and ginger root whenever I feel a cold coming or during holidays when I have a tendency to binge-eat.
I make it into a tea by boiling the garlic bulbs and peeled ginger in a pot for 20 minutes before straining it into a mug. Although I throw the bits of ginger out, I toss the garlic into the mug and eat them after I'm done drinking the tea. Consuming raw garlic is almost painful but after boiling them they have a soft, mushy texture and are tasteless. This combo has prevented colds and reduced symptoms of nausea and bloating for me. If they aren't already in your pantry, you can easily find them in any grocery store.
Cannabidiol (CBD)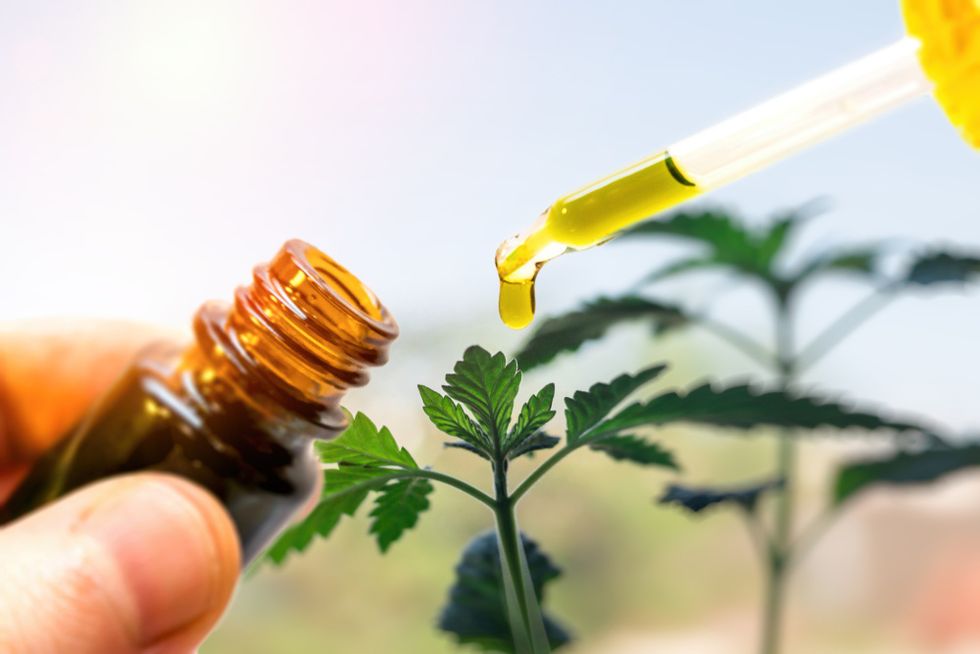 Image by Shutterstock
Like THC, it's derived from the cannabis plant but if you want to manage pain and anxiety without causing brain fog, fatigue, or failing a drug test, CBD is a life-saver. A rheumatoid arthritis support organization advocates for the use of the oil to treat symptoms of the condition. A European Journal of Pain study concluded that the topical use of CBD proved beneficial as well.

Full-spectrum CBD oil has helped me with less severe issues like body aches, migraines, and cramps without any adverse effects. Because of its non-psychoactive healing properties, CBD has recently gotten a lot of mainstream attention. Products containing CBD have popped up everywhere in drinks, oils, lotions, and foods just to name a few, but not all CBD products are made equal. As a result of its newfound success, the Food and Drug Administration is "continuing to evaluate the regulatory frameworks for products containing cannabis and cannabis-derived compounds" and warns of potential dangers.
I've personally found that the natural remedies I use are better for my overall well-being than conventional medicine, but you should always do your research. And of course, anyone who is thinking of trying a new natural or traditional medicine should consult with their doctor.
Want more stories like this? Sign up for our newsletter here and check out the related reads below:
Why I Decided Menstrual Cups Were The Answer For My Period
Overcome Premenstrual Dysphoric Disorder With These Natural Remedies
Featured Image by Shutterstock
Phone a friend or Google for help and you'll see that the most popular recommendations for soothing anxiety revolve around expensive and inexpensive self-care tips, exercise, and diet habit changes. Of course, those are all great suggestions but those options can be costly and take more energy than you have at the moment.
While you're working toward becoming that soul-cycling vegan queen with the 7-step skincare routine, an instant low-effort pick-me-up is possible in the meantime. If the thought of yoga and breathing exercises gives you the anxiety it's supposed to eradicate, try some of the ideas below:
Get Into A Good Horror Flick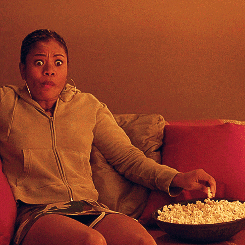 Photo by Giphy
This may seem counterintuitive, but hear me out. Watching a quality horror or thriller movie will keep your mind away from your issues and make them seem minuscule in comparison.
In one of my favorite films, Insidious Chapter 3, a character is followed around by a frail corpse-like demon in a hospital gown who's trying to possess her. It may seem silly but once the credits flashed and I came out of the trance-like state good films put you in, I let out a sigh of relief that my day to day life isn't even half as stressful.
Trying A Little Stress Relief With Kinetic Sand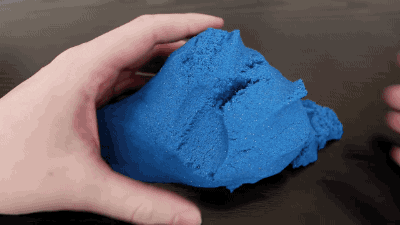 Photo by Giphy
Kinetic sand is an enhanced version of a stress ball. It's regular sand mixed with silicone oil which makes it feel incredibly soft and silky. Molding or squeezing the sand has a similar effect to watching "Oddly Satisfying" videos on YouTube. Even therapists recommend it because of its proven ability to soothe and calm. At under $10, it's affordable and almost impossible to make a mess, so it's worth a try.
Hit The Road For A Day Trip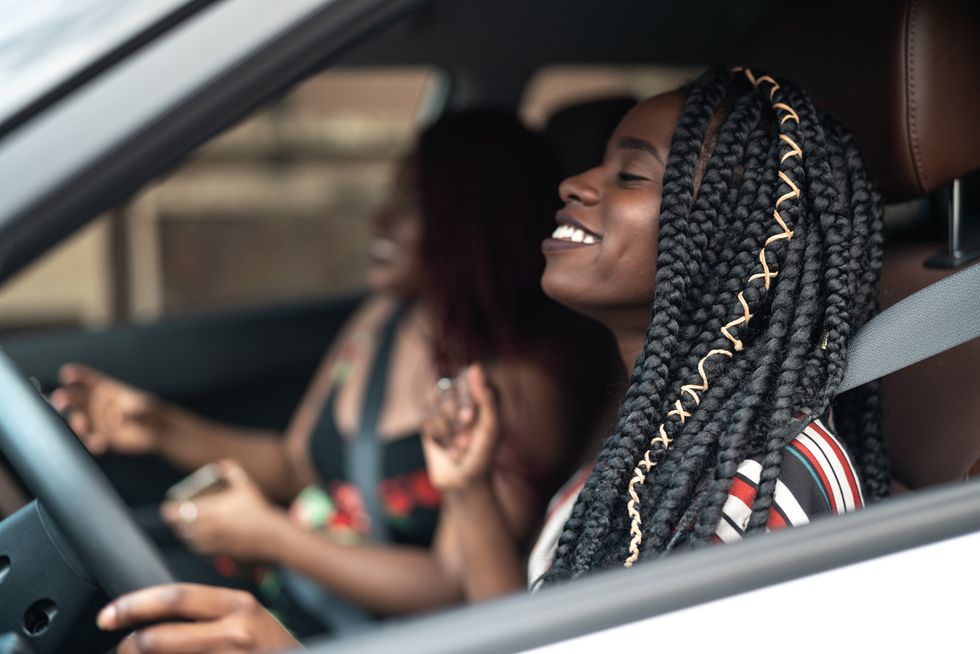 Getty Images
Traveling cross-country or out of the country isn't necessary to clear your mind. If you find yourself yearning for a change of scenery, sometimes what you need is right next door. Hundreds of people have explored even the most seemingly mundane locations. There are definitely parts of your city and state that you haven't explored that will leave you pleasantly surprised.
Journal Your Deepest, Darkest Thoughts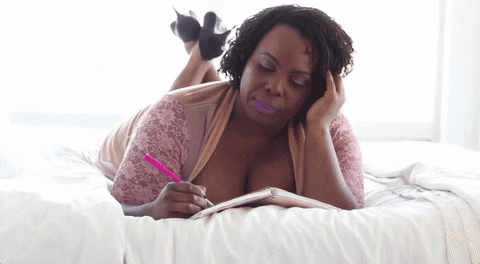 Photo by Giphy
No matter how close you are to your family, friends, or spouse there are still some things you're probably keeping to yourself. But problems can arise when you become consumed by unresolved issues you're too afraid to share with others. Instead of suppressing your emotions or dealing with incessant inner dialogue, you can try your hand at self-therapy. Getting your thoughts down on paper can help you see things clearly and ultimately resolve your dilemma.
Journaling can also help you figure out other things about yourself that you weren't aware of. The daily practice of free-writing and looking over what you've written will reveal areas of your life that need improvement. You might also find hidden interests and ways to self-soothe that you can add to your own list.
Featured Photo by Shutterstock
Want more stories like this? Sign up for our newsletter here and check out the related reads below:
I'm Caught Between My Anxiety Disorder & Religion, Here's How I Cope
10 Ways To Calm Down When You're Stressed
Make Stress, Anger and Fear Work For You, Not Against You
As I'm typing this article, I have approximately 27 tabs open between my phone and my laptop while my favorite comfort TV show plays in the background. This might seem like a sure-fire way to induce anxiety, but it has the opposite effect on me.
As an introvert, I need a lot of alone time, but too much silence can cause ruminating thoughts. Switching between streaming services, YouTube, Reddit, Wikipedia, Twitter, and various online publications turned out to be the solution. Though going deep down the Internet rabbit hole is usually advised against, it has had several benefits for me.
1. High-Quality Comedy
One of the pros of social media is that everyone has a platform. I've found many lesser-known creatives including activists, beauty gurus, and authors but nothing can shift my mood faster than the comedy on social media. To find the humor in our flaws and even traumatic events can be therapeutic, and knowing that millions of others share the same experiences is surprisingly comforting.
2. Insightful Commentary
When I finish a great book, see a good film, or hear the latest breaking political news, sometimes I'm left in shock and awe. My close friends and family mostly share my same views when it comes to politics and prefer the same genres of books and films, so I'm grateful that I can see diverse opinions from people online. While I have come across some negativity, the pros outweigh the cons. I have found some truly thought-provoking content and recommendations for things I would have otherwise ignored.
3. New Places To Discover
There are enough places in the world for exploration, and you'll still not reach all of them. Thankfully, you can find tourism videos and articles for even the most remote places on earth. You can read up on the best season to visit, hotels, restaurants, and other exciting things to do and see. Mapping out the details will keep you focused and excited about your endless future plans. You'll find yourself looking forward to reaching all the places you haven't visited yet.
4. Inspiration
Going digital to destress is entertaining but eventually, I have to get back to my responsibilities. That's when the time-waster doubles as a motivator. There are so many great websites, e-Books and content creators with inspiring messages and stories. As the decade came to a close, celebrities like Issa Rae and Lizzo shared their tweets pre-fame:
That's all the motivation I need to put my phone down, close my tabs, and get to work.
Featured Photo by Shutterstock
As a person who suffers from anxiety, I am always on the hunt for new ways to deal with unpleasant symptoms. Sure, the traditional routes of speaking with a therapist, contacting a friend, and using CBT workbooks have helped me make great improvements, but it never hurts to expand your toolkit.
This year, one of the goals I set for myself was finding ways to independently conquer my fears. Attempting to self-soothe when I'm alone and don't have the mental energy to complete exercises at home left me yearning for more options.
Naturally, as a writer and avid reader, I set my sights on the bookstore. I've always been wary of self-help books and found that the positive effects wane shortly after reading the last chapter. I had a list of my favorite quotes, affirmations, and inspiring speeches on hand in case of emergencies, but I was in search of something life-changing. I did a deep dive into books on religion, performing arts, spirituality, philosophy, and psychiatry.
A universal truth that was communicated throughout almost all of the works I read was that the person most equipped to guide you towards an anxiety-free future is yourself.
I'll admit that no matter how close I've gotten to my therapist, family, or friends, there are just some things I am taking to the grave! However, being brutally honest with myself has some perks that have allowed me to work towards a better version of myself in the comfort of my own home. I've learned these skills from a few non-traditional self-help books.
These 4 books have stuck with me throughout the years. Words from each chapter have sat in the back of my mind, silently working their magic and allowing me to become a more positive, open-minded individual.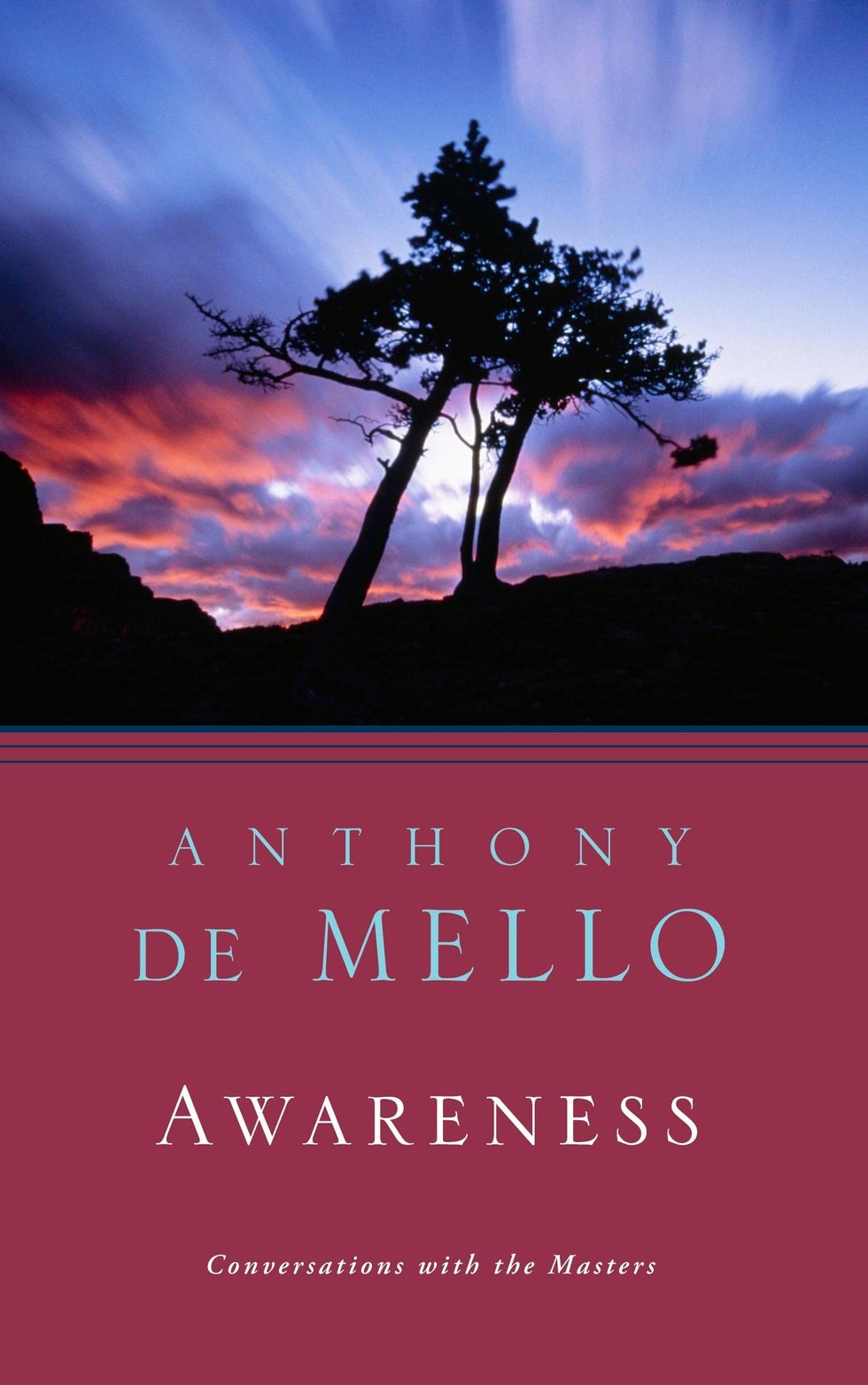 Amazon
I love a sturdy hardcover or paperback edition, but I love this book so much that I also have it in eBook form so I can access it anywhere. The author, Anthony De Mello, was a Jesuit priest with refreshingly progressive views. He believed that the cause of anxiety stemmed from rigid beliefs and the unwillingness to examine them.
"There is only one cause of unhappiness: the false beliefs you have in your head, beliefs so widespread, so commonly held, that it never occurs to you to question them."
Awareness is chock-full of funny anecdotes from De Mello's own life. One common theme throughout the book is that people's interpretations of a situation are a direct result of their conditioning and current disposition.
"If you find me charming, it means that right now you're in a good mood, nothing more."
"We see people and things not as they are, but as we are."
At less than 200 pages, Awareness is a quick and insightful read that can increase self-awareness while providing a few laughs along the way.
'The Untethered Soul: The Journey Beyond Yourself' by Michael A. Singer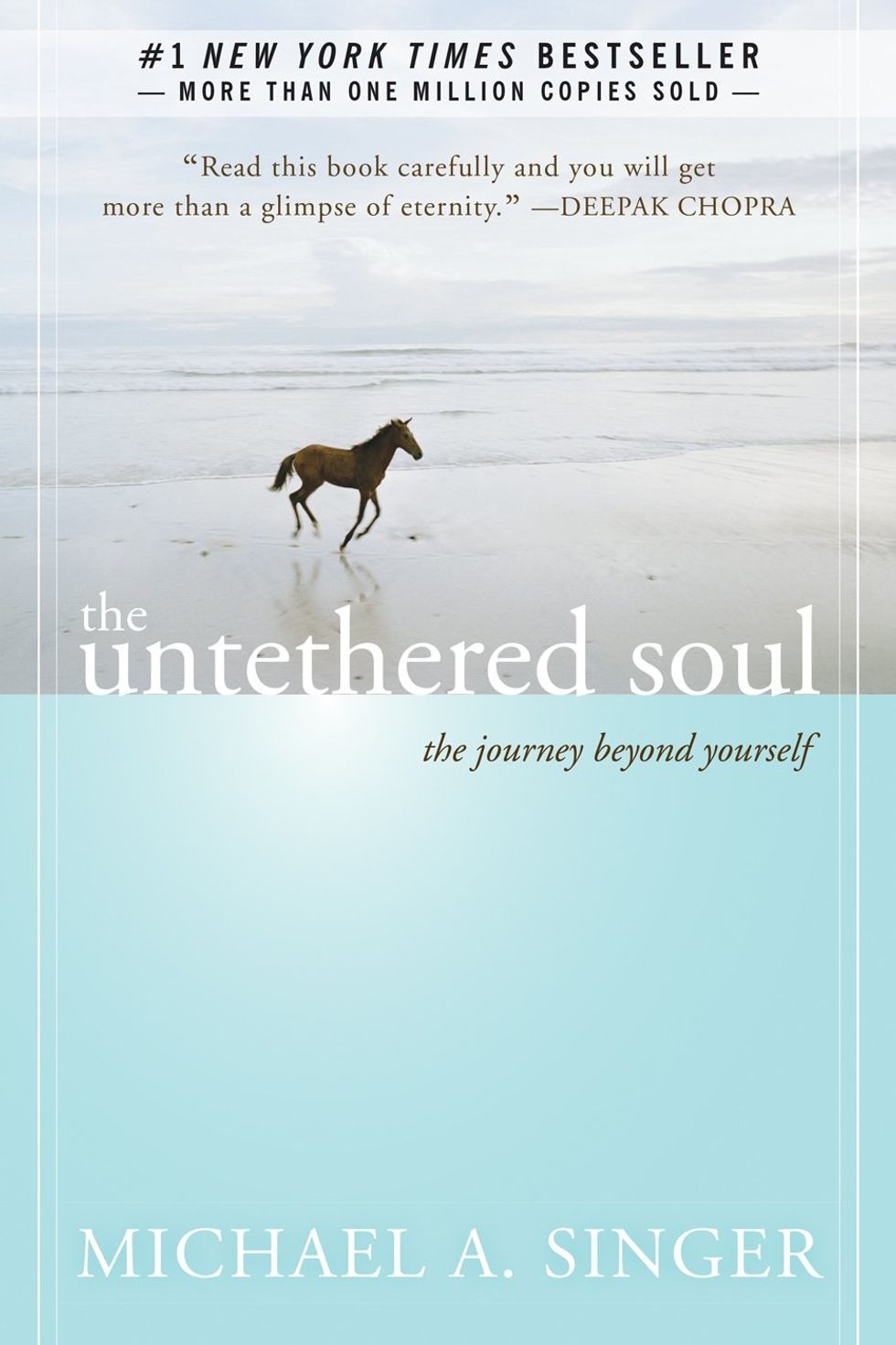 Amazon
I was sold on this book from the title of the first chapter alone ("The Voice Inside Your Head"). This lighthearted spirituality-based book is paced perfectly which ultimately leads to the shocking revelation that you have complete control of your annoying "inner roommate". Nope, I don't mean the person who you go half on rent and utilities, I'm talking about your constant internal dialogue.
"There is nothing more important to true growth than realizing that you are not the voice of the mind - you are the one who hears it"
It doesn't stop at acquiring self-awareness for Singer, he takes it a step further by showing you how to serve your annoying roommate an eviction notice.
"When a problem is disturbing you, don't ask, 'What should I do about it?' Ask, 'What part of me is being disturbed by this?'
Much like De Mello, Singer wants you to challenge your beliefs instead of suppressing negative feelings. You'll find that approaching problems that way helps resolve minor issues almost instantly. Now that you've shown negativity the door, you can choose which thoughts you want to engage with or let go of because:
"The truth is that most of life will unfold in accordance with forces far outside your control, regardless of what your mind says about it."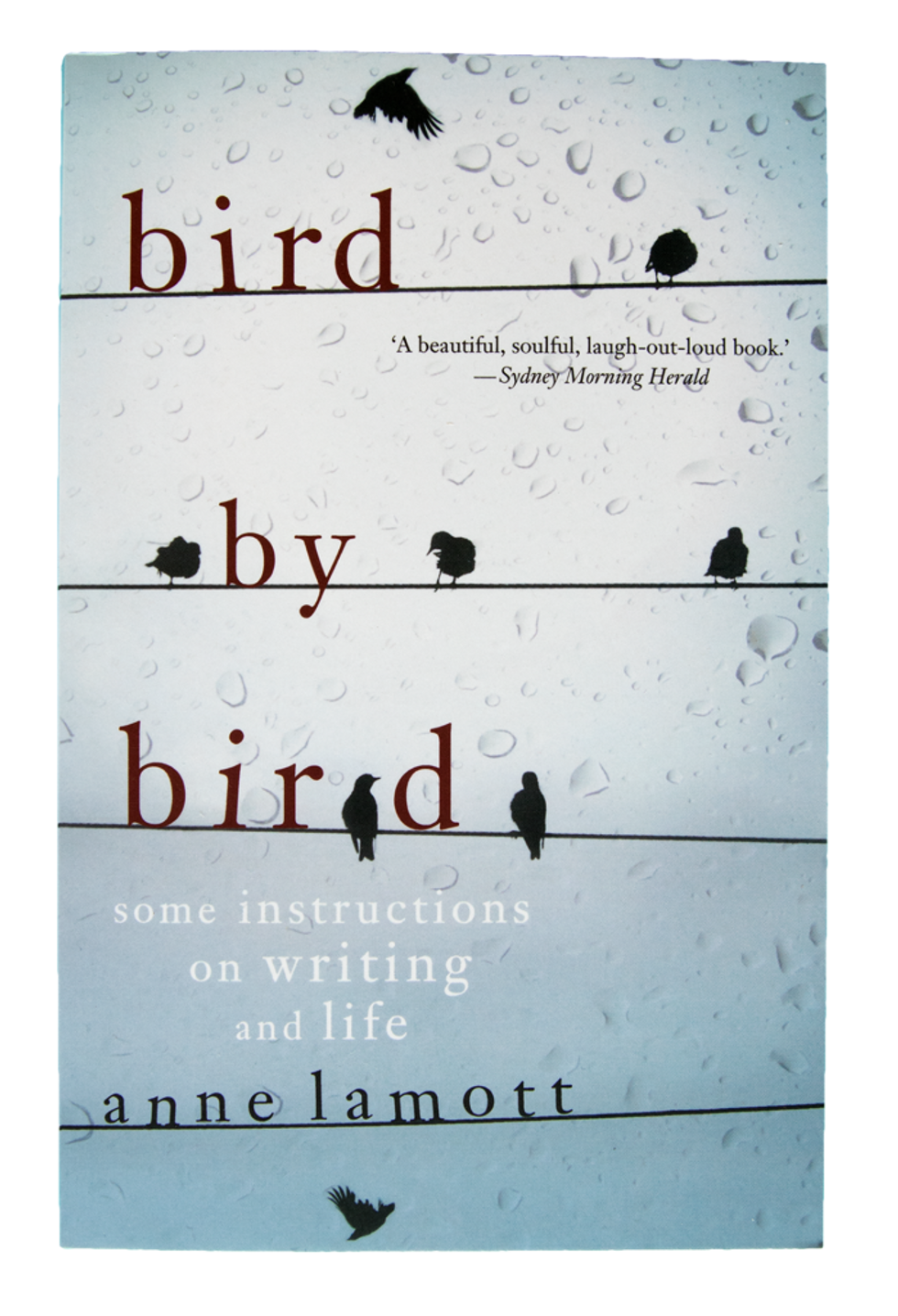 The Good Copy
Although Bird by Bird is partly a book geared toward improving writing skills, Lamott's advice can be used by anyone regardless of their chosen field. Especially because the author believes the best work comes from people who write for themselves. She gives practical advice that is often overlooked in a society that praises ambition at the risk of your mental health. There is absolutely nothing wrong with competing in a race to the top, but enjoying the journey would certainly make it more fulfilling spiritually and financially.
"We are a species that needs and wants to understand who we are. Sheep lice do not seem to share this longing, which is one reason why they write so little. But we do. We have so much we want to say and figure out."
Whether you might be anxious to pick up a new hobby or change careers, Lamott's best advice is simply to get started without worrying about how others might perceive your actions.
"Don't look at your feet to see if you are doing it right. Just dance."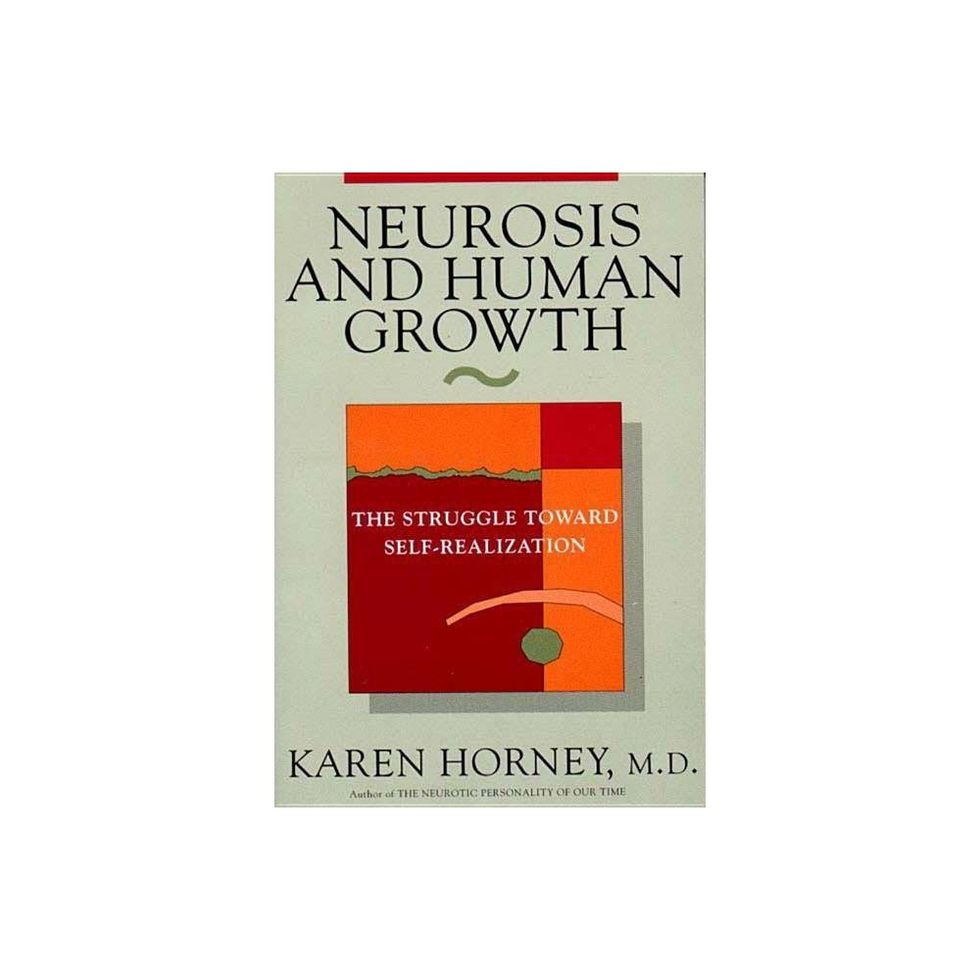 The most badass thing about Karen Horney's studies is that she challenged Sigmund Freud's views on feminine psychology which she criticized for being wide off the mark. She directly responded to some of his most popular theories in her book aptly titled Feminine Psychology.
As a psychoanalyst whose career began in the early 1900s, Horney is not for the faint of heart. However, Neurosis and Human Growth break the human psyche down in layman's terms. This classic self-help book will leave your jaw on the floor.
"The neurotic, as long as he must adhere to his illusions about himself, cannot recognize limitations, the search for glory goes into the unlimited. Because the main goal is the attainment of glory, he becomes uninterested in the process of learning, of doing, or of gaining step by step — indeed, tends to scorn it. He does not want to climb a mountain; he wants to be on the peak. Hence he loses the sense of what evolution or growth means, even though he may talk about it. Because, finally, the creation of the idealized self is possible only at the expense of truth about himself, its actualization requires further distortions of truth, imagination being a willing servant to this end."
At times, some passages hit too close to home but also reminded me that the anxieties we deal with today are far from unique.
"It is naturally a sign of inner liberation when a patient can squarely recognize his difficulties and take them with a grain of humor. But some patients at the beginning of analysis make incessant jokes about themselves or exaggerate their difficulties in so dramatic a way that they will appear funny, while they are at the same time absurdly sensitive to any criticism. In these instances, humor is used to take the sting out of otherwise unbearable shame."
Her scientific but simple approach to self-analysis differs only in delivery from De Mello, Singer, and Lamott's, but the lesson is the same. It's always great to maintain a variety of resources for mental wellness, and self-analysis shouldn't be used in lieu of professional help. But take pride in knowing that you are the most valuable resource when it comes to overcoming any obstacle.
Want more stories like this? Sign up for our newsletter here and check out the related reads below:
The 19 Books Every Entrepreneur Should Read
This Book Changed Oprah Winfrey's Life
13 Books You Should Read If You Want A Better Relationship With Yourself
Featured image by Shutterstock