The first time I saw Dana Chanel was at a viewing party for Keke Palmer.
She wore a simple outfit—a white tank under a black jacket, dark-washed jeans ripped at the knee, with her hair slicked back into a low bun and face beat for the gods. Not provocatively dressed, but fashionably flawless. I watched as she quietly worked the room. She didn't make a lot of effort to get close to the celebrity guests; in fact, they seemed to greet her first as if she was an old friend. Though I didn't know who she was at the time, she gave an air of somebody who was supposed to be there, and not just as press, but for reasons beyond posting an event recap on a blog the following day.
---
I was right, but not for the reasons I initially thought. She was there for a greater purpose—on a mission from God to spread His love and word without the door-to-door sales pitches and fire and brimstone fear tactics. She blended in effortlessly while standing out spiritually, not quite what you would expect from a 21-year-old hailing from the projects of Brooklyn, who once worked in a strip club—serving not swerving.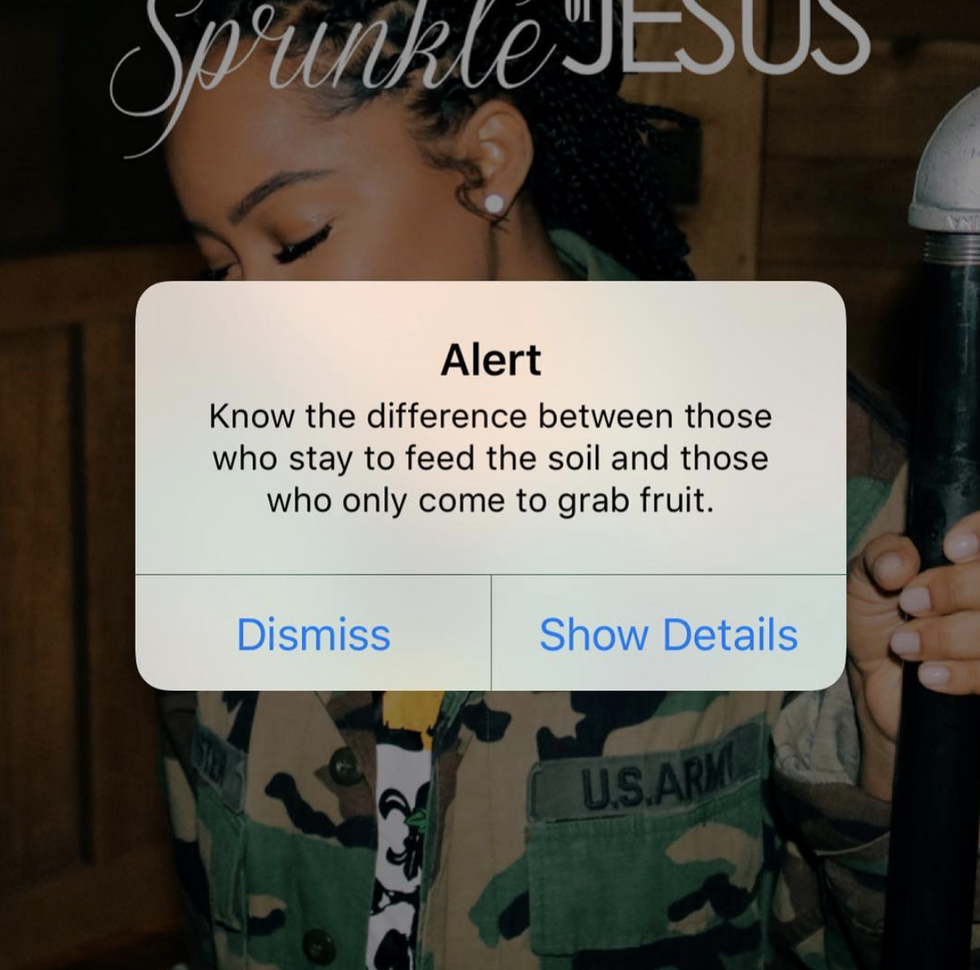 The young boss is the founder of Sprinkle of Jesus—an online ministry that utilizes social media and technology to touch souls and change lives, spreading the word of God through real experiences and real revelations. On any given day you'll find the beauty passionately delivering a word on a number of relatable topics through her Instagram videos and Sprinkle of Jesus app alerts in between snapping photos with some of your favorite celebs. Not bad for someone who just a few years ago barely even knew who God was.
Growing up Dana had no idea that her purpose in life would involve connecting others to a higher power. She was born in Brooklyn to Dominican parents in a house with eight brothers and sisters. Money was tight and opportunities limited, so to give her kids a chance at a better quality of life her mom moved the family to a small suburban area in Middletown, Delaware. Life was decent but not good enough to stop living paycheck to paycheck, and soon Dana found herself wanting more than just the average lifestyle—she knew that there was something better for her than just getting by. She was the first in her family to get accepted into college, racking up offer letters to some of the top schools in the country including St. John's University, but the cost of tuition was too much to bare.
"They wanted like $55,000 a year and I was like, dude, I am not going to owe you guys a house before I graduate. I was like, hold on, this isn't for me!"
Instead she went to a community college in Philadelphia, but being a poor college student without bus fare to get to school made her desperate, so much so that she found herself working in a strip club as a front desk hostess. For the first time her financial situation seemed to be on the come up. She was going to school by day and walking out the club every night with $500 in untaxed dollars.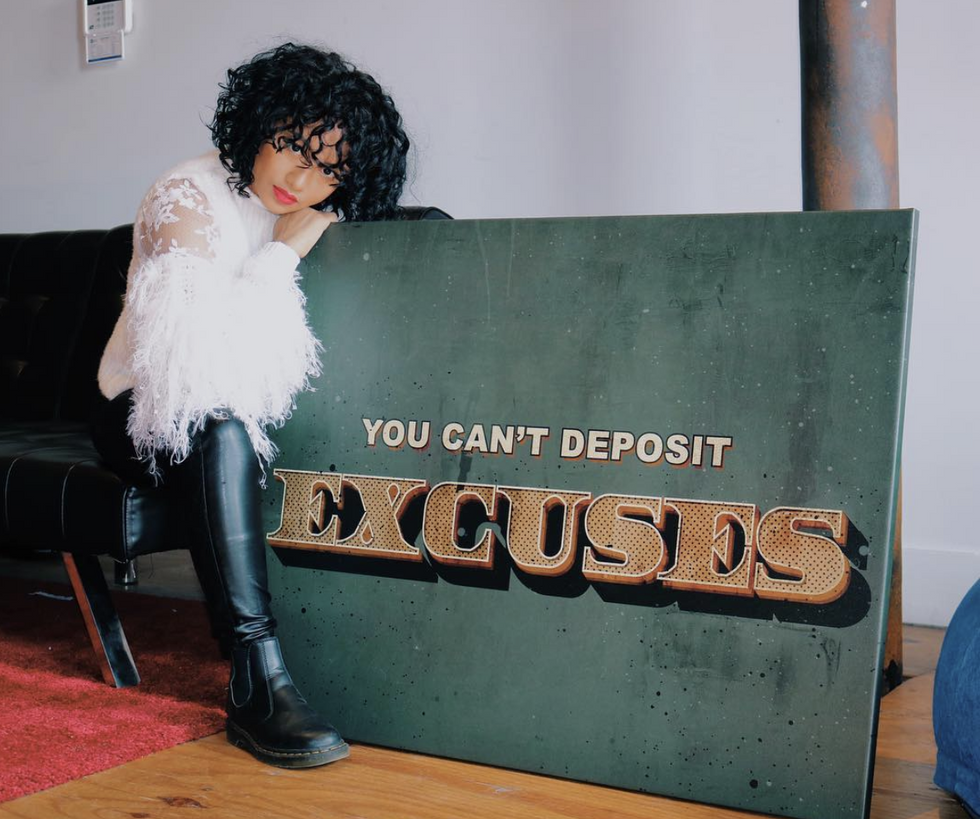 Then the unexplainable happened. She recalls one night holding the book
Becoming A Woman of Prayer
, but swears that has no idea of how she came across the life-changing literature. Maybe it was a stranger on a mission to save souls, which ironically would later become the foundation of her own movement. She became engrossed in the book, catching side-eyes and commentary from amused patrons there for a twerk and not the word watching her flip through the religious read. The deeper she delved the more curious she became about God, and the more knowledge she gained the more she was convinced that she was destined for something different—something greater. Not long after, she quit the strip club gig and left her life of drinking and smoking behind with it. She describes this period of her life as being one of complete solidarity.
"Literally, I had no one; I felt so lonely," she confesses. "But God was by my side the entire time. He needed to remove me from my lifestyle to be able to teach me to seize the gift that He had given me because I was too distracted. That literally was the turning point. A lot of the time we don't give God space, we don't give Him the room to work in our life. But, when I was alone and had no friends, I just read my Bible and was like, yo, why didn't somebody tell me about this guy sooner? Why am I just learning about this?!"
"A lot of the time we don't give God space, we don't give Him the room to work in our life."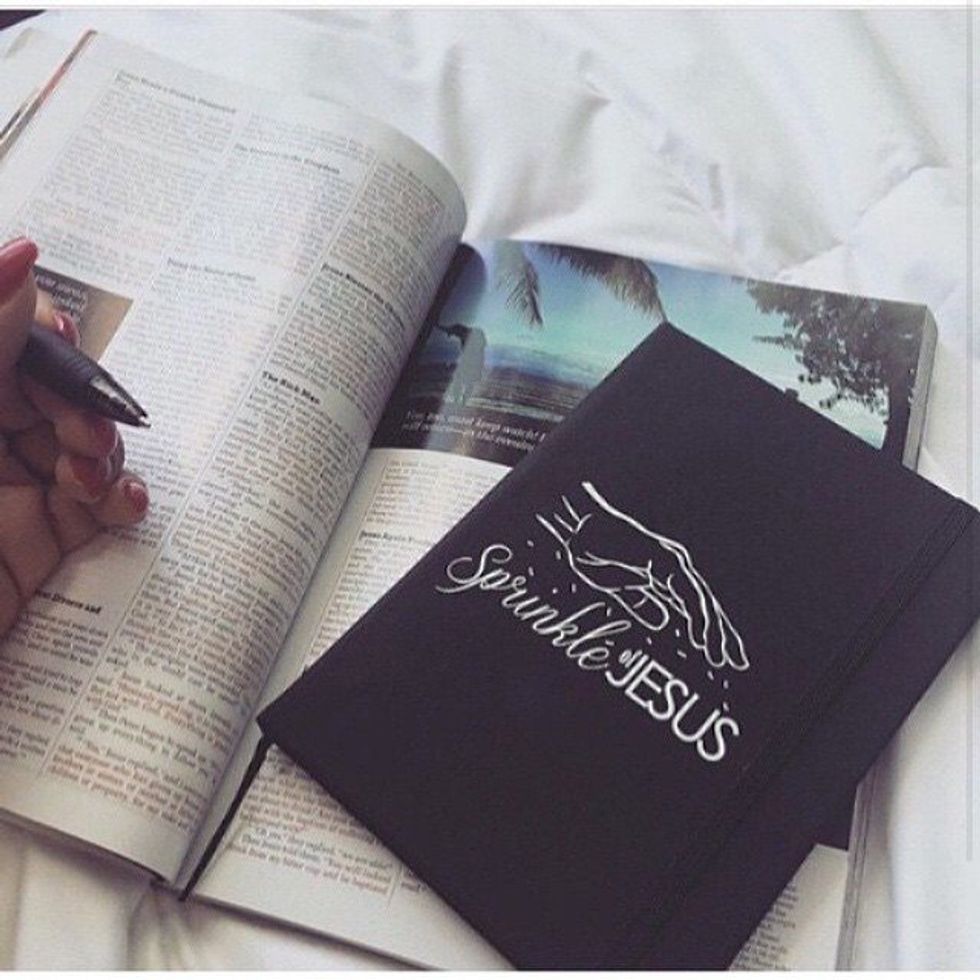 Being from a family that didn't grow up in the church meant that she had to become a self-taught Christian. She was overwhelmed with the more traditional text of the Bible, so she started with inspirational books on faith before graduating to The Message Bible and reading up on the New Testament. Although she was learning and growing spiritually on her own, she desired to connect with like-minded individuals who were curious about Christ, but also wanted to talk about the day-to-day struggles such as sex, drugs, violence, and being in the club. She started blogging about her own personal experiences on Sprinkle of Jesus, and shared inspirational videos on her Instagram, so much so that she was deemed "The Jesus Girl" by her followers. The more she posted the more her following grew, and with celebrities and their friends picking up and sharing the content her videos begin to go viral. She also began attracting people from all over the world who wanted to share their knowledge and experiences on the blog as well.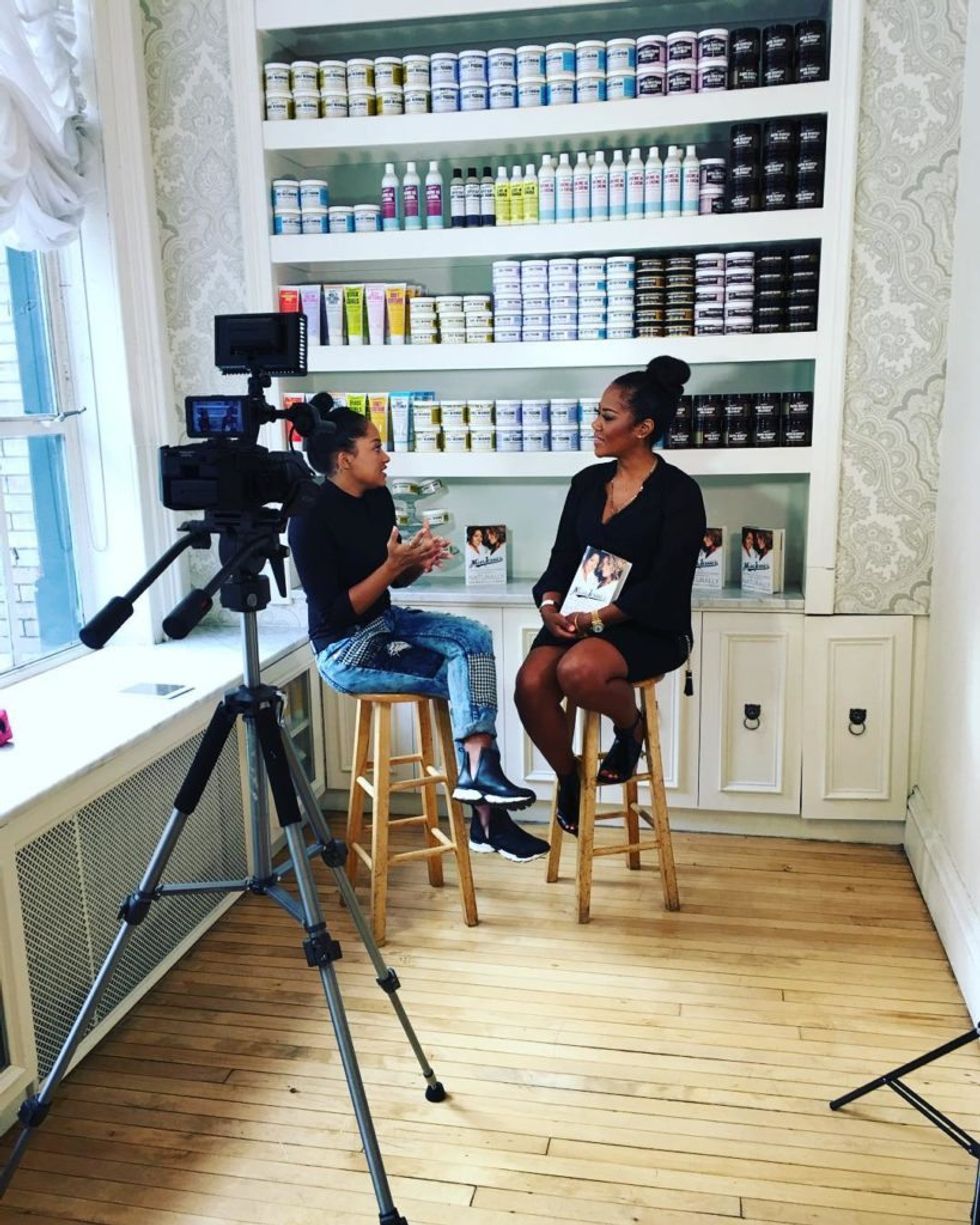 Dana recognized the power of social media and determined that sharing her message about Christ was her calling. She partnered with her dad, who had entrepreneurial experience as a the famous Uncle Majic—a hip hop magician for kids of celebrities—to take Sprinkle of Jesus beyond the desktop and into a full-functioning business, complete with the Sprinkle of Jesus app in addition to a separate Christian-based advertising company specializing in building apps and websites for their clients, as well as helping businesses to get commercials on cable networks such as MTV, BET, VH1, and more.
Having multiple streams of income backs this boss chick's belief that Christians aren't meant to be poor and that it's important to have multiple streams of income, and years of just barely getting by taught her that faith without work is dead.
"Poverty is not of God. It says in the Bible that when you work hard, you reap what you sow. So I expect to make a certain amount of money; I expect certain things from God because I know how hard I work for Him."
"Nobody sees that I'm up at 5 o'clock in the morning every single day and not going to sleep until 3AM, and then waking up and doing it all over again. God will reward you with what you give Him."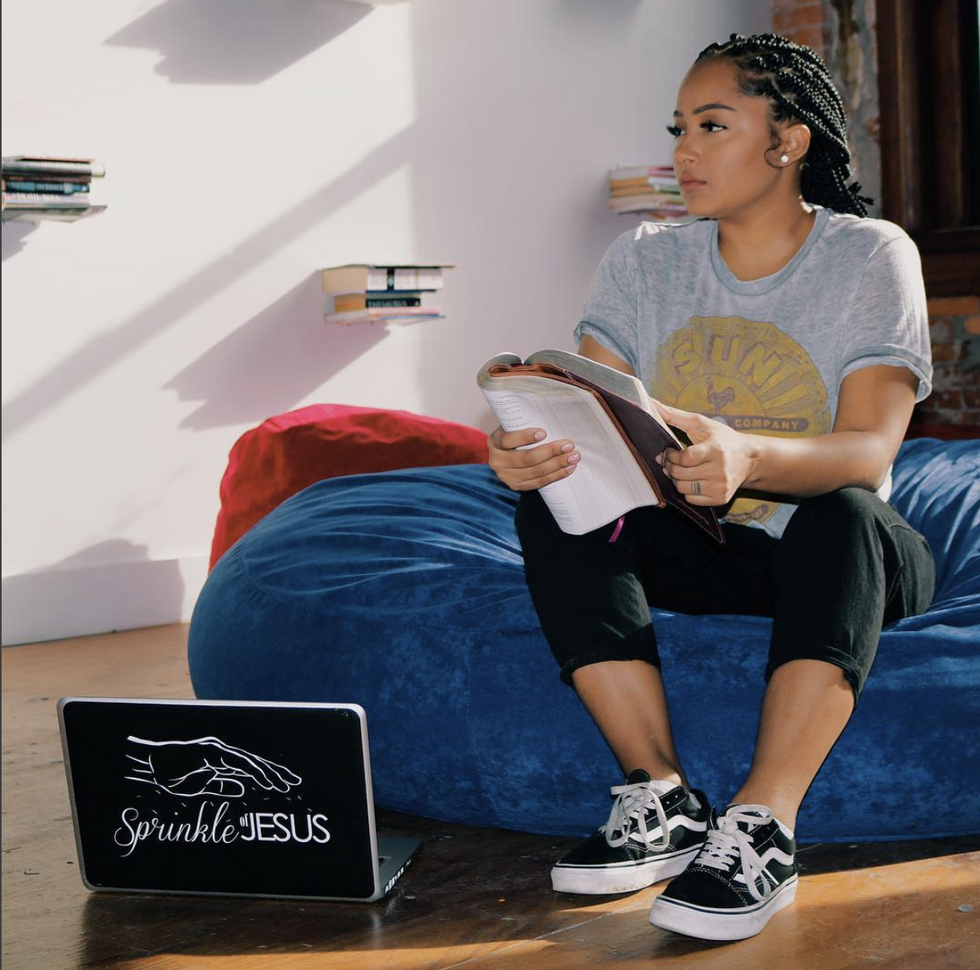 To be clear she's not passing the collection plate around to her followers; her earnings come solely from the advertisements on her site and the conglomerate of businesses her and her family have built beyond Sprinkle of Jesus.
Outside of the daily hustle Dana is still a young adult dealing with the pressure of being in a world where almost anything goes, including morals. It's even harder when you publicly claim your religious beliefs, because everything from your actions to your words are constantly critiqued and criticized by peers looking to find loopholes in your character. Recently the gorgeous gal put up a post with a low cut dress that set her comment section on fire, with people claiming that she was dressed inappropriately for a woman repping #TeamJesus.
"We live in a generation where we get judged all the time on Instagram, you feel me? People are judging us regardless of anything that you do. Being judged and stuff doesn't bother me. I've been called to this; God has prepared me for this. So there's nothing that anyone could say because I know who made me and I'm confident in that."
I ask her if she believes that she represents the woman described in Proverbs 31— a chapter of the Bible that depicts ultimate woman of God.
"I'm working on it. And I'm okay with saying that," she says. "I'm not all the way there, but what I can do is I can try and I can do my best to try to embrace that. And when I make a mistake, ask for forgiveness and ask to continue to become the woman that He sees fit."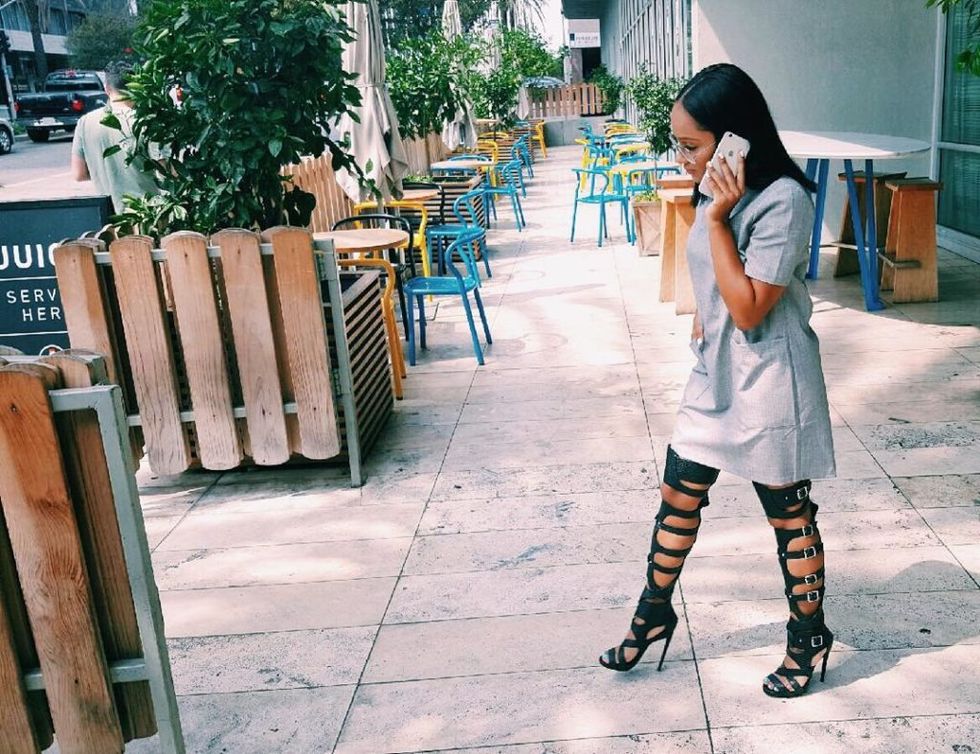 In actuality, it's her imperfections that make her more relatable to the audience that she caters to. Her past and her not quite cookie-cutter image has given her the platform to be able to have open and honest discussions that her followers may not otherwise get in the churches that often dance around the topics that are really relevant.
"I don't feel like I was prepared for the real world. Other ministries will talk about the good stuff, but are you really preparing me to encounter the enemy and how he's trying to destroy my life?"
On that note, we dip into the subject of temptation, and how she constantly struggles with trying not to revert back to the same way of thinking that she once had when she was the party girl getting drunk in Miami and ending up in "bad situations." She tells me that staying engulfed in her Bible and making sure that she isn't just working for God, but actually spending time with Him is important in helping to keep her thoughts and her attitude in check.
When it comes to love, God blessed Dana with her one when she found her heart in human form in self-proclaimed "Pastor in Business" Prince Donnell. Her partner, her lover, her best friend, the two have been partners in business for a while, as well as partners in life, having made things official by tying the knot. The proud "couplepreneur" have a marriage and a business relationship deeply rooted in their mutual love of God and one another.
"For me, I needed more than a man who was going to love me, but to challenge me to become an extraordinary woman. To us, it's the most attractive thing we love about each other. I remember sitting with my Father and telling him I think it's time for Prince to leave his job and come work with us. You helped make our first million dollars. I praise God for giving me the ability to fire my husband's boss," she shared in an Instagram post.
"For me, I needed more than a man who was going to love me, but to challenge me to become an extraordinary woman."
"It took him a little while to find his footing, but with LOTS of prayer, rebuilding, reshaping his mindset and support he's begun to obsessively figure out new ways to use what the Lord gifted him with to become a resourceful, the sexiest thing about Him is his love for God and I can't help to stare at him awe when he works hard to provide for our families and our future. Our endless conversation and intentional practices we use to force each other to think and grow into a level of consciousness necessary to be there for one another spiritually, mentally, and as an entrepreneur is what keeps our relationship going. I love you so much and love the man you're becoming... let's never stop holding one another accountable."
Love is a beautiful thing. Especially when you can tie it to your purpose.
Together, Dana and Donnell work diligently to spread the wealth of their knowledge with the world. She recently opened a 2000-square foot office in Philly called coWorking Faith for Christian entrepreneurs. There, she spends a lot of time giving workshops on how to create apps and monetize your business to Christians.
Dana's just like the rest of us—a work in progress, but progressively working to fulfill her purpose, as well as helping to guide others to their purpose. From the pulpit to the boardroom.
For more of the Sprinkle of Jesus founder, follow her on Instagram.