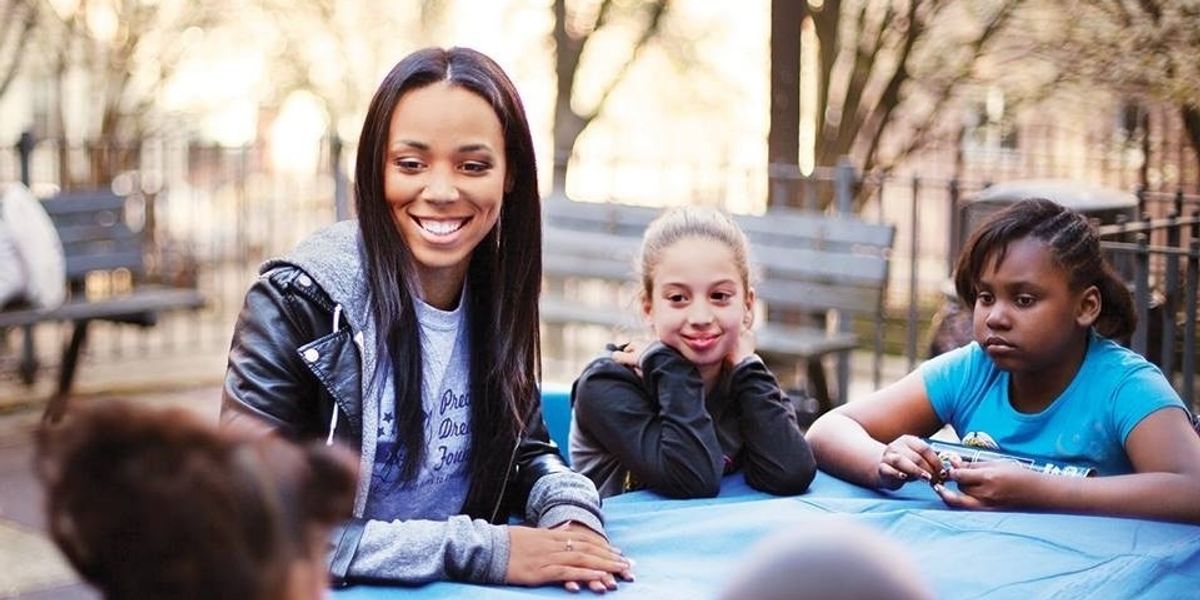 Workin' Girl
How Nicole Russell's Self-Soothing Methods Are Changing The Lives Of Foster Children Everywhere
According to The U.S. Children's Bureau Department, there are more than 430,000 foster children living in the U.S. today. With statistics this high, it's no wonder that the lack of resources has caused the conditions of many of these homes to remain poor. Children living in these conditions are faced with a number of adversities, from lack of clothing or the confusing constant change of environment; not to mention many of them must face such hardships alone. As anyone can imagine, the foster care system can be a lonely place full of children thrusted in and out of unfamiliar environments expecting them to cope accordingly, with little to no guidance on how.
---
Luckily, self-proclaimed youth advocate and master of self-comfort Nicole Russell is putting an end to the agony, making the foster care experience an easier one to process.
Surprisingly enough, Nicole knew little to nothing about the foster care system in her earlier years, but an unexpected addition to her family changed her life and career as she knew it. Once her mother decided to take in her younger sister, Miracle, this one experience opened her eyes to the day-to-day transitions of foster children, self-soothing methods, and ultimately changed her entire career trajectory.
"My mother and I wanted to start collecting comfort items for bedtime and donate them, and I was looking online to find an organization that we can give to, and I couldn't find one that focused solely on bedtime, so I figured out how to start my own non-profit and in 2012, I birthed Precious Dreams," Nicole expressed.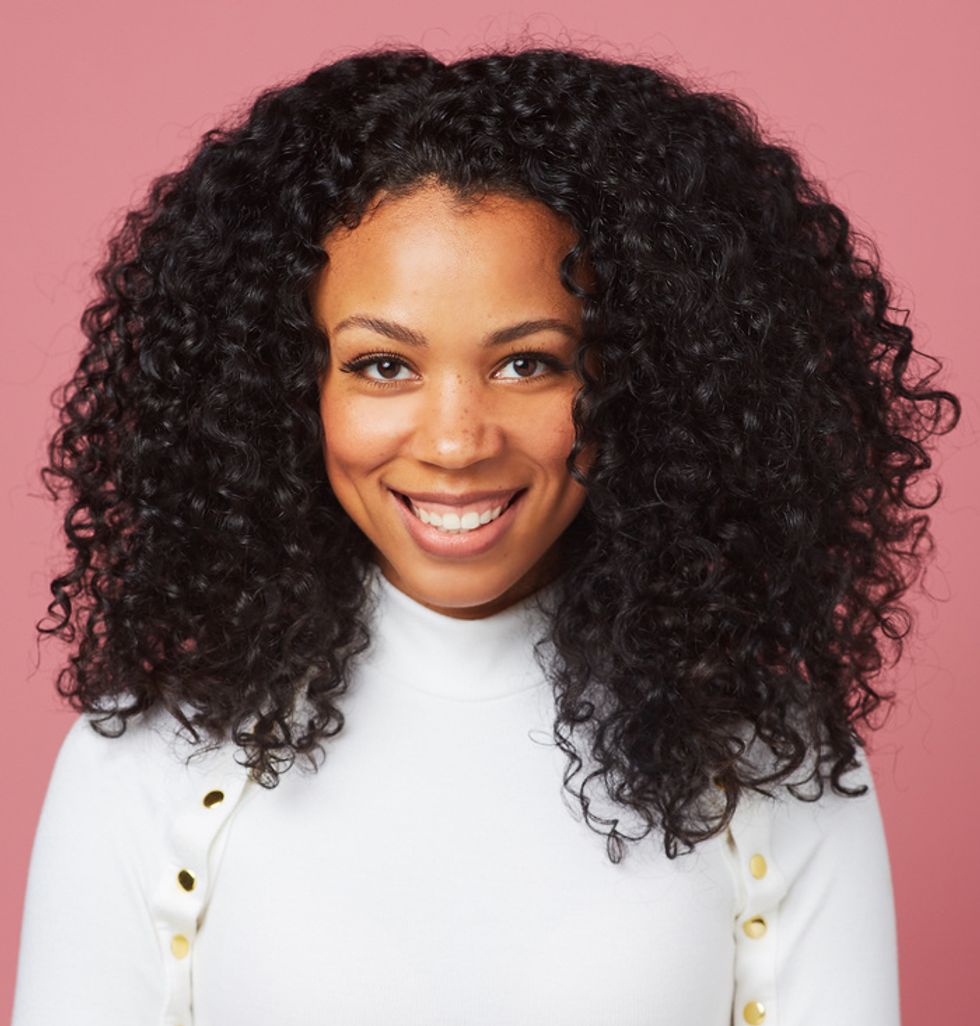 After six years of volunteering with Precious Dreams Foundation while simultaneously acting as the full-time VIP services manager of Madison Square Garden, Nicole decided to quit her job and follow her passion in helping the youth. At the Precious Dreams Foundation, the staff aims to instill self-care and self-soothing methods in efforts to provide lifelong teaching tools for the children.

"We teach them meditation, stretches for yoga, we have guest speakers that come and share their stories, we do therapeutic writing but overall just the process of learning how to self-sooth and self-comfort. If you can teach people, specifically children, ways to self-comfort that's something they can use for the rest of their lives," Nicole explained.
But Nicole's mission to help the youth own their lives and their narratives doesn't end there. In September 2018, she debuted her self-help book entitled Everything a Band-Aid Can't Fix , which went straight to #1 of Amazon new releases, in hopes to help young adults navigate through the confusing adolescent years.
We caught up with Nicole to discuss all things self-comfort, starting a non-profit, and plans for the future of the Precious Dreams Foundation, here's what she had to say.
You left a high profile position at Madison Square Garden to start a non-profit dedicated to transitioning foster children and supporting homeless youth, tell me what that experience was like for you?
I felt full of uncertainty. I was taking the biggest financial risk of my career but the decision made more sense than the math. While MSG was fun, what I was doing with Precious Dreams was fulfilling and, with every event and conversation, I started feeling closer to God. It became clear that my calling was in community service. I've never been one to see a problem and leave it for somebody else to solve. So I put all of my time and energy into helping as many children as I could and eventually the work was seen and that helped us grow.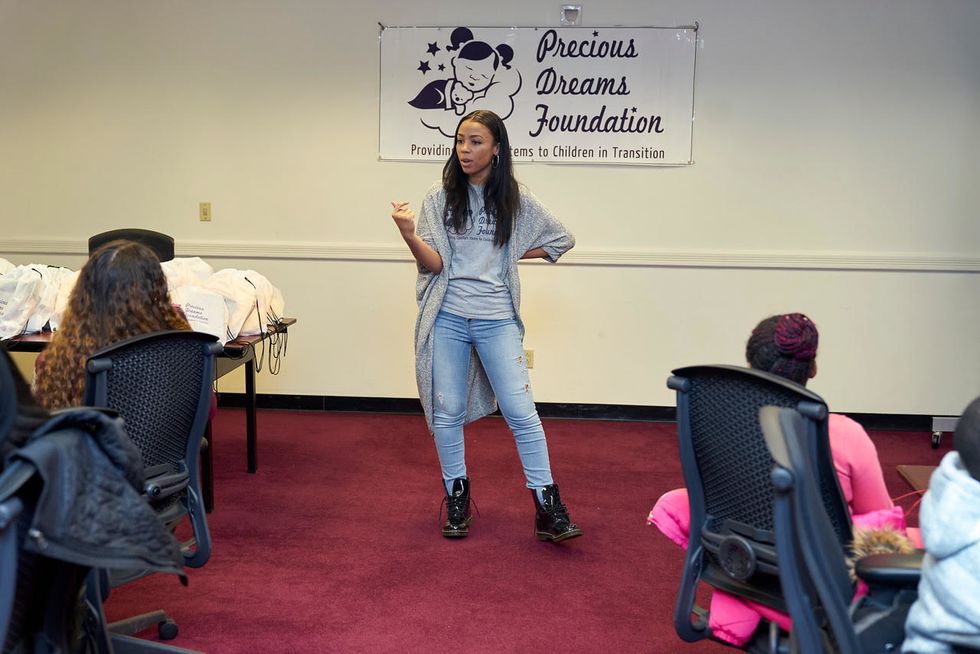 Courtesy of Nicole Russell
"With every event and conversation, I started feeling closer to God. It became clear that my calling was in community service."
What is one thing working in the foster care system has taught you? What is one thing you were surprised to learn?
It's opened my eyes to how difficult it is to do life alone. I don't think we have enough conversations about the challenges of foster care but former foster youth are all around us and the ones who are doing well are super-beings. They deserve more credit. The ability to overcome countless forms of adversity, discover self-love, and hold tight to your dreams is incredibly impressive.
7 out of 10 girls who age out of foster care will become pregnant before the age of 21. It's hard for me to see those numbers and not support our girls. I know that many times they're looking for love in the wrong places, misguided or taken advantage of, and they deserve better. I made it my mission to teach foster and homeless youth how to self-comfort because receiving the tools at a young age makes life easier. The ability to step back and analyze how we're reacting to our pain can really save us. It saved me.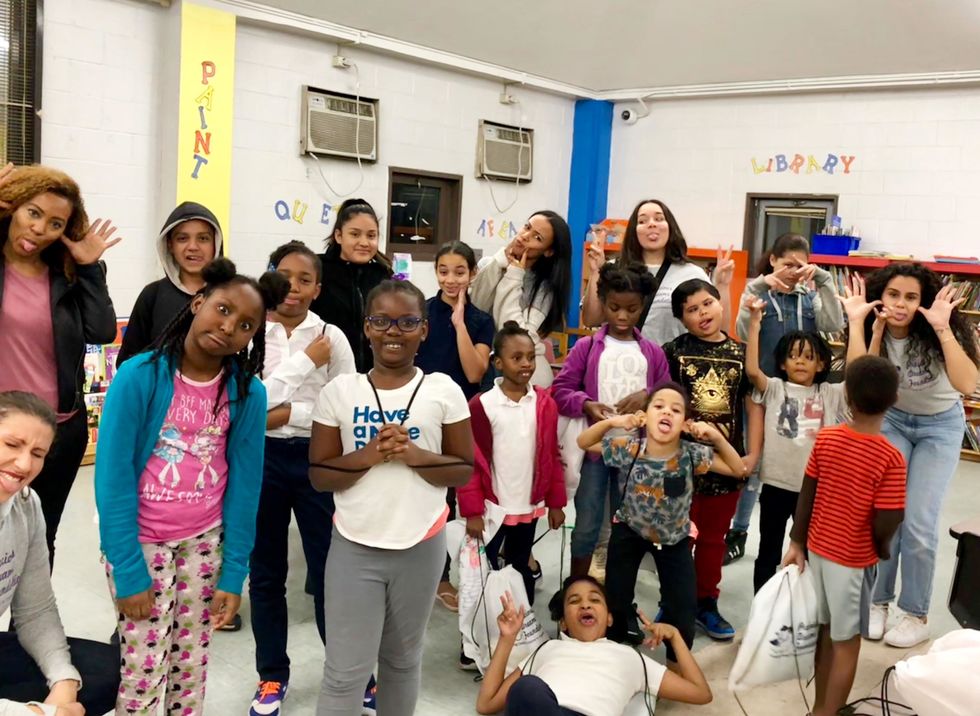 Courtesy of Nicole Russell
You consider yourself a "master of self-comfort," how does one become a master of self-comfort in their own lives?
Fortunately and unfortunately, I was forced to see myself at a very young age. I grew up in a single-parent home with a father who suffered from depression. If there wasn't music playing in the background, then my house was usually quiet. There were no conversations about our days or sit downs for dinner. My time at home was time alone.
I remember having a full length mirror in my room and I used to stand or sit in front of it for hours. I wasn't admiring my physical features, I was trying to find myself and see inside. I didn't appreciate it then but the silence in my home inspired mindfulness and so my curiosity was centered around who I am and not what I should be doing. Silence didn't allow distractions from my automatic thoughts so growing up I had an incredible opportunity to learn about my needs, wants, and dislikes very early.
Practicing mindfulness assists with clarity of thought and decision-making. Self-comfort looks different for everyone but the first step is hearing out your needs and honoring the ones that lead to healthy outcomes. That's how I master self-comfort.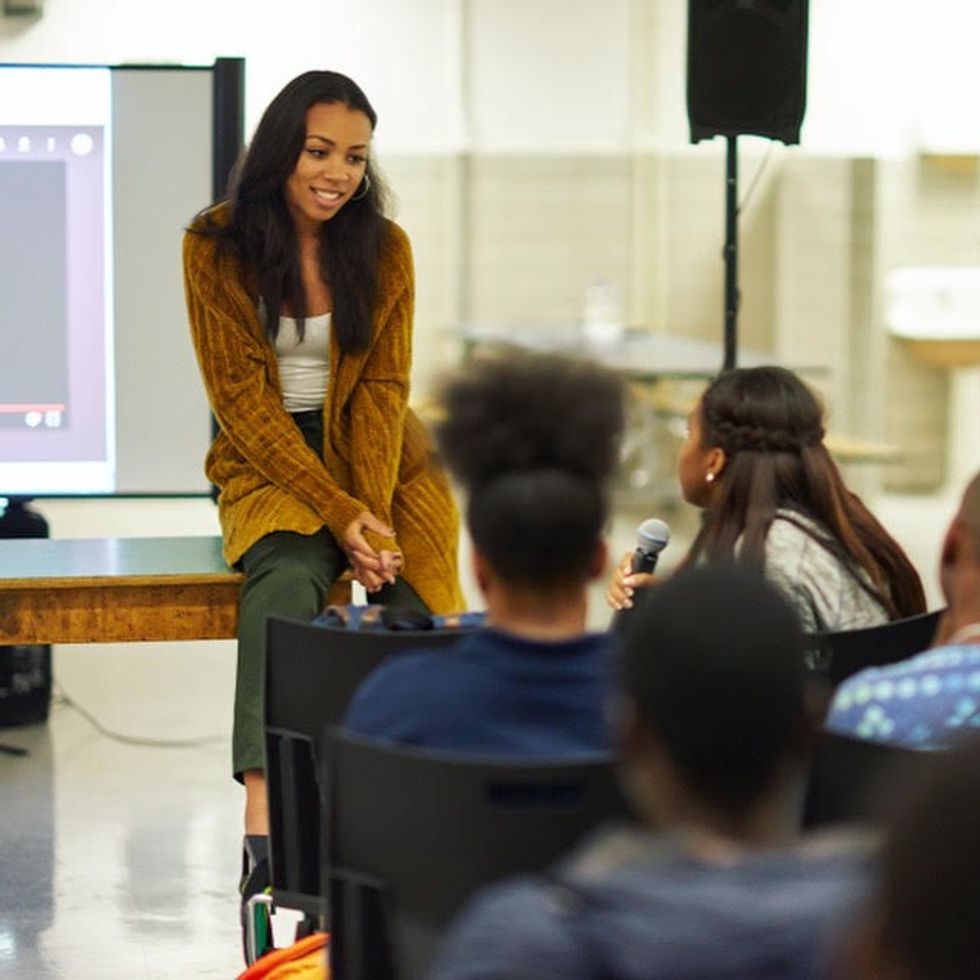 Courtesy of Nicole Russell
"Self-comfort looks different for everyone but the first step is hearing out your needs and honoring the ones that lead to healthy outcomes. That's how I master self-comfort."
What are the easiest self-soothing methods we can all practice in our everyday lives?
Breathing is the one of the easiest things we can do to relieve tension and reduce anxiety levels. Sometimes when we're stressed, overwhelmed, or simply in a hurry, we unconsciously practice shallow breathing. Becoming mindful of the breath and breathing correctly has countless health benefits and it feels great too. Whether sitting or standing, start wherever you are and take a slow inhale (allowing the abdominal to intrude) and deep exhale. Focus on the breath every day for as long as you can. This supports a healthy flow of oxygen to the brain and body.
My other piece of advice is to turn on the kettle. If I'm feeling stressed or anxious, I drink tea or warm water. Not only does it calm the mind, it also does wonders for the skin. Tea has even been linked to a lower risk of depression. Studies have shown that for every three cups of tea consumed per day, risk of depression were decreased by 37 percent. Consume liquids that are good for you and then do it in good fashion. I'm also that girl who uses mugs with motivational quotes. Find the mug that speaks to your needs, makes you laugh, or helps you stay focused on your goals, and keep it with you throughout the day.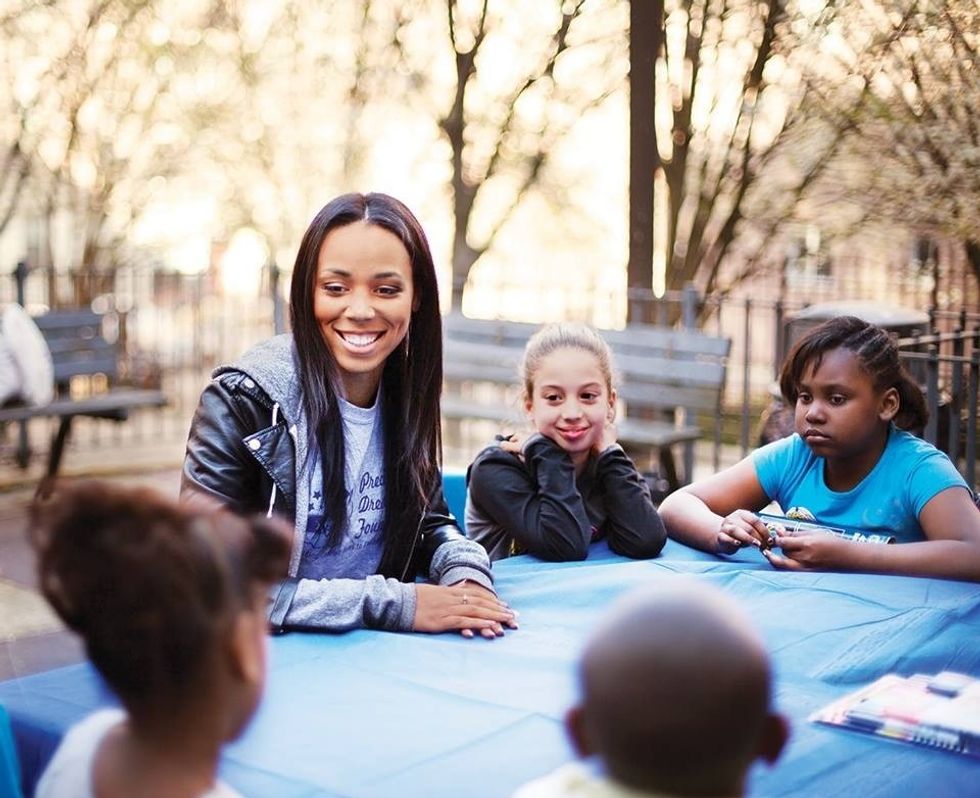 Courtesy of Nicole Russell
What made you want to write 'Everything a Band-Aid Can't Fix?'
The motivation came from remembering how tough it is for teens to openly express their emotions or work through issues independently. I had a great relationship with my mother but I still didn't tell her everything. There was advice I needed as a child but was too embarrassed or afraid to ask for help. Everything a Band-Aid Can't Fix is a go-to guide and intimate conversation with myself and the reader. The book is part-interactive, so there are questions to help teens process each chapter and understand how the topics relate to their lives.
The book provides coping strategies, mental health education, and stories from people who have also faced adversity in their childhood. I wanted young adults to see that celebrities like Asap Ferg and Brandy are just like them. We all had insecurities, dealt with bullying, peer pressure, and pain. However, it's how we reacted to and treated the pain that determined our outcome.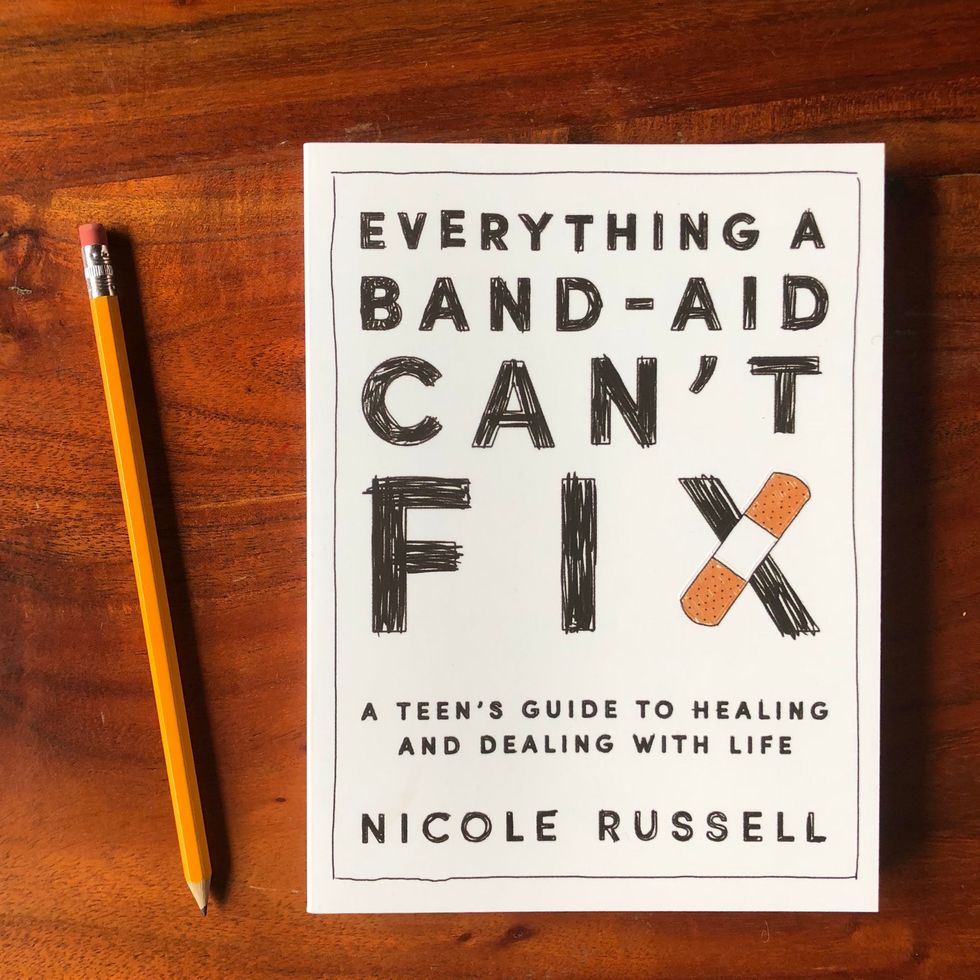 Courtesy of Nicole Russell
Being that you previously worked in hospitality before transitioning to the non-profit industry, what advice would you have for anyone looking to make a major career change?
Make your own rules! If you have to do both careers in order to take care of your family or put food on the table then do it. If you need to sacrifice your social life to go back to school, do it! Just be intentional with your time, thoughts, and energy. If you work hard and have a plan, the transition will happen. I sacrificed a lot but I was okay with that regardless of people's opinions on what's best for me. Nobody knows where you belong, but something inside you will guide you there if you let it.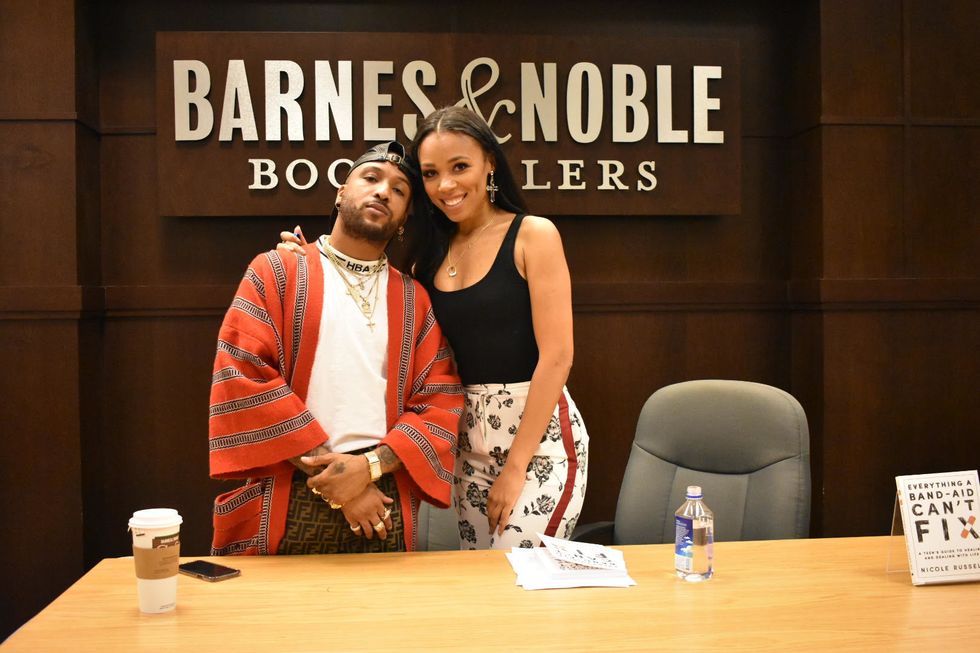 Courtesy of Nicole Russell
"Make your own rules! Nobody knows where you belong, but something inside you will guide you there if you let it."
What are your plans for the future of Precious Dreams Foundation?
Expansion and strategic partnerships. We're currently developing new chapters in Chicago and then looking to expand to San Francisco. While we're looking to grow, we also recognize that more outreach requires more funding. I took a long look at the global mattress market that's valued at 27 billion dollars and realized that I'm failing our youth if we don't tap into that space. While these companies are selling a comfortable night's sleep to those who can afford it, Precious Dreams Foundation is helping those who can't. We all agree that everyone deserves comfort but the difference is we provide our services for free to children who sleep in the most uncomfortable situations. So right now, we're focused on trying to secure corporate support. Our youth deserves the best comfort items, best services, and best programs, and I'm not going to stop until we give it to them.
To learn more about The Precious Dream Foundation, be sure to visit their website PreciousDreamsFoundation.org . To keep up with Nicole and her mission to change the lives of foster youth, follow her @NicoleRussell .
Featured image courtesy of Nicole Russell.
Ashley McDonough
Ashley McDonough is a writer and producer in New York City. When she's not busy writing or producing culturally conscious content, she is patiently waiting for Oprah and Stedman to adopt her. Keep up with her journey via social @Ashley_Milani or check out her work on www.AshleyMcDonough.org .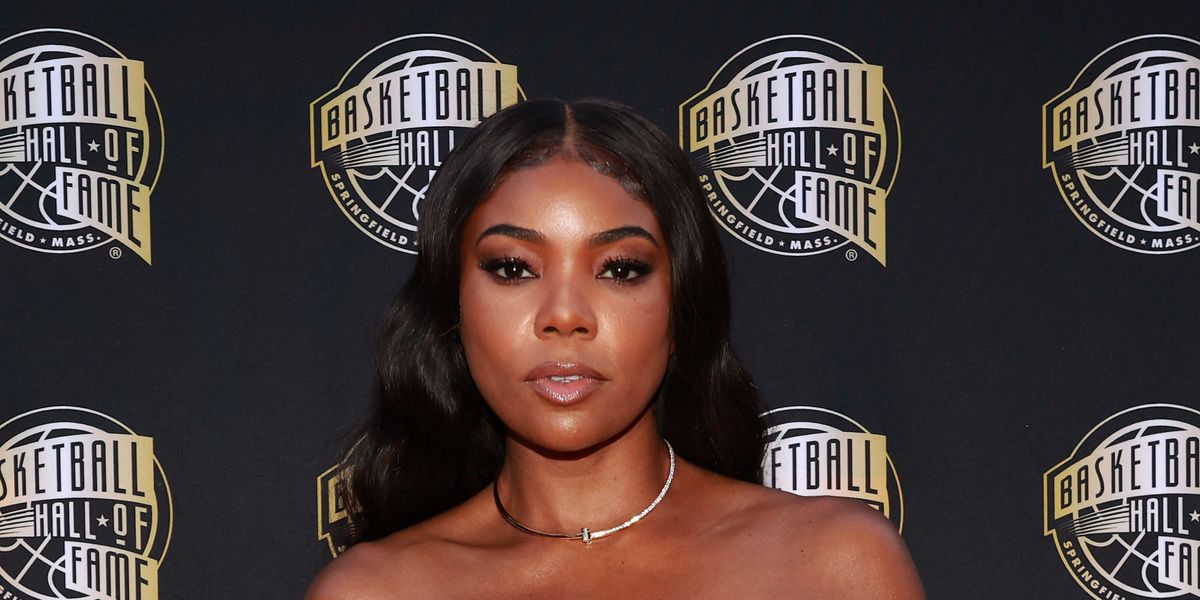 Whenever Gabrielle Union graces the movie screen, she immediately commands attention. From her unforgettable scenes in films like Bring It On and Two Can Play That Game to her most recent film, in which she stars and produces Netflix's The Perfect Find , there's no denying that she is that girl.
Off-screen, she uses that power for good by sharing her trials and tribulations with other women in hopes of helping those who may be going through the same things or preventing them from experiencing them altogether. Recently, the Flawless by Gabrielle Union founder partnered with Clearblue to speak at the launch of their Menopause Stage Indicator, where she also shared her experience with being perimenopausal.
In a xoNecole exclusive, the iconic actress opens up about embracing this season of her life, new projects, and overall being a "bad motherfucker." Gabrielle reveals that she was 37 years old when she was diagnosed with perimenopause and is still going through it at 51 years old. Mayo Clinic says perimenopause "refers to the time during which your body makes the natural transition to menopause , marking the end of the reproductive years."
"I haven't crossed over the next phase just yet, but I think part of it is when you hear any form of menopause, you automatically think of your mother or grandmother. It feels like an old-person thing, but for me, I was 37 and like not understanding what that really meant for me. And I don't think we focus so much on the word menopause without understanding that perimenopause is just the time before menopause," she tells us.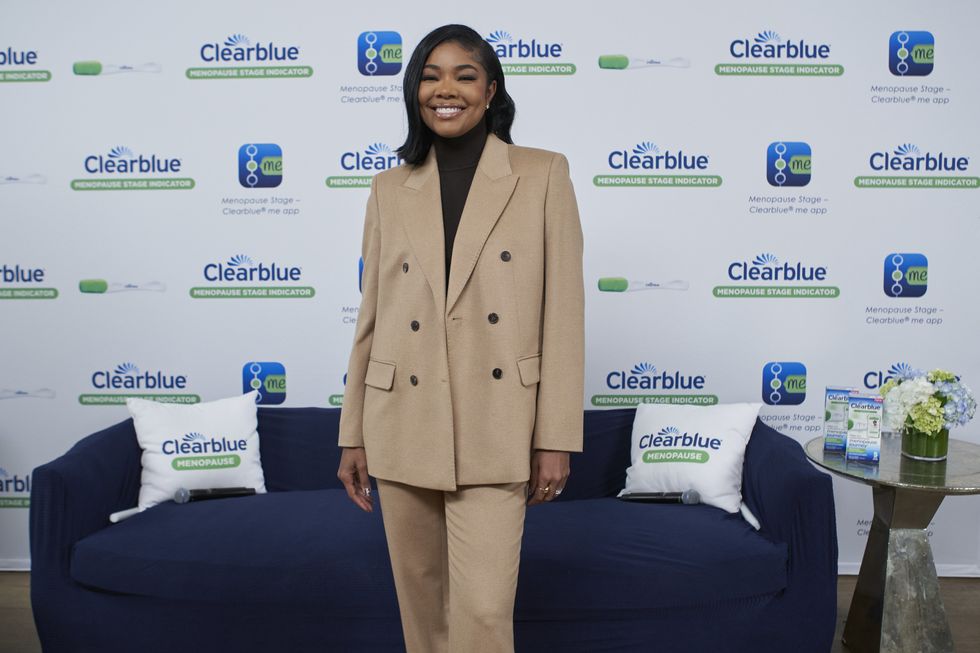 Gabrielle Union
Photo by Brian Thomas
"But you can experience a lot of the same things during that period that people talk about, that they experienced during menopause. So you could get a hot flash, you could get the weight gain, the hair loss, depression , anxiety , like all of it, mental health challenges , all of that can come, you know, at any stage of the menopausal journey and like for me, I've been in perimenopause like 13, 14 years. When you know, most doctors are like, 'Oh, but it's usually about ten years, and I'm like, 'Uhh, I'm still going (laughs).'"
Conversations about perimenopause, fibroids, and all the things that are associated with women's bodies have often been considered taboo and thus not discussed publicly. However, times are changing, and thanks to the Gabrielle's and the Tia Mowry 's, more women are having an authentic discourse about women's health. These open discussions lead to the creation of more safe spaces and support for one another.
"I want to be in community with folks. I don't ever want to feel like I'm on an island about anything. So, if I can help create community where we are lacking, I want to be a part of that," she says. "So, it's like there's no harm in talking about it. You know what I mean? Like, I was a bad motherfucker before perimenopause. I'm a bad motherfucker now, and I'll be a bad motherfucker after menopause. Know what I'm saying? None of that has to change. How I'm a bad motherfucker, I welcome that part of the change. I'm just getting better and stronger and more intelligent, more wise, more patient, more compassionate, more empathetic. All of that is very, very welcomed, and none of it should be scary."
The Being Mary Jane star hasn't been shy about her stance on therapy . If you don't know, here's a hint: she's all for it, and she encourages others to try it as well. She likens therapy to dating by suggesting that you keep looking for the right therapist to match your needs. Two other essential keys to her growth are radical transparency and radical acceptance (though she admits she is still working on the latter).
"I was a bad motherfucker before perimenopause. I'm a bad motherfucker now, and I'll be a bad motherfucker after menopause. Know what I'm saying? None of that has to change. How I'm a bad motherfucker, I welcome that part of the change."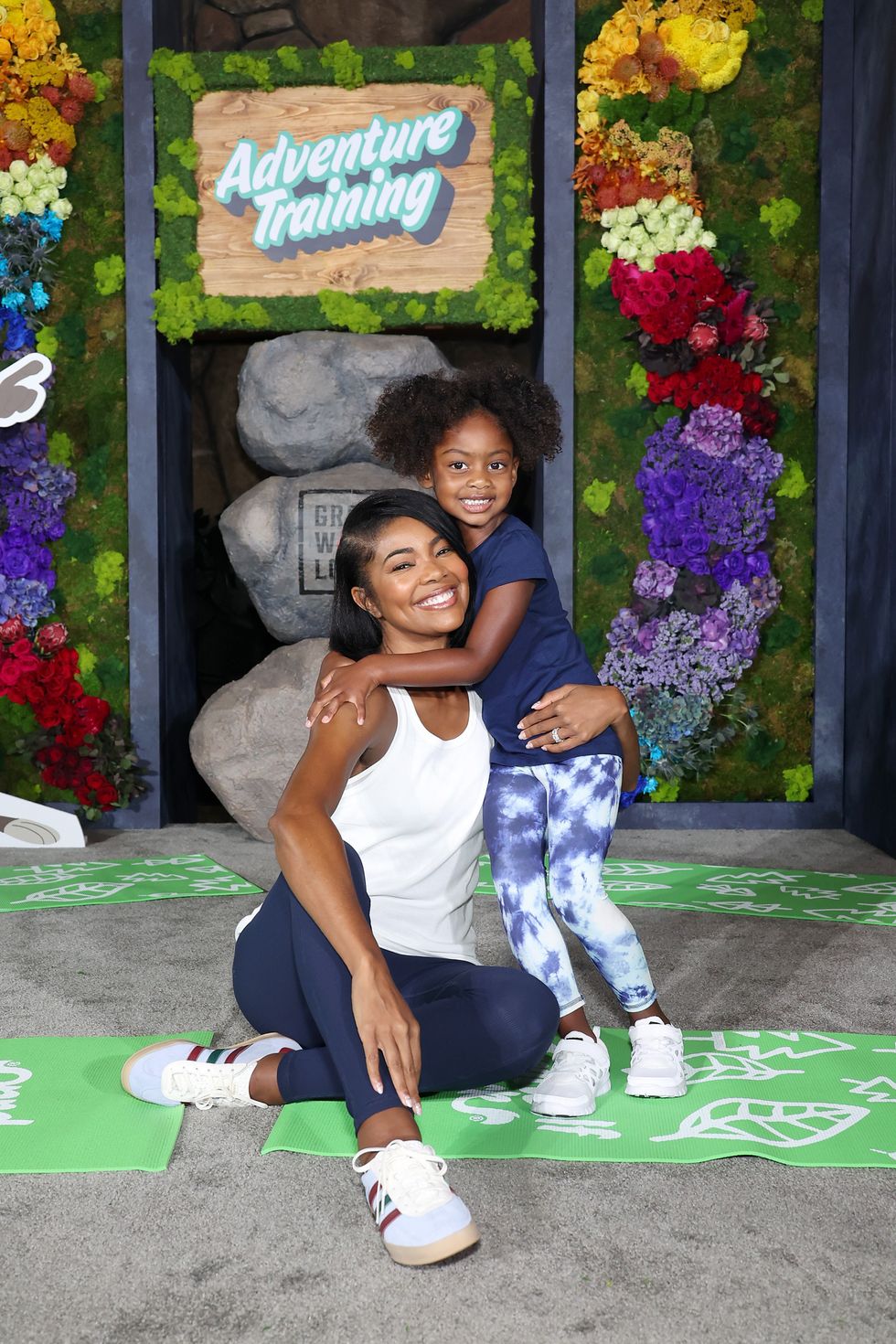 Gabrielle Union and Kaavia Union-Wade
Photo by Monica Schipper/Getty Images
"I hope that a.) you recognize that you're not alone. Seek out help and know that it's okay to be honest about what the hell is happening in your life. That's the only way that you know you can get help, and that's also the only other way that people know that you are in need if there's something going on," she says, "because we have all these big, very wild, high expectations of people, but if they don't know what they're actually dealing with, they're always going to be failing, and you will always be disappointed. So how about just tell the truth, be transparent, and let people know where you are. So they can be of service, they can be compassionate."
Gabrielle's transparency is what makes her so relatable, and has so many people root for her. Whether through her TV and film projects, her memoirs, or her social media, the actress has a knack for making you feel like she's your homegirl. Scrolling through her Instagram, you see the special moments with her family, exciting new business ventures , and jaw-dropping fashion moments. Throughout her life and career, we've seen her evolve in a multitude of ways. From producing films to starting a haircare line to marriage and motherhood , her journey is a story of courage and triumph. And right now, in this season, she's asking, "What's next?"
"This is a season of discovery and change. In a billion ways," says the NAACP Image Award winner. "The notion of like, 'Oh, so and so changed. They got brand new.' I want you to be brand new. I want me to be brand new. I want us to be always constantly growing, evolving. Having more clarity, moving with different purpose, like, and all of that is for me very, very welcomed."

"I want you to be brand new. I want me to be brand new. I want us to be always constantly growing, evolving. Having more clarity, moving with different purpose, like, and all of that is for me very, very welcomed."
She continues, "So I'm just trying to figure out what's next. You know what I mean? I'm jumping into what's next. I'm excited going into what's next and new. I'm just sort of embracing all of what life has to offer."
Look out for Gabrielle in the upcoming indie film Riff Raff , which is a crime comedy starring her and Jennifer Coolidge, and she will also produce The Idea of You , which stars Anne Hathaway.
Feature image by Mike Lawrie/Getty Images
Sex
Nov 30, 2023 13:00 PM EST

A dead bedroom can kill any relationship. In all long-term, committed relationships , couples experience various phases, from the initial passion to a more complex and enduring connection. Yet, as time passes, sex may decrease, which introduces an issue often referred to as "bed death."
According to Advance Psychology Partners , 'bed death' occurs when individuals in a committed relationship experience a decline in the frequency of sexual activity and fall short of the desires of both or either partner. It is sometimes labeled a " sexless relationship " due to the infrequency of sex. In the U.S., an estimated 20 million people find themselves in such relationships.
This shift is a significant change for couples. Let's face it: no one wants to be in a sexless marriage or relationship. But how can couples effectively confront the impact of fading physical intimacy on the overall health of their enduring partnership?
"I have found that many factors influence one's desire to dive, and it is often not a majority of just one thing. Most people assume that if they don't desire [sex], they are no longer physically attracted, but in my experience, that has little to do with it most of the time," explained Brittanni Young, LMFT, CST .
"Some of the heavy contributors that I see most often include excessive goal orientation towards orgasm, people not prioritizing their own sexuality, and the landfill of 'should's' that develop from toxic sexual scripts created long ago in upbringing," she added.
Furthermore, these issues are not exclusive to any particular orientation, but it does manifest differently.
Young is a licensed marriage and family therapist, sexologist, and board-certified sex therapist who practices in Georgia and Florida. She has worked in the sexology field for over a decade. Young helps couples and individuals looking to get through challenges of all facets facing sexuality and intimacy, such as desire mismatch, over-compulsion, and dysfunctions. She recently launched a deck of intimacy connection cards called " Show Me Your Cards ." Young is working on another product that helps teach children to consent and negotiate appropriate touch. She sat down with xoNecole to discuss what causes the decline in the bedroom, the myth of 'lesbian bed death,' and recommendations on overcoming "bed death."
The Decline In Intimacy
Intimacy often dwindles within relationships, a phenomenon triggered by various factors such as stress , the insidious monotony of routine, and the toxicity of unresolved conflicts, to name a few. While couples manage daily life, exchanging intimate desires and concerns may take a backseat. Sadly, this gradually erodes the closeness once shared in the relationship.
"Typically, the first thing I do when working with a couple on desire challenges is rule out medical causes by referring them to their primary care physician or other provider they are working with," Young shared. "There are times when unmanaged or mismanaged conditions factor into low desire levels. Also, many medications can wreak havoc on keeping desire levels up, such as antidepressants, SSRIs, anti-anxiety, and blood pressure medications, to name a few."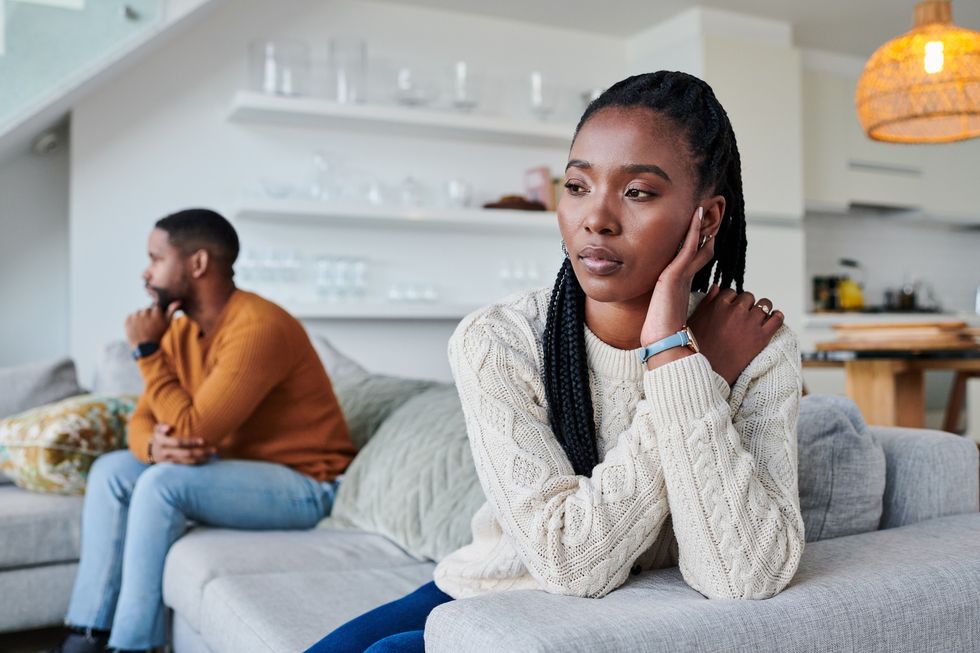 Jeff Bergen/ Getty Images
"Next, I look at the state of the relationship. If there is dissatisfaction in the relationship, then it definitely affects how close and intimate one wants to be to another. There are also plenty of individual factors one can bring into the equation, such as low self-esteem , anxiety , depression , feelings of shame or guilt around one's own sexuality, and external life stressors that can get in the way. I find that life stressors can be a big one for folks, as once you get in the habit of not prioritizing sex, it tends to stick," she added.
Fortunately, there are ways to prevent "bed death." It can involve prioritizing your wants and open communication about sexual needs.
"What tends to be effective for all couples is taking an inventory of how satisfied they are with their sexual behaviors and engagement. Being truthful in this vein can be the start of unlocking inhibitions that can keep you from seeking out and being genuinely vulnerable in intimate spaces," Young explained. "Next, I suggest opening up lines of communication around these truths. When people assume that nothing can be done, hope is lost."
The Myth Of 'Lesbian Bed Death'
The notion of "lesbian bed death" perpetuates a simplistic and inaccurate stereotype about the sexual dynamics within lesbian relationships. Contrary to the myth, the experience of a decline in intimacy is not universal among lesbian couples. The diverse spectrum of relationships among women challenges this oversimplified narrative, emphasizing that the complexities of sexual dynamics extend beyond stereotypical assumptions.
"The notion of 'lesbian bed death' is based on a research study done by Pepper Schwartz in 1983 that found that lesbian couplings fell behind in sexual frequency compared to heterosexual and gay male couplings," Young revealed.
"Several other studies [after] have replicated these findings but give very little information about sexual satisfaction . Despite there being more research needed overall in the sexuality field, more recent research did find that when it comes to the length of sexual encounters, lesbian couples had the longest duration of encounters. To that end, sexual quality over quantity is a better marker of satisfaction, and that is what I pay most attention to in my work. With that said, dissatisfaction can happen in all couplings over time," the sexologist continued.
Factors influencing reduced intimacy among lesbian couples may include communication challenges, societal pressures, and individual variations in libido. Menstruation can also play a role, with some couples navigating discomfort or hormonal changes during this period.
"There are certainly some nuances that come into play with lesbian couples that differ from heterosexual or other-oriented couples. As I stated earlier, physiological factors can factor into the rise and fall of libido. The hormone fluctuations that come from menstruation and menopause can impact desire levels, and it is double present in lesbian couples. Another nuance is the lack of a sexual script from society on lesbian sexual behavior. There are patriarchal roots to sexual research, which have created our societal norms that tend to leave out anyone who isn't heterosexual," Young stated.
Overcoming The Challenges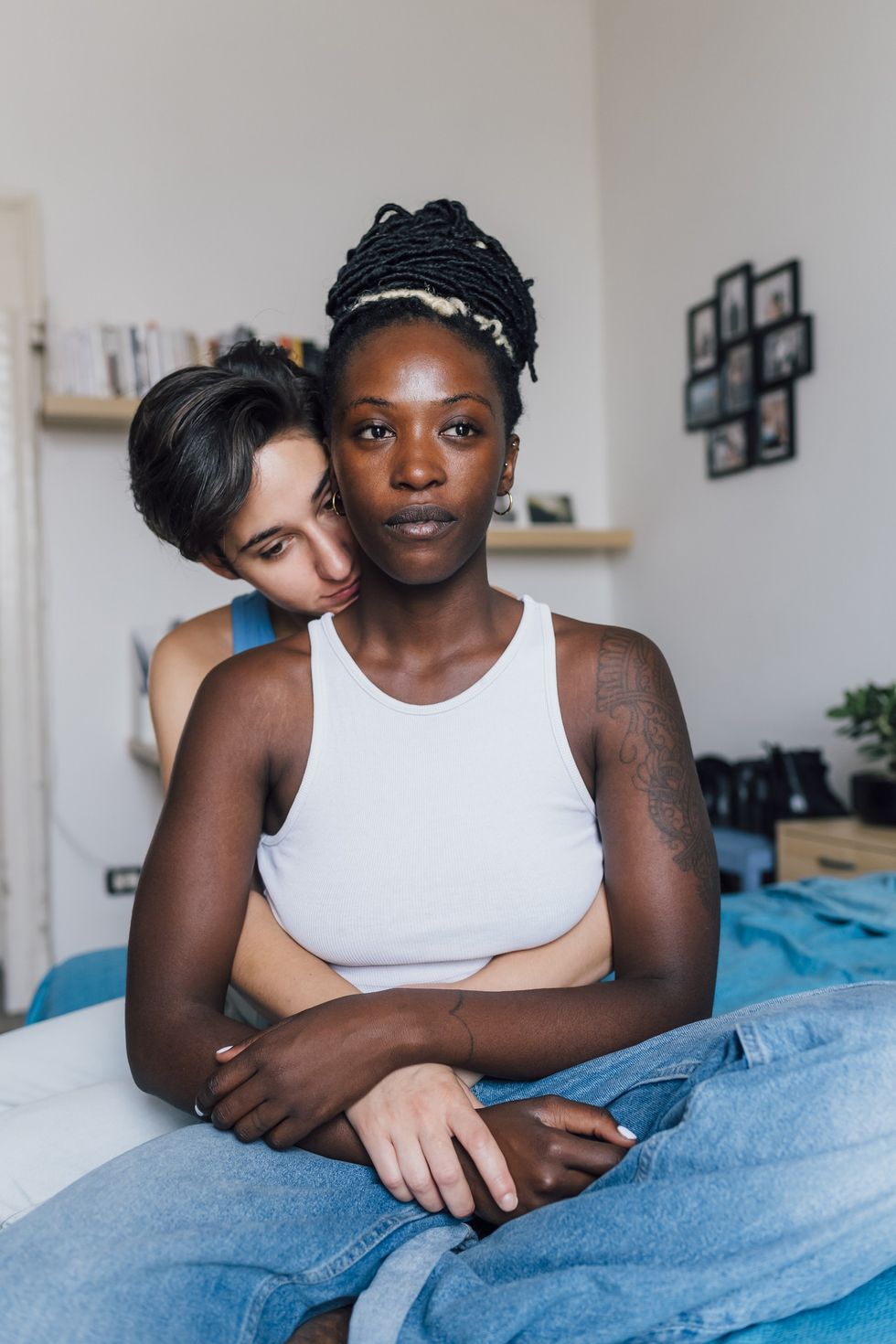 Westend61/ Getty Images
While 'bed death' challenges couples, solutions are within reach. By identifying and addressing the underlying causes, couples can rekindle the flame of intimacy and ensure a healthier, more fulfilling relationship.
"In the words of Esther Perel, another sexual professional in the field, 'love enjoys knowing everything about you; desire needs mystery.' I recommend keeping it in the front of your mind, prioritizing, and keeping it interesting. Be open to learning more about your own sexuality every day, as well as your partner. You are always growing; what worked for you 20 years ago may not be the same today. Stay curious with one another and be open to exploring new ways to pleasure. You deserve it," Young said.
For instance, Young advised that couples should "keep sexual encounters light and playful." And not be afraid to introduce new elements, such as toys .
"Touch often in ways that are consensual and feel safe! I made 'Show Me Your Cards' to serve this purpose specifically. Just because you do not feel in the mood to go all the way does not mean you aren't in the mood to hold hands, exchange body massages, or dance together. Connecting often in any physical form, as long as it feels pleasurable, still counts as 'being in the mood,'" she said.
Overcoming the hurdles of "bed death" and debunking myths surrounding 'lesbian bed death' offers a unique perspective for couples grappling with the difficulties of sustaining a connection. Learning the proper ways to work through a sexless relationship can help foster a healthier, more fulfilling relationship.
Feature image by Vladimir Vladimirov/ Getty Images