Now here's something that I found to be pretty fascinating. Before I get into what a dosha actually is, let's touch a little on the background of what Ayurvedic medicine is all about first. While I'm pretty sure that you've heard of it before, if you're wondering what it technically means, Ayurvedic medicine is considered to be one of the oldest holistic health practices around. It was developed thousands of years ago, in India, with the belief that I firmly support — that the mind, body and spirit are all supposed to work in harmony and if we focused more on proactive health than reactive illness, we'd all be the better for it.
Along with this mindset, Ayurvedic medicine promotes the belief that we're all made up of the five basic earth elements — space, air, fire, water, and earth. This is actually where the word "dosha" comes in. So, if you want to learn what it is and how to apply it to your own daily health practice, please read on.
What Exactly Is a Dosha All About?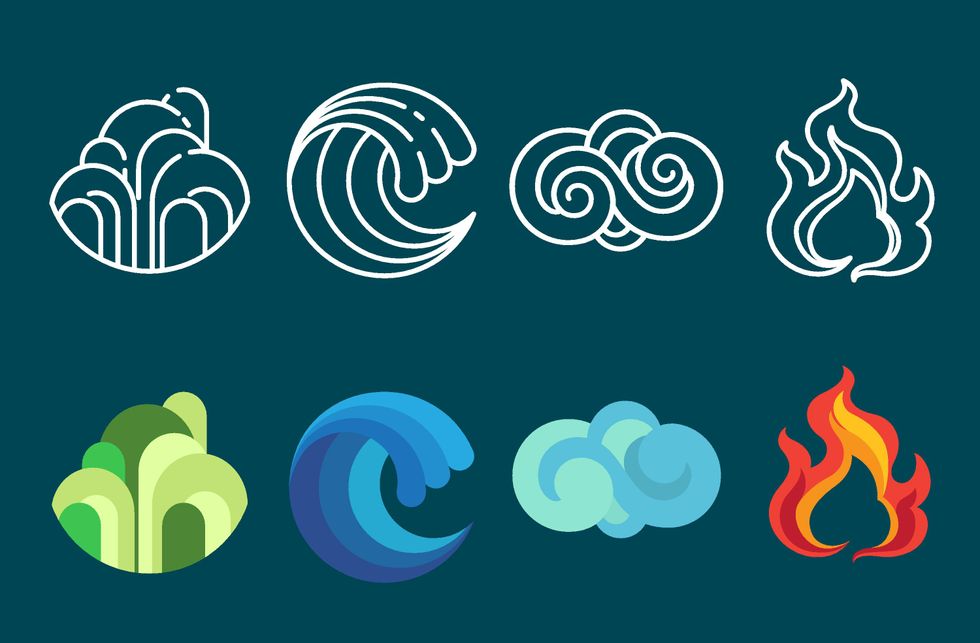 OK, so you know how Dr. Gary Chapman came up with the idea that love is basically expressed in five main ways (words of affirmation, physical touch, gifts, quality time and acts of service) yet we each need love in 1-2 primary ways (like for me, it's words of affirmation and physical touch)?
Well, while Ayurvedic medicine relies on the five earth elements (space, air, fire, water, and earth), dosha is about each of us inheriting three main ones (which makes sense when you think about the whole "mind, body and spirit" thing) with two being the stronger of the three. The concept is that when we find ourselves not being our best selves, it's typically about something within our individualized dosha being out of balance with the others. Interesting, right?
Now before I break down what each dosha represents, I think it would be helpful if you took your own dosha quiz first. Believe it or not, they aren't very hard to find and many of them are free. You can take one here, here, here, here or here, for starters. None of the tests are long and the objective is simply to find out what your body type is, so that you'll then have a better understanding of how to treat yourself on a mental (mind), physical (body) and internal (spirit) level.
By the way, your options are going to be Vata (space and air), Pitta (fire and water) or Kapha (water and earth). My two cents would be to take three different tests to see which results are the most consistent (I am recommending this based on personal experience). That said, what do all three of these doshas actually mean?
What If You're "Vata"?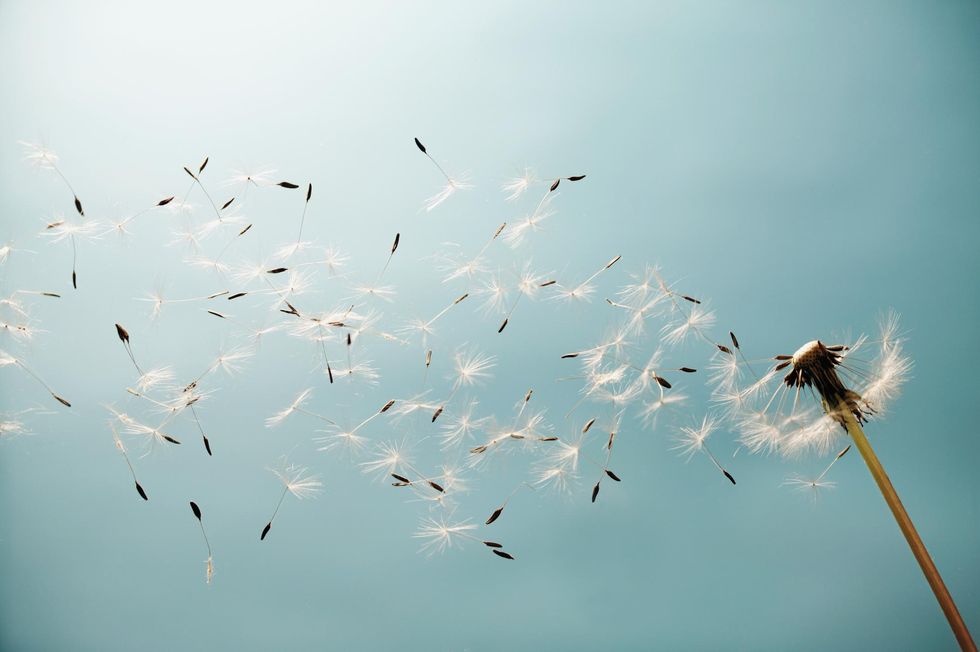 OK, so if your test results say that you're a Vata, it means that your predominant life forces are space and air. As far as how this breaks down regarding the mind, body and spirit tip:
Mind. You tend to be creative and like to think outside of the box a lot. You enjoy new things and taking risks. Because so many ideas come to you on a consistent basis, it can be challenging for you to focus and get/stay organized. You typically have vivid dreams, are prone to overthinking and it's not uncommon for you to have bouts of anxiety because of it.
Body. Naturally dry skin is a constant for you. Your hair can lean towards being dry and brittle as well. You enjoy exercise, sometimes to the point of overdoing it. And when it comes to health-related concerns, asthma, heart disease, skin issues and rheumatoid arthritis are what you have to be on the lookout for. Digestive issues are typically your thing too. As far as your diet goes, you seem to have a liking for comfort foods, things that are prepared in an oil base and you actually don't mind a meal that "sticks to your bones".
Spirit. Spirit speaks to life force, so when it comes to how you live life, your strengths are that you're compassionate, flexible, a quick learner, good multitasker and lots of energy. Your weaknesses include being forgetful, moody, having a difficult time falling and/or staying asleep and being overwhelmed.
What If You're "Pitta"?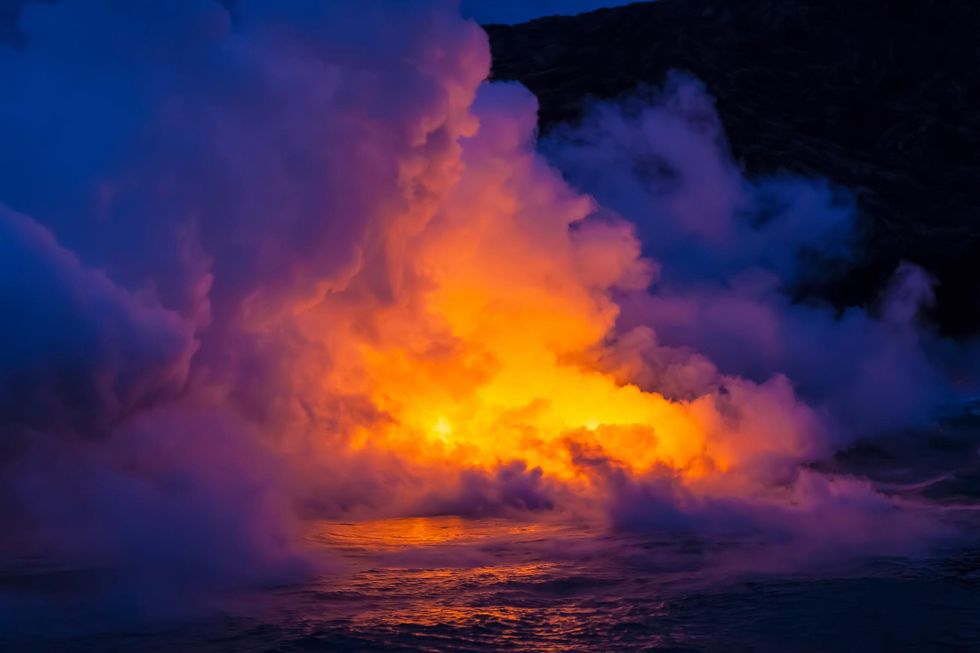 A Pitta's predominant life force consists of fire and water. What this boils down to is:
Mind. You work hard and are pretty task oriented. You're not at peace until the job you committed to is done and sometimes that makes you pretty impatient and irritable. It's not uncommon for folks to use words like "aggressive" or "tenacious" to describe you. Also, you are a great candidate for success because you're very self-motivated with quite the competitive streak.
Body. If anyone can't stand the heat (temperature, that is), it would be Pittas. That's a big part of the reason why you usually sweat more than the other two doshas do. You also have more oily skin than the others which makes you more prone to breakouts. Heart disease, high blood pressure and infections are what you are more vulnerable to. As far as your diet goes, it's best if you avoid hot, spicy and even fermented foods because they have a tendency to mess with your digestive system (although you usually have a quick metabolism and good blood circulation).
Spirit. You're a natural-born leader, so you already know that comes with a mixed bag. As far as your strengths go, you're intelligent, a quick learner, someone who is clear about their life's purpose, you stay focused and are able to achieve great success. Your weaknesses? You are prone to conflict, can be quite impatient, can have a hard time achieving work-life balance, could stand to learn how to be calmer and master how to choose your battles more wisely.
What If You're "Kapha"?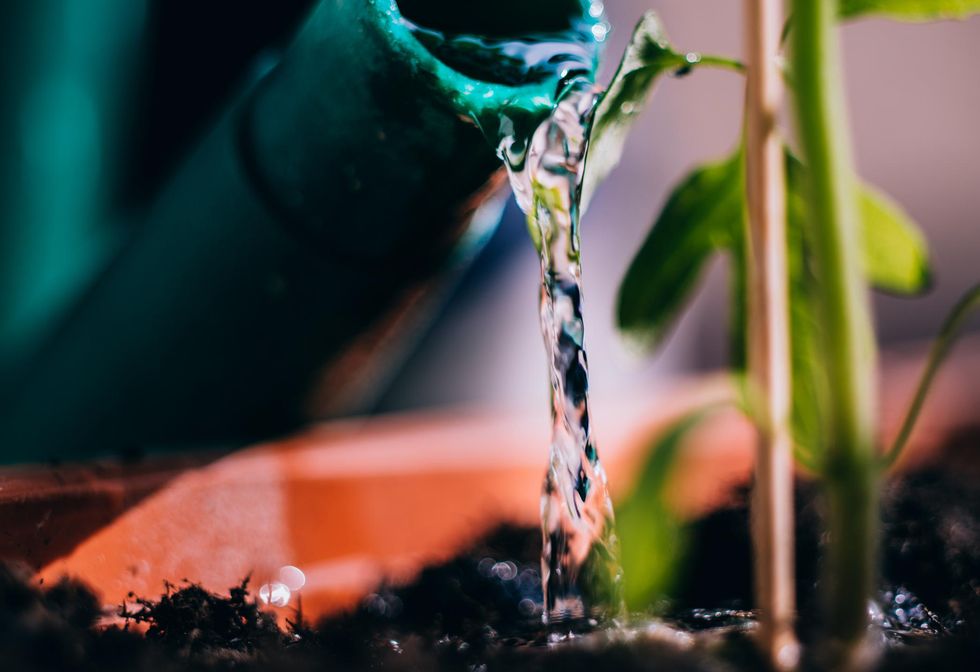 Finally, the Kapha is all about the life forces of water and earth. This means:
Mind. It's not uncommon for people to describe you as being kind and loyal. You also tend to be a source of stability for those around you. You move at a slow and deliberate pace and, to the outside world, your moods are about as even as they come. The flip side to this is because you are also a natural suppressor, you oftentimes have bouts of loneliness or even depression. This can lead to random impulsive decisions or even binge-eating, if you're not careful. Something else that you have to stay on top of is making sure that "stability" is not a mask for stagnation being that Kaphas are also prone to getting stuck in a rut and staying there.
Body. Your circulation isn't exactly the best which is why your hands and/or feet tend to be cold a lot. Your skin is usually pretty moist. Interestingly enough, a nap in the middle of the day is no biggie to you. Food-wise, dairy and desserts are totally your thing and you will oftentimes drink things that have too much salt in them. What you've got to watch out for is that you're most prone to developing cancer, diabetes, asthma, allergies and becoming overweight which is why it's best to have a diet of light and stimulating meals as much as possible.
Spirit. Humans really don't get much more empathetic and caring as you. Some of your other strengths include profound wisdom, being quite romantic, maintaining a sense of calm, leaning towards the side of optimism and being non-skeptical of others. Weaknesses include sleeping to escape issues (including holding on to other people's stuff), needing constant encouragement, not being self-motivated, not making the most of your time (you know, dragging along) and not being the best planner.
A trip, right? While all of this is merely an introductory course, I thought it was cool to share because if you do indeed see yourself in one of these (again, after taking the quiz), it can help you to make certain adjustments to your mind, body or spirit to see if it helps you to feel better, on a holistic level.
Personally, I've tried it out and have noticed some significant changes over the past few weeks. So, get to know your dosha. Because the more balanced we are all, the better off we'll all be. Amen? Amen.
Join our xoTribe, an exclusive community dedicated to YOU and your stories and all things xoNecole. Be a part of a growing community of women from all over the world who come together to uplift, inspire, and inform each other on all things related to the glow up.
Featured image by Getty Images
Keep reading...
Show less
From the moment we are born, it seems there is a lot of anticipation for our future. As babies, our parents watch us take our first steps and wonder how we will step into the world. As children in grade school, our teachers may ask us who we want to be when we grow up before we know who we are. For most of us, as young adults, we are pressured to declare a major in college and land that job that requires years of experience before having any life experience. Anticipation for the future can come with a ton of pressure and make us feel anxious - at least it has for me.
Living with anxiety is like being in a time machine - always focused on the future or the past, and rarely present. Coming from a single mother who struggled to provide for her three children, I always felt pressured to make sure my future was bright. I constantly worry about my future because my future determines how the next generation in my family will live. The classic "breaking generational curses" has always sat heavily on my shoulders. An anxious worry most Black, brown, and first-generation young adults have on their shoulders.
The uncertainty about the future, especially in today's climate, has made me feel like I'm possibly not alone in this. Having anticipation anxiety seems to be becoming more common among young adults. While processing my anticipation anxiety, I wanted to dig further into the meaning of anticipation anxiety and how we can become more confident in our future and live more in the present. I had the pleasure of talking with mental health professionals Sierra Hillsman and Marline Francois-Madden.
Here are their thoughts.
Featured image by Getty Images

Keep reading...
Show less
Sleep can be such a fickle thing. Even though most of us know that 6-8 hours of sleep is what we need in order to function properly throughout the day—if it's not our schedules, it's stress. If it's not stress, it's hormonal shifts. If it's not hormonal shifts, it's feeling uncomfortable. If it's not feeling uncomfortable, it's being restless. Lawd. In many ways, getting a good night's rest, consistently so, is a bit like walking a tightrope…although it doesn't have to be.
If something that you would like, more than ever right about now, is to get more peaceful zzz's in, you might be in luck. If there is one thing that I'm gonna do, pretty much on a regular basis, it's get some good sleep in. The 15 hacks below have all played a role in making that happen.
1. Get the Right Pillows
I've got a friend who once said something so funny to me when it comes to his approach to disciplining children. He said, "Why spank them when you can just take their pillows away? Ever slept without one before? It's hell." Me? I'm the kind of person who probably has too many pillows on my bed, so I can only imagine what putting my head directly on a mattress, all night long, would feel like. I do know a bad pillow is filled with tossing and turning episodes. So yeah, I'm gonna lead this article with the recommendation to get the right kind of pillows to sleep on.
First, ponder if you are a back, side or stomach sleeper (stomach sleeping isn't good for you, by the way. It does reduce snoring; however, it also puts more strain on your neck and back). You can check out a list of some of the best pillows for your favorite positions here.
Also, make sure you know when it's time to replace the pillows that you've already got. What are some telling signs? If you've had them for more than a couple of years; if you experience neck pain in the morning; if when you fold them over, they don't return to their original shape, and/or you wake up feeling like you're having an allergy attack (this usually means you're taking in dust mites), it's time to move on and get some that are brand spanking new.
2. Get a Cooling Mattress Pad While You're at It Too
I don't know about y'all, but I HATE sleeping when I'm hot. That's why I'm all about sleeping naked and I'm thrilled about having a cooling mattress pad. See, even if you fall asleep feeling pretty comfortable, it's not uncommon to wake up in the middle of the night feeling either really hot or even sweating some. This happens because our body tends to change temperatures throughout the nighttime hours. Something that can help to prevent this from becoming a problem is putting a cooling mattress pad on your bed. Another benefit with this kind of pad is it can extend the lifespan of your mattress (you should cop a new mattress every 6-8 years, by the way). If you don't already own one and you'd like to look into making this particular investment, you can check out the pros and cons of some pretty popular brands here.
3. Put Yourself on a Sleep Schedule
Isn't it crazy that most of us have our kids on a sleep schedule so that they can get a good night's rest and yet, when it comes to us, we don't follow suit? A sleep schedule is important, not just because it can ensure that you receive the 6-8 hours, every night, that your body needs, it also helps to "train your mind" to fall asleep (and wake up) at a particular time.
This isn't just my opinion either; science strongly backs this up. So, if you're someone who goes to bed at midnight sometimes, 10 p.m. sometimes or when you're super exhausted, at 8, and you're wondering why you are always tired or dragging, try setting a firm time for a couple of weeks and see if that helps you out. I'd be shocked if it doesn't. By the way, you can test out some cool sleep tracking apps here.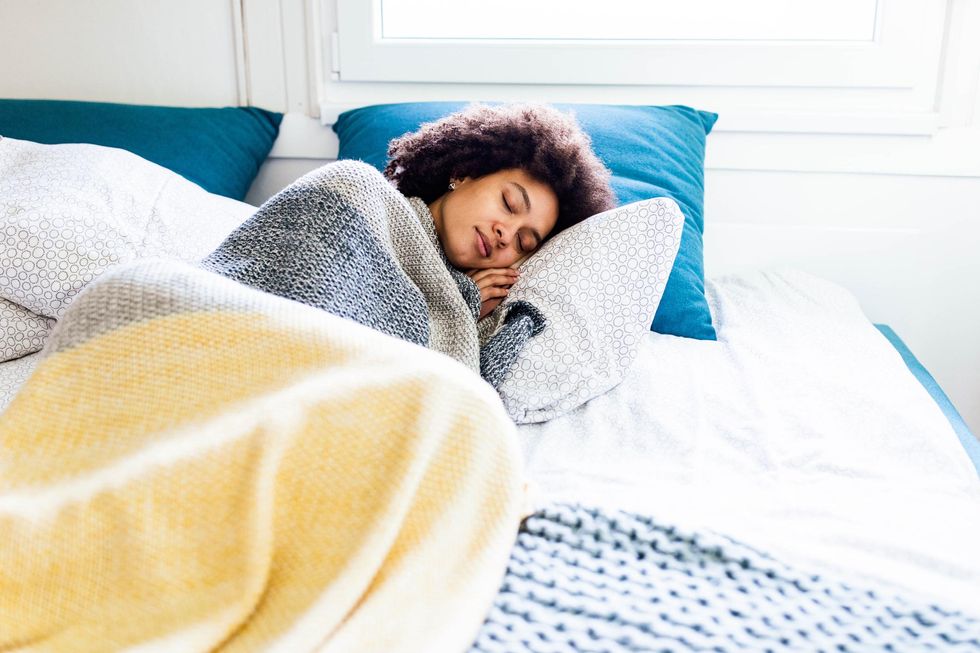 Getty Images
4. Eat Light at Night
Something that I have a bad habit of is eating too heavy or much at night. Because I spend a lot of time writing, sometimes the day gets away from me and I actually have dinner at 8 or 9 when it should be more like 6 or 7 and definitely a meal that's on a lighter side than steak and a salad. The reason why going lighter is better is because, when you go to bed on a full stomach, your body has to work that much harder to digest your food which can disrupt your sleep patterns.
Matter of fact, some scientific research says that going with a big breakfast and lunch and having something super light for dinner is really your best bet (especially if you want to burn fat in the process). You're grown. You're gonna do what you wanna do. Still, if dinner is your biggest meal of the day, maybe go with it being breakfast or lunch instead and see if that changes anything. For the better.
5. Nix All Coffee and Alcohol at Night Too
I'm thinking that it makes pretty clear sense why you should leave java (and all forms of caffeine) alone in the evening. Since caffeine is a stimulant, it's the last thing that you need when you're trying to catch some zzz's. Matter of fact, it's actually recommended that your last cup should be somewhere around 2 p.m. As far as alcohol goes, while a nice glass of wine may feel soothing initially, there's a clear reason why it's pretty problematic. Alcohol has a way of interrupting REM sleep (REM stands for Rapid Eye Movement and it's one of the five stages of sleep that your body goes through) which can lead to all sorts of sleep disruptions. This is why folks who drink at night oftentimes think that they are battling insomnia when really, the alcohol is what's doing them in.
6. Sip on Some Decaf Green Tea (Two Hours Before)
So, what should you consume in place of coffee or alcohol? Green tea is a cool option. The catechins (antioxidants) in it contain strong medicinal/healing properties. The amino acid theanine that's also in it will reduce stress and promote a good night's rest. Just make sure that you go with the kind that is decaf (for obvious reasons) and that you have your final cup about two hours before turning in. Otherwise, all of that drinking could have you getting up in the middle of the night—and if you're anything like me, that could make it hard to fall back asleep (which totally sucks).
7. Rub the Soles of Your Feet with CBD or Lavender Oil
Let me tell you what has totally changed my life for the better when it comes to sleep quality—rubbing CBD oil or lavender essential oil onto the soles of my feet. CBD oil is bomb because there's scientific evidence to support that it decreases anxiety, reduces stress levels and is even good for pain management. Lavender oil? Because it contains anti-inflammatory and analgesic properties, it's great when it comes to soothing sore or aching feet. Plus, it's got a calming scent and sensation that is pretty incomparable.
What I typically do is mix one of these oils with a carrier oil like sweet almond or grapeseed and rub my feet down for about 10 minutes before turning in. The reason why I prefer my feet is because oils absorb faster on that part of the body. Plus, since feet have 72,000 nerve endings, it's able to reach a ton of different cells, all throughout my system. Yours too. How dope is that?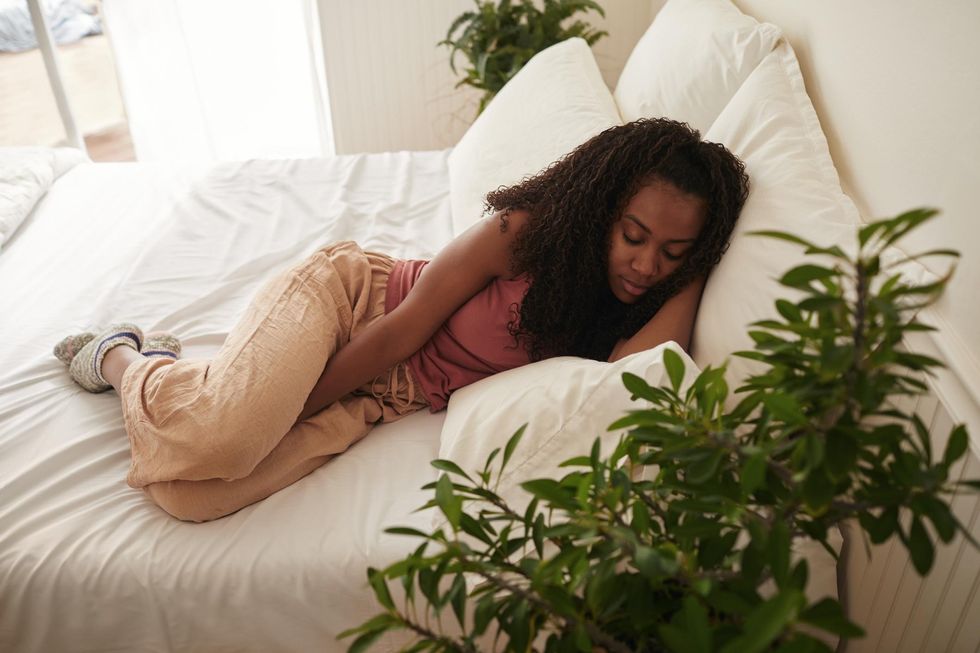 Getty Images
8. Have a Banana
If you're someone who's just gotta have a snack before turning in, how about a banana? Not only is it the kind of fruit that contains a good amount of tryptophan (more on that in a sec), it's also a good source of potassium and magnesium. Potassium aids in sleep because it helps your nerves and muscles to get on the same page so that you're better able to relax. Magnesium is awesome because it helps to regulate your body's stress-response system. Not only that but studies show that people who have some sort of a magnesium deficiency typically experience higher amounts of stress and anxiety. So, the more you've got, the calmer you'll be.
9. Or Snack on Some Other Forms of Tryptophan
If you've ever wondered exactly what tryptophan is and why it tends to make you so sleepy, the brief breakdown is it's the kind of amino acid that goes from the digestive system to your brain and then turns into a chemical known as serotonin which aids in making you sleepy so that you can rest. That's why, another hack that you might want to try, is snacking on some foods that are high in tryptophan (or eating a light dinner with foods that contain it). Some of those include milk, cheese, nuts, oats, chicken, turkey, canned tuna, seeds, soy and eggs.
10. Turn Down Your Thermostat
Once you're ready to shut your house down for the rest of the night, make it a point to turn down your thermostat. As far as what the temperature should be, I've read everything from 62 to 68 degrees, so somewhere around there. Since it's cooler at night outdoors, this should actually cut your energy costs down. And, it's another way to keep your body from overheating before sunrise.
11. Do Some Yoga
Since yoga is a meditative form of exercise, it should come as no surprise that it's a pretty great sleep hack. In fact, quite a few yoga practitioners vouch for the fact that it can help you to sleep and definitely can decrease your stress levels. The deep breathing can relax you. The mindfulness can increase your melatonin (a natural hormone that helps you to rest) levels. And exercise is always great at providing more intense rest. So, if yoga is something that you've been considering but still haven't tried, this is just one more reason to follow through on your plans.
12. Write Your To-Do Lists an Hour Before Turning In
Isn't it interesting that when it comes to learning how to live in the moment, a lot of us don't take this pearl of wisdom into account when it comes to resting? Going to bed worrying about what is going to happen the next day is going to do us a bit of good when it comes to getting a good night's rest.
Besides, when you're well rested, you are far more equipped to handle what is to come anyway. That's why it's always a good idea to write down your to-do list—in order of importance—no less than a couple of hours before going to sleep. It's an exercise that says, "I'm done for today. I'll tackle tomorrow…tomorrow."
It really can shout your overthinking down, so that you can relax so much easier.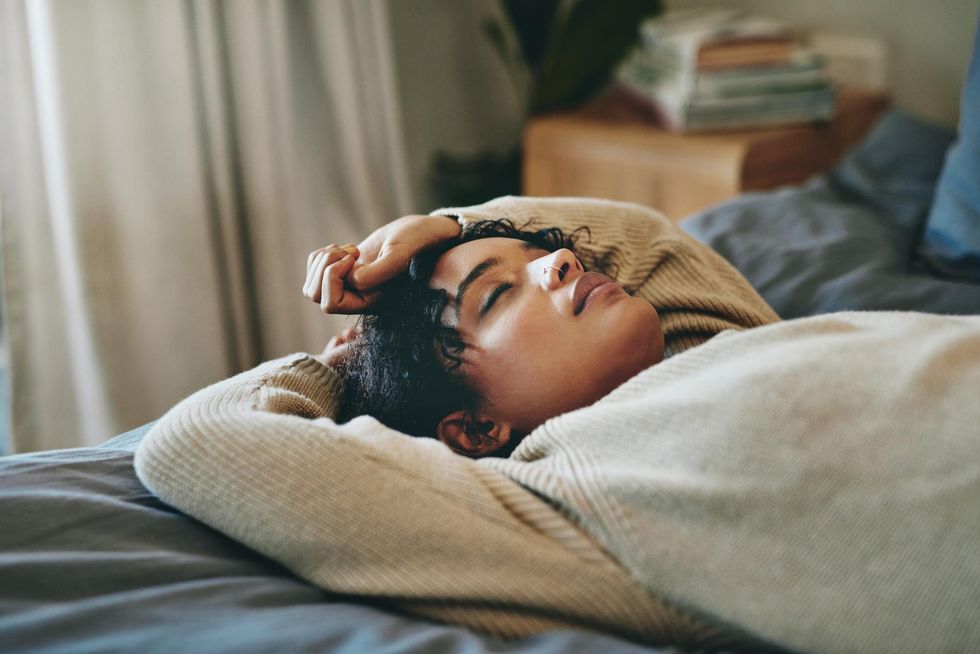 Getty Images
13. Also, Write Down Five Things from the Day That You're Thankful For
Another writing exercise that can be really beneficial is to take out 10 minutes or so to jot down five things, from each day, that you're thankful for. Believe it or not, expressing feelings of gratitude is an effective way to release toxins in your system, lower your cortisol (stress) levels and relax your muscles and nervous system. Plus, it helps you to keep things in perspective; especially on what felt like a really bad day.
14. Put in Some Ear Plugs
I'm someone who either prefers total silence or the ASMR sounds of rain. If you can relate, you might want to get yourself some ear plugs. Oftentimes, even though we're asleep, our brain is still catching all of the sounds around us which can actually prevent us from sleeping as soundly as we like or even need. And so, ear plugs are what can get us as close to silence as possible. That said, the main red flags are 1) if you're a single parent (especially with a young child), this probably isn't the wisest hack and/or 2) you've got to clean your ear plugs on a regular basis. Otherwise, the wax build-up could cause a hell of an ear infection. Anyway, some of the best earplugs for sleeping can be found here.
15. Unplug an Hour Before
One more. A couple of years ago, I wrote the article, "8 Solid Reasons To Put. Your Phone. Down." for the site. When you get a chance, check it out, because there are many reasons why surfing the 'net on your phone or laptop right before turning in will totally wreck your sleep patterns. For starters, the blue light on your screens inhibits the production of melatonin which makes it harder for your body to relax. Whatever is on your electronic devices, they will be right there, waiting on you, come morning.
Make it a practice to sign off at least an hour before bedtime. Write your gratitude list. Catch up on a chapter of a book. Deep breathe and chill. Your brain has been looking at screens all day long. In order to get some rest, turn those suckers…off.
Join our xoTribe, an exclusive community dedicated to YOU and your stories and all things xoNecole. Be a part of a growing community of women from all over the world who come together to uplift, inspire, and inform each other on all things related to the glow up.
Featured image by Getty Images
Keep reading...
Show less
There's nothing like finding a tribe that empowers you to be your best self, especially during challenging times like these. And when you can also find ways to partner up, build legacies, and build wealth together, that's even better. Friendpreneurs Tai Beauchamp, Nia Jones, and Malaika Jones have enjoyed the fruits of all of that with their plant-based wellness brand Brown Girl Jane. The collection of products include broad-spectrum CBD, an ingredient that has been found to improve issues like anxiety, pain, stress, acne, skin dryness and much more, and can be found at Nordstrom, within Birchbox, and online via their website.
Sisters Malaika, who is CEO, and Nia, who is the Chief Impact Officer (CIO), found kinship in fellow Spelman grad Tai, who serves as the Chief Brand Officer (CBO). They decided to combine their talents, networks and experiences to offer a product line that promotes wholeness, balance, and beauty from the inside-out.
"The brand started very organically," Malaika said in an exclusive interview with xoNecole. "We come from three very different backgrounds in terms of professional career but we were confronting the same wellness challenges even though we're approaching them from different directions. In terms of creating the brand, we recognized a need to craft a beautiful wellness collection centered on women of color. We were amazed at the efficacy of the plant and all that it could do and the different ways it could be used. In terms of getting started, we created the brand we always wanted to exist."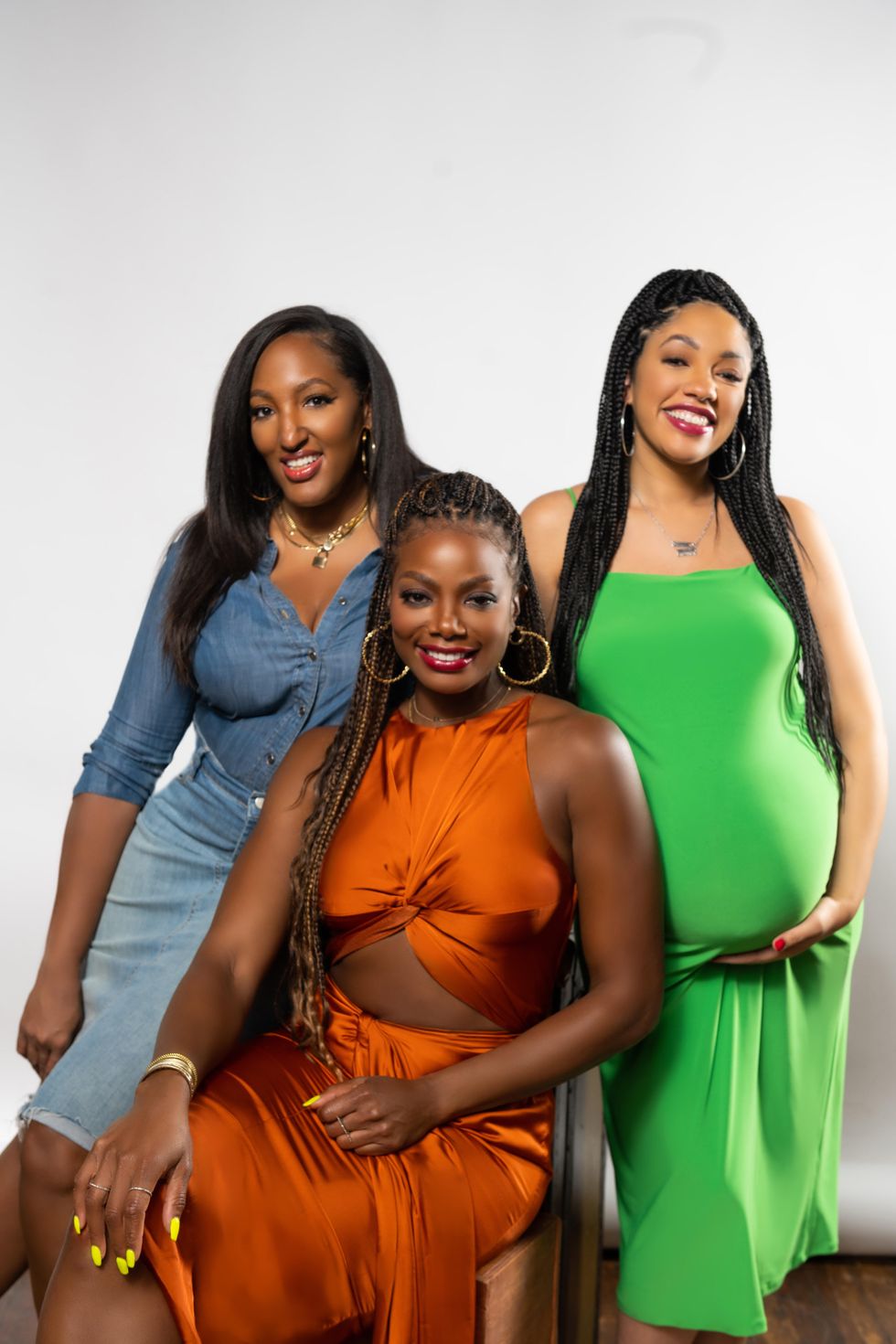 Brown Girl Jane co-founders, Malaika Jones, Tai Beauchamp, and Nia Jones
Image courtesy of Brown Girl Jane
The founders of Brown Girl Jane have also been able to build a community that centers on inclusive luxury and transparency about what Black women are putting in and on their bodies. Working directly with the people involved in the process of making their products, the founders ensure that they interact with everyone from the farmers to the chemists to the manufacturers. "We are self-funded, and we really just broke apart all of the components of the brand," Malaika added.

"My background is in finance and on Wall Street, and so building a business and knowing the functions and operations of business is something I've done before. Tai obviously has her expertise in brand-building, marketing, and publishing. And Nia has done enormous work in mission. We've brought together those components to craft the brand that we wished existed."
The mark of any great (and lucrative) venture is filling a void in the market and providing a solution to a problem that would impact a large number of people. Each founder had their own personal connection to wanting to solve everyday problems in their own lives. "I think the other thing in terms of how it started was recognizing the needs of women like us and feeling more well," Tai added.
"Specifically, [it was] Malaika's experience with giving birth to her youngest daughter and having a spinal cord injury and not wanting to take the pharma route of medicating. CBD plant-based solutions provided a great deal of benefit to her physically. For me, travelling and being on the road constantly and feeling anxious about getting sleep and all those things, obviously also impacted [me]."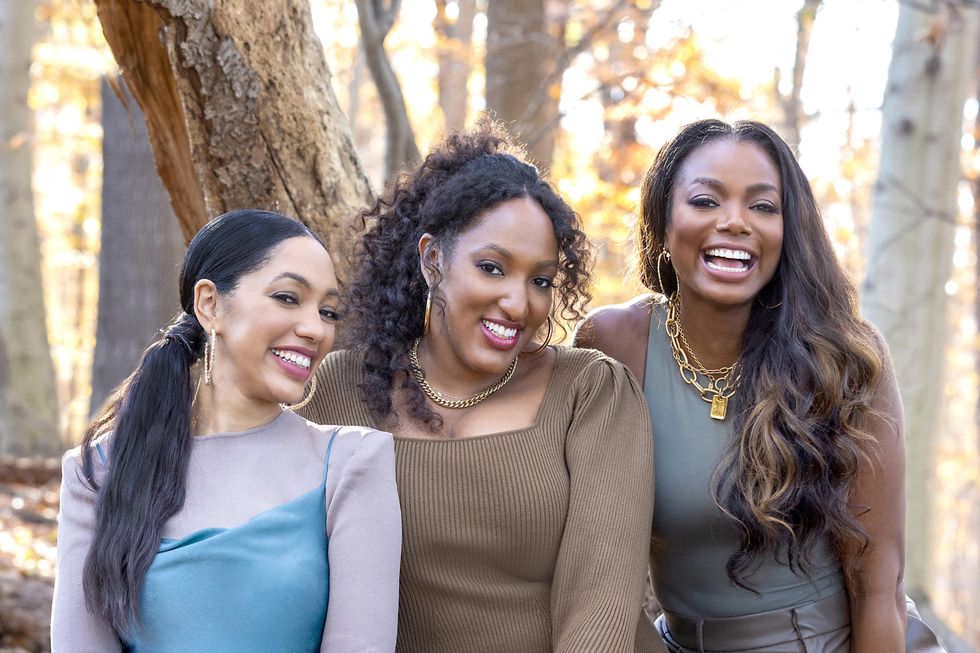 Image courtesy of Brown Girl Jane
With health and isolation issues related to the pandemic, the transitions of politics, and the issues of police brutality and racism at the forefront, many of the challenges they faced were those that other Black women around the world could relate to. "This is really about solutions not only for women as a whole, but that can support how we feel, how we look, and how we're able to show up, from anxiety from sleep deprivation, from pain and what have you," she continued.
"That's what we're doing with this collection as a whole. It's really centering what have been areas of challenge and opportunity for us to not necessarily being able to thrive to our fullest potential and providing both community, a tribe, as well as a collection that takes all of that into consideration, saying, 'Here's your toolkit sister. Here's what you need in order to live your most elevated life.'"
The women agree that it's important to not only offer products with a super-popular, trending ingredient like CBD, but provide a holistic, authentic platform for women to address the many facets of what wellness means for them. "That was intentional. And these products actually work in terms of the level of efficacy, the level of quality, and the level of intentionality in how we craft our collection even as we consider expanding beyond CBD. There is an intentionality, and we want to ensure that this [product] is highly advantageous."
There's a special sense of being the change you want to see even beyond offering a product to consumers, and this is surely evident through the founders, who are indeed real-life sister-girlfriends who aren't afraid to be the embodiment of their beliefs. Cultivating community and finding power in partnering up with fellow women is a key part of the company that tangibly manifests itself through the founders' connections with one another.
"Being founded by three Black women—two of whom are biological sisters and all of whom are Spelman sisters—there is a profound recognition of who we are individually but also who we are in the power of our collective," Tai said. "And in recognizing the power of our collective, because that is ultimately what has sustained us when we didn't have our collection, when we didn't have Brown Girl Jane as a product and brand, we had our sisters, as a community, who held us, who supported us, and who were essential to our toolkit."
"We wanted to make sure that the women we look to support have that same resource because that's foundational. In partnership with the collection, centering ourselves, and changing some of the systemic belief systems that have held us back in some ways in prioritizing health and wellness, we can all be well. We can feel more whole. There can be healing. There can be support. We can be a resource. That was intentional."
The trio's relationship sets a tone for providing a different narrative that challenges other age-old negative stereotypes about female friendships and further illustrates the power of partnering up with other Black women to build something great. "We can approach everything with a different set of eyes," said Malaika.
"I would encourage that when people are working with friends, you actually want people who think differently and have different sets of expertise, but who share the same north star, which for us is just wanting women of color to be able to live their best lives. We want to be helpful along their journey toward wholeness. That's very consistent across the founder team and that's really just the expertise which is varied, and that's amazing to be able to lean upon one another for."

Follow Brown Girl Jane on Instagram @itsbrowngirljane and find their products on Nordstrom.com or their website.
Featured image courtesy of Brown Girl Jane
Keep reading...
Show less
Like many of you, I grew up watching The Cosby Show and was always in complete awe of Clarie Huxtable. To me, Claire Huxtable was that beautiful, highly intelligent, super badass mom and wife that I dreamt to one day be. Not only was she a true boss in her professional life (remember, she was a PARTNER at her law firm), but she also held it down in the house for her five kids and husband and looked like she had it all. #boss
While I know that Claire Huxtable was a fictional character and that in real life, there's truly no such thing as always "having it all", there are some women that have managed to simultaneously successfully juggle the titles of "wife", "mother", and "boss" just like Auntie Claire did.
Recently, I was able to catch up with these successful working moms and wives and they shared how they manage to be the best wife and mother they can be, while also fulfilling their career dreams. Keep reading to learn more about their "happy life, happy wife" hacks!
Juggling Unrealistic Expectations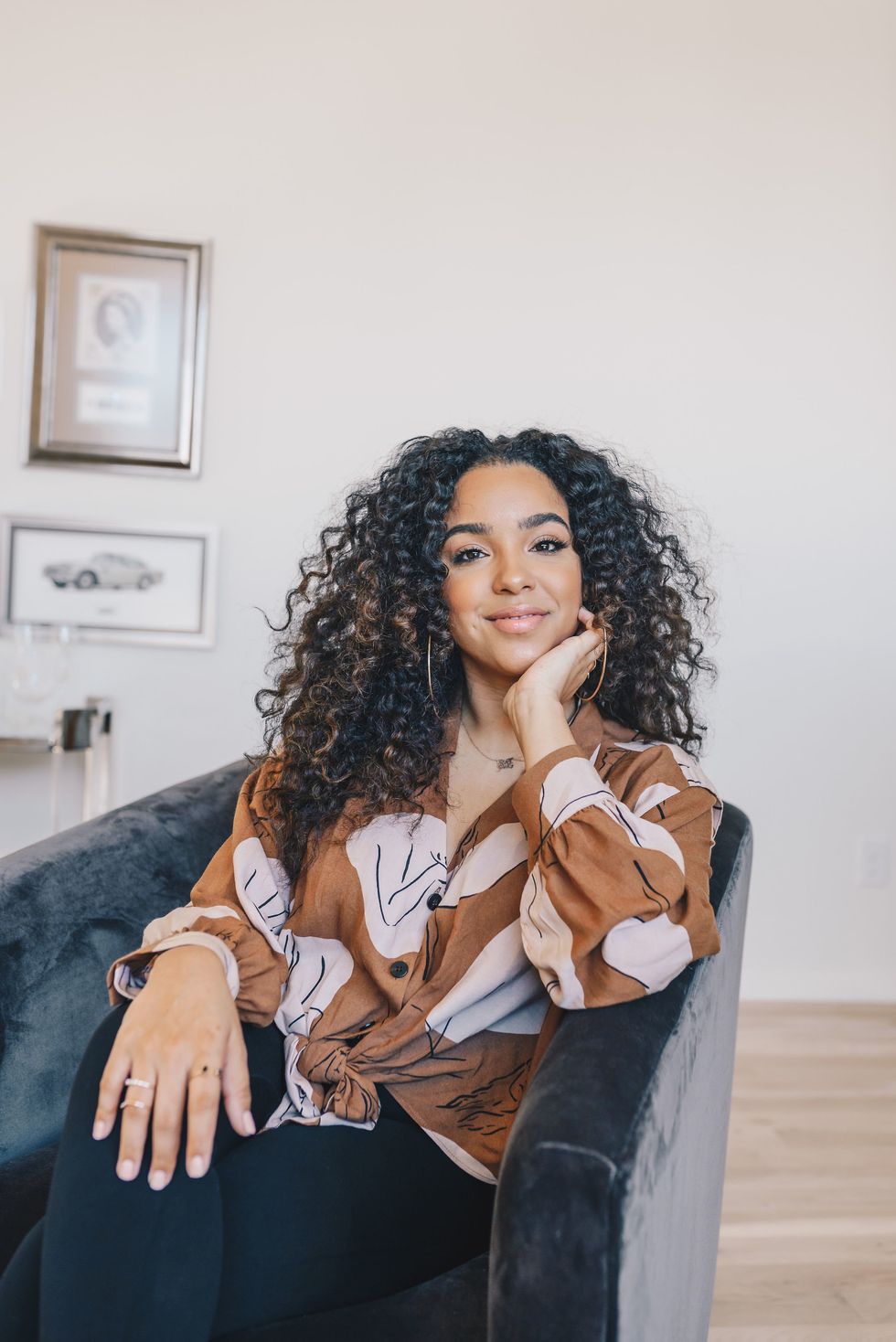 Courtesy of Jade Kendle
Jade Kendle, CEO & Founder of #LifeIsContent
"Being a woman in 2020 comes with so many expectations. I try to remind myself that there's no one to chase. There's no one chasing me. It's about me practicing excellence, not just when it's easy, but when it's hard."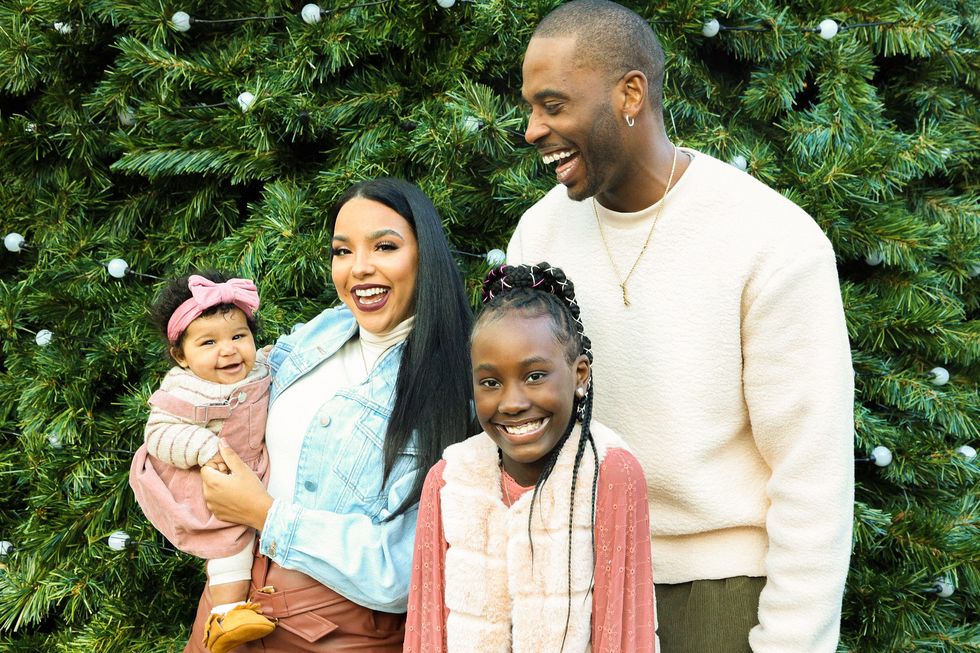 Courtesy of Jade Kendle
"I'm always having to mitigate the expectations I put on myself, and others. I'm always trying to be my best, and sometimes that impacts me (and others) negatively. I put too much pressure on myself to be the best that it becomes stressful when there's no way I can ever be perfect at everything - no matter how hard I try!
"Being a woman in 2020 comes with so many expectations. I try to remind myself that there's no one to chase. There's no one chasing me. It's about me practicing excellence, not just when it's easy, but when it's hard. It looks like coming out of a frustrating moment and reflecting on how things could've had a better outcome and making a commitment to do better. Continuously evaluating and reconnecting to my ultimate why - helps me let go of that 'perfectionist' energy."
The Self-Care Struggle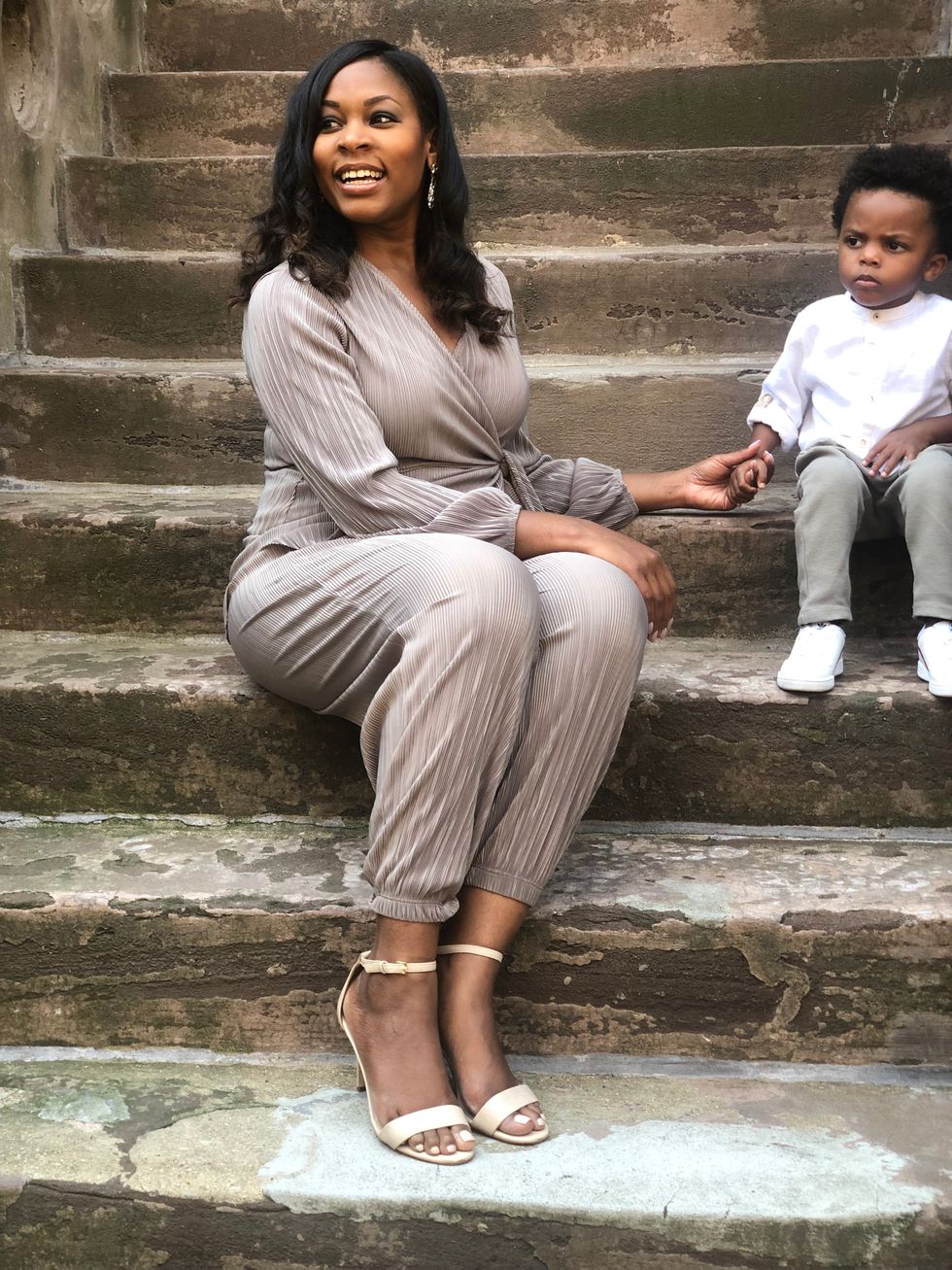 Courtesy of Shakyna Bolden
Shakyna Bolden, Brand Partnerships at xoNecole & Founder of Little Village Collective
"Last year was incredibly tough for me because overnight I went from being a stay-at-home mom to starting a new venture. It was overwhelming and at times too much... That being said, I can't take another year of neglecting my body, mind and spirit while trying to build my family and career. So I started 2020 with the intention to prioritize my well-being."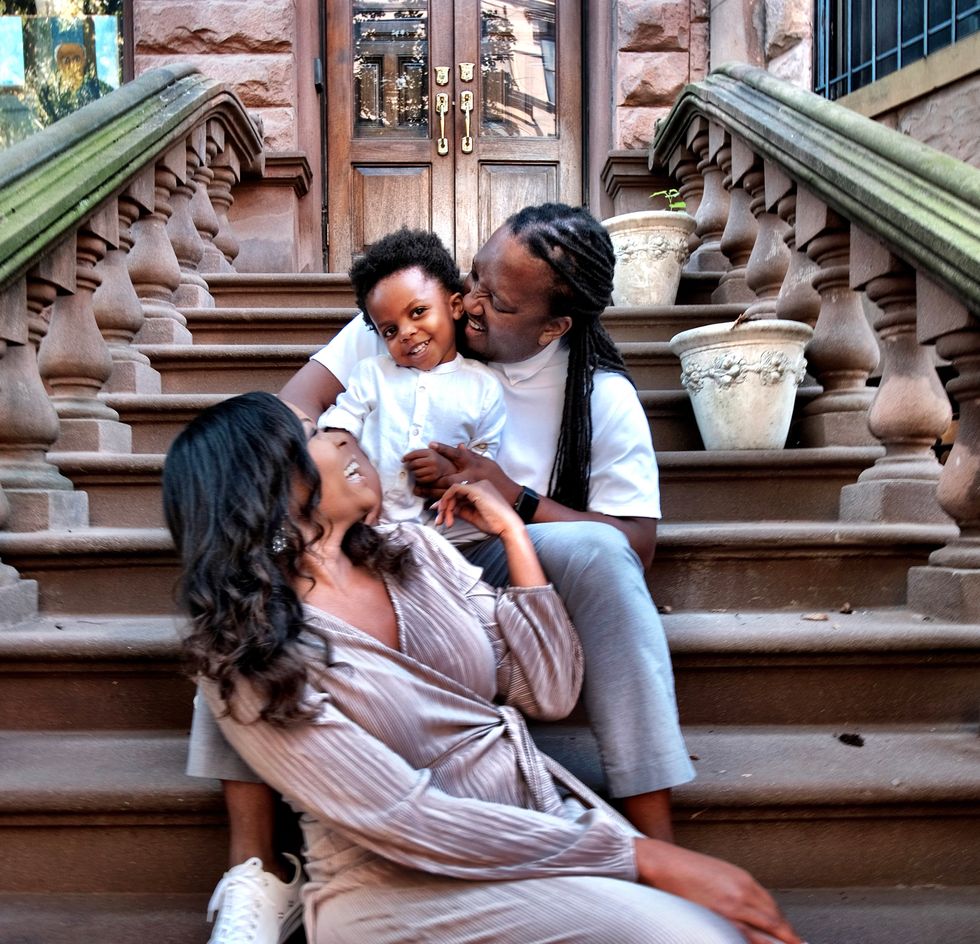 Courtesy of Shakyna Bolden
"Currently, I'm struggling the most with self-care and consistently maintaining a sacred space/daily regimen that builds my mind, body and spirit so that I can perform better in all areas of my life from my work to my mothering and being a great partner. Last year was incredibly tough for me because overnight I went from being a stay-at-home mom (only working part-time) to starting a new venture. It was overwhelming and at times too much.
"To be honest, I gained all my post-baby weight back that I had worked so hard to lose, suffered from extreme exhaustion, fatigue, and burnout, faced role dynamics shift in my partnership and so much more. That being said, I can't take another year of neglecting my body, mind and spirit while trying to build my family and career. So I started 2020 with the intention to prioritize my well-being.
"I would say support is VITAL to juggling work and home. My partner unquestionably shares in household responsibilities on everything from taking care of our son to cooking. When I travel for work, he's on complete daddy duty and we have family and friends that truly support us as well. Lastly, I'm blessed to be able to work from home and have a flexible work schedule that helps me be fluid in my work and home. There's no secret at xoNecole that I'm a mom. A lot of times in the workplace moms have to sneak off or apologize for momming, but that's not the case with me."
Dealing With Guilt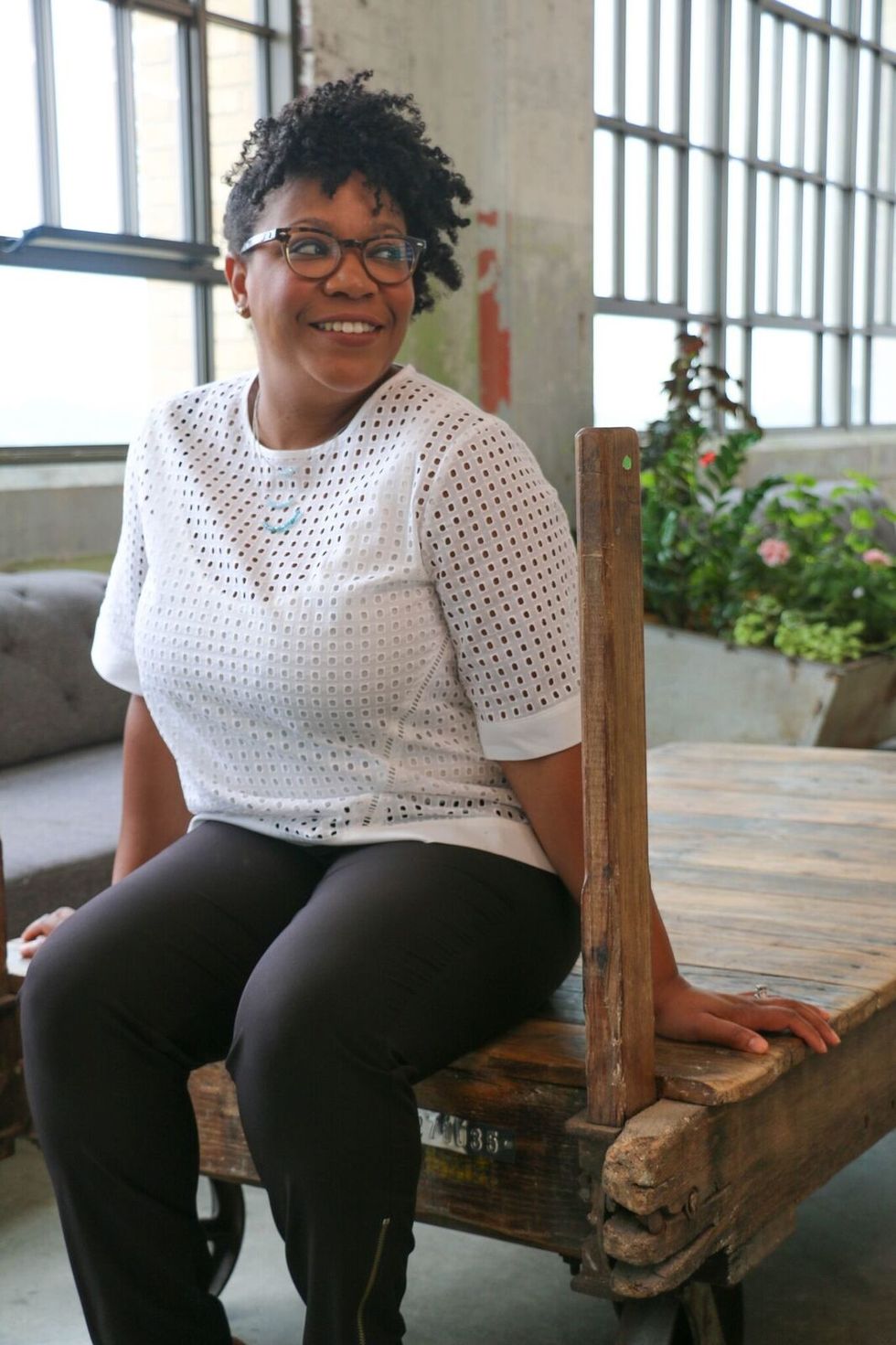 Courtesy of Ashley N. Cash
Ashley N. Cash, Interview and Salary Negotiation Expert
"Sometimes I feel guilty for losing my patience, forgetting an important date, saying no to a birthday party, or getting frustrated with my husband. I overcome guilt by reminding myself that I am a human, I'm doing my best, and giving myself grace in those imperfect moments."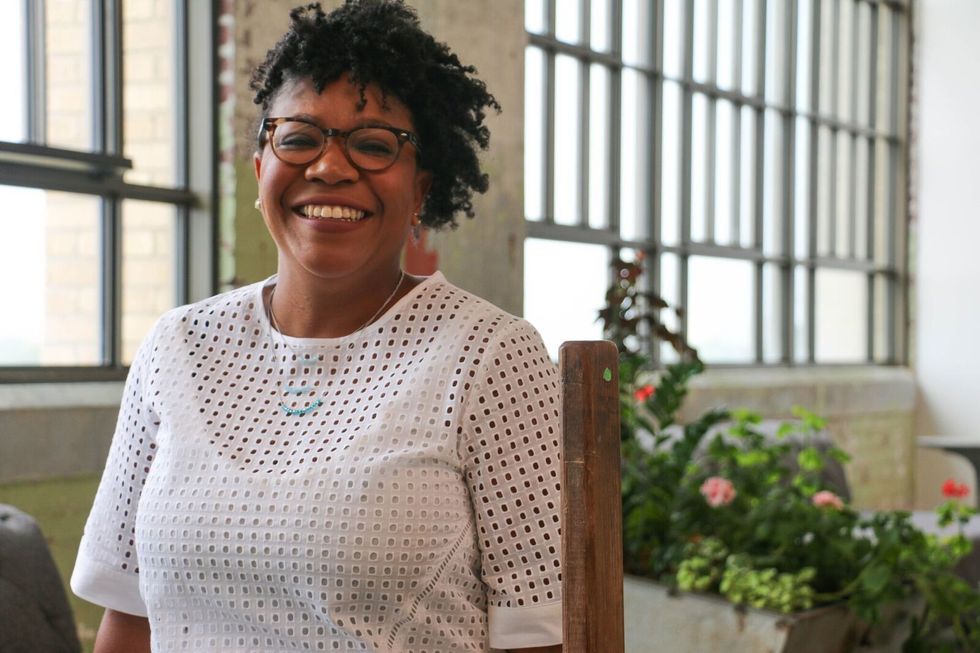 Courtesy of Ashley N. Cash
"Mommy guilt is a thing...there are days when I feel guilty about the moments where work pulls me away from my family. Sometimes I feel guilty for losing my patience, forgetting an important date, saying no to a birthday party, or getting frustrated with my husband. I overcome guilt by reminding myself that I am a human, I'm doing my best, and giving myself grace in those imperfect moments (so many imperfect moments, ha!).
"My other mommy guilt hack is using feeling guilty as a trigger to give myself a quick reminder of all the other things that I've done right and done well, which is really a hell of a lot (shoutout to my therapist for that one). Which is another mommy boss hack: Have an outlet or two to help you clear your head and get out of wife, mom, work mode. My outlets are scheduling alone time doing something I enjoy by myself and seeing my therapist once a month.
"I think I'm able to be a great wife, mom, and entrepreneur all at the same time because I'm good at aligning what I do with what's most important to me at home and in business, asking for what I need and saying no when I need to because I'm not afraid of missing out on anything. I'm positive that there's enough time, money, clients, and opportunities in the world and that I don't have to trade marriage and motherhood to have them. I think that's an abundance mindset with a little bit of grace mixed in."
Trying to Find Balance in an Unbalanced World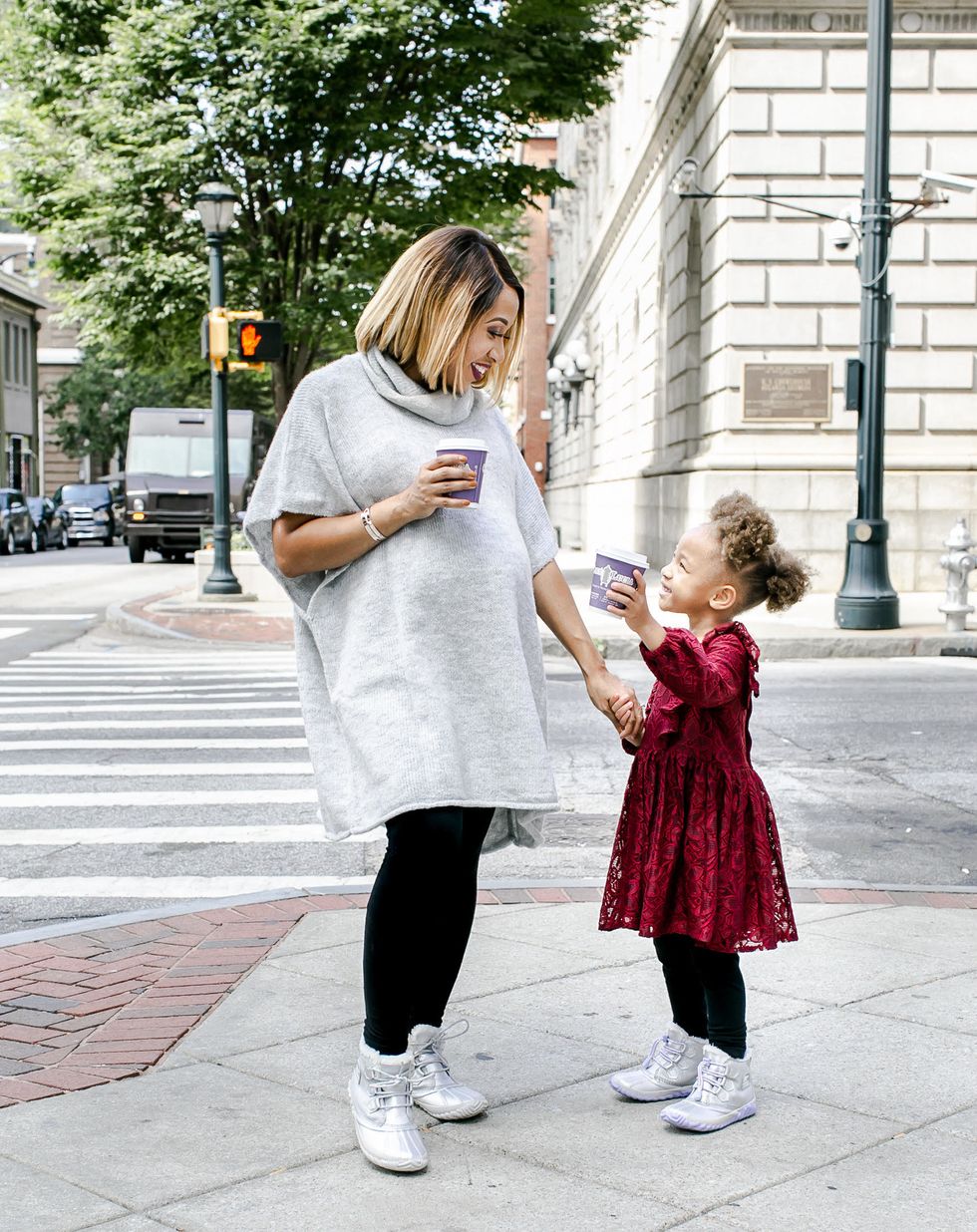 Courtesy of Mattie James
Mattie James, Entrepreneur & Influencer
"What I had to come to terms with is that balance looks different every day. Some days, I kill it as a mom and entrepreneur, but not so much as a wife. Other days, I'm the wife of the year, an amazing mom but my business was put on the backburner. And guess what? That's fine."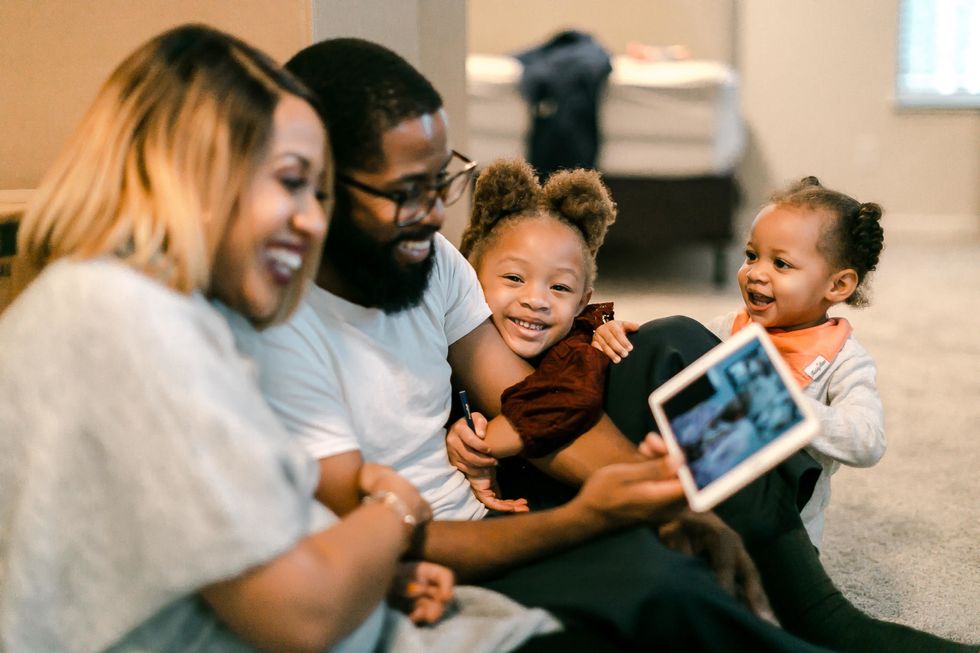 Courtesy of Mattie James
"What I had to come to terms with is that balance looks different every day. Some days, I kill it as a mom and entrepreneur, but not so much as a wife. Other days, I'm the wife of the year, an amazing mom but my business was put on the backburner. And guess what? That's fine, because there's always tomorrow and I'm not obligated to be everything to everybody at all times.
"What I do oblige myself with is self-care. Because when I take care of myself, I can be the fullest version of any of the roles in my life including wife, mother or entrepreneur. I'm not interested in being any of those things running on an empty tank. Self-care is what keeps me full. It helps me achieve balance."
Featured image courtesy of Shakyna Bolden
Originally published May 2, 2020
Keep reading...
Show less
When Trayvon Martin was senselessly murdered for doing what any average teenager does on a rainy afternoon - making a run to the corner store wearing a hoodie - it made blatant to the world what Black people have long suspected. That, despite centuries of injustice, despite having a Black president, and despite living in a so-called post-racial society, our Black lives still didn't matter.
I remember hearing the audio tape of his killing as I carried my unborn child. I followed Trayvon's trial extremely close that year as I struggled through a high-risk, life-threatening pregnancy. It was an extremely low, uncertain period in my life exacerbated by frequent hospitalizations, the brutal murder of Trayvon Martin and the realization that I, my family, and my unborn child were not safe from racial violence. In fact, I myself had been a victim of excessive force by police officers seven years prior.
My pregnancy was marked by frequent instances of pre-term labor, symptoms of heart failure and dangerously high blood pressure. It wasn't until late into my second trimester that my mother made a startling connection:
Every single time I watched the trial or allowed myself to get worked up by new developments in the case, I ended up being hospitalized. My physical symptoms were directly connected to the emotions the trial brought up in me.
She told me to turn off the TV and to block out the violence and negativity going on around me. "Pregnancy is supposed to be the happiest time of your life. Watch comedies, eat the foods you enjoy. Don't expose yourself to negativity." Despite my initial resistance, I found that, surprisingly, my hospitalizations immediately ceased once I took her advice to heart.
This experience made me realize two things:
The mind-body connection is incredibly strong, especially for empaths, introverts and highly-sensitive people like me.
People of color internalize trauma so deeply that we may not realize the effect it has on us, on our children, on our relationships, and on our physical and emotional well-being.
Studies show a direct link between being exposed to racial injustice and generational trauma. Stress hormones, susceptibility to anxiety and depression and symptoms of PTSD, throughout history, have been passed down from traumatized Black mothers to their unborn children through the womb.
Renowned author and researcher Joy DeGruy has coined a term for this phenomena: Post-Traumatic Slave Syndrome. "Post Traumatic Slave Syndrome is a condition that exists when a population has experienced multigenerational trauma resulting from centuries of slavery and continues to experience oppression and institutionalized racism today." Healthline.com notes:
"For the Black community, the impact of centuries of unaddressed trauma still manifests today...being Black in America means living with chronic post-traumatic stress disorder (PTSD) caused not only by one's lived experiences, but the experiences of our ancestors…"
Black people have been exposed to racial injustice and police brutality for centuries. But for the past eight years especially, since the brutal murder of Trayvon Martin and the wide availability of smartphones, coverage of these events have markedly increased. Much to our benefit, but also to the detriment of our physical and emotional health.
Exposure to graphic images of murder and death is adversely affecting our collective health. This is quite literally a public health crisis that isn't being adequately addressed.
Until it is, it's on us to protect ourselves and our loved ones. Here are 4 steps that you can take to off-set the dangerous effects of these traumatic events on your psyche and on your physical health:
1. Unplug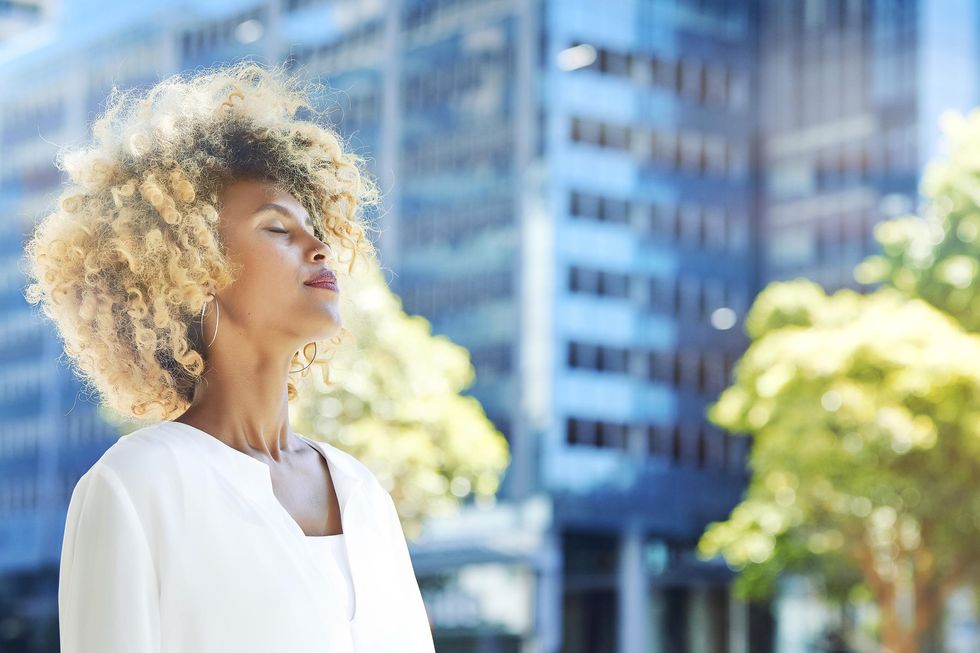 Getty Images
Turn off your television. Take a break from Instagram, Twitter and Facebook. In fact, turn off your phone altogether. Limit your exposure to negative news, conversations and graphic violence. Our generation, more than generations prior, is subject to an "always on, 24-hour" news cycle that makes it difficult to turn away from what's trending in the news and on social media.
Studies show that our generation is experiencing "information overload" by the constant influx of news. This increased access is linked to an increased risk of depression.
2. Evaluate Your Feelings
It is normal to experience FOMO (the Fear Of Missing Out), but you don't have to know and publicly react to everything that's going on in the world. Often, when incidences of racial violence go public, there is a pervasive pressure to immediately issue a public reaction. There is a feeling that if you don't respond right away, you're not "woke."
Don't ever allow yourself to feel guilty about protecting your emotional and mental health.
Empaths and highly sensitive people need time to process traumatic events. This is especially true for empaths who absorb everyone else's feelings so deeply to the point where you may become confused about where your feelings end and someone else's begins! You need time to process your feelings and to determine whether or not you're actually carrying on the emotions of someone else or of society at large. Take your time.
Take a moment to connect with nature. Take a walk in the park. Run a bath. Allow yourself some solitude and the chance to clear your mind. Practice grounding exercises and carry dark crystals like Black Tourmaline and Black Obsidian to stave off negative vibes.
3. Think Critically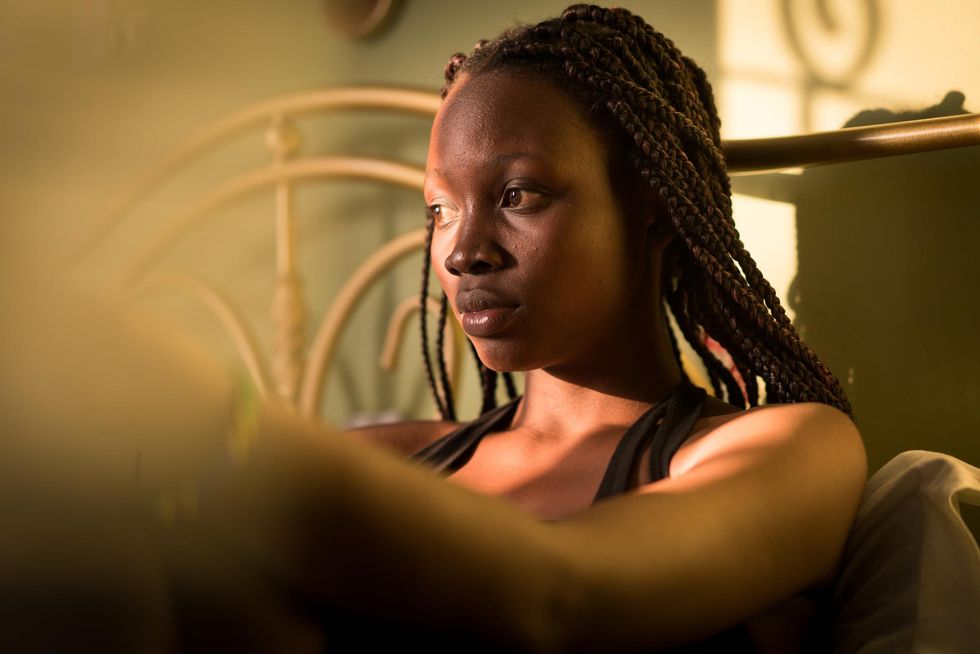 Getty Images
Don't allow yourself to be so easily persuaded by what's being reported in the news, by social media influencers and by social media justice warriors. Some of these people and groups profit off of permanent outrage. The louder and the more outraged they sound, the more "woke" they seem, the more clout they get and the more followers they receive.
Be introspective. Reflect on whether or not the feelings you are experiencing are indeed your own, or if you are being influenced by performative outrage. The same adage about cutting off negative people, environments and situations also applies to the people and pages you spend time on on social media too!
Don't underestimate the impact social media has on mental health. Studies show that since social media first appeared on the scene in the early 2000s, rates of suicide, anxiety and depression have surged.
4. Don't Bottle Up Your Emotions
Set an appointment with a therapist. Speak with a trusted friend. Pour your emotions out in your journal or through your preferred artistic medium like illustration, music, or dance. Allow yourself to deeply feel and experience the influx of emotions that you may not be able to express outwardly. Cry if you need to. Go somewhere private and scream at the top of your lungs. Allow yourself to fully experience the pain that these events inevitably bring. And then LET IT GO.
Don't allow stress and pain to live and fester inside of your mind and body. It will inevitably manifest in harmful ways.
Brutality against people of color is embedded into the fabric of America since the days of our founding fathers. Instances of police brutality will likely continue until major systemic reforms are made.
Remaining mindful of the effects these events have on you can help you survive and prosper in the face of injustice and brutality against people of color.
How do you cope with news of racial violence or police brutality? Let me know in the comments!
Are you a member of our insiders squad? Join us in the xoTribe Members Community today!
Featured image by Getty Images

Keep reading...
Show less