Just when you think New York Fashion Week couldn't possible top itself, a new year comes along to snatch our edges, throw our wigs, and make us secretly live out all of our fashion lives. It doesn't mater if you live in Manhattan, or the depths of Mississippi, NYFW is the time when everyone and everything is high-fashion, and the next hot moment is not too far away. It's actually one of my favorite times of the year, mostly because all those stupid rules are thrown out the window, and the only trend is creating your own rules. Blink too fast and you'll miss the latest and hottest purses, or the most popular colors of the season, or even trends that begin right where they stand.
---
Most importantly, the week always ends with the highly-anticipated Met Gala, which will be streamed live for the first time ever (and hosted by Keke Palmer and Ilana Glazer), and an after-party hosted by the one and only Bad Gyal, Rihanna.
But because we know you ladies love fashion like we do, we thought it would only be right to serve you up a recap of who (or what) stole our edges while strutting down 5th Avenue.
So, without further adieu...
Junie Shumpert
Teyana Taylor recently expressed on her E! Show with husbae Iman Shumpert, that she encourages her daughter Junie (5) to have a presence on social media, and her business ventures are no different as our mini sis shut NYFW down in the best way possible. Taylor had a Pretty Little Thing collection hit the runway, and she invited her firstborn along for the ride, which sis understood everything about the assignment.
Rocking all red, and a cap that only queens understood, she left no crumbs behind as she ate the entire row of the left side of the cookie package. Taylor loved it, naturally, telling ESSENCE that she is inspired by her, and daughter Rue, at all times.
"They are the greatest form of genuine love. They're my biggest fans. I was always a strong person, but having my babies has made me unstoppable. I get my fearlessness from them."
Yara Shahidi
Our girl Yara Shahidi somehow transitioned into literal art during the NYFW festivities, as she attended The Exhibition Christian Dior: Designer of Dreams while wearing a Dior Haute Couture Fall-Winter 2022 black mohair houndstooth sweater, a flannel skirt with a high waistline, and Dior heeled sandals. She uploaded an absolutely stunning photo of her in the dress captioned,
"Don't touch the art."
We won't touch, but we will certainly admire.
LaQuan Smith
LaQuan Smith has secretly been owning New York fashion for quite sometime, so a little week of showing off what he's working with is nothing. In fact, he topped all of our lives, by presenting his newest pieces at the top of the Empire State Building. Yes, the Empire State Building. He became the first designer to ever host a fashion show at the monument, telling the AP:
"I felt like, if we're going to come back to live shows, where's the best place to do it? It really felt like this was the best place to do it," he says. "This is a time when people need to feel fabulous again. This is a time when we need to continue to find reasons to celebrate, after coming out of such a shitty year."
Additionally, he brought out the star power with starlets such as Ciara, La La Anthony, Winnie Harlow, and Lori Harvey serving up all the goals in the front row.

Gender-Bending fashion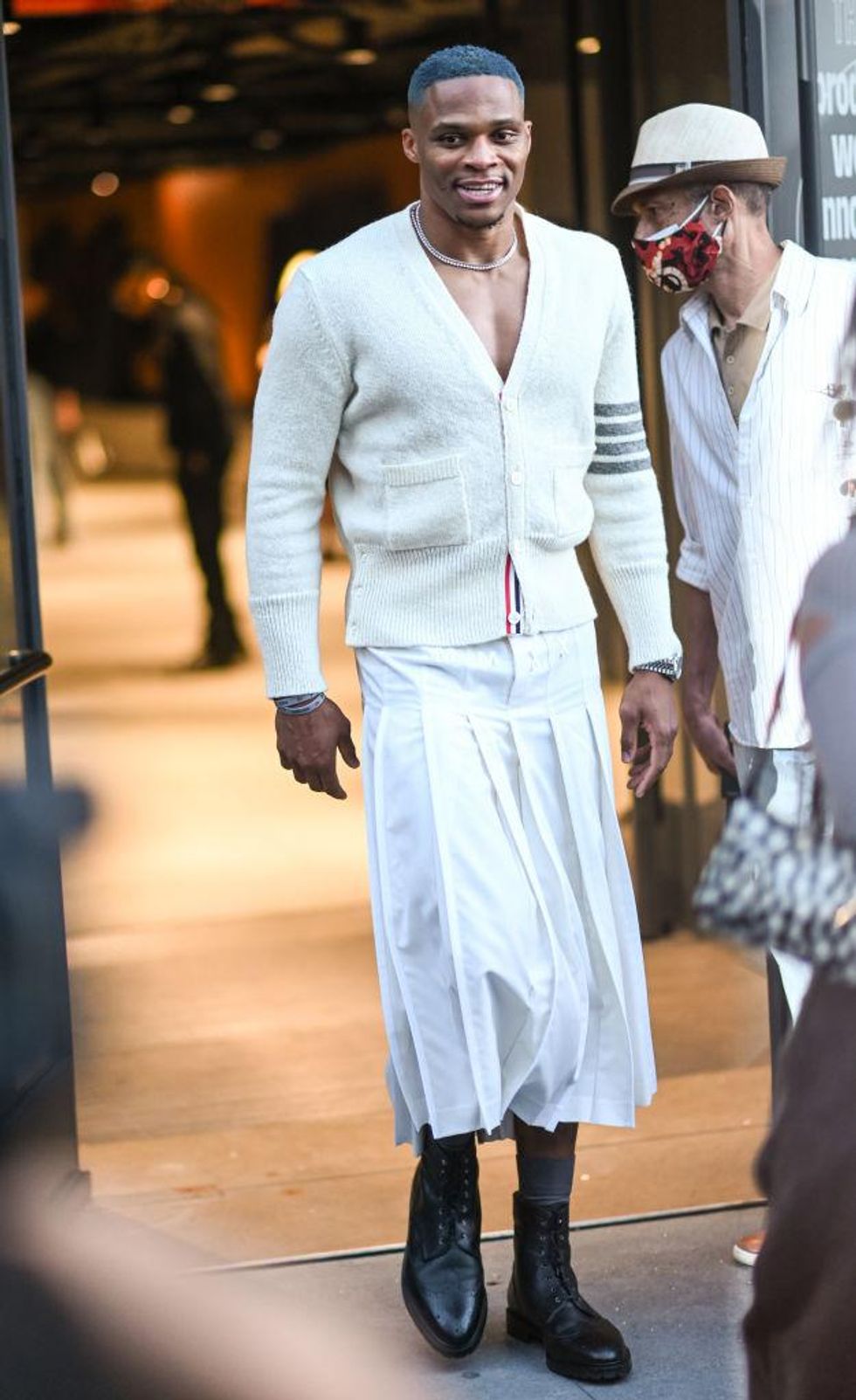 Daniel Zuchnik/Getty Images
Gender-bending has been a hot topic of discussion for much of the past few years, and Russell Westbrook and Kid Cudi decided to up the ante by rocking skirts--erm...kilts--to the festivities. But, the people wanted to know if we all missed the memo because in addition to the fashion risk, they each rocked blue hair to match.
Westbrook showed up to the Thom Brown Spring 2022 show wearing an ankle-length white kilt, off-white cardigan with front pockets and a diamond choker, and Kid Cudi, a floor-length black skirt under a long sleeve Nirvana shirt. Neither men are strangers to taking chances in fashion, but we're here for the bold moves.
Telfar's announcement of...a TV channel?
Telfar has been a game-changer in Black-owned accessories since we all discovered that we have a better chance of winning the powerball than getting a Telfar bag that we didn't prep for. So, when Beyonce was photographed rocking her bag, we collectively sobbed through tears of joy. The brand went on record of saying that although they appreciated the plug, they would never raise their prices and would continue with business as usual.
But now those business moves includes something that none of us saw coming: a TV channel. During a press conference held on the final day of New York Fashion Week, owner/creator Telfar Clemens announced the launch of his label's own television channel, Telfar TV.
The channel will have brand-exclusive content, and viewers will be able to scan QR codes to purchase products, ensuring that anyone who orders the label's famously sold-out bags will get one, without fear of bots purchasing bulk inventory.
It's the innovation for me!
The Gworls
So, it's infamously a no-brainer that Ciara will show up to wherever her little heart desires and shut shit down. NYFW was no different, and she visited numerous shows and gave what was needed to be given. Alongside her adventures was BFF La La Anthony, who always pulls up with big supportive energy, as well as other starlets such as Kehlani, Lori Harvey, or the City Girls.
Some of these ladies happened to link at the LaQuan Smith show and show off why we all love them so. Edges were snatched in the process, but it was seeing them all enjoy each other that we loved the most.
Nicole Ari Parker + Kristin Davis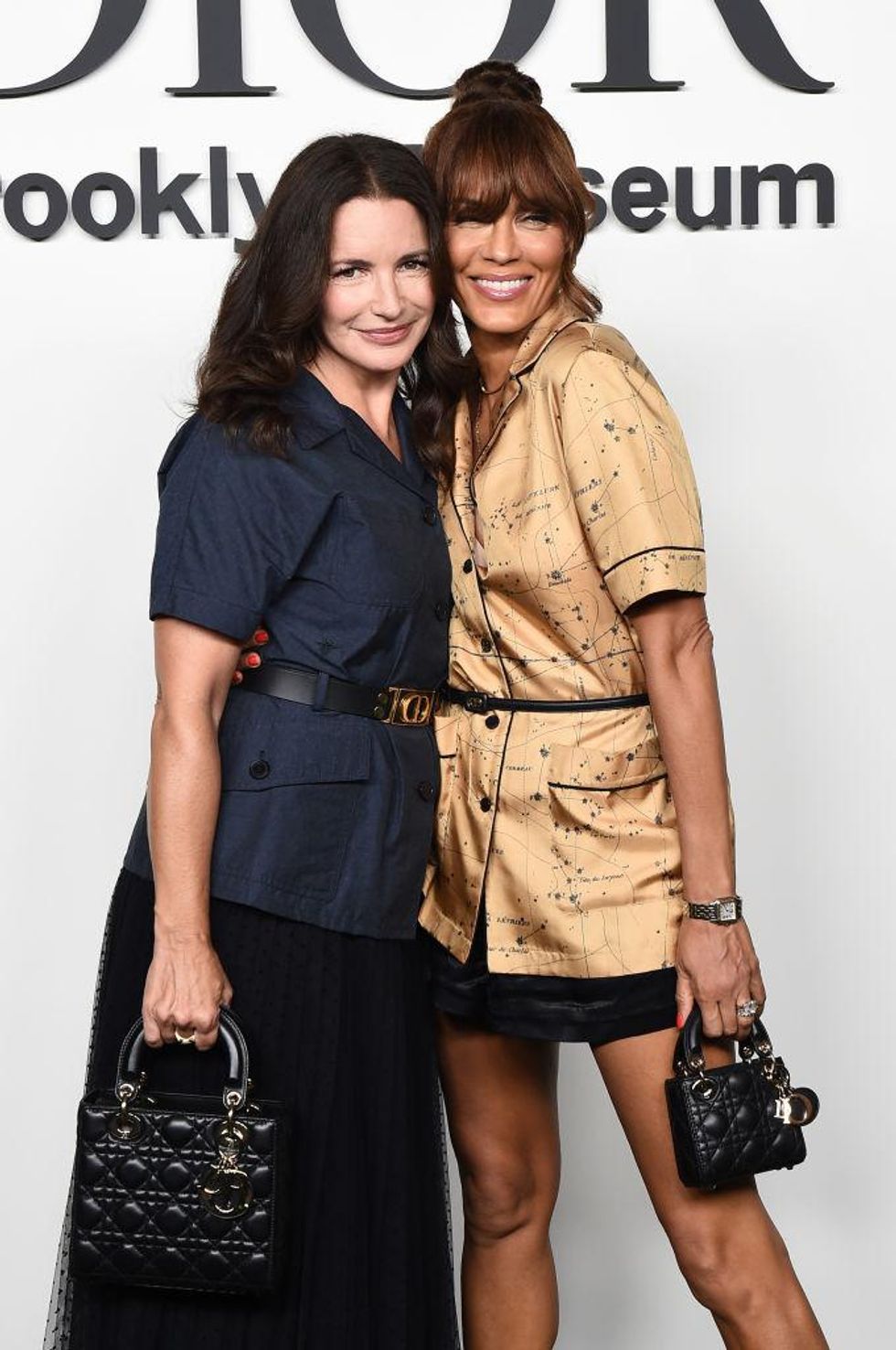 Ilya S. Savenok/Getty Images for Dior
OK, call me sappy, but seeing And Just Like That... co-stars take a break from filming the Sex and the City reboot to attend the Christian Dior Designer of Dreams exhibition cocktail party, was what I needed to prep myself for the show premiere. Seeing the two live out loud their show characters was exciting.
Can't wait to see Nicole crush this role!
Are you a member of our insiders squad? Join us in the xoTribe Members Community today!

Featured image by Ilya S. Savenok/Getty Images for Dior