---
Over the weekend, I, like so many of us, was crushed to learn that Teyana Taylor had decided to hang up her shoes in music, and retire from music. Naturally, my wig was blown back, as both me, and the entire culture screamed, "Nooooo, Petunia!" Even some of our faves, like Cardi B, came to her defense, with a tweet that we all felt. Publications like Vulture, wrote:
"In what is officially the most upsetting Spotify Wrapped social-media post of the year, Teyana Taylor has announced that, due in part to being unappreciated in the music industry, she is 'retiring' from her career as a motherfucking international sensation."
After the chaos, Teyana eventually went on her Instagram Live to explain her retirement decision, clarifying that it had very little to do winning Grammy Awards or other accolades, but more so the lack of appreciation felt on her part by her record label. She even went on to disclose that it was a mental health decision for herself and for being around for her kids, which we all know that mental health is huge around here at the xoNecole offices.
Reluctantly, we decided to accept her announcement, but at the same time, celebrate by compiling a list of the times that our favorite sis snatched our wigs and changed the landscape of music and more.
Here's 7 ways Teyana Taylor has changed the game in music and beyond:
Since the age of 16, Teyana has made herself visible in the industry.
Teyana stepped on the scene at the age of 15, as a young artist signed to Pharrell Williams' label, Star Trek. From this moment on, she has gone on to be one of the most recognizable faces in the industry, as she has made herself visible in music, fashion, art, and more. Beginning on MTV's Super Sweet 16, to Ne-Yo's "She Got Her Own", to partnerships with Adidas, to Kanye West's infamous "Fade" music video, and much more, Teyana has shown how multifaceted she could be, and that we really don't think on the innovative level that she has since a young age.
Her performances are un-fcking-matched.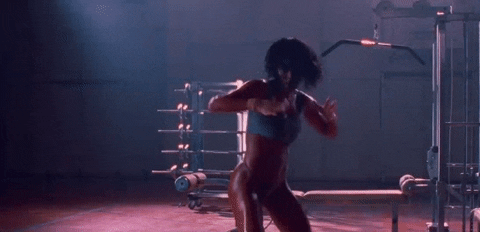 Giphy
OK, so we all know that if Tey is attached to a performance, you better tune in. She's going to give you everything you need to enjoy yourself. And because we can name more than three times that we know she has killed the stage (mine are Lil Kim Tribute, Janet Jackson Tribute, and Phillip Plein's fashion show to Future's "Mask Off"). Make no mistake, sis will eat up all you thought a performance should be, and spare no expense.
She brings her life, family, and personality into her projects.
Tey is notorious for bringing her family along with her to her shoots, or any other ventures on her plate. Her husband, Iman Shumpert, and baby girl, Junie, are never too far behind as she balances her many projects. And in her latest music video, "Wake Up Love", she was able to include her entire family and latest pregnancy to daughter, Rue Rose, along too.
Teyana has the respect and admiration from industry peers like Marvin Sapp to Elton John to Erykah Badu.
Some of Teyana's biggest fans are her industry peers, who revere her as one of the best to do it. Sis is able to get many to do what they won't do for many, whether it's Queen Badu serving as her doula and delivering her second child, or Elton John making an appearance in a music video. Taylor is one of the most respected women in music, even if there's no music attached.
Teyana's 'The Album' reached #1 on the Billboard R&B Album Charts, as well as won her awards for Best Director at 2020 BET Awards.
After its release, The Album went on to peak at number one on Billboard's R&B charts, the first in her career. Pitchfork labeled her album as "regaining control of her art across a long and complex album, one that deftly recontextualizes classic R&B and better represents the fierce persona she has honed in public." Soon after, Taylor went on to win Best Director at the 2020 BET Awards, under popular moniker, 'Spike Tey', who has also directed music videos from the KTSE album, as well as other upcoming projects yet to be released.
She unapologetically stands up for herself and other women.
After a rough start to a 2018 Later That Night tour with singer Jeremih and Danileigh, Teyana quit the later canceled tour and decided to go out on her own, rebranding it as KTSE Tour. Taylor told the ladies at The Real:
"He did little to none, any promo, so it was just like, when we got there and the concerts were sold out and different things like that—when we got there, everything was Jeremiah, his name was on everything, like, my name wasn't even on the ticket."
Most impressively, Taylor then decided to bring Danileigh along with her on the rebranded tour, with amenities and perks that she felt they each were robbed of in the previous.
Queen.
And despite it all, Teyana Taylor has managed to amass 162M Spotify streams in 2020 alone.
In her retirement announcement, Teyana posted a screenshot of her Spotify artist streams, which showed her monumental 2020 accolades to close out the year. She may not feel appreciated, but Teyana is one of the only artists in history to have the resume and relationships she has, with little to no push from her record label.
We know she is nowhere near to being done on her journey, and we can't wait to see what she does next. But in the meantime, Alexa, play "
Gonna Love Me".
Featured image by Arturo Holmes / Shutterstock.com