---
New York Fashion Week has arrived and melanin is in full effect. From Janelle Monae's electric performance at Ralph Lauren's Fall 2019 show and the Zendaya x Tommy Hilfiger collab at The Apollo, to the colorful creatives and spectators who lined the streets of New York this past week, fearless Black fashionistas set the city on fire with style and beauty trends that we'll be rocking all damn season.
Among the celebrities spotted at NYFW this year was our favorite Canadian-Jamaican supermodel and certified baddie, Winnie Harlow. The now 25-year old model made her debut on the catwalk in 2014 after being handpicked by Tyra Banks to participate as a contestant on the 21st season of America's Next Top Model and has since made her mark in the industry as a trailblazer, collaborating with industry giants like KKW Beauty, Steve Madden, and Victoria's Secret.
Our melanin is as beautiful as it is complicated, which is especially true for Winnie, who was diagnosed with vitiligo at only four years old. After enduring years of teasing and name calling, the model finally found her own light and makes it a point to continuously bless the industry with her glow.
Winnie recently sat down with Vogue and gave up all the details on how to slay the evening like a supermodel, including but not limited to the beauty tips and makeup products that kept her camera-ready all week long. While Winnie says she can whip up a mean beat any day of the week, the model shared that Fashion Week can make her beauty routine especially difficult. In the video, she explained:
"I really feel like my skin breaks out the most around Fashion Week. Um, and that's because of course, we have to create looks, we gotta do runway and all that and your skin isn't made for makeup. But prep the skin and prepare it for war pretty much is what I like to think of it as."
She also dropped this piece of advice for ladies, like myself, who have spent a lot of time, energy, and phone data searching for the perfect foundation: stop it, sis. According to Winnie, two is always better than one, and that's also her motto when it comes to choosing a foundation that matches her skin tone effortlessly.
"I feel like everyone has a really high expectation for foundations and makeup brands. I feel like makeup brands today are doing a really good job, but I don't think it's like super possible to put one shade on your face and just be like, it's perfect."
Using a combination of products from her latest collaboration with KKW Beauty and other cult favorites, Winnie gave us the recipe for the perfect beat and we have all of the ingredients.
For a better glimpse into Winnie's beauty routine for Fashion Week, scroll below:
DIY Makuka Honey + Aztec Clay + Apple Cider Vinegar Mask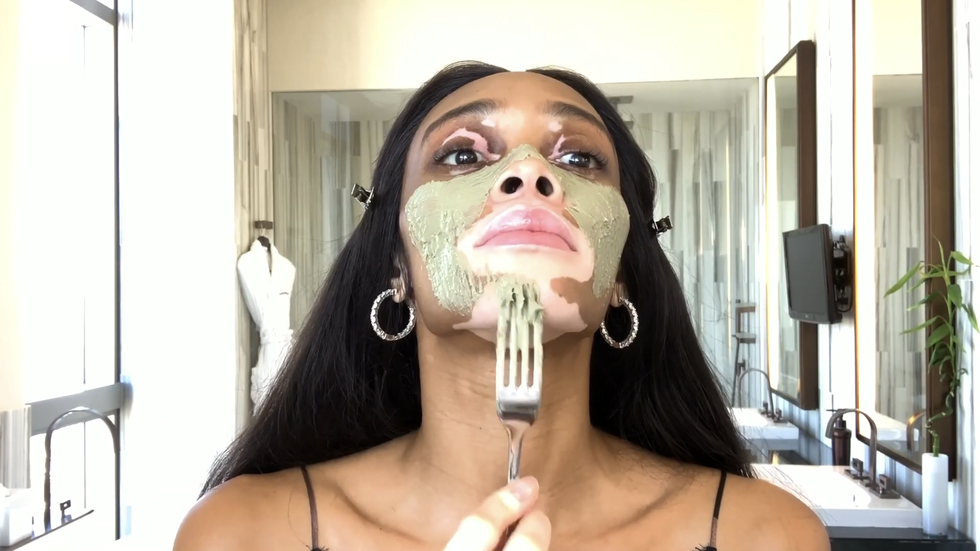 Vogue/YouTube
"I tend to use my Clarisonic like every other day. I don't want to over-exfoliate my skin. So now I'm going to go in with a mask and I like to do this mask twice a month. I kind of eyeball it whenever I mix this mask. My goal is to create a paste-like consistency like this, so it doesn't drip everywhere because apple cider vinegar stinks."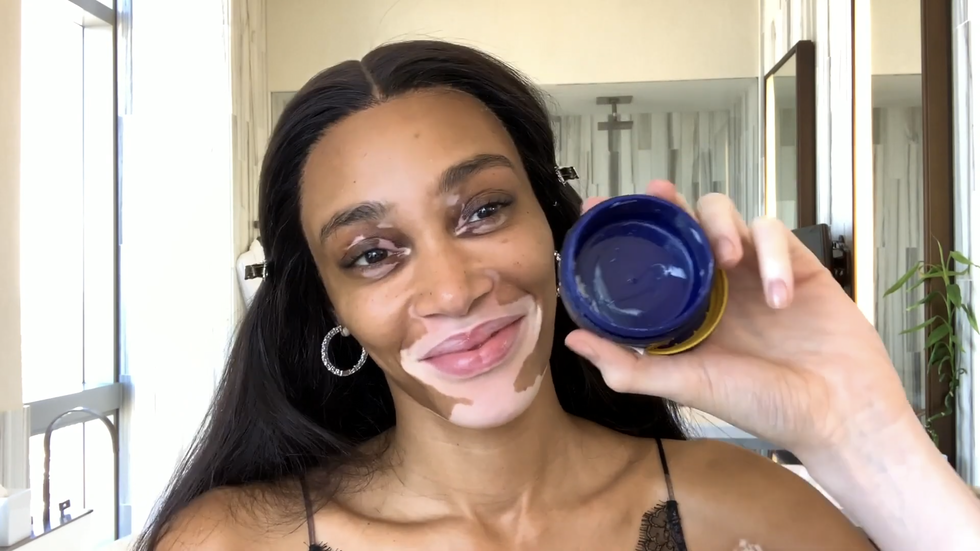 Vogue/YouTube
"We're out [of this], but I have enough for today and I feel like I really like using a night cream in the day because I don't use like an eye cream or anything like that."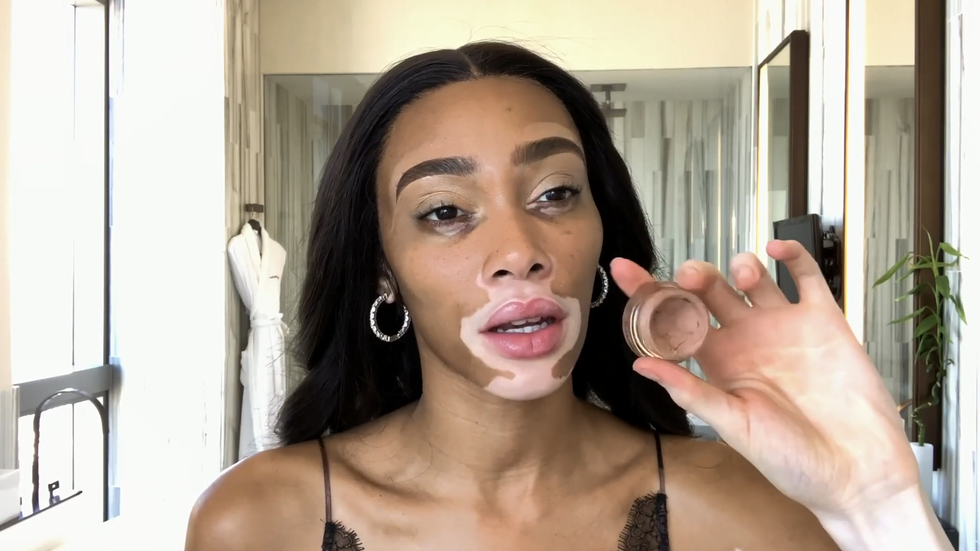 Vogue/YouTube
"I'm going to go on top with my magic weapon, this Mac Pro Longwear Paint Pot, and it's kind of like a concealer but not, I feel like this is like professional feeder makeup-type consistency. So I'm going to take a brush that looks kind of like a cat's paw to get a whole lot of product on here and I'm going to go ahead and dab that on top. I use this because I really want the makeup to stay."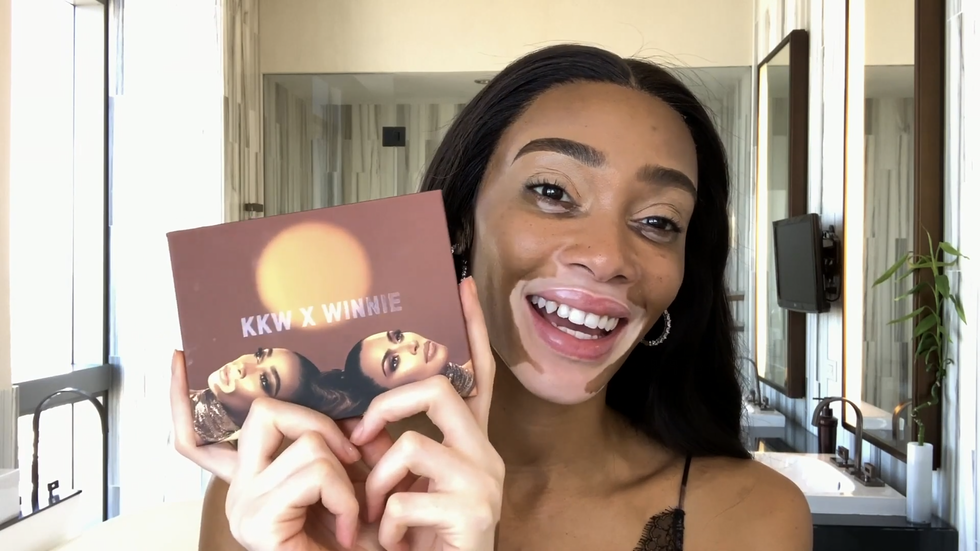 Vogue/YouTube
"I had this amazing idea and I brought it to Kim and she was so excited that she was like, 'You know what? Let's hold off on that idea because it's gonna take a really long with production, everything. I'm so excited to work with you. I just want to like work on something right now that like we can get out this year.' And I was like, 'Ah, amazing. Perfect. I like that. Let's do that.' So she was like, 'Cool, let's, let's figure out what you want to create. What do you want to do?' And I was like, 'I really want to do an eye palette.' So Kim and I collaborated. I think we did really well on this palette."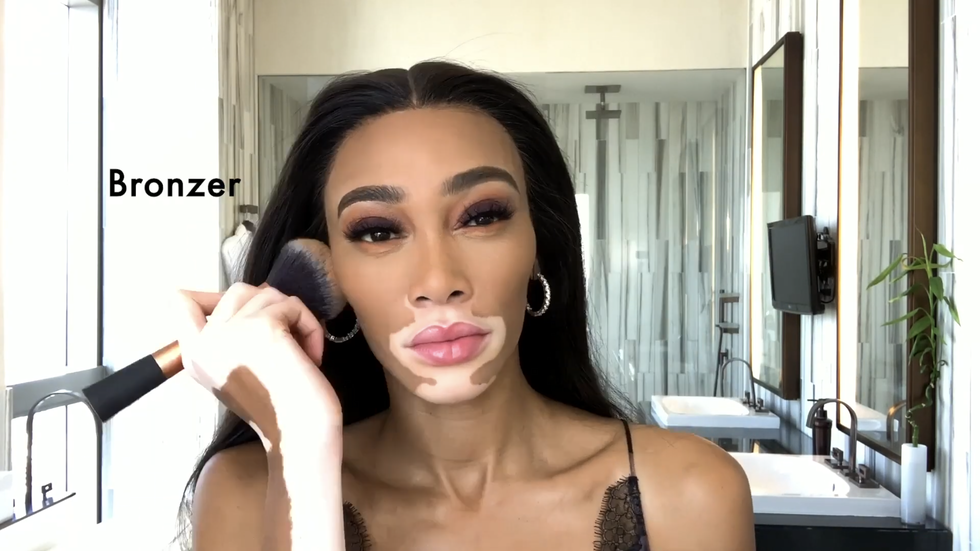 Vogue/YouTube
"Now I'm going to warm up my skin with this mineralized skin finish who I also like to warm up with this Fenty Beauty Caramel Cutie."
KKW Beauty x Winnie Highlighter Duo ($26)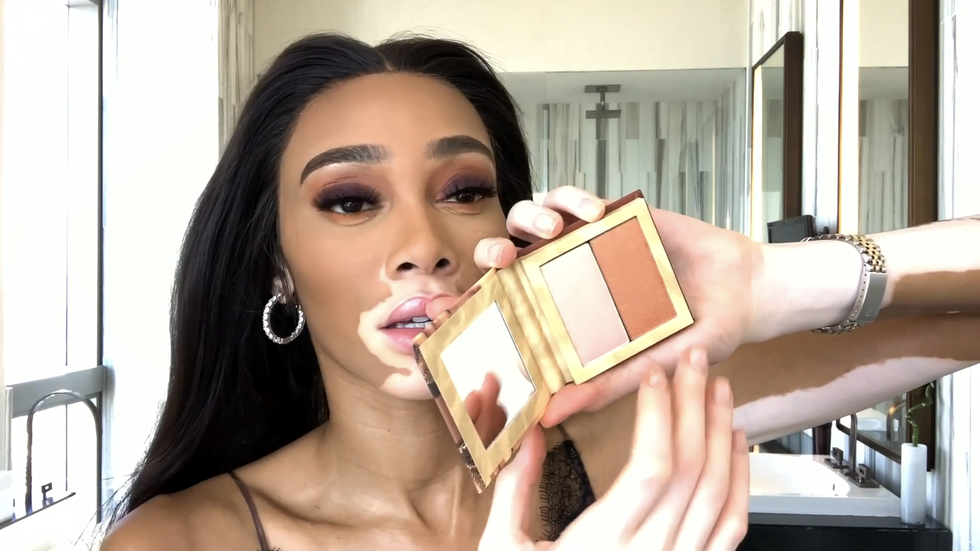 Vogue/YouTube
"I wanted to be chocolate girl-friendly. So I made this beautiful golden bronzy highlight and this like iridescent, almost pink. And then I'm going to go in with that top shade and I'm going to highlight my nose."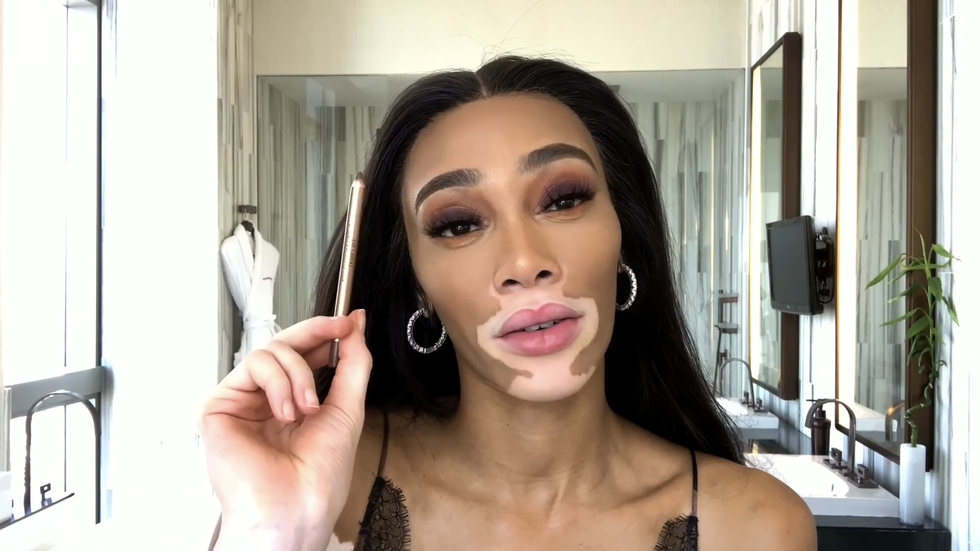 Vogue/YouTube
"So for my signature lip, I either use 'Chestnut' by Mac or I use 'Foxy Brown' by Charlotte Tilbury."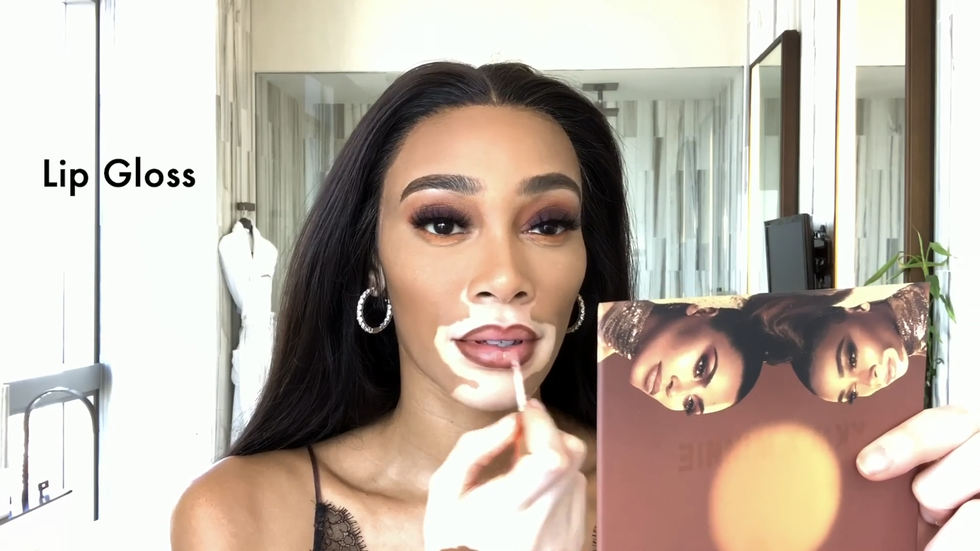 Vogue/YouTube
"Then I take this Charlotte Tilbury's super pigmented gloss, and I used this. I'll either use this or it lipstick, but I use this to kind of blend the color of the liner into my lips while kind of creating this gradient."
Mascara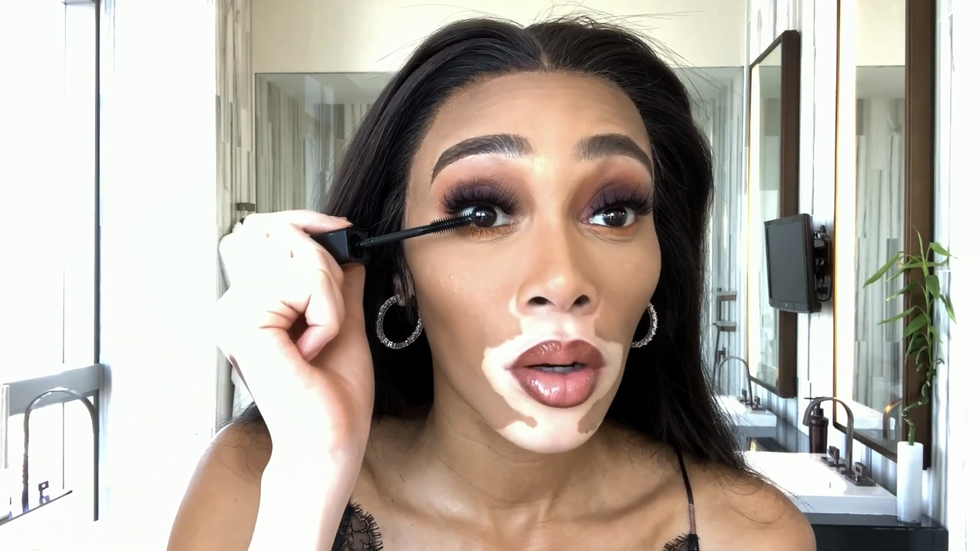 Vogue/YouTube
"So last but not least, mascara. When comes it to putting mascara on your top lash, when you have lashes on, it's more important to get them on your actual lashes so then you can blend them in with your falsies."
The Finished Product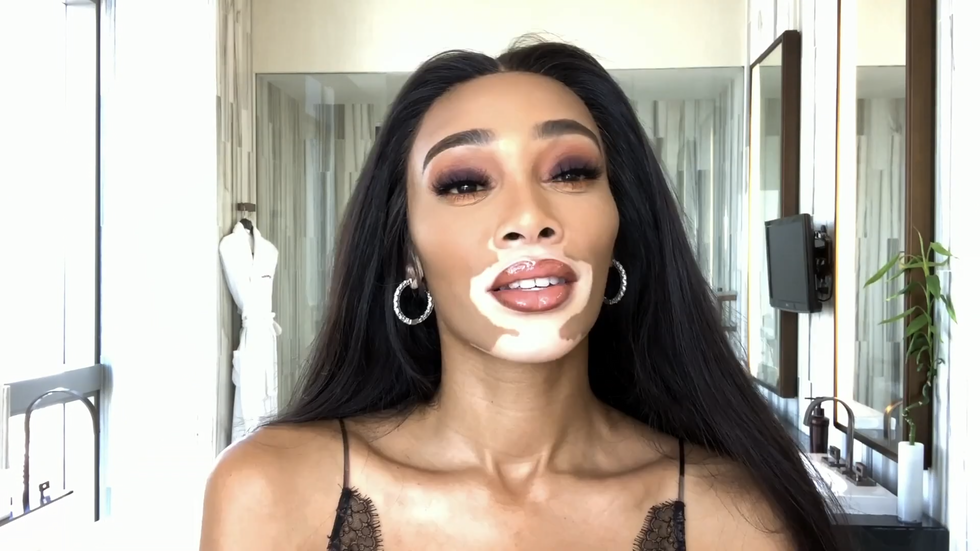 Vogue/YouTube
Check out the full video below!
Winnie Harlow's Afterparty Beauty Look — Just in Time for Fashion Week | Beauty Secrets | Voguewww.youtube.com
Featured image by Andrea Raffin / Shutterstock.com