As the winds cool and the leaves change colors, it is without fail that I get this invigorating feeling. Potentially a feeling left over from childhood where every September presents a new opportunity to reinvent yourself, or possibly the contagious buzz of fashion weeks across the globe with streets lined with inspiration for how to style fall's hottest trends. Regardless, there's no doubt that my love of fashion rears its head at this time and always pulls me back into the fold. The fun, albeit overwhelming, thing about this season is the sheer volume of trends presented on the runways. In many ways, we're taking a trip down memory lane, but in other ways, we're seeing the rules of fashion being reinvented in front of our eyes.
---
Since fall has basically arrived, here's a deep dive into three of the top trends you can expect to see this season.
The Romantic Roaring Redux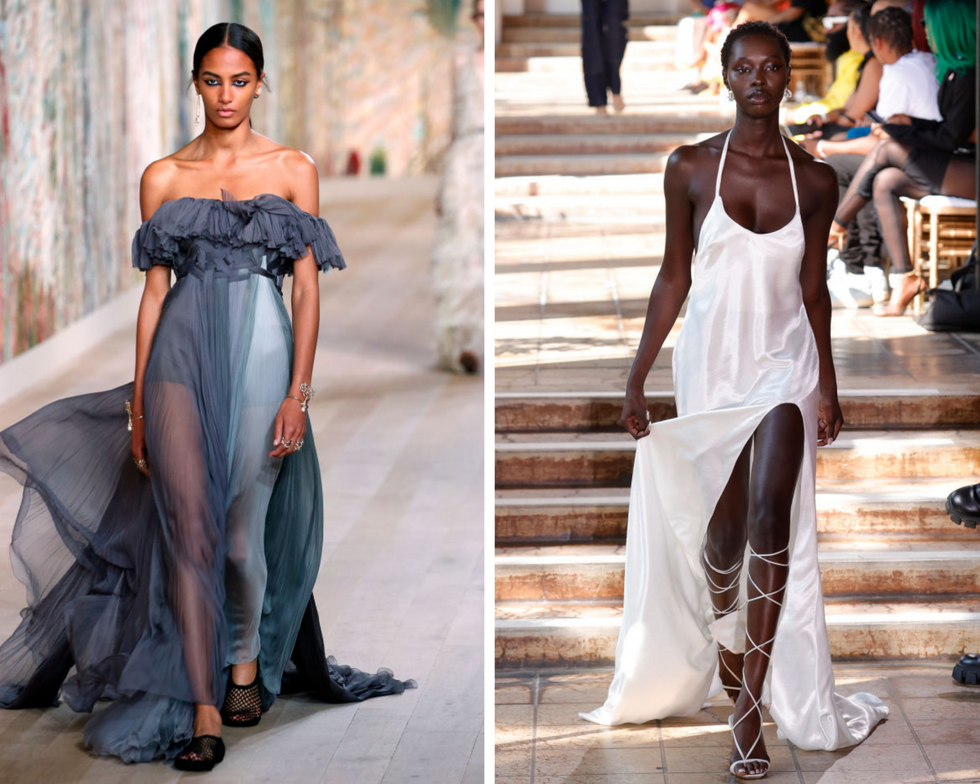 Thierry Chesnot/Getty Images
Frazer Harrison/Getty Images
Romanticism was prevalent in every runway show, and given the past chaos and upending of the past two years, it's truly no surprise that we're seeing a resurgence of romanticism in fashion. From loose tailoring and soft silhouettes to dropped waistlines and flared skirts, every designer showcased a romantic trend that'll be key for the season. There's also a beautiful amalgamation happening on the runways, between the romanticism of the 19th century and the delicate layers and lace textures of the '20s.
Designers are rejecting the clean, geometric shapes of yesteryear, and replacing them with light layers, voluptuous shapes, and extremely colorful patterns. From the design houses to the VMAs red carpet to magazine editorials, this compound trend is sweeping the scene.
Style Tip: If this trend is too feminine for you, add a youthful touch like throwing on a pair of crisp white sneakers or throwing a cropped moto jacket over top.
Straight Off The Slopes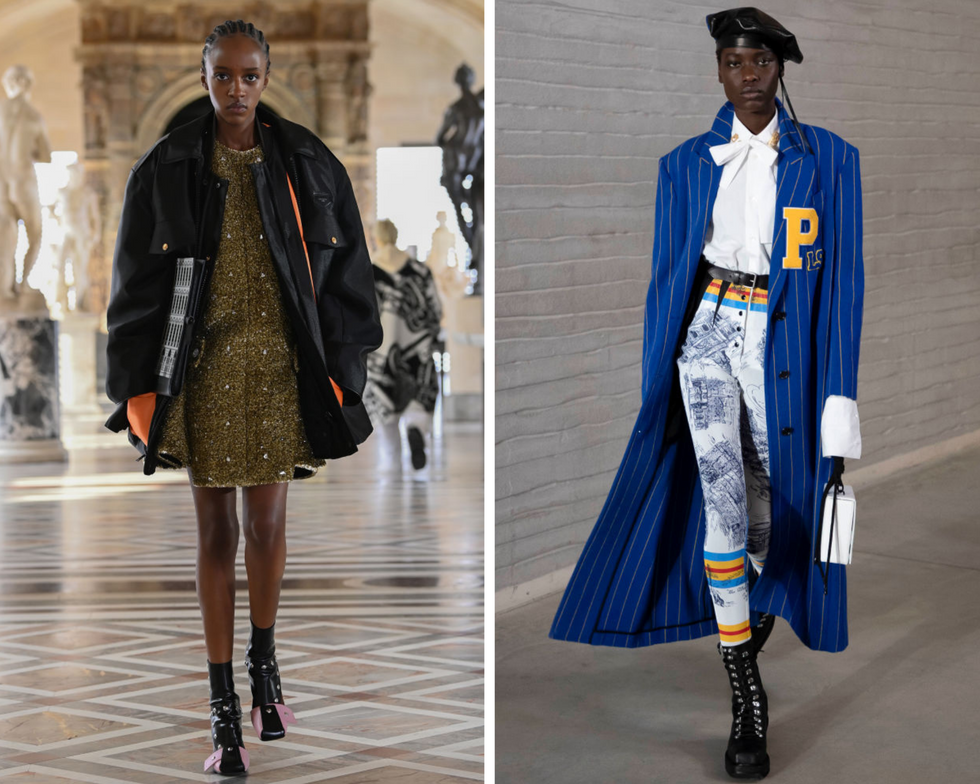 Pascal Le Segretain/Getty Images
IDI.SHOW/IDI.SHOW via Getty Images
Elevated knitwear, preppy sportswear, and specifically the ski-centric items, are gaining traction and will only escalate into the colder months. The first glimpse of this trend was prevalent in IVY PARK's #IcyPark collection, which showcased long-lined puffers, fur-lined hats, and oversized logo scarves. On the runway, big houses like Chanel presented calf-high furry snow boots and chunky wool sweaters, while innovators like LaQuan Smith opted for more understated but elevated cashmere cardigans and fuzzy mini dresses. Hanifa, known for her colorful palettes and exquisite silhouettes, dropped an entire collection centered around knit pant sets and maxi dresses that effortlessly fuse style and comfort.
Style Tip: Layering is key when styling this look properly, so opt for a sweater vest or high-neck bodysuit to add dimension to your look.
Early Aughts Girl's Night Out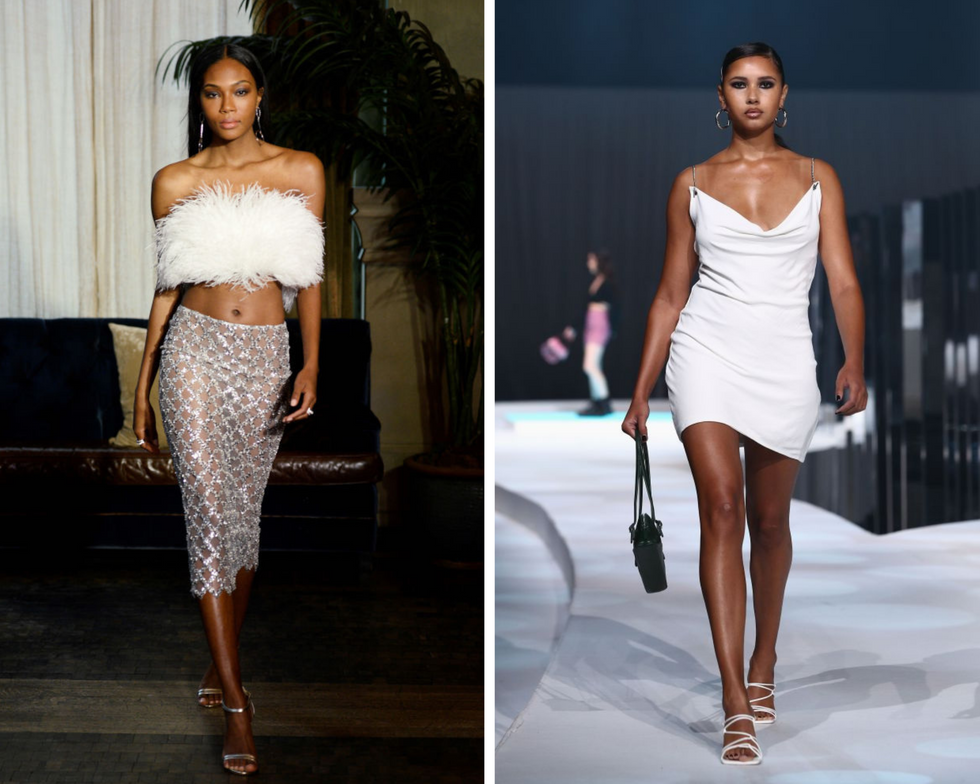 Fernanda Calfat/Getty Images for Bronx and Banco
Sebastian Reuter/Getty Images for ABOUT YOU
If you're ready for the nostalgic wave of the early 2000s to be over soon, I wouldn't hold your breath. At every corner, there are re-imagined looks from our favorite icons like Aaliyah, TLC, and Destiny's Child where the overall idea is easy - keep it short and body-con.
While this trend is not new, there is a doubling down that we saw on the AW21 runways. Many designers turned to their archives to capitalize on the collective wave, like Prada and their re-introduction to the 2005 Nylon baguette bag. Some like The Attico shortened their hemlines and tightened their silhouettes. And then others pushed the boundaries, like Off-White and Mugler, who presented statement-making partywear in the form of revealing catsuits, velvet minis, and flatteringly long trousers.
Style Tip: This look is about maximalism, so don't be afraid to add eye-catching jewelry or a colorful bag to top this look off.
To get your fashion fix and to stay up to date with the latest trends, check out the xoNecole Style section here.
Featured image by Getty Images