---
In xoNecole's Finding Balance, we profile boss women making boss moves in the world and in their respective industries. We talk to them about their business, and most of all, what they do to find balance in their busy lives.
As the leading actress in Tyler Perry's Sistas on BET as Andi Barnes, and shooting back-to-back with Omar Epps and Nia Long in Netflix's Fatal Affair, K.J. Smith has put in the work to solidify herself as one to watch in the acting sphere. Born Khaneshia JaNea Smith, the Florida native is best known for her breakthrough role in Ava DuVernay and Oprah Winfrey's trailblazing drama series Queen Sugar as Lena Evans.
There's no doubt the starlet has a lot on her plate. "I am a busy woman. Now, if I made excuses, I wouldn't have time for self-care," she told xoNecole exclusively.
"I feel like one's cup must be full for one to perform effectively and efficiently, at anything one does. If you want to continue to thrive as a professional, caring, loving woman in society, you have to make time."
For this installment of "Finding Balance", xoNecole caught up with K.J. Smith about her faith in God when she needs reassurance, admittedly being a workaholic, and why detoxing isn't the best for her digestive system.
xoNecole: At what point in your life did you understand the importance of pressing pause and finding balance in both your personal and professional life?
K.J. Smith: I think COVID-19 really put everything in perspective for me. I am a workaholic. I enjoy what I do, and I enjoy doing it often, so it never feels like work. When COVID-19 took over, I realized that there were some other areas in my life that I was neglecting. I am trying to be more active by creating balance even when my work life gets hectic.
What is a typical day in your life? If no day is quite the same, give me a rundown of a typical work week and what that might consist of.
A typical workday for me is waking up to text messages from my manager and publicist, followed by emails from production and agents. I roll out of bed and have a cup of delicious coffee, then I sit and meditate for 10 minutes with positive affirmations playing in the background. Next, I stretch for five minutes and do my work-out of choice for 30 minutes, then I'll hop in the shower. I complete a series of interviews via phone or Zoom. I always call and check on my mommy and sister. I work on either projects that I have coming up, or projects that I am currently working on, by studying my lines before physically going to set. Lastly, I unwind by catching up on my favorite binge-worthy shows. I often fall asleep on the couch.
What are your mornings like?
Mornings are incredibly quiet at my house. I like to watch the sunrise and sit in silence sipping coffee.
When you have a busy week, what's the most hectic part of it?
The most hectic part of a busy week is remembering my calendar and balancing my schedule. It can get confusing remembering what days I must do what. For example, I am on set wearing a blonde wig and the next day I need to rock my natural curls. I am always being mindful of the energy and effort it's going to take to pull those things off from day to day.
Do you practice any types of self-care? What does that look like for you?
I am a self-proclaimed self-care guru. The primary self-care rule for me is boundaries, when you set clear boundaries, one will not have an issue making time for oneself. "No" is my favorite word. I will gladly say it without explanation. I truly believe this is another form of self-care and self-preservation.
"'No' is my favorite word. I will gladly say it without explanation. I truly believe this is another form of self-care and self-preservation."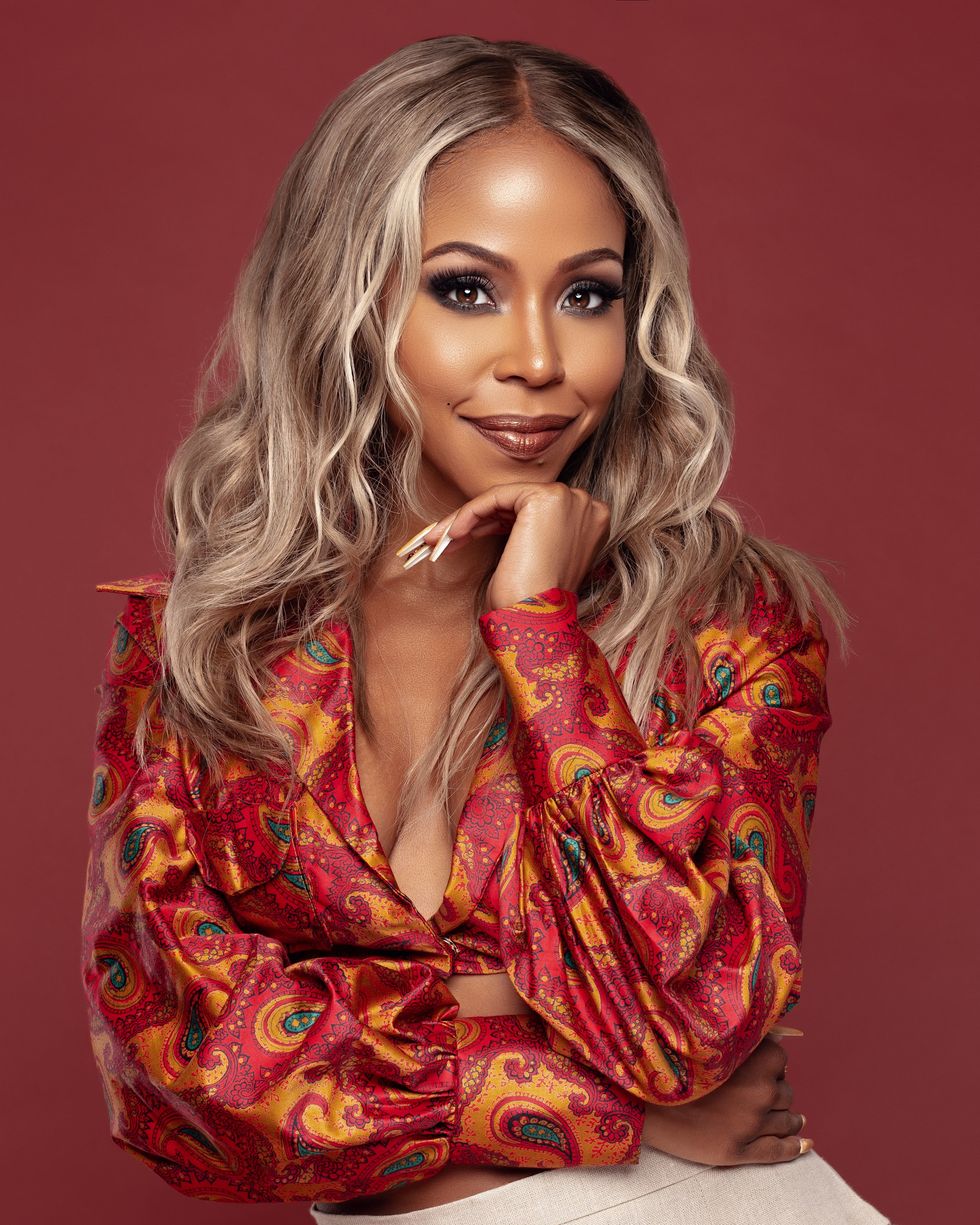 Collette Bonaparte
How do you find balance with: Friends?
I always set time aside to call or FaceTime with my friends. It's so important to me. I need encouragement from my friends, as do they do from me.
What about health? Do you cook or find yourself eating out?
I cook for myself when I'm at home but I'm usually not at home, so I often eat out. I try to find choices that work for my day instead of trying to stick to a specific diet. If I am going hiking or dancing for eight hours, I give myself grace for what I ate that day.
Do you ever detox?
I don't often detox. I find it disturbs my digestion track because my digestion system is used to a certain routine. If I fast for a certain amount of hours, my body will heal itself, and I prefer that method.
When you are going through a bout of uncertainty, or feeling stuck, how do you handle it?
I listen to the voice of God. I silence my mind. I turn off my TV. I turn off my music and I listen.
What do you do when you have a creative block on a project or feel like you have to clear your head before going into a project?
I will journal as my character when I am having a hard time understanding my character's point of view or I feel mentally blocked on a project.
Honestly, what does success and happiness mean to you?
Success and happiness means peace of mind. I feel like you can have all the money in the bank and have all the material things that you want, but if you don't have peace of mind, you can be in hell on earth. So, success means alignment and peace of mind.
For more KJ Smith, follow her on Instagram. Watch BET's Sistason Wednesdays at 9/8c.
Featured Image By Collette Bonaparte