In xoNecole's Finding Balance, we profile boss women making boss moves in the world and in their respective industries. We talk to them about their business, and most of all, what they do to find balance in their busy lives.
Any time we can see ourselves on TV, holding court, taking up space, and being our most beautiful authentic selves while doing so, it's always a good look. And it's more than just magic. For Monica McNutt, it's also a mix of hard work, determination, experience, and training. The University of Maryland and Georgetown University graduate was a shooting guard who decided she wanted to lend her voice to perspectives behind the scenes in sports through broadcast. She started out covering the Olympics during the summer of 2021, and she'd move on to work with Fox Sports 1, CBS Sports Network, Turner/NBA TV, and NBC's family of networks. She was also a game analyst for the WNBA's Connecticut Sun.
---
Now, at 33, she's a basketball analyst, reporter, and host for ESPN and MSG Networks, and co-hosts the SALA Series podcast. Below, she talks more about how she manages her career while flourishing in love, the power of taking out time to do absolutely nothing, and why she's always going to offer a dose of PG County, Maryland charm wherever she goes.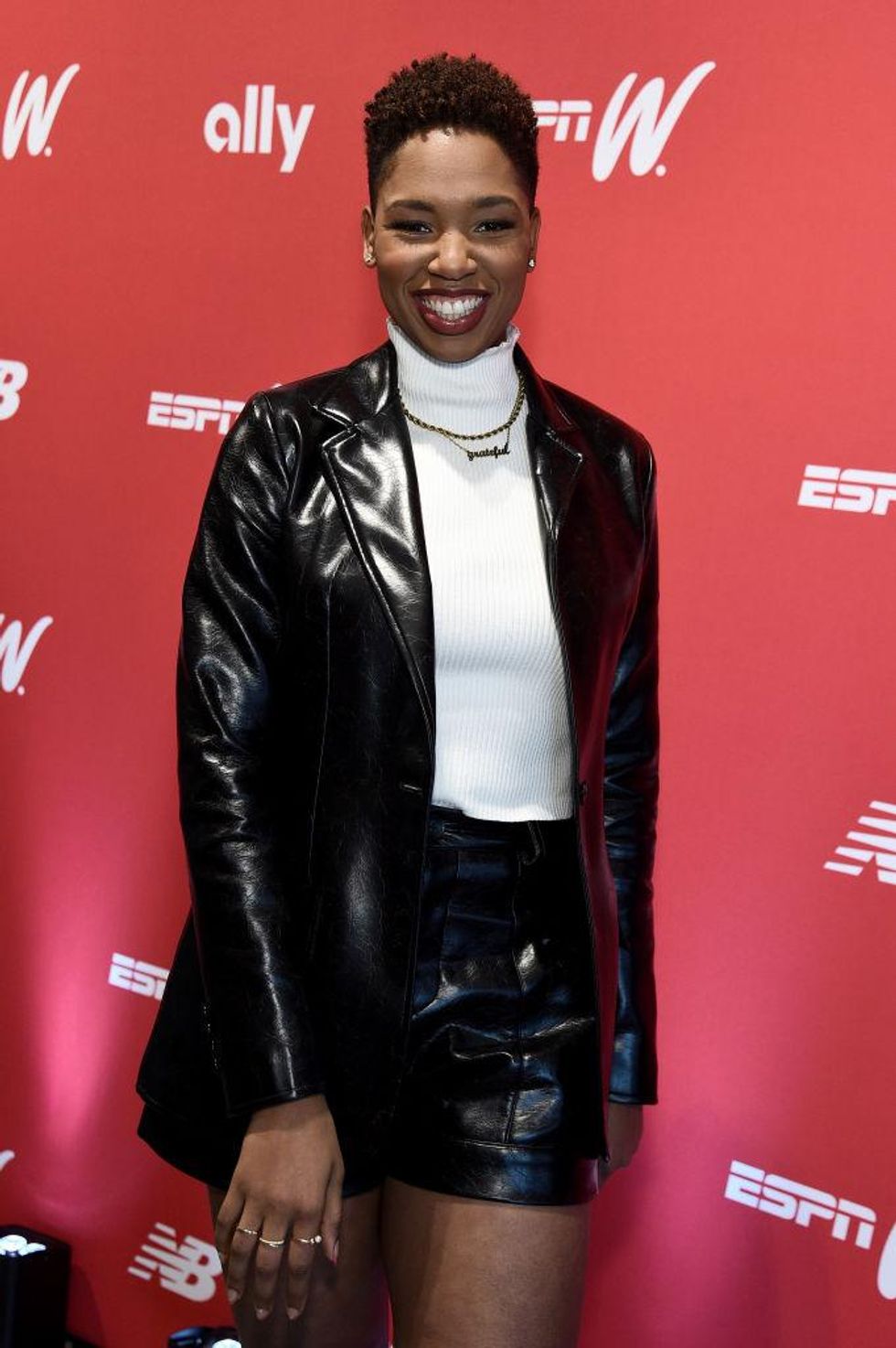 Steven Ferdman / Getty Imageas

xoNecole: What motivates you to come into the studio every day?
Monica McNutt: I love my job. Basketball has opened so many doors for me and brought me so many great opportunities. The opportunity to have conversations about the best players in the world with some of the best sports broadcasters in the world---my feet hit the ground in terms of gratitude. Pursuing a passion as a full-time career? How dare I walk into the office with an attitude?
What inspired you to get into broadcast journalism?
When I finished playing ball at Georgetown, I was like, 'Okay, I'm probably not going into the WNBA.' So how can I stay connected to sports and basketball, which meant so much to me? At that time, I remember thinking, 'The media has no idea about all that goes into it.' So, I wanted to continue to tell the stories of athletes like myself. As I started to make my way through my career, I realized that it was particularly important to me to keep a foot in women's basketball, to celebrate that aspect of the game, and to fight for equality in that space.
I thought a bit more and was like, 'Wait, the only time I see women is as hosts and reporters. I don't see them giving opinions so much, which is why Jemele Hill was so huge in terms of me trying to find my footing and what I wanted to do in the space. I've got something to say. I want to say it, too and set an example for the women coming behind me and the people of color coming behind me.
I don't know that I would have been comfortable in the opinion space when I came out of school. In fact, I remember thinking, 'I want to be a reporter. I want to do the work and I want to tell the stories.' But, I think, as our climate has changed and the way we consume media, I see the importance of having a voice and the power in setting an example.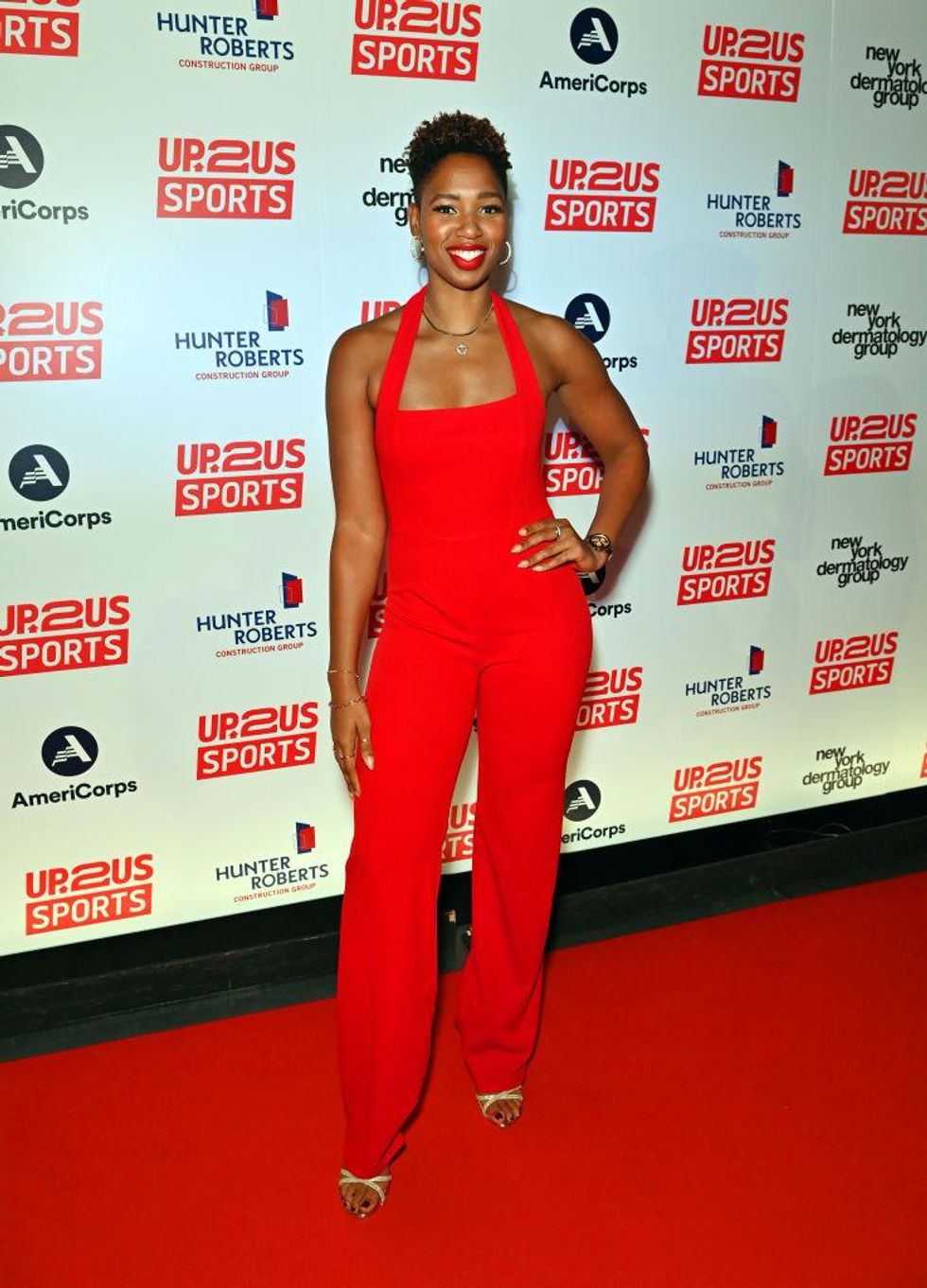 Bryan Bedder / Getty Images

What's an average day look like for you?
There's no typical, average, or consistent day! Ha! It doesn't exist. It's just very hit-or-miss depending on what I'm up to on any given day. I could be traveling to an NBA game as a reporter or heading to the Knicks game as an analyst. I could be doing a full day of studio shows. There's not really a ton of rhyme or reason when it comes to my day-to-day [schedule.] The only [routine] thing I try to be mindful to create for myself is at least one day off a week--- completely off.
I'm very mindful of that self-care time, which is a dope bath, with Epsom salts, candles, music. The nature of the beast is keeping up---whether it's a game broadcast or a studio broadcast or the podcast. It's important to take that time to recharge.
What other things do you do to maintain physical and mental wellness?
I go to the gym regularly. I travel with gym clothes, and even if I [only] have 20 minutes, I'm going to get that 20 minutes to get some sweat in. As I've gotten older, I start to feel wired and almost anxious. Working out is hugely important to me. I'm into my nails and I paint them at home and it's a thing I used to do with my grandmother. It's a small thing but it's my thing.
My intimate circle is hugely important to me. I kind of argue with them sometimes as to whether I'm an introvert. I don't know! I just draw a lot of energy from solo time. The nature of my career path is to have on the 'on' switch. I don't know if people realize the energy that requires, so when I get to spend time with my man or my friends and do nothing, I relish the opportunity to do nothing. When my time is free, I'm doing nothing, on purpose.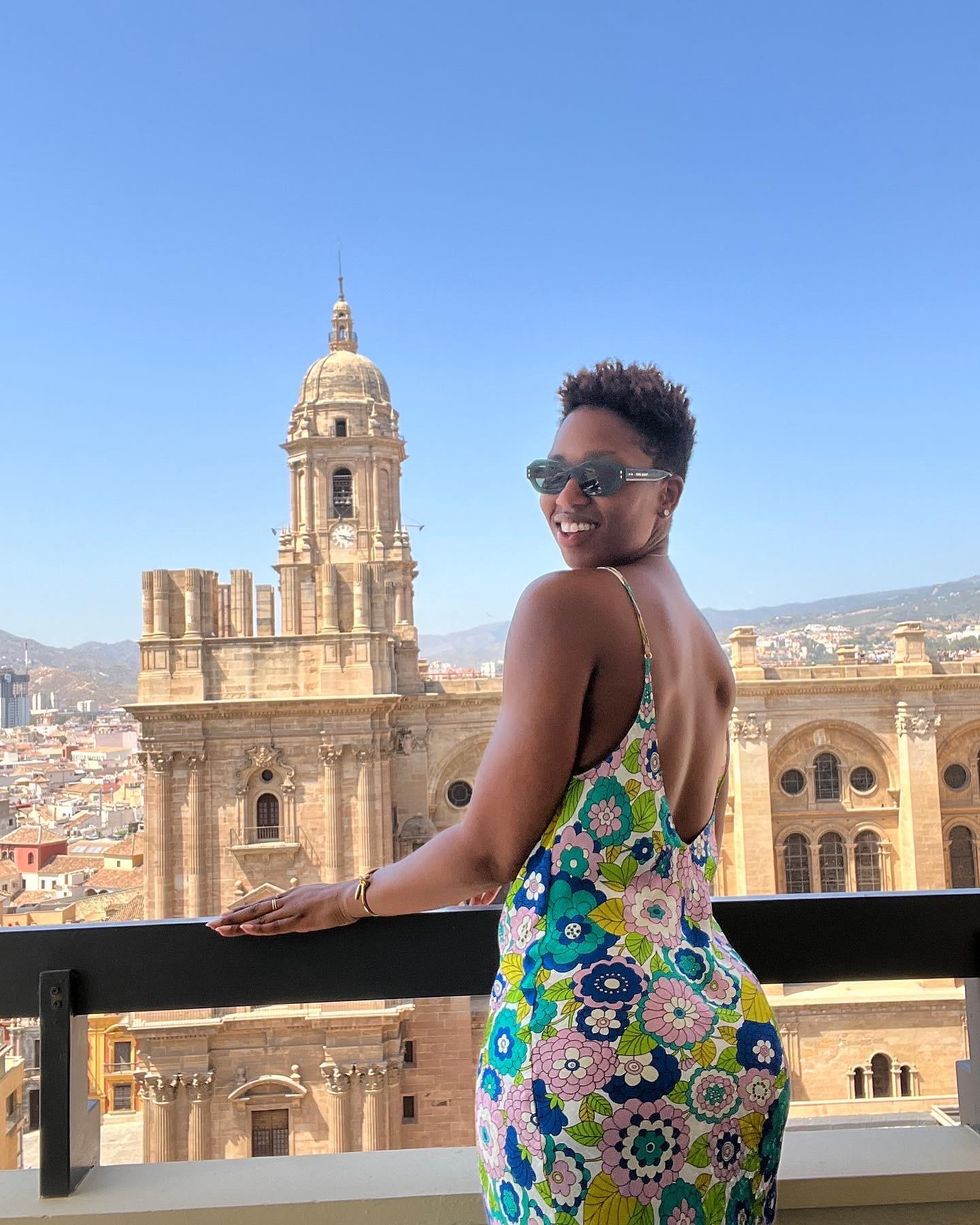 Courtesy of Monica McNutt
You mentioned your man. How do you balance your busy schedule with making time for love?
The beauty for us, and, honestly a big part of why we work, is that he's also in sports. His schedule might be nuttier than mine because once the season starts, he's full go. I think the symmetry in our paths really helps us.
Communication is a huge part of our relationship. We both have these demanding sports jobs but at the same time, our foundation is important to us. So, if you're feeling a way, we need to be able to communicate that and address it. I've gotten really lucky in that department and I'm very happy.
When you're going through uncertainty, a challenge, or feeling stuck, how do you handle it?
Girl, talk about timing on this question! Ha! I've gotten to the place where my first question is, 'Okay God, what am I supposed to be learning?' This is fresh and relevant and still pressing. I am very much a believer in two things: I don't believe things just happen. I also genuinely believe that things work out. I think it's between that understanding, we have the opportunity to grow and learn. Sometimes that means I have to crack open a journal, call a mentor, or vent to a loved one. Sometimes it means me thinking through the process of how we got here.
Currently, a lot of my career in getting to ESPN, I was a freelancer. So that meant I was like a butterfly. I'd stay long enough to do the work but not long enough to get the drama. Now that I'm settling into different roles, I'm around a little longer and I'm seeing a little drama and what that feels like, and I ask myself, 'What can I control?' A lot of that has to do with my output at work, my attitude, and it has to do with being an advocate for myself in a respectful way, understanding my workplace dynamics, and relying on my team.
After I get through all those things, I just get back to the work. The bottom line for me is, the work got me here, the work will keep me here, and there's always room to grow and improve in the work.
For more of Monica, follow her on Instagram @mcnuttmonica.
Featured image courtesy of ESPN Images