You are finally aligned and ready to embark on a new journey: Moving out.
---
Whether that is venturing out on your own for the first time into your first apartment or into your first home, the excitement bubbles inside as you look forward to finding the living space of your dreams. Or not! Perhaps the whole home hunting process makes you a bit anxious and confused as you flip through apps like Apartments.com, Zillow, and Trulia making calls to property management offices and realtors alike trying to find a lead.
Whether you are the first or latter of the scenarios, you can benefit greatly from your search if you invest in a seasoned realtor's assistance. I know what you're thinking: "Now I have to paya realtors fee?" And my answer is, yes. Spend it, sis. The investment is worth it, and you are worth it.
Rather recently, I called myself trying to save a few coins by searching for my first apartment on my own, and almost became a victim of a renter scam. Thankfully, I used my head and sought counsel from my friends and family about the rental before making a decision. I was blessed enough to find a great realtor to help me find my first apartment who was able to talk my rent down by $100 from the asking price. I save $1,200 a year that I would've paid if I hadn't hired my own realtor, and she checks in with me yearly for my feedback and offers suggestions about buying or renting my next apartment. You are paying to have an experienced agent with your best interest at heart on your side in an industry that is trying to give you less as you spend more.
I sat down with a millennial realtor Madison Fraizer who was able to spill the tea on the apartment and home search to explain the many reasons why partnering up with a realtor is one of the smartest and most risk-free moves that you can make:
Though using online apartment listing is a great starting point for young women looking to move, would you suggest using a realtor?
Madison Fraizer: I definitely recommend utilizing a realtor, a lot of the inventory we have privy to, opposed to you going on Trulia, and definitely not Zillow, or 'Killer Craig's List'. I'm still very skeptical about Craigslist, even though I found my current apartment on the site, but it was because I knew the broker. Anyone can post on Zillow and Craigslist now so it's more so for the assurance if you are a woman; one for safety, and two to be certain it is really inventory. Is it really available? I had a client, unfortunately, she thought that my condo was for rent, and when she went to go meet the seller off Craigslist, they robbed her on Christmas Eve. So that's why I encourage people to stay off the online platforms and to partner up with a reputable realtor in person.
What are some tips and trends you could offer to young women trying to find a great value in their investment whether they are looking to rent or buy?
I encourage young adults to have roommates because rent is so high. Rent is so high that it is forcing people to buy. You may think that buying into a single-family home is too much, as I did I was younger. Now I have a chance to work with other young women who do investment properties, and I am looking to invest in the same. I will be able to live in one unit and let the second unit be rented out in order to pay my mortgage.
This way, whatever money I am making, I can save for my next investment because rent is ridiculous, especially due to gentrification. I can attest to this, as I worked a decent job every day, and could not afford a luxury apartment because the rent starting for a one-bedroom in my town started at $1800. I had to move further south so that I could afford my lifestyle.
For some of us that are on the search for the right fit in a realtor, what are some guidelines you suggest we follow?
When looking for a realtor, the first thing I think they should ask is if the realtor is resourceful. Could they offer you a variety of programs? If they are looking to rent, are they knowledgeable about the market you want to buy into? You want to find a realtor that is in constant contact with their clients, following up, doing everything that has to be done to get it to the closing table. Rentals can be just as hard and as difficult as selling a house because of the paperwork involved and the requirements of the landlord.
"You want to find a realtor that is in constant contact with their clients, following up, doing everything that has to be done to get it to the closing table."
As the new year approaches and many of us make resolutions to move into a bigger and better living space, make it your first order of business to find a realtor that best fits your needs. This is a great opportunity to enlist the help of a female realtor of color that is not only well-educated in their craft, but street smart in regards to the surroundings that you are looking into.
Follow Madison @Msmadisonrealty for more tips!
Related Stories:
How These 4 Single Women Saved to Buy Their First Home - Read More
The Woke Woman's Guide to Building Generational Wealth- Read More
How I Over The Stigma Of The Stigma Of Moving Back Home As An Adult - Read More
Tour Multi-Faceted Creative Mckenzie Renae's Dope ATL Abode - Read More

Featured image by Getty Images
Zaniah Boykin
New Jersey native creating a life that she loves while living in gratitude. She loves using beauty, and fashion to create a balanced lifestyle while prioritizing wellness. A devoted fur mom, and a full-time lover of laughter. She is out for revenge against the darkness by being light, taking her own advice, traveling the world, and letting you know that you are so lit! Connect with her via IG @iamzaniah and please visit Zaniahsworld.com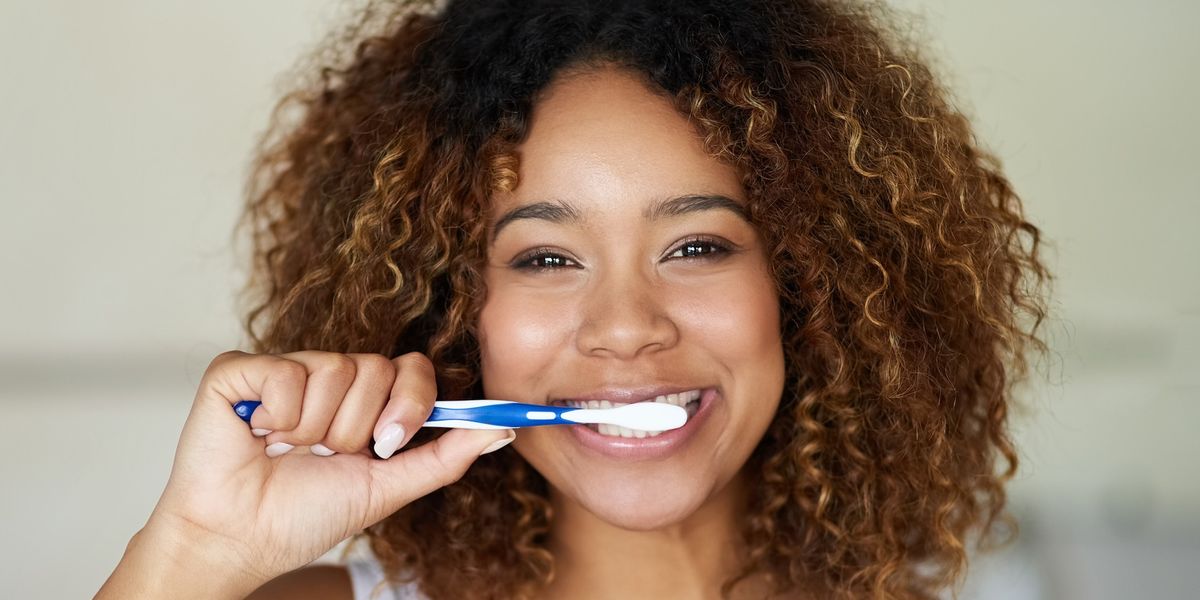 This article is in partnership with Sensodyne.
Our teeth are connected to so many things - our nutrition, our confidence, and our overall mood. We often take for granted how important healthy teeth are, until issues like tooth sensitivity or gum recession come to remind us. Like most things related to our bodies, prevention is the best medicine. Here are five things you can do immediately to improve your oral hygiene, prevent tooth sensitivity, and avoid dental issues down the road.
1) Go Easy On the Rough Brushing: Brushing your teeth is and always will be priority number one in the oral hygiene department. No surprises there! However, there is such a thing as applying too much pressure when brushing…and that can lead to problems over time. Use a toothbrush with soft bristles and brush in smooth, circular motions. It may seem counterintuitive, but a gentle approach to brushing is the most effective way to clean those pearly whites without wearing away enamel and exposing sensitive areas of the teeth.
2) Use A Desensitizing Toothpaste: As everyone knows, mouth pain can be highly uncomfortable; but tooth sensitivity is a whole different beast. Hot weather favorites like ice cream and popsicles have the ability to trigger tooth sensitivity, which might make you want to stay away from icy foods altogether. But as always, prevention is the best medicine here. Switching to a toothpaste like Sensodyne's Sensitivity & Gum toothpaste specifically designed for sensitive teeth will help build a protective layer over sensitive areas of the tooth. Over time, those sharp sensations that occur with extremely cold foods will subside, and you'll be back to treating yourself to your icy faves like this one!
3) Floss, Rinse, Brush. (And In That Order!): Have you ever heard the saying, "It's not what you do, but how you do it"? Well, the same thing applies to taking care of your teeth. Even if you are flossing and brushing religiously, you could be missing out on some of the benefits simply because you aren't doing so in the right order. Flossing is best to do before brushing because it removes food particles and plaque from places your toothbrush can't reach. After a proper flossing sesh, it is important to rinse out your mouth with water after. Finally, you can whip out your toothbrush and get to brushing. Though many of us commonly rinse with water after brushing to remove excess toothpaste, it may not be the best thing for our teeth. That's because fluoride, the active ingredient in toothpaste that protects your enamel, works best when it gets to sit on the teeth and continue working its magic. Rinsing with water after brushing doesn't let the toothpaste go to work like it really can. Changing up your order may take some getting used to, but over time, you'll see the difference.
4) Stay Hydrated: Upping your water supply is a no-fail way to level up your health overall, and your teeth are no exception to this rule. Drinking water not only helps maintain a healthy pH balance in your mouth, but it also washes away residue and acids that can cause enamel erosion. It also helps you steer clear of dry mouth, which is a gateway to bad breath. And who needs that?
5) Show Your Gums Some Love: When it comes to improving your smile, you may be laser-focused on getting your teeth whiter, straighter, and overall healthier. Rightfully so, as these are all attributes of a megawatt smile; but you certainly don't want to leave gum health out of the equation. If you neglect your gums, you'll start to notice the effects of plaque buildup, which can irritate the gums and cause gingivitis, the earliest stage of gum disease. Seeing blood while brushing and flossing is a tell-tale sign that your gums are suffering. You may also experience gum recession — a condition where the gum tissue surrounding your teeth pulls back, exposing more of your tooth. Brushing at least twice a day with a gum-protecting toothpaste like Sensodyne Sensitivity and Gum, coupled with regular dentist visits, will keep your gums shining as bright as those pearly whites.

Now that the fall season is officially settling its way on in, it's time to ramp up on our favorite warm drinks. And while, for me, what tops the list is hot chocolate and apple cider, being that I grew up in a home that was consistently stocked with various kinds of herbal tea, that's why I enjoy writing so much about tea (and all of the ways that it can benefit you) for this platform. I've written about teas that can improve your sex life (here), teas that are good for maintaining vaginal health (here), not-so-common teas that are beneficial for your overall health and well-being (here), and even teas that are perfect for this time of the year (here).
Yet one thing that I haven't covered (until today) is the different types of tea that not only are delightful to consume during this time of the year, they are also able to get your hair right where you want it to be. And since cooler weather is typically what causes us to consider consuming tea more often — why not doubly bless yourself by stacking up on your own collection so that you cut the body chills and reach many of your hair goals at the same time, too?
Featured image by Aja Koska/Getty Images