Chloë is riding high with the success of her singles "Treat Me" and "Have Mercy" and it appears she likes to live that way too. In a recent Open Door episode for Agriculture Digest, the singer and actress showed off her Los Angeles high rise with a view that would make anyone jealous.
---
When you first walk into the apartment, you are hit with a beautiful entryway that features an oil canvas painting of Chloë and her sister Halle Bailey.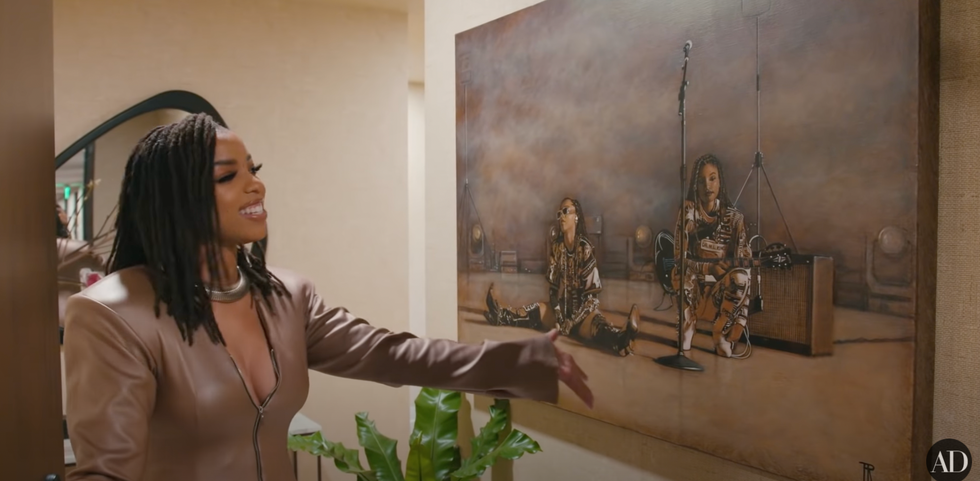 Architectural Digest/YouTube
"A friend gave me this oil canvas painting of us. We were performing at Global Citizen and I love it so much because it really just shows us in our element and chill and she's my best friend," she said. Continuing along the hallway, the 23-year-old stopped and shows off another painting. This one is an abstract painting from her "Have Mercy" video. While she thinks it's kind of weird to have photos of yourself in your home, she believes you can get away with it if it's done "artfully and tastefully."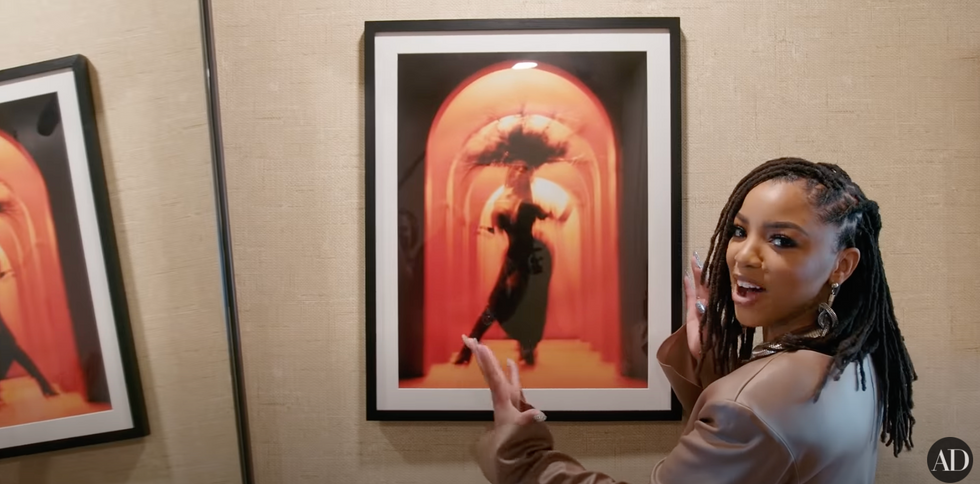 Architectural Digest/YouTube
Shortly after, she highlighted another still from the "Have Mercy" video. This time she was on the roof and she revealed an embarrassing story behind it. "Fun fact, I fell almost off of the roof," she said. "It was a great experience. I will always remember it. I will never forget that."
The apartment has two bedrooms, but she converted one of them into her music studio.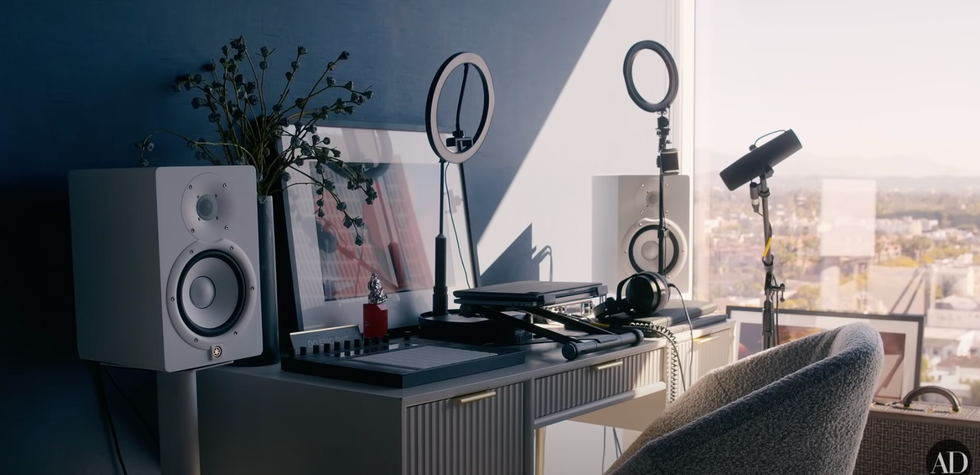 Architectural Digest/YouTube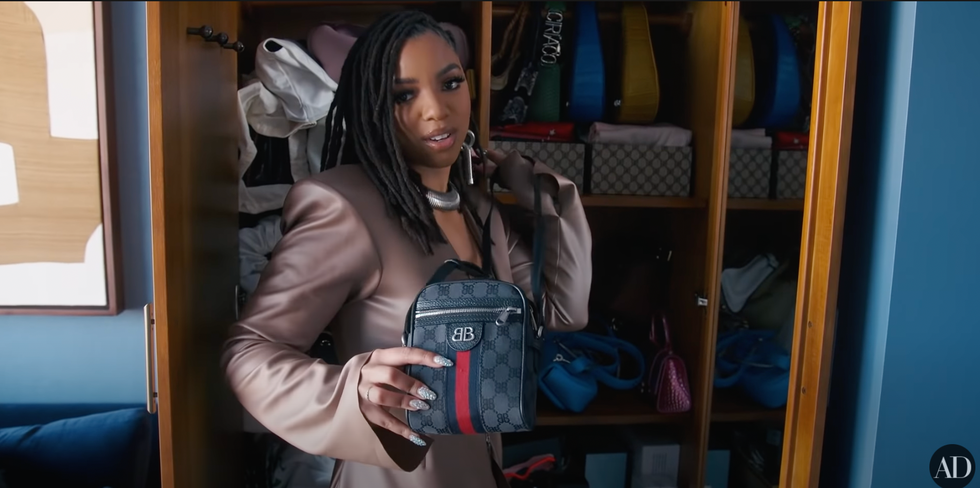 Architectural Digest/YouTube
There's no bed in it, but there is a sleeper sofa for when she has people stay the night. The room also has another photo of her and her sister. "I always have her around me because no matter how far or near we are, I just always like having a piece of her with me," she explained. The studio also has an armoire that is filled with the singer's handbags.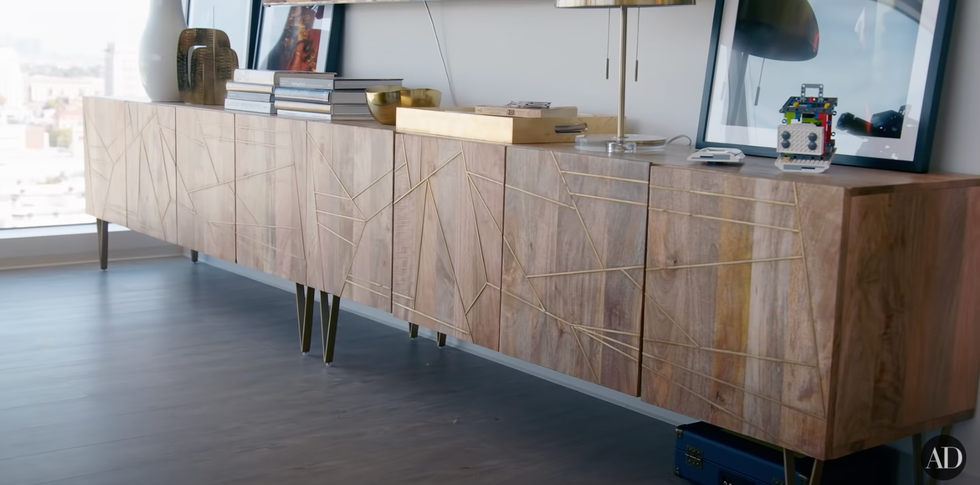 Architectural Digest/YouTube
Chloë's favorite colors are blue and yellow and you can see those colors throughout her home. But her favorite thing about her home is the view, which is no surprise there. Her apartment has floor-to-ceiling windows in the living area as well as her bedrooms.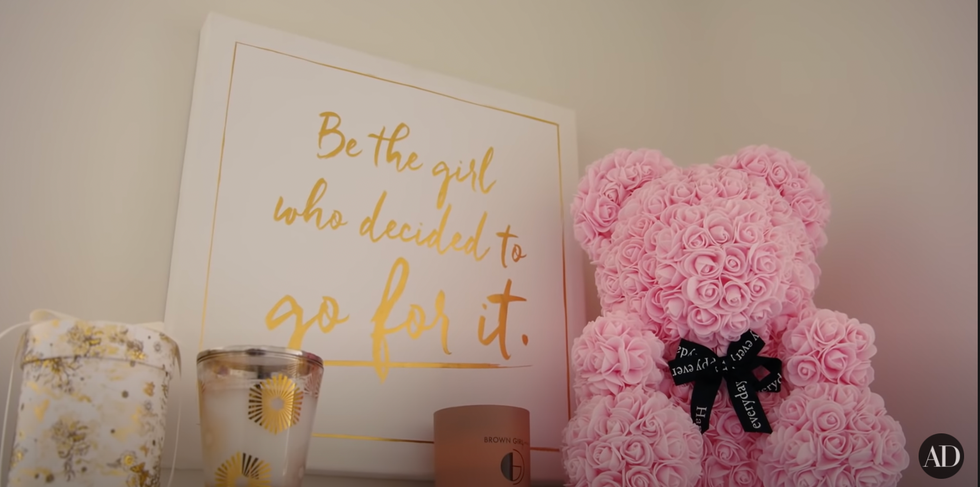 Architectural Digest/YouTube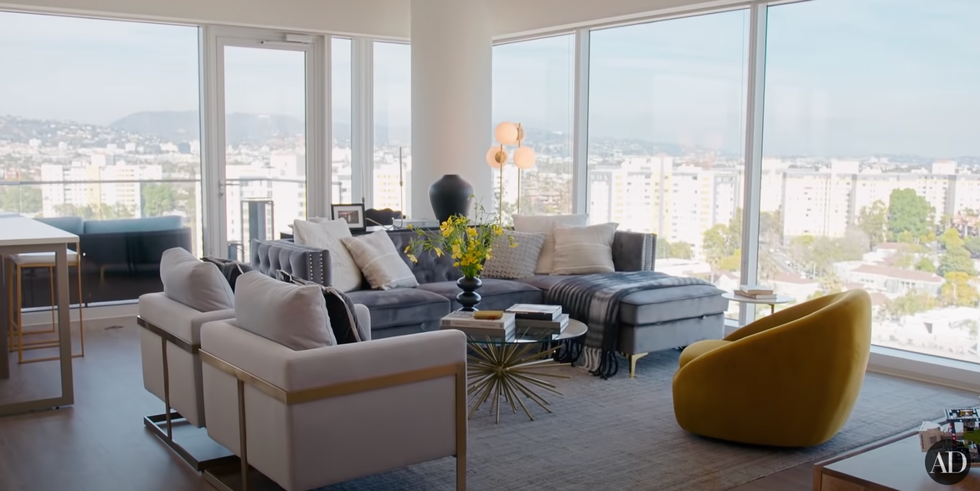 Architectural Digest/YouTube
Her living room consists of a cozy couch, chairs, and typically a huge whiteboard, which she said she put away because it had her tracklist on it. She also has a massive display of photos that were outtakes from a shoot she did a year ago.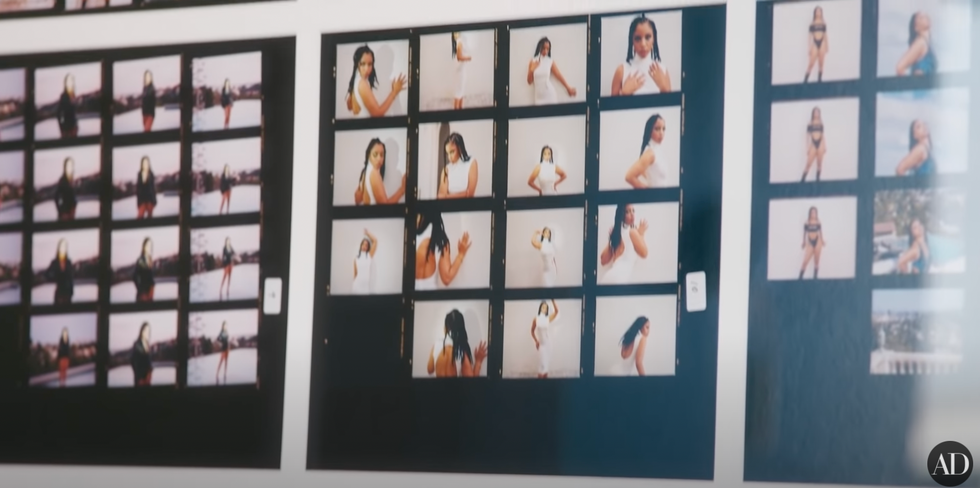 Architectural Digest/YouTube
"Not conceited, but I just love it because it's artful and it's me," she laughed. "And whenever I'm in sweatpants and hair-tied and I feel like, eh, I just look at that, I'm like okay, she's a little somethin', somethin'."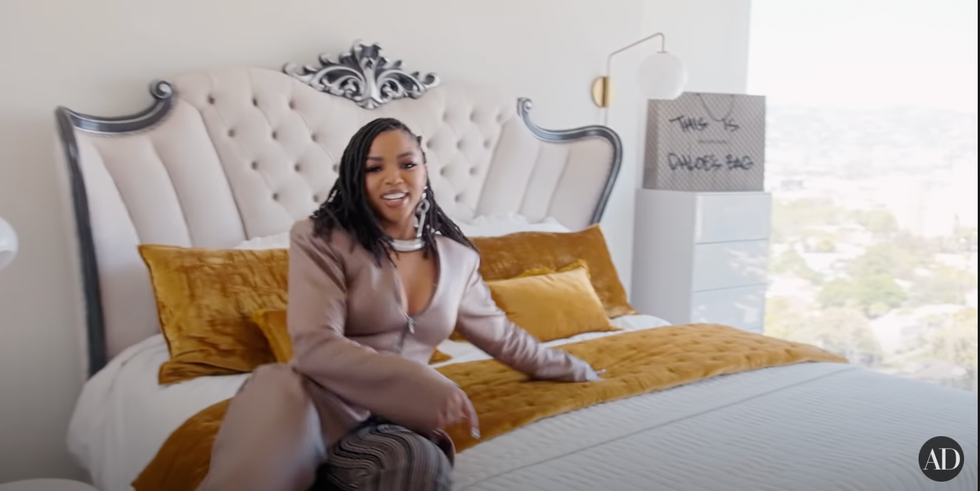 Architectural Digest/YouTube
She also has LEGOs that she works on, which she said calms her down. The Grown-ish star credited her godmother for designing her living place and giving it an "RB" vibe, which stands for "rich bitch." That vibe flows into her bedroom with a bed that is "fit for a queen." "I'm obsessed with my bed. Every time I lay in my bed I feel like a queen. My Godmom did the most amazing job." Another favorite thing in her bedroom is her hidden shoe rack.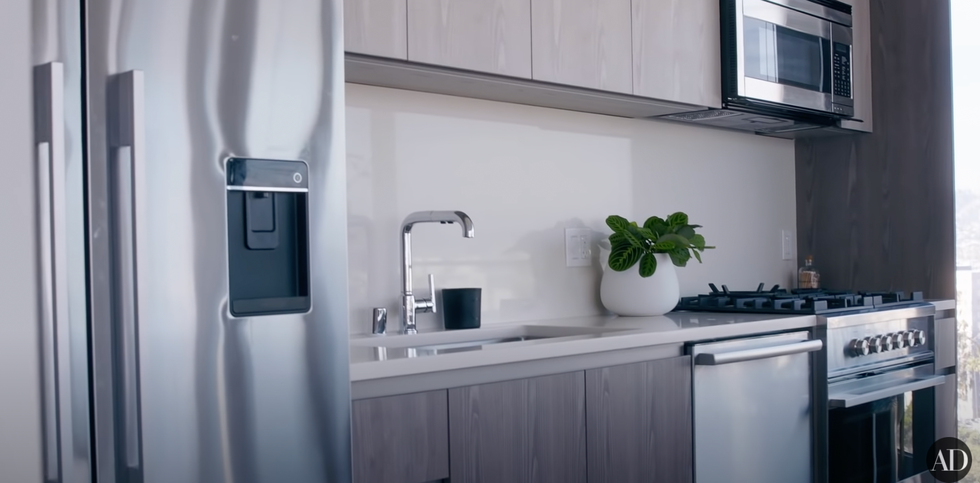 Architectural Digest/YouTube
When it comes to her kitchen, Chloë described it as a place where "I don't cook" due to her busy schedule. However, she does like making smoothies with her Nutribullet.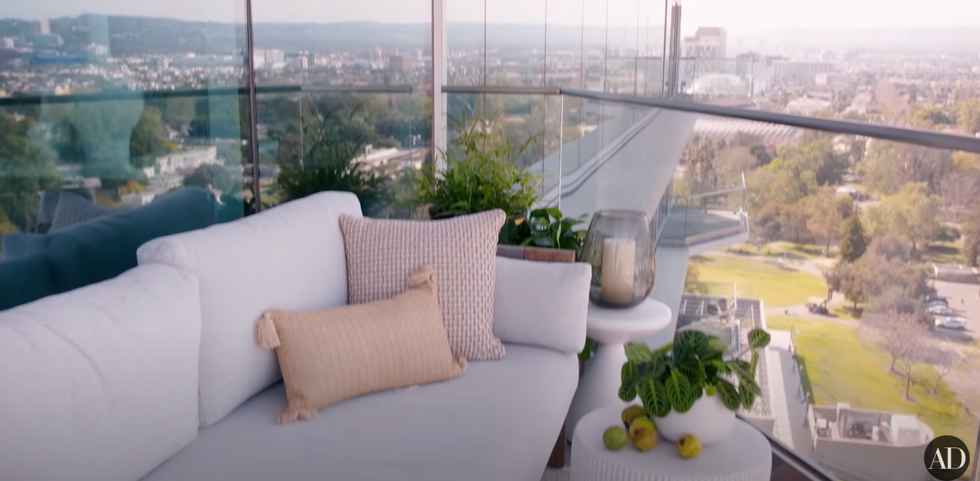 Architectural Digest/YouTube
Last but not least, Chloë took us out to her balcony where we got an up-close and personal view of L.A. She admitted that she likes to sit on her balcony and reflect on her life decisions. "This is where the deep thinking goes down," she said. "Sometimes have a nice glass of wine. Sometimes just chill out. I love it here."
Inside Chlöe Bailey's Elegant L.A. Apartment | Open Door | Architectural Digest
Let's make things inbox official! Sign up for the xoNecole newsletter for daily love, wellness, career, and exclusive content delivered straight to your inbox.
Featured image via Architectural Digest/YouTube