No matter the time of year, finding the perfect cocktail of natural hair products that enhances my curls and confidence feels like a journey. As the temperatures begin to cool drastically, weather becomes more of a challenge as I scramble to find the ingredients that will keep my coils healthy and my scalp moisturized. Searching for solutions, I've learned that with the change of season there should be a few adjustments and alternative hair methods that can provide moisture, encourage growth and prevent breakage during cold dry weather.
---
For generations, Black women have developed unhealthy relationships with natural kinks and curls due to negative words, thoughts, and feelings towards our hair. Along with a lack of natural hair care education, there's an oversaturated market of products marketed towards ethnic hair care but made of ingredients that do more harm than good, leaving many of us feeling overwhelmed, defeated, and insecure about our hair in its natural form. It's never too late to find what works for you and with winter approaching, this is the perfect opportunity to learn of proper tools and products that will protect and maintain beautiful curly hair throughout the harsh weather.
I spoke to Dr. Gaby Longsworth, Ph.D. scientist, certified hair practitioner, biotech/pharmaceutical patent attorney, and owner of online natural hair resources Absolutely Everything Curly and CurlPlanet on how she is helping women care for their curls with our own hands. As a Ph.D. scientist, she was curious to learn why certain hair products worked well for her hair but others did not. After extensive research, reviews, and understanding of ingredients, she realized the amount of misinformation being marketed to the masses. Becoming deeply passionate about sharing her knowledge and research, Dr. Gaby created a database of all things curly, available directly at our fingertips.
For insight on how to protect your curls with the right products, moisturizing methods, and routines, keep reading for Dr. Gaby Longsworth's 10 tips on how to prevent hair breakage this winter.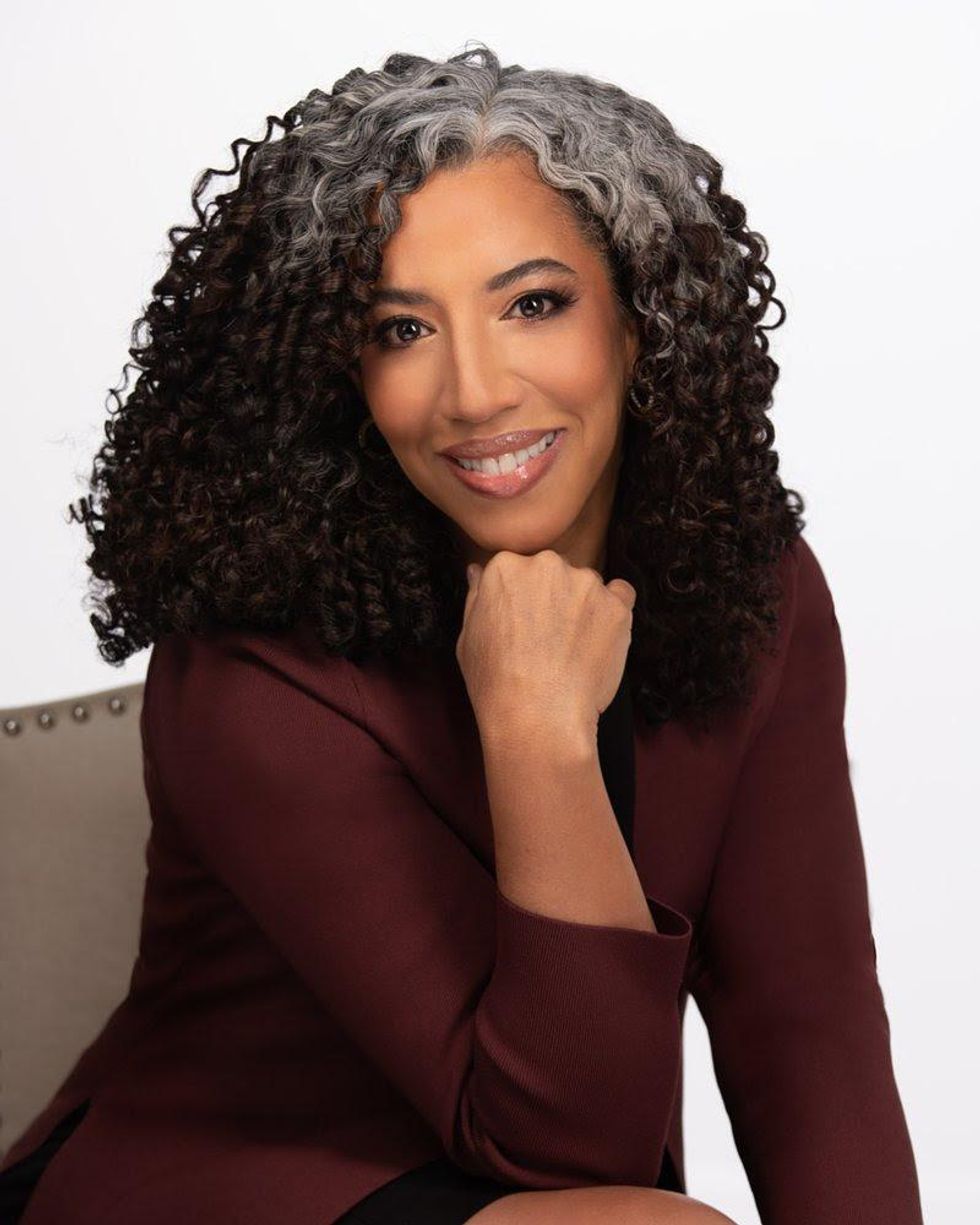 Courtesy of Dr. Gaby Longsworth
Dr. Gaby Longsworth, founder of Absolutely Everything Curly, a science-backed subscription-based educational space created to help those with all types of curls discover and embrace their hair in its natural form. Subscription to Absolutely Everything Curly's content for $2.99/month on their website.
On scalp detoxes and how to clarify curly hair:
"When someone does a scalp detox, that basically means a deep cleanse of the scalp to remove debris and build-up from pollution, hard water, oils, and dead skin cells from the hair follicles and rebalance the scalp pH to improve the scalp microbiome for healthy hair. The most common detox product has apple cider vinegar as a key ingredient. Other ingredients include charcoal, tea tree oil, and peppermint. My favorite detox product is the Bounce Curl Turmeric Detox.
"An inflamed scalp can lead to hair loss, dandruff, or other issues. Healthy scalp, healthy hair. When you clarify your scalp, a clarifying shampoo is used to strip the hair of excess buildup. Because these shampoos are more drying for curlies, they are not meant for regular use. The most common shampoos contain chemical surfactants such as ammonium- or sodium lauryl sulfate, ammonium laureth sulfate, and alpha-olefin sulfonate. The higher the pH of the product, the more drying it will be.
"Dry curls often lead to breakage and thinning and for that reason, most curlies should avoid sulfated shampoos. There are so many excellent clarifying shampoos on the market. My favorite brands include Ouidad, Bounce Curl, Jessiecurl and Kinky-Curly Come Clean."
On how to determine if you have low, medium, and high density hair:
"Density refers to how tightly packed individual hair strands are on the scalp. If you can easily see your scalp, you have a lower density or fewer individual hair strands per square inch. If it is harder to see the scalp, you have hair of medium density. If you can barely see your scalp or not at all you have high density hair – in other words, thick hair.
"To determine hair density, a popular test is the ponytail test, but this test is not possible if you have short hair."
On protective styles that won't cause hair breakage: 
"Many protective styles are fine as long as the braids are not pulled too tightly. It is the tight tugging and pulling on the edge areas that causes hair loss. Cornrows, box braids, bantu knots, knotless braids, faux locs, crochet braids, twists, and goddess locs can all be fine, if not too tight. Extensions should not be too heavy.
"My favorite protective style is two-strand twists because they are lightweight, do not add tension, and require no heat. They also retain moisture longer and keep the hair tangle free. I also love wigs."
On her tips for how to avoid hair breakage this winter:
Never use brushes on dry hair.
Finger combing while detangling is best.
If you do use a comb or a brush, it should be a wide tooth comb and only when hair is soaking wet and saturated with conditioner. If using a brush, it should be a detangling brush and used only on soaking wet hair saturated with a high slip conditioner. Divide high density hair into as many sections as possible, before detangling it with a detangling brush. Remember to be gentle in order to not break the hair strands.
Do not use any heat on your hair. Once your hair is healthy, you can use a hooded dryer on cold air or low heat, or a diffuser. Lubricate your scalp with oil if needed, once or twice a week.
If you have low-porosity hair, deep condition with steam or heat (such as with a thermal heat cap).
Keep tight hairstyles or pulling at your edges to a minimum.
Detox or clarify your scalp once or twice a month.
Use the LOCG or LCOG (Liquid/leave-in, Cream, Gel, Oil ) method.
At night, cover your hair with satin or silk, or put it up in a pineapple, and use a silk pillowcase.
Choose protective hairstyles when possible.
Featured image by wsfurlan/Getty Images