---
Vice President Kamala Harris has made history as the first woman of color to hold the office, taking a powerful seat in the White House. We're all more than here for it. We're ecstatic and super proud! Not only is she of Indian and Jamaican descent, she's also a proud graduate of a historically black university (Howard) and member of Alpha Kappa Alpha Sorority, Inc. (skee-wee, sis, skee-wee).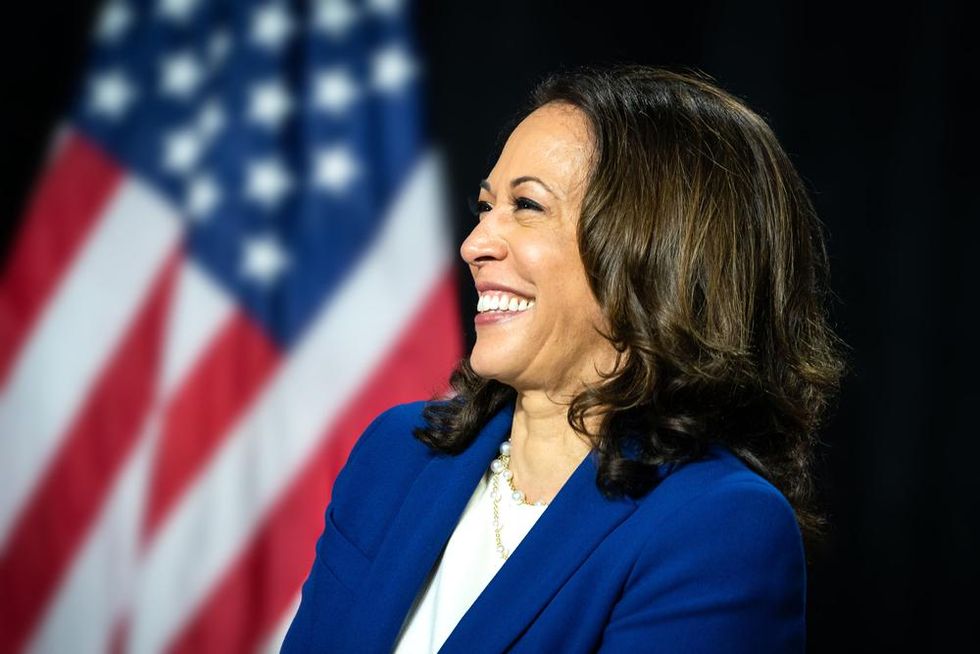 NumenaStudios / Shutterstock.com
As a new administration begins their first acts of change, let's take a look at other black women in the White House set to make major moves during President Joe Biden's term:

1

.

Symone D. Sanders, Senior Adviser and Chief Spokeswoman
At 25, Symone Sanders became the youngest presidential press secretary on record when she worked on U.S. Senator Bernie Sanders' presidential campaign. She has also served as a senior adviser for former Vice President Joe Biden's 2020 presidential campaign. She's also a business phenom who provides strategic communications consulting as principal of the 360 Group L.L.C. In her current role, she will be a key figure in communicating the policies and updates from the White House, working closely with Vice President Harris.
2

.

Ashley Etienne, Communications Director
Ashley Etienne has more than 15 years of experience working in brand development, crisis communications and social activation, and she's served as an adviser to former President Barack Obama and Speaker Nancy Pelosi. She's also consulted Fortune 500 executives, and helmed successful campaigns that featured top entertainers, athletes and public service icons. She has a pivotal role in cultivating and implementing the Biden's administration's communications and outreach strategies.
3

.

Karine Jean-Pierre, Deputy Press Secretary
Karine Jean-Pierre has served as the chief public affairs officer for MoveOn.org, and she's a longstanding force in political analysis, having been featured on NBC and MSNBC. Her experience spans more than a decade, ranging from activism to strategy for presidential campaigns including President Obama's 2012 re-election. While he was in office, she was the regional political director for the White House Office of Political Affairs. She's also enjoyed a successful career as a Columbia University professor. In her current role, she will be one of the key professionals at the forefront of White House communications on issues.
4

.

Cecilia Rouse, Chair, Council of Economic Advisers
An esteemed economist, Cecilia Rouse will be the first Black chair of the Council of Economic Advisers if confirmed. Rouse has served as dean of Princeton's School of Public and International Affairs and as the Lawrence and Shirley Katzman and Lewis and Anna Ernst Professor in the Economics of Education. She's done landmark research on labor markets, education, and discrimination and will be tackling the current issues of unemployment and financial strategy for the administration.
5

.

Marcia Fudge, Secretary of Housing and Urban Development
Marcia Fudge has more than 20 years of public service under her belt and has most recently served as the U.S. Representative for Ohio's 11th congressional district since 2008. If confirmed for the White House post, she will be the first woman to lead HUD in more than 40 years, and the second Black woman in history to hold the position. She has recently pushed for resources like rental assistance and more affordable housing, especially as many continue to face the challenges caused by COVID.
6

.

Ashley Williams, Special Assistant and Deputy Director of Oval Office Operations
Ashley Williams has been the trip director during the Biden-Harris transition, and she became the first Black woman to hold the role for a successful presidential candidate. Previously she's worked as an adviser in the State Department, focusing on global women's issues. She's also been First Lady Jill Biden's senior assistant during the Obama administration. Now, she will be leading the management of scheduling, private engagement and day-to-day activities.
7

.

Joelle Gamble, Special Assistant, Economic Policy
Joelle Gamble has worked in public policy, serving as a principle at Omidyar Network, a social change firm, and she's been senior adviser to the president and CEO and a national director at the Roosevelt Institute. In Biden's administration, she will be part of the National Economic Council, which works to coordinate the economic policy-making process and assist in creating and implementing Biden's economic vision.
8

.

Brenda Mallory, Chair, White House Council on Environmental Quality
Brenda Mallory is an environmental lawyer who worked in the Obama administration and has served as general counsel for the Council on Environmental Quality (CEQ). A public service veteran, she's also served as director of regulatory policy at the Southern Environmental Law Center, a litigation and advocacy group. If confirmed for Biden's cabinet, she will be the first Black professional to lead the CEQ and will play a vital role in creating federal environmental policy.
Are you a member of our insiders squad? Join us in the xoTribe Members Community today!
Featured image by Crush Rush / Shutterstock.com