Over the last few days, we have witnessed Supreme Court nominee Judge Ketanji Brown Jackson face intense questioning that many deem as an attack from Republican senators on the Senate Judiciary Committee.
---
But when it was Democratic Sen. Cory Booker's turn, he made sure to praise the woman who is making history as the first Black woman to be nominated to the Supreme Court and will be the first Black woman on the bench if confirmed. Sen. Booker, who is the only Black senator on the committee, moved the Honorable Brown Jackson to tears as he listed out her accomplishments and highlighted the significance of her being there.
​"You did not get there because of some left-wing agenda," he said. "You didn't get here because of some dark money groups. You get here how every Black woman in America who's gotten anywhere has done. By being, like Ginger Rogers said, 'I did everything Fred Astaire did, but backward in heels."
Although Ketanji will be making history as a Black woman, Cory told her that she is more than just her race and that this moment is bigger than just her.
"I want to tell you when I look at you, this is why I get emotional," he said. "I'm sorry — you're a person that is so much more than your race and gender. You're a Christian, you're a mom, you're an intellect, you love books." He continued, "It's hard for me not to look at you and not see my mom. Not to see my cousins, one of them who had to come here and sit behind you. She had to have your back. I see my ancestors and yours."
He also pointed out the unfair questioning she received from his colleagues. "You faced insults here that were shocking to me — well, actually not shocking," he said. "But you are here because of that kind of love, and nobody is taking this away from me."
Before closing out his speech, he compared the judge to Harriet Tubman as she was a symbol of hope to so many Black Americans and how Ketanji is following in those very footsteps. "I thought about her. And how she looked up, she kept looking up," he said. "No matter what they did to her, she never stopped looking up. And that star was a harbinger of hope.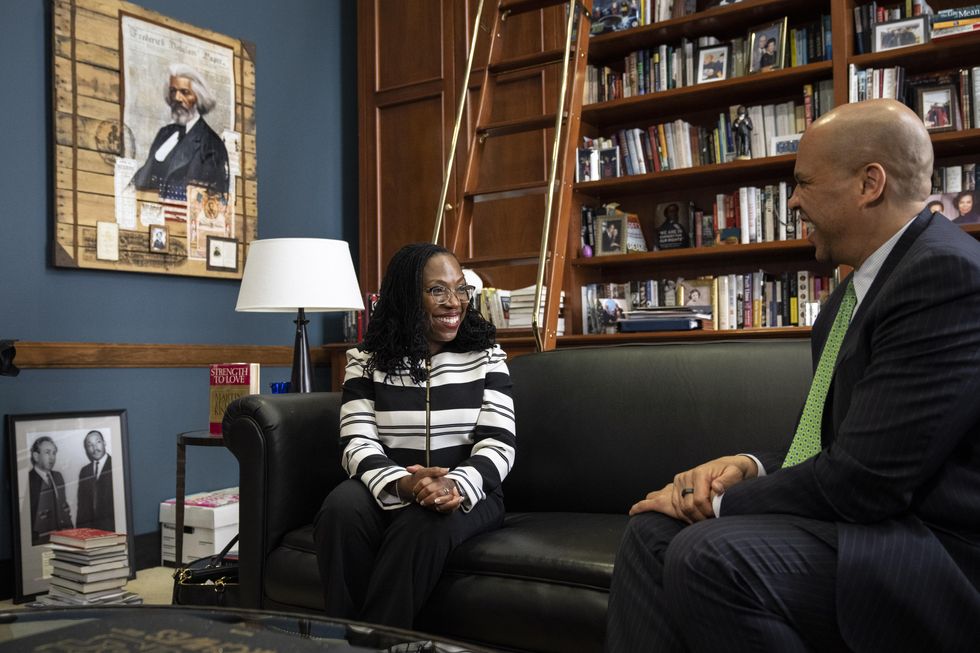 Drew Angerer/Getty Images
"Today, you're my star. You are my harbinger of hope. This country is getting better and better and better. And when that final vote happens, and you ascend to the highest court in the land, I'm going to rejoice. And I'm going to tell you right now, the greatest country in the world, the United States of America, will be better because of you."
Cory's powerful and uplifting words to Ketanji made their rounds on social media and touched so many people.
I am so moved by and impressed with Senator Cory Booker. And Judge Ketanji Brown Jackson is SUPREMELY qualified to serve on our nation's highest court. I'm so inspired by them both. They represent public service at its best.

— Glenn Kirschner (@glennkirschner2) March 22, 2022
Cory Booker using his time to pour into Judge Ketanji is not a performance.

When overqualified black women are constantly belittled, attacked, interrogated, disrespected, & demeaned the LEAST any sound & moral person can do is reroute their own agenda to reassure & reassert her.

— Ayanna. (@untouchableYann) March 23, 2022
Ancestors bless Senator Cory Booker for standing up for his Black sister Judge Ketanji Brown Jackson in the most joyful, passionate terms.

Back home we have praise singers. That's Cory.

"Nobody is going to steal our joy. You deserve to be here."

Ketanji and I are both crying pic.twitter.com/IdugDJYb48

— Unofficial Judge Ketanji Defense Account: Qondi (@QondiNtini) March 23, 2022
Watch the full video of Cory Booker and Ketanji Brown Jackson here:
Let's make things inbox official! Sign up for the xoNecole newsletter for daily love, wellness, career, and exclusive content delivered straight to your inbox.
Featured image by Drew Angerer/Getty Images