---
I've been in a long distance relationship with the love of my life for almost three years now, and my deepest wish is to see him for more than six months out of the year. I've had an even longer love affair with the country of his birth--Jamaica --having visited since I was 19 and having extended family ties there. I literally long for the day when the beaches of Westmoreland or Ocho Rios are my backyard and when I can jerk my own chicken and pick mangoes, avocados, and coconuts outside my front door.
Now, with global quarantine orders and borders closures in place due to COVID-19, many of us have had to put any plans of traveling on hold almost indefinitely. But no worries wanderlusters.
Below, 4 women share why and how they relocated abroad , how the current events have affected their everyday lives, and--when things are back to normal--how other women can realize their dreams of moving abroad, too:
Featured image courtesy of Latrice Shepherd
Janell Hazelwood
Janell Hazelwood, MAOL, is a journalist, speaker, editor, and consultant who has worked for companies including The New York Times, Black Enterprise, and Conde Nast. She is a proud HBCU journalism graduate and has served, for more than 15 years, as a journalist, editor, strategist and commentary writer. She also holds a master's degree in organizational leadership (MAOL) with a concentration in coaching, allowing her to pursue her ultimate goal as a lifelong servant leader to women professionals, entrepreneurs, and nonprofit founders.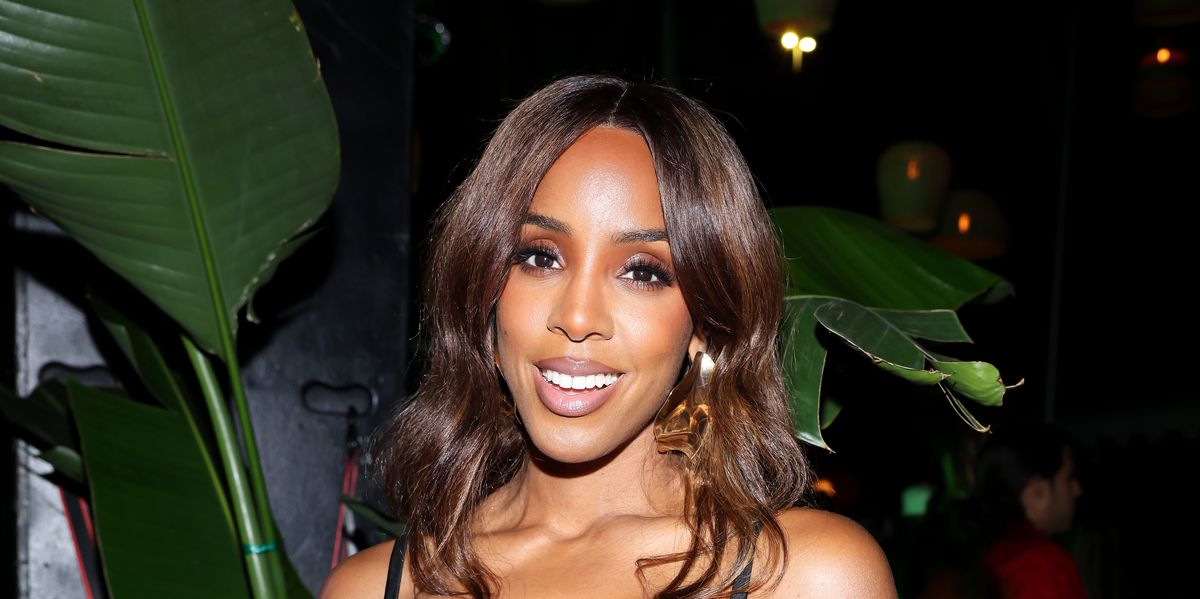 Kelly Rowland is like a bottle of the Earth's finest wine; she only gets better with time. Even in her early forties, the Destiny's Child member and singer has somehow found a way to age backwards, with a level of grace and class that we could only dream of. And she does so while juggling multiple hats and roles at once. In addition to giving us hits like "Motivation," the multi-hyphenate is also a wife, actress, executive producer, and, her greatest role of all, a mother.
Always proudly doting on her two sons , Titan and Noah, Rowland shares how teaming up with WaterWipes for their Hallowclean campaign and kickoff event in New York City on October 21 was an easy choice for her—as the brand is one that she keeps stocked regularly.
"WaterWipes has been in my household for I don't know how long. We don't just use them for Noah; I keep them in the car and my makeup bag, too," Rowland shares in an exclusive interview with xoNecole . "I also like the fact that they are natural. I'll definitely have them in my fanny pack for trick-or-treating. This is Noah's second Halloween, and I know he's going to be excited and digging in his pail to try the different candy, and his little fingers will be messy. He's going to want to get dirty. So, I love that WaterWipes is putting up ten Hallowclean stations across the country for parents to use; it's such a great idea. I just love Halloween, and I really love Halloween with my kids, so I thought this campaign was a really great idea."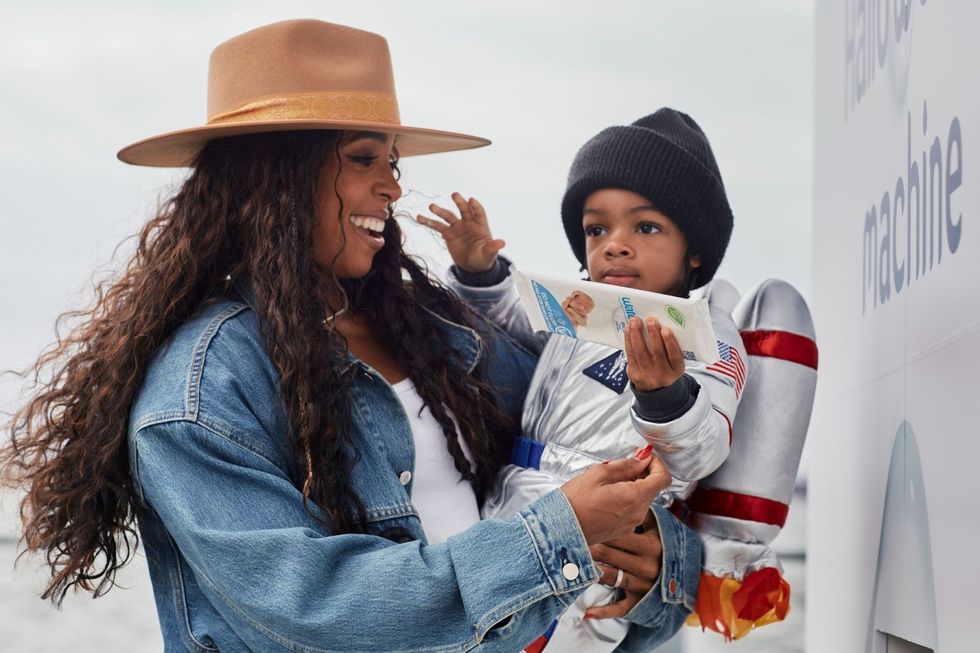 Kelly Rowland and son Noah at the WaterWipes Hallowclean Machine in Brooklyn, NY.
Photo courtesy of WaterWipes.
She and her youngest son, Noah, attended the event, where the two enjoyed a day of family-friendly activities while he sported the most adorable astronaut costume. But the Spooky Szn fun doesn't stop there for the Merry Liddle Christmas actress and executive producer.
We recently caught up with Kelly Rowland over Zoom to learn more about her Halloween (and holiday) plans, her keys to a healthy marriage, and she even dropped her go-to cold-weather skin routine —finally.
xoNecole: What are your family's upcoming trick-or-treat plans? Will you do a fun group costume, or is everyone going to do their own thing this year?
Kelly Rowland: I'm preparing for tour, so I've been in rehearsals and pre-production. And my husband's schedule has picked up, too. But the kids are going trick-or-treating; we usually go with people we know, so mommy and daddy will definitely be home to take them. We're actually letting the kids dress us up this year, which means my costume will be a complete surprise to me. I told Noah he could paint my face or even go to the costume store and pick something out—it's literally up to them. So, I don't know what that will be. And, right after, I'll be back to rehearsals.
xoN: Speaking of holidays, what do you look forward to most during the season?
KR: We love having people over, especially during the holidays. It looks like we will be home this year—thank God— just enjoying each other and spending quality time together. I like to decorate the house and go completely ham; it always looks like Christmas threw up in my house. From the stairwells to the exterior of the house and the lights—everything. We go so crazy. I also love the smells, it's one of my greatest memories with my mom, God rest her soul. So I love to play all of that up.
I like to bake something every day, I like to make sure there is something for the kids to do or make each day, we watch Christmas movies, and we even do a wine tasting sometimes. It's just all really sweet and cozy.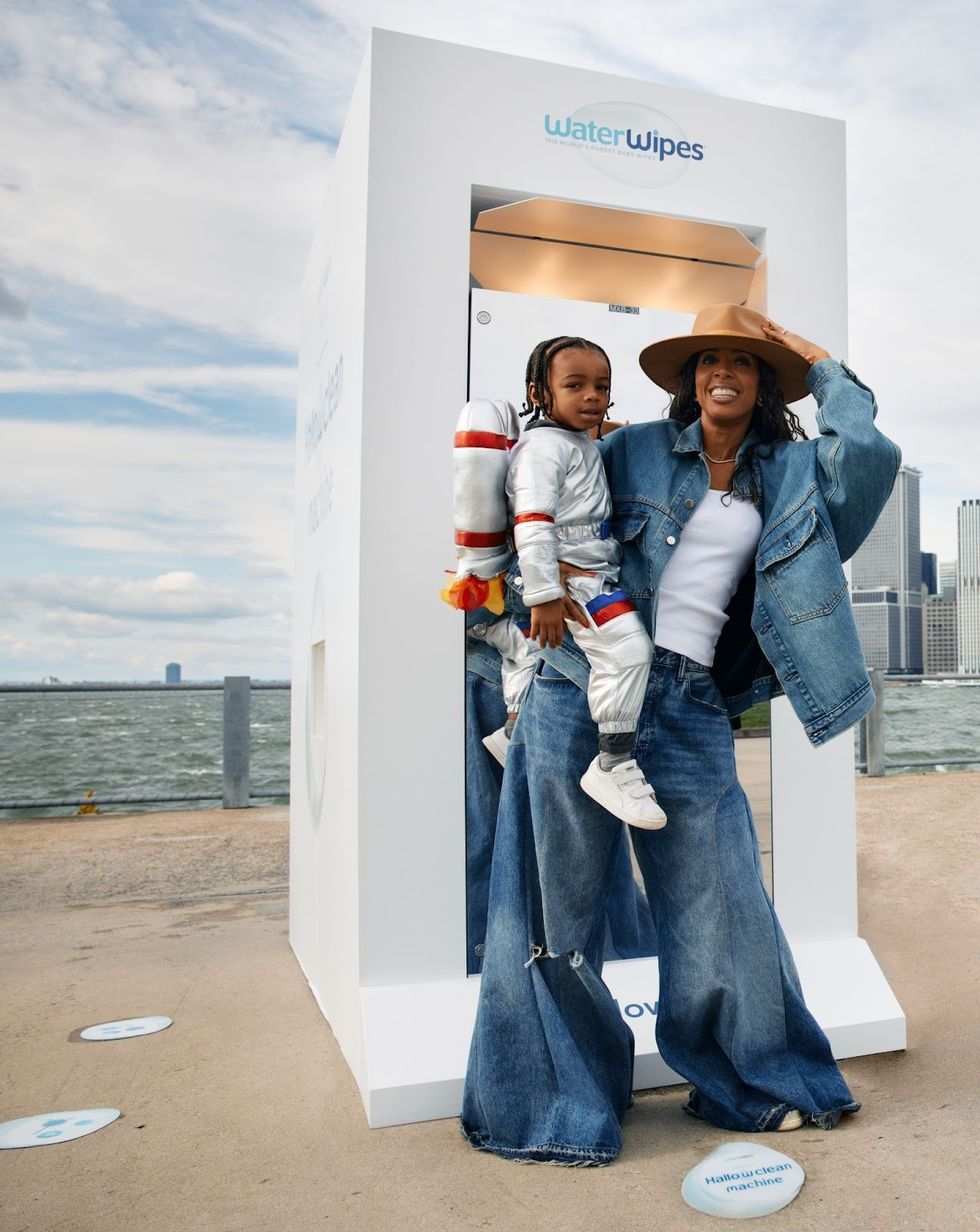 Kelly Rowland and son Noah at the WaterWipes Hallowclean Machine in Brooklyn, NY.
Photo courtesy of WaterWipes.
xoN: We love that family is so important to you, and it always shows in your posts, especially those with your husband. What would you say has been that "key" to a healthy marriage as partners and spouses for you two?
KR: I would say, each of us doing the self-work . I have not seen marriages last long in my lifetime. I haven't been given the tools to "make it last forever." We just try to do the work on ourselves and not sweat the small stuff.
Communication is key for us, too. We communicate everything. Whether I'm upset or I'm not sure about something, I communicate it. I also just like being around him, he's fun. He's a really great person and makes me laugh. We can literally sit together and watch a game and not say anything. We understand what true intimacy is, and now we're almost ten years into our marriage.
xoN: Now, Kelly, we have to ask. Skincare. What is your cold-weather routine and the products you're reaching for as temperatures drop?
KR: Right now, I'm all about moisture . I will wash my face morning and night, I do not skip. I'm obsessed with this 111SKIN toner. It smells good, but it also feels good on my skin. There's also this product from Vanessa Lee of The Things We Do. They are these coconut eye patches with these little beads. I place them under my eyes and around the corners of my mouth—talk about a game changer. I like to put them on at night and then rub in the extra serum all over my face. Between that and this lactic acid by Shani Darden , they are both game-changers for me this season.
xoN: So, since you've found the key to aging backwards, should we be on the lookout for the Kelly Rowland skincare line anytime soon?
KR: Honestly, that market is so saturated. I wanted to do it a while back, but I have to really think about what I want to bring to the marketplace to really impact culture. It's not just about a product for me. I love the way Selena Gomez has created a community. I want to be able to create a community as well. When it's not just about skincare, it turns into a space for people to be their most authentic selves. And that's what I love.
Feature image by Natasha Campos/Getty Images for Tres Generaciones

Jessica Cruel picked her career path in a way that one might imagine she would if she were a fictional magazine editor: She decided she wanted to be a journalist by taking a quiz.
---
The career quiz, which was a part of a class she was taking in high school, intrigued Cruel. Still, she knew if she were to become a reporter, it wouldn't be for a newspaper. "I had this dream of wearing a really fly suit, living in a big city – because I'm from a small town [in] the south – [and] working in some big, fancy building," she says. "I landed on fashion magazines."
For her senior project, Cruel oversaw the publication of a magazine she named Onyx , including facilitating photo shoots and writing an editorial letter. Onyx , she says, was designed to serve Black teens.
Cruel became the editor-in-chief of Allure in 2021, achieving a lifelong goal after amassing the necessary tools to land the job in various roles throughout the media industry. In her current role atop the masthead of Conde Nast's beauty magazine, she's worked to bring the publication from "on high" and make it more accessible to readers, including Black women who look like her. She's also worked to usher the brand into the digital era with last year's announcement that the Allure would no longer have a print edition.
Featured image by Robin L Marshall/Getty Images for Allure