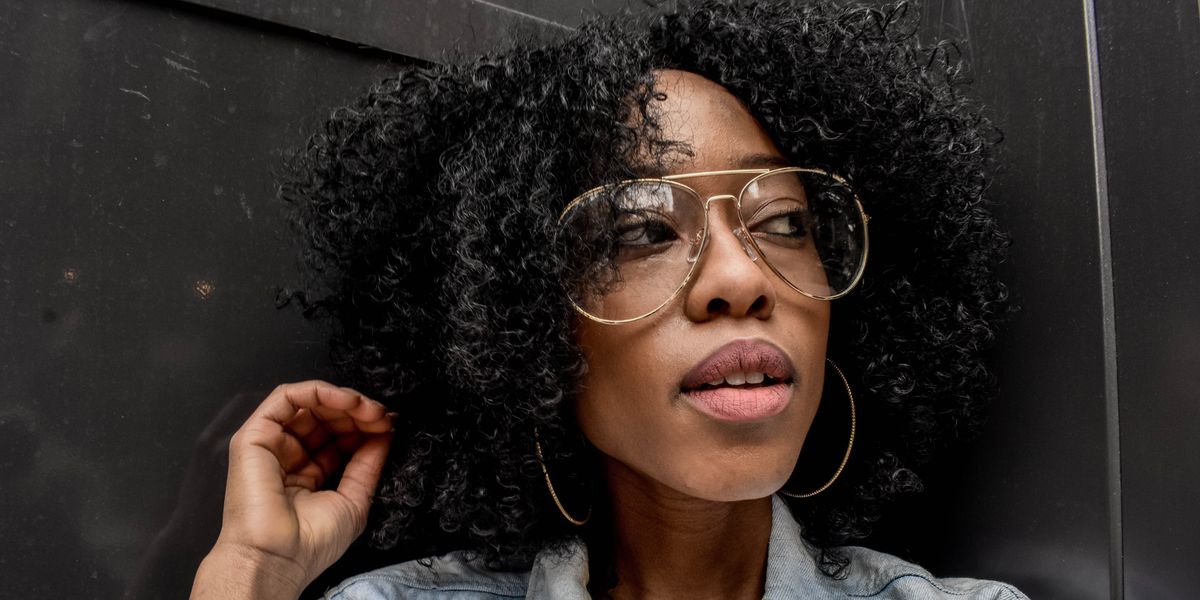 Inspiration
6 Signs You Are WAY Too Self-Critical
As life would have it, as I'm starting this piece, Kelis' music video for "Bossy" is playing on the tube. Something that I've always liked about Kelis, as an artist, is she's gonna do whatever she wants to do. We don't have to get it, so long as she does. If we like it, that's merely a bonus. Yeah, Kelis would be the opposite of the kinds of folks we're gonna talk about today. She appears to be very anti-self-critical. And that's beautiful.
---
I recently read two articles about why so many of us are so critical of ourselves (if you want to check them out, go here and then here ). The therapists who were interviewed touched on things like us fearing complacency and also us choosing to engage in tons of negative self-talk. I think that another reason has to do with our childhood. Boy, if there's ever a time when my blood boils, it's when a parent is snatching up a young child and/or worse, cussing at them. Children's minds, hearts and souls are so fragile; they must be handled with extreme care. If that doesn't happen, if the very individuals who should be nurturing their spirits are constantly breaking them, a self-critical individual is exactly what they will turn out to be.
Some of us once were those children and, unfortunately, we are so used to treating ourselves with a lack of patience, forgiveness and self-compassion, that we don't even realize how self-critical we actually are. If you're wondering if this is something that you struggle with, perhaps more than you think, here are six blaring signs that should not be ignored.
Featured Image by Unsplash.
Shellie R. Warren PCC
Different puzzle pieces are creating bigger pictures these days. 2024 will mark a milestone on a few different levels, including the release of my third book next June (yay!).
I am also a Professional Certified Coach. My main mission for attaining that particular goal is to use my formal credentials to help people navigate through the sometimes tumultuous waters, both on and offline, when it comes to information about marriage, sex and relationships that is oftentimes misinformation (because "coach" is a word that gets thrown around a lot, oftentimes quite poorly).
I am also still super devoted to helping to bring life into this world as a doula, marriage life coaching will always be my first love (next to writing, of course), a platform that advocates for good Black men is currently in the works and my keystrokes continue to be devoted to HEALTHY over HAPPY in the areas of holistic intimacy, spiritual evolution, purpose manifestation and self-love...because maturity teaches that it's impossible to be happy all of the time when it comes to reaching goals yet healthy is a choice that can be made on a daily basis (amen?).
If you have any PERSONAL QUESTIONS (please do not contact me with any story pitches; that is an *editorial* need), feel free to reach out at missnosipho@gmail.com. A sistah will certainly do what she can. ;)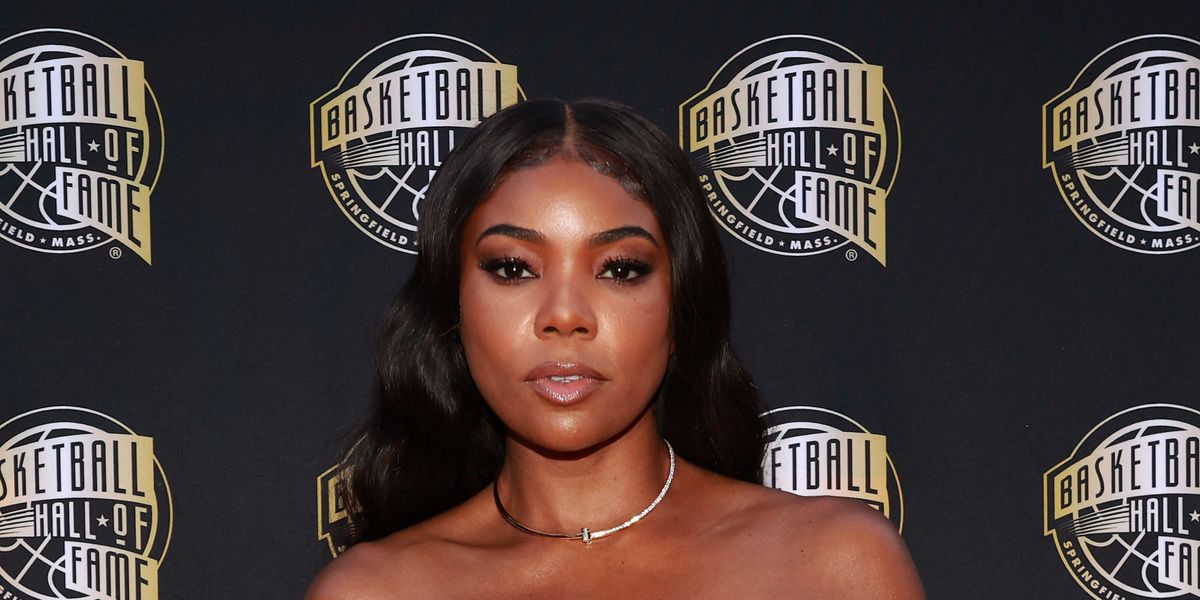 Whenever Gabrielle Union graces the movie screen, she immediately commands attention. From her unforgettable scenes in films like Bring It On and Two Can Play That Game to her most recent film, in which she stars and produces Netflix's The Perfect Find , there's no denying that she is that girl.
Off-screen, she uses that power for good by sharing her trials and tribulations with other women in hopes of helping those who may be going through the same things or preventing them from experiencing them altogether. Recently, the Flawless by Gabrielle Union founder partnered with Clearblue to speak at the launch of their Menopause Stage Indicator, where she also shared her experience with being perimenopausal.
In a xoNecole exclusive, the iconic actress opens up about embracing this season of her life, new projects, and overall being a "bad motherfucker." Gabrielle reveals that she was 37 years old when she was diagnosed with perimenopause and is still going through it at 51 years old. Mayo Clinic says perimenopause "refers to the time during which your body makes the natural transition to menopause , marking the end of the reproductive years."
"I haven't crossed over the next phase just yet, but I think part of it is when you hear any form of menopause, you automatically think of your mother or grandmother. It feels like an old-person thing, but for me, I was 37 and like not understanding what that really meant for me. And I don't think we focus so much on the word menopause without understanding that perimenopause is just the time before menopause," she tells us.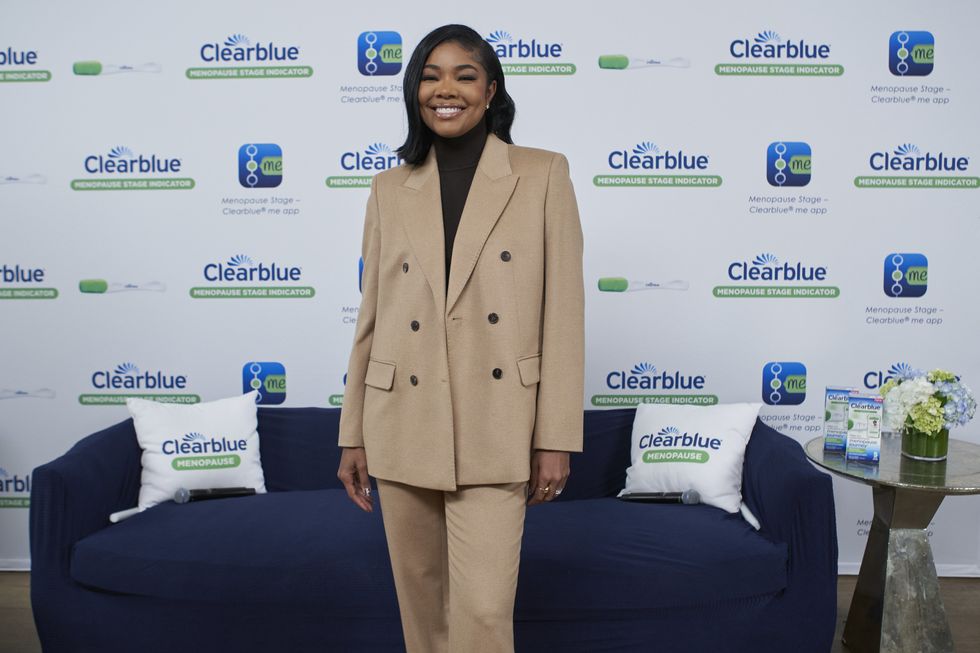 Gabrielle Union
Photo by Brian Thomas
"But you can experience a lot of the same things during that period that people talk about, that they experienced during menopause. So you could get a hot flash, you could get the weight gain, the hair loss, depression , anxiety , like all of it, mental health challenges , all of that can come, you know, at any stage of the menopausal journey and like for me, I've been in perimenopause like 13, 14 years. When you know, most doctors are like, 'Oh, but it's usually about ten years, and I'm like, 'Uhh, I'm still going (laughs).'"
Conversations about perimenopause, fibroids, and all the things that are associated with women's bodies have often been considered taboo and thus not discussed publicly. However, times are changing, and thanks to the Gabrielle's and the Tia Mowry 's, more women are having an authentic discourse about women's health. These open discussions lead to the creation of more safe spaces and support for one another.
"I want to be in community with folks. I don't ever want to feel like I'm on an island about anything. So, if I can help create community where we are lacking, I want to be a part of that," she says. "So, it's like there's no harm in talking about it. You know what I mean? Like, I was a bad motherfucker before perimenopause. I'm a bad motherfucker now, and I'll be a bad motherfucker after menopause. Know what I'm saying? None of that has to change. How I'm a bad motherfucker, I welcome that part of the change. I'm just getting better and stronger and more intelligent, more wise, more patient, more compassionate, more empathetic. All of that is very, very welcomed, and none of it should be scary."
The Being Mary Jane star hasn't been shy about her stance on therapy . If you don't know, here's a hint: she's all for it, and she encourages others to try it as well. She likens therapy to dating by suggesting that you keep looking for the right therapist to match your needs. Two other essential keys to her growth are radical transparency and radical acceptance (though she admits she is still working on the latter).
"I was a bad motherfucker before perimenopause. I'm a bad motherfucker now, and I'll be a bad motherfucker after menopause. Know what I'm saying? None of that has to change. How I'm a bad motherfucker, I welcome that part of the change."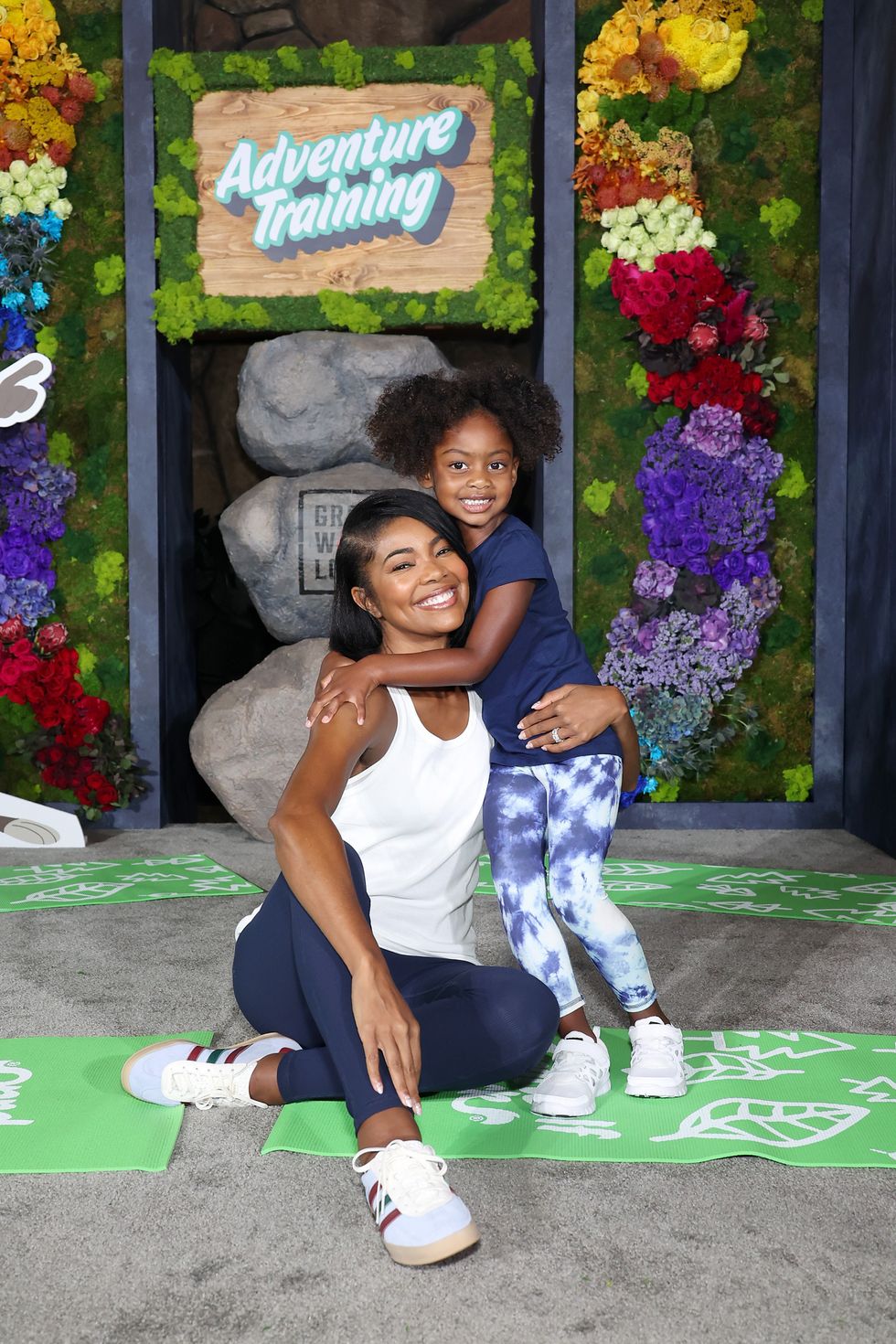 Gabrielle Union and Kaavia Union-Wade
Photo by Monica Schipper/Getty Images
"I hope that a.) you recognize that you're not alone. Seek out help and know that it's okay to be honest about what the hell is happening in your life. That's the only way that you know you can get help, and that's also the only other way that people know that you are in need if there's something going on," she says, "because we have all these big, very wild, high expectations of people, but if they don't know what they're actually dealing with, they're always going to be failing, and you will always be disappointed. So how about just tell the truth, be transparent, and let people know where you are. So they can be of service, they can be compassionate."
Gabrielle's transparency is what makes her so relatable, and has so many people root for her. Whether through her TV and film projects, her memoirs, or her social media, the actress has a knack for making you feel like she's your homegirl. Scrolling through her Instagram, you see the special moments with her family, exciting new business ventures , and jaw-dropping fashion moments. Throughout her life and career, we've seen her evolve in a multitude of ways. From producing films to starting a haircare line to marriage and motherhood , her journey is a story of courage and triumph. And right now, in this season, she's asking, "What's next?"
"This is a season of discovery and change. In a billion ways," says the NAACP Image Award winner. "The notion of like, 'Oh, so and so changed. They got brand new.' I want you to be brand new. I want me to be brand new. I want us to be always constantly growing, evolving. Having more clarity, moving with different purpose, like, and all of that is for me very, very welcomed."

"I want you to be brand new. I want me to be brand new. I want us to be always constantly growing, evolving. Having more clarity, moving with different purpose, like, and all of that is for me very, very welcomed."
She continues, "So I'm just trying to figure out what's next. You know what I mean? I'm jumping into what's next. I'm excited going into what's next and new. I'm just sort of embracing all of what life has to offer."
Look out for Gabrielle in the upcoming indie film Riff Raff , which is a crime comedy starring her and Jennifer Coolidge, and she will also produce The Idea of You , which stars Anne Hathaway.
Feature image by Mike Lawrie/Getty Images

Keke Palmer and Casandra "Cassie" Ventura are two of the most recent prominent Black women who have spoken out about their current and past abuse by intimate partners. These conversations seem to be happening more frequently today, but the truth is domestic violence and sexual abuse of Black women within the Black community is not new.
According to the National Coalition Against Domestic Violence (NCADV), 45.1 percent of Black women will experience physical violence, sexual violence, and/or stalking by an intimate partner in their lifetime, in contrast to 30.2 percent of their white counterparts who experience similar abuse. Additionally, the Black Women's Health Project also found Black women are three times more likely to be killed by a partner than white women.
As a result of these findings, it determined that domestic violence is the number one health issue facing Black women today.
Despite these stark statistics the prevalent misogynoir Black women face within their community further reinforce the stigma , victim-blaming , and culture of silence that prevent Black women from seeking help when experiencing abuse. Both Palmer and Ventura are examples of how Black women suffer in silence for years at the hands of an abusive partner. In Palmer's court filings , she alleged Darius Jackson, her son's father, abused her in multiple instances over two years. Yet, not until recently did she seek help from the courts to obtain a restraining order and sole custody of her son.
Likewise, Ventura's lawsuit highlighted over a decade's worth of alleged domestic violence , sexual abuse , and sex trafficking . Though Ventura and Sean Combs' relationship ended in 2018, she shared the importance of speaking out now instead of remaining silent. "After years in silence and darkness, I am finally ready to tell my story, and to speak up on behalf of myself and for the benefit of other women who face violence and abuse in their relationships," she shared in a statement .
Though many prominent Black women such as Rihanna, Tina Turner, Kelly Rowland, and Megan Thee Stallion have spoken out about their experiences with domestic violence , there is still a great stigma regarding the issue in the Black community.
This stigma and lack of protection for Black women manifests through people questioning the validity of Black women's claims, which we saw on full display in the case against Tory Lanez on behalf of Megan.
We still see it in the way people make tasteless jokes about the late Tina Turner's abuse from Ike Turner; and even in how people questioned "what Rihanna did" to Chris Brown for him to hurt her in such a way. Actions and behaviors such as these lead to the staggering reality that 91 percent of Black women are killed by someone they knew according to a study conducted by the University of Illinois Chicago.
This study also highlighted the fact that the leading cause of death for Black women between the ages of 15 and 45 is murder by an intimate partner.
As someone who has experienced physical violence in an intimate relationship, I can attest to the anxiety and doubt I felt in sharing my truth with others. Even though there was physical proof to corroborate my claims, all I could think of were the words my mother said when the news of Rihanna and Chris Brown came out, "She did something to that boy for him to do that to her."
I share this story because even though the celebrities we see going through these experiences may never hear the conversations we have behind closed doors, there are women in our lives who are experiencing the same things and won't speak up because of what we say.
I still remember the feeling of self-blame in my relationship with physical proof of abuse appearing on my body and the mindset that if I were only somehow a better partner and more "submissive" in my relationship these things wouldn't continue to happen.
However, what I and all other abuse survivors know is that there is nothing you can do to appease your abuser, and the only true way to end the abuse is to leave the relationship in the safest manner possible.
Yet, what many abuse survivors also know is leaving is one of the most difficult challenges in an abusive relationship . On average it takes victims of abuse seven attempts to leave their abuser and stay separated for good according to RESPOND Inc. , New England's first domestic violence agency. Though physical and sexual abuse are often discussed the most in conversations of domestic violence and abuse we need to acknowledge that it often begins with mental and emotional gaslighting and manipulation .
According to the (NCADV) 53.8 percent of Black women will experience psychological aggression by a partner in their lifetimes. In Kelly Rowland's 2013 song "Dirty Laundry," she showcases how psychological abuse appears in relationships with lyrics, "he said, 'Don't nobody love you but me Not your mama, not your daddy and especially not Bey.'"
As Black women continue to speak out about their violence and challenge their abusers, it is also important for the Black community to create a safe space for them to do so. If a friend or family member confides in you about experiencing abuse be supportive and listen, avoid casting blame on them, and most importantly ask them what they want to do in terms of the next steps or leaving the relationship .
Lastly, if you or someone you know is experiencing intimate partner abuse and wants help reach out to National Domestic Violence Hotline 1.800.799.SAFE (7233) for support and resources.
Let's make things inbox official! Sign up for the xoNecole newsletter for daily love, wellness, career, and exclusive content delivered straight to your inbox.
Featured image via Getty Images