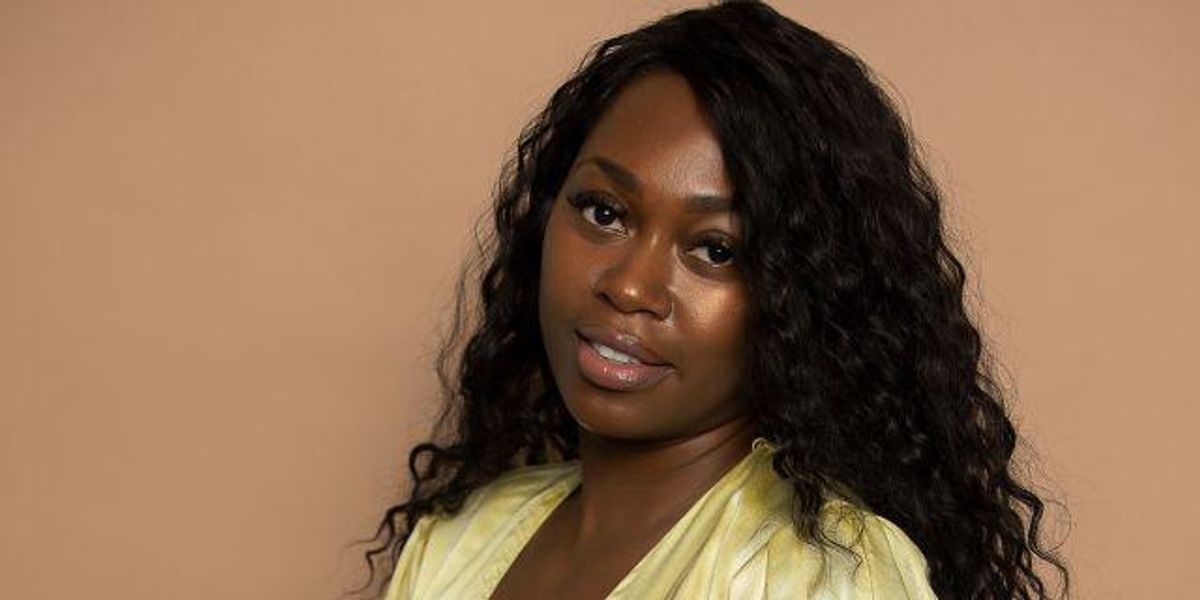 Black Woman Owned
The Black Girl Sunscreen Founder Transformed A Niche Product Into A National Brand
What if I told you, "Black people get sunburned too?" On the surface, the statement could come off as offensively obvious or even controversial depending on which end of the belief spectrum you stand on. Among the plethora of misconceptions surrounding melanated skin, the latter comes as one of the greatest fallacies to combat since much of the conversation surrounding it has been, quite literally, black and white.
---
For decades, sunscreen products have been reserved for people with lighter and less melanated skin. Although it's true that folks of darker complexions benefit from the built-in shield of melanin that protects them against the sun's damaging UV rays, this notion subsequently created the myth that Black people don't need sunscreen at all; which isn't the case. As education around skincare and skin health in our community widens, one simple, yet profound truth has become clear: the sun doesn't discriminate .

Thankfully, there is one entrepreneur on the mission to bring light to the importance of sun protection for people of color , proving that even though our melanin glows as if it's magic, you better believe that it needs protection.
My Skin Is Black
For Shontay Lundy , founder of Black Girl Sunscreen , early knowledge of sun protection came in the form of self-education and personal experience. Growing up, Shontay became aware that her deeply-hued complexion was in need of a shield from the sun's harmful UV rays as well as harsh, verbal assaults. "I wouldn't say I had complexion issues… or maybe I did… but I had a phobia of getting darker," she revealed to xoNecole. "When I was growing up, Black wasn't necessarily beautiful. I was called 'Blackie' and I wanted to maintain the color that I was."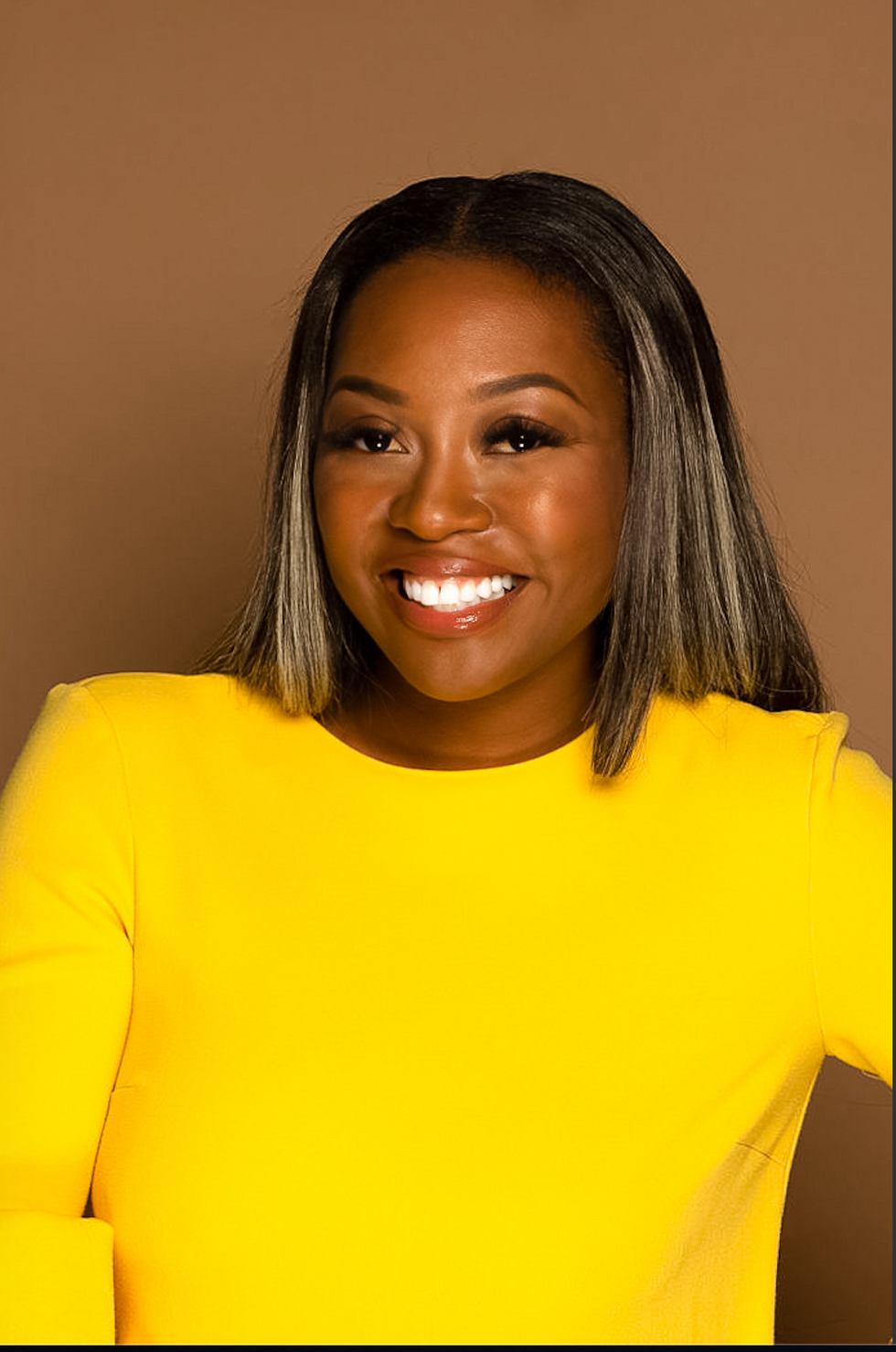 Courtesy of Shontay Lundy
"When I was growing up, Black wasn't necessarily beautiful. I was called 'Blackie' and I wanted to maintain the color that I was."
Since empowering colloquialisms like "Black Girl Magic" weren't around for her to access in her time of need, the best way for Shontay to persevere her skin and self-esteem was to either opt-out of outdoor events and activities like pool parties and beach trips, or invest in the only sun protection she could access, "I would be the girl who would pay $25 for the pricey umbrella just so I wouldn't get darker or sunburned."
This journey stressed the importance of self-love and acceptance while acting as the catalyst that motivated her to seek out information around skin protection for women who represented her story and resembled her identity. "I felt like general market sunscreen products never included Black people in their ads; you never saw Black people frolicking on the beach, basking in the sun, or on vacation," Shontay shared with xoNecole. In the case of representation , it became glaringly clear just how difficult it can be to know what you need if you've never seen it before; so she went looking for it.
Shontay's initial discovery phase for sunscreen fell short of her expectations. After googling phrases like, "sunscreen for Black girls", she soon found that no one was speaking to Black girls directly about protecting their skin and it became profoundly evident that there was a gaping hole in the market that needed to be filled. As Shontay puts it, "I recognized that women of color needed something that was dedicated to them and spoke to them. I said to myself, this is clearly a problem, what can I do about it? "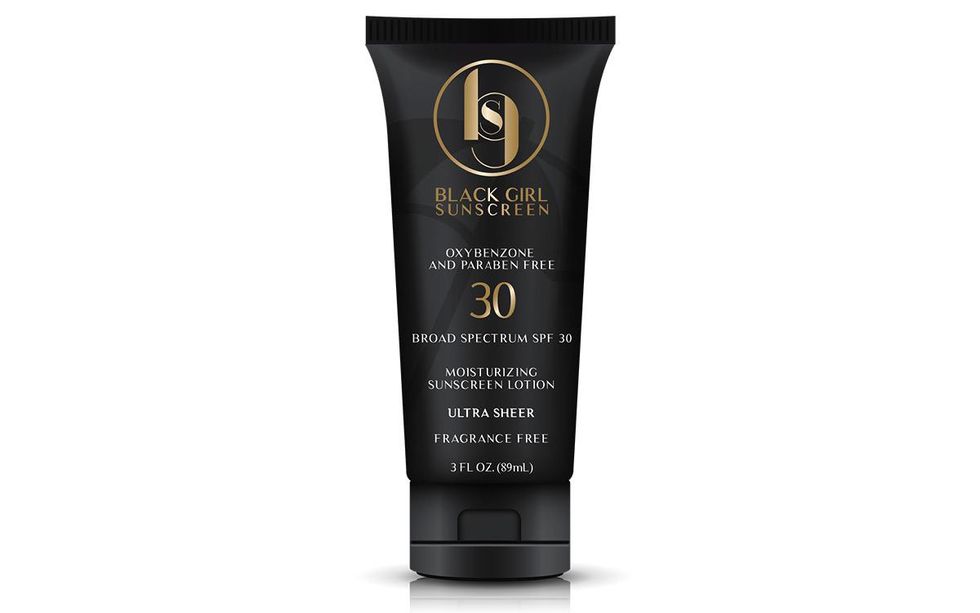 Courtesy of Shontay Lundy
"I recognized that women of color needed something that was dedicated to them and spoke to them. I said to myself, this is clearly a problem, what can I do about it?"
For Us By Us
The beginning stages of her journey into entrepreneurship would come with their own set of challenges. In the earliest stages of Black Girl Sunscreen, Shontay was fresh out of a corporate career, with no formal beauty or skincare experience under her belt. Coupled with industry gatekeepers and investors who were reluctant to believe that Black people needed sunscreen, let alone would actually pay for the product, demystifying these mindsets was half the battle. Shontay understood that she had to work twice as hard to convince investors and her community that sunscreen was for more than sun-related activity or travel and holiday and that Black people could participate in the product too. "Our mission is to start the conversation and continue to educate Black and brown women on sun safety. Not everyone is open to changing their behaviors as far as incorporating something new into their skincare regimen."
Shontay believed in her customer because she was her own customer. "I'm coming from a place where I know why women of color aren't wearing sunscreen," Shontay shares. And what were those reasons? Traditional sunscreens tend to oxidize on the skin, thus resulting in a ghostly, white cast, which can be unflattering on Black and brown skin. That, paired with the fact that Black people have been disproportionately excluded from the research and information surrounding sun protection, Black Girl Sunscreen would undertake the task of providing a solution to an underserved market through community and connection by empowering Black women to take agency over their skin health.
Through a series of strategic social media marketing campaigns and the all-powerful force of word of mouth, the Black Girl Sunscreen brand began to spread online like wildfire. Since its launch in 2016, the fragrance-free, cruelty-free, SPF 30 moisturizing sunscreen has become a cult skincare staple. With natural ingredients like avocado, jojoba, aloe, cocoa butter, and carrot juice, it truly lives up to its name and is certified 'Black Girl Friendly,' and most importantly: no white residue!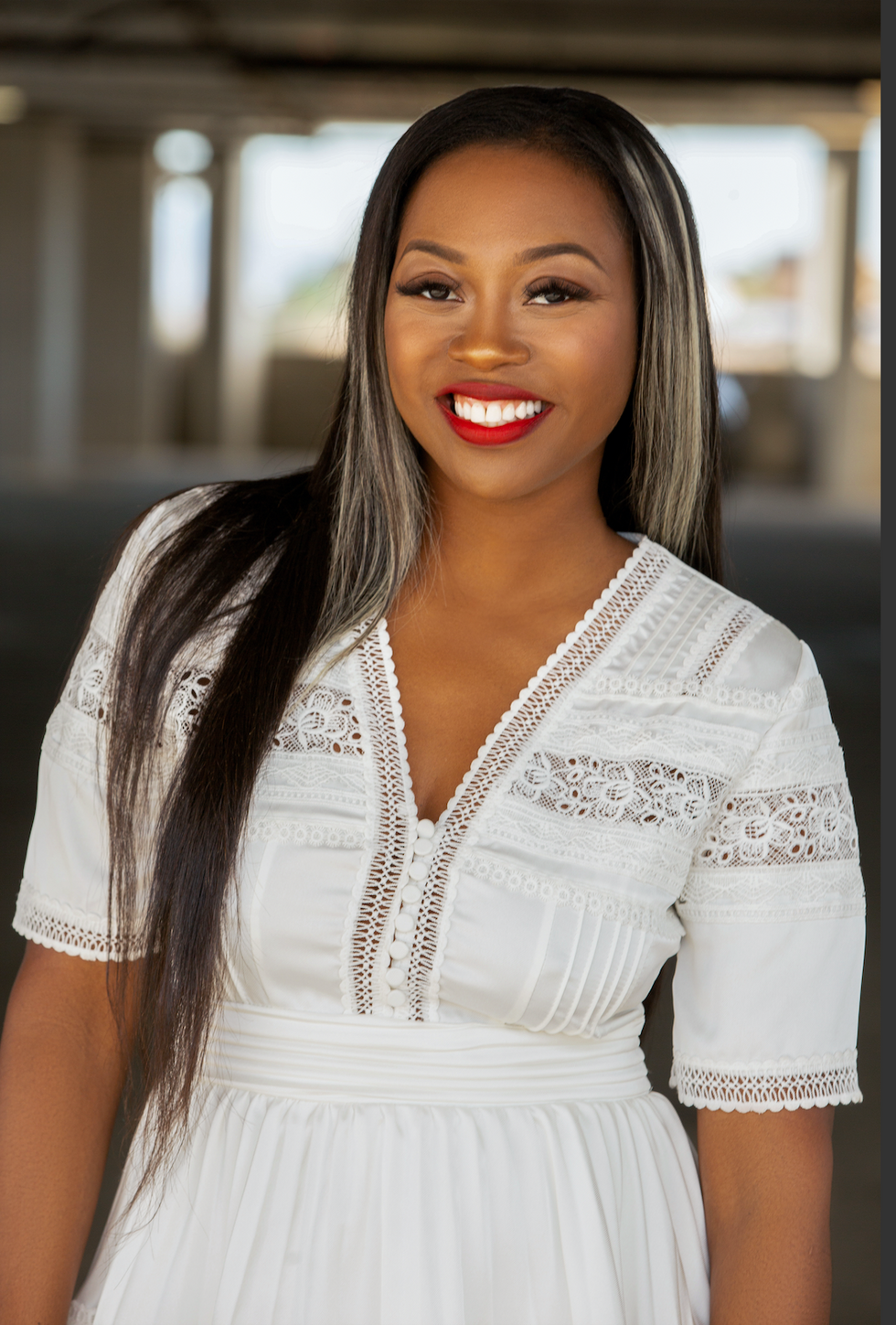 Courtesy of Shontay Lundy
Black Girl Magic, Y'all Can't Stand It
In May, the brand secured a $1 million dollar investment from a private female funding source. This milestone speaks to the power that ignites when women are fully supported and substantially funded and sets an example for what is possible for Black women entrepreneurs that are sure to follow in Shontay's footsteps, "It's a great time to be a Black woman. I love seeing women win, I know we've carried strength all of our lives. I've always been taught to be confident and to be strong. I think it's amazing that Black women are breaking barriers in so many different fields and industries."
Today, Black Girl Sunscreen is the only indie black-owned brand carried full-time in Target's sun care section; an achievement that Shontay doesn't take lightly, "When we initially started with Black Girl Sunscreen, Black beauty brands didn't take up a whole aisle; they only had a section, and you had limited options. When Black Girl Sunscreen was created, I said, 'We are entering an industry, not just a section.' We worked really hard for this, and I firmly believe that you get what you work for."
For those beginning in entrepreneurship, entering a niche market with such a distinct target audience may seem like a risky leap of faith, but Shontay's journey proves that the greatest risks can produce profound results. It serves as one of its kind for dark complexions, ethnic skin, and people of color. She trusted her vision and the value that Black Girl Sunscreen would provide to her community, all while cultivating a new mindset and boosting awareness around Black and brown people wearing sunscreen; for us and by us.
For more on Shontay Lundy follow her Instagram @shontay_lundy, and to purchase your very own sunscreen, click here .
Featured image courtesy of Shontay Lundy
Originally published on January 18, 2021
Aley Arion
Aley Arion is a writer and digital storyteller from the South, currently living in sunny Los Angeles. Her site, yagirlaley.com , serves as a digital diary to document personal essays, cultural commentary, and her insights into the Black Millennial experience. Follow her at @yagirlaley on all platforms!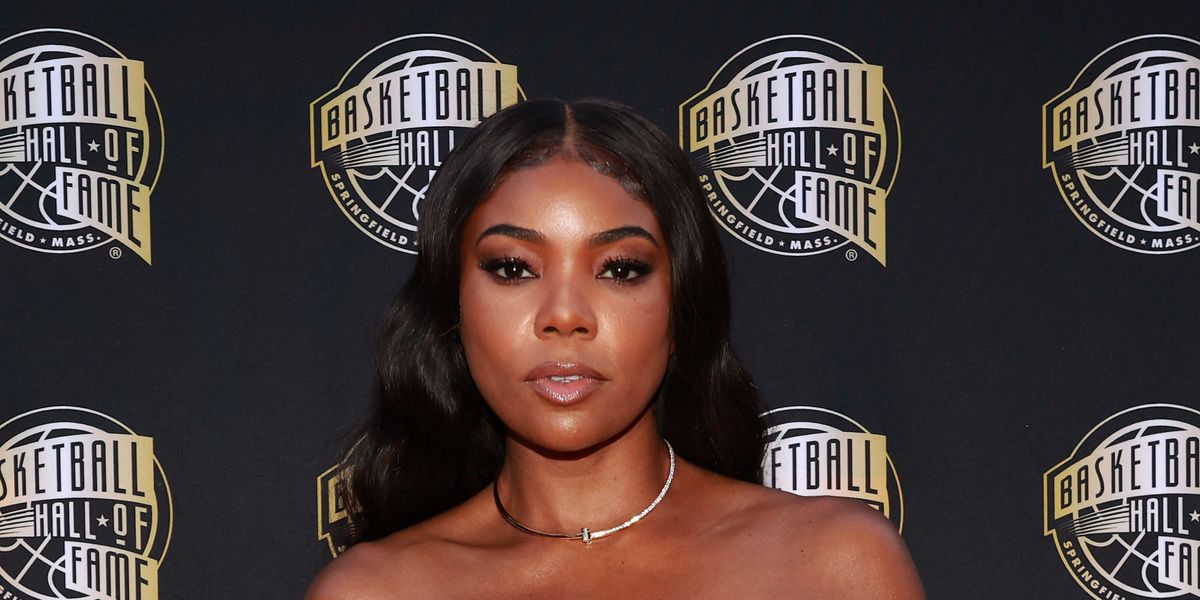 Whenever Gabrielle Union graces the movie screen, she immediately commands attention. From her unforgettable scenes in films like Bring It On and Two Can Play That Game to her most recent film, in which she stars and produces Netflix's The Perfect Find , there's no denying that she is that girl.
Off-screen, she uses that power for good by sharing her trials and tribulations with other women in hopes of helping those who may be going through the same things or preventing them from experiencing them altogether. Recently, the Flawless by Gabrielle Union founder partnered with Clearblue to speak at the launch of their Menopause Stage Indicator, where she also shared her experience with being perimenopausal.
In a xoNecole exclusive, the iconic actress opens up about embracing this season of her life, new projects, and overall being a "bad motherfucker." Gabrielle reveals that she was 37 years old when she was diagnosed with perimenopause and is still going through it at 51 years old. Mayo Clinic says perimenopause "refers to the time during which your body makes the natural transition to menopause , marking the end of the reproductive years."
"I haven't crossed over the next phase just yet, but I think part of it is when you hear any form of menopause, you automatically think of your mother or grandmother. It feels like an old-person thing, but for me, I was 37 and like not understanding what that really meant for me. And I don't think we focus so much on the word menopause without understanding that perimenopause is just the time before menopause," she tells us.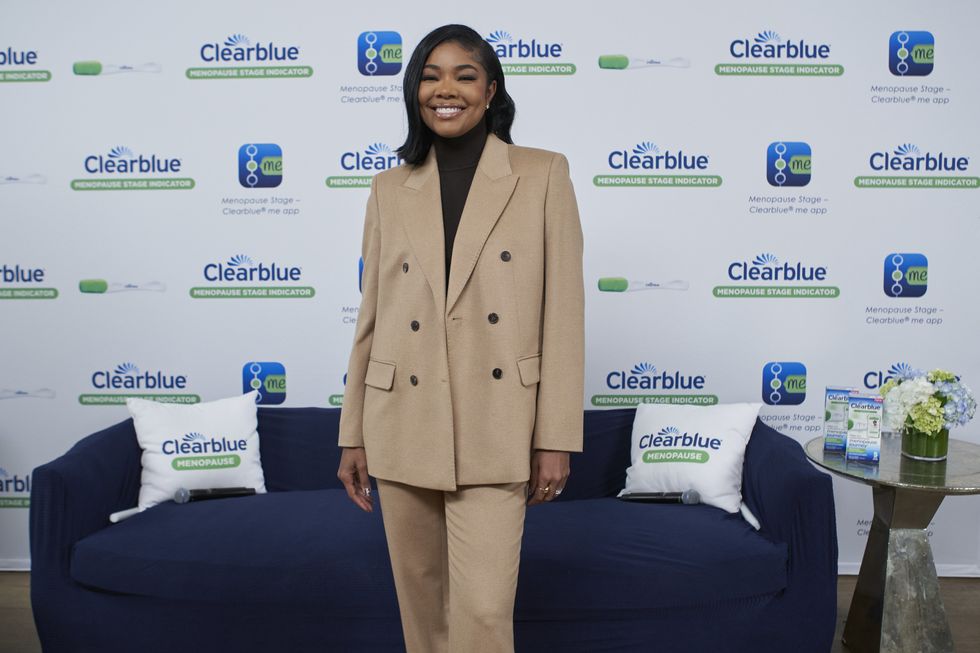 Gabrielle Union
Photo by Brian Thomas
"But you can experience a lot of the same things during that period that people talk about, that they experienced during menopause. So you could get a hot flash, you could get the weight gain, the hair loss, depression , anxiety , like all of it, mental health challenges , all of that can come, you know, at any stage of the menopausal journey and like for me, I've been in perimenopause like 13, 14 years. When you know, most doctors are like, 'Oh, but it's usually about ten years, and I'm like, 'Uhh, I'm still going (laughs).'"
Conversations about perimenopause, fibroids, and all the things that are associated with women's bodies have often been considered taboo and thus not discussed publicly. However, times are changing, and thanks to the Gabrielle's and the Tia Mowry 's, more women are having an authentic discourse about women's health. These open discussions lead to the creation of more safe spaces and support for one another.
"I want to be in community with folks. I don't ever want to feel like I'm on an island about anything. So, if I can help create community where we are lacking, I want to be a part of that," she says. "So, it's like there's no harm in talking about it. You know what I mean? Like, I was a bad motherfucker before perimenopause. I'm a bad motherfucker now, and I'll be a bad motherfucker after menopause. Know what I'm saying? None of that has to change. How I'm a bad motherfucker, I welcome that part of the change. I'm just getting better and stronger and more intelligent, more wise, more patient, more compassionate, more empathetic. All of that is very, very welcomed, and none of it should be scary."
The Being Mary Jane star hasn't been shy about her stance on therapy . If you don't know, here's a hint: she's all for it, and she encourages others to try it as well. She likens therapy to dating by suggesting that you keep looking for the right therapist to match your needs. Two other essential keys to her growth are radical transparency and radical acceptance (though she admits she is still working on the latter).
"I was a bad motherfucker before perimenopause. I'm a bad motherfucker now, and I'll be a bad motherfucker after menopause. Know what I'm saying? None of that has to change. How I'm a bad motherfucker, I welcome that part of the change."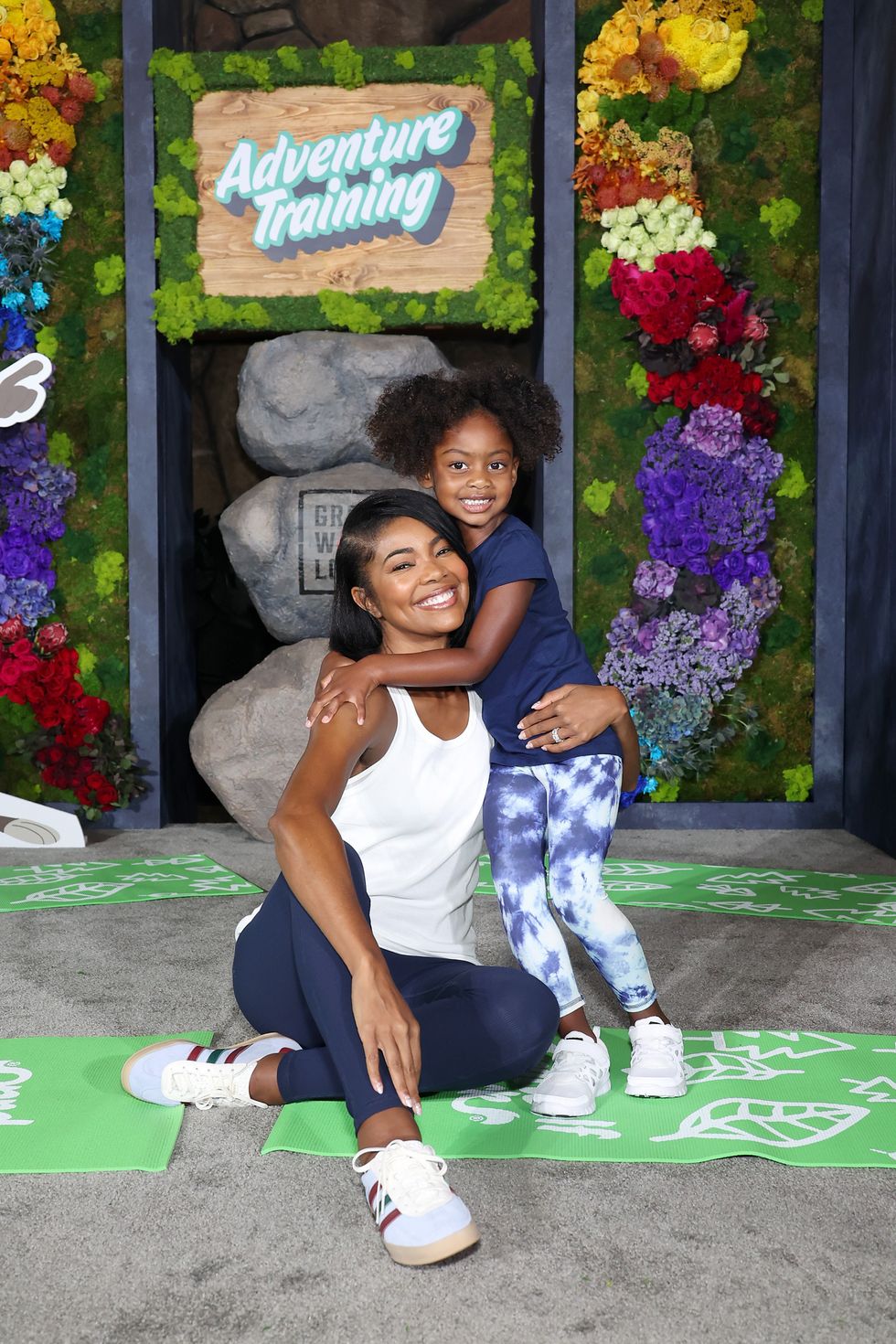 Gabrielle Union and Kaavia Union-Wade
Photo by Monica Schipper/Getty Images
"I hope that a.) you recognize that you're not alone. Seek out help and know that it's okay to be honest about what the hell is happening in your life. That's the only way that you know you can get help, and that's also the only other way that people know that you are in need if there's something going on," she says, "because we have all these big, very wild, high expectations of people, but if they don't know what they're actually dealing with, they're always going to be failing, and you will always be disappointed. So how about just tell the truth, be transparent, and let people know where you are. So they can be of service, they can be compassionate."
Gabrielle's transparency is what makes her so relatable, and has so many people root for her. Whether through her TV and film projects, her memoirs, or her social media, the actress has a knack for making you feel like she's your homegirl. Scrolling through her Instagram, you see the special moments with her family, exciting new business ventures , and jaw-dropping fashion moments. Throughout her life and career, we've seen her evolve in a multitude of ways. From producing films to starting a haircare line to marriage and motherhood , her journey is a story of courage and triumph. And right now, in this season, she's asking, "What's next?"
"This is a season of discovery and change. In a billion ways," says the NAACP Image Award winner. "The notion of like, 'Oh, so and so changed. They got brand new.' I want you to be brand new. I want me to be brand new. I want us to be always constantly growing, evolving. Having more clarity, moving with different purpose, like, and all of that is for me very, very welcomed."

"I want you to be brand new. I want me to be brand new. I want us to be always constantly growing, evolving. Having more clarity, moving with different purpose, like, and all of that is for me very, very welcomed."
She continues, "So I'm just trying to figure out what's next. You know what I mean? I'm jumping into what's next. I'm excited going into what's next and new. I'm just sort of embracing all of what life has to offer."
Look out for Gabrielle in the upcoming indie film Riff Raff , which is a crime comedy starring her and Jennifer Coolidge, and she will also produce The Idea of You , which stars Anne Hathaway.
Feature image by Mike Lawrie/Getty Images

I tried sliding into my crush's DMs like Vanessa Hudgens successfully did to her soon-to-be husband, Cole Tucker, after she met him during a Zoom meditation group call. For me, it was akin to a backfired romance in a Mara Brock Akil comedy series.
At the wiser age of 30, I stopped side-eyeing online dating and acquiesced to the possibility of finding love in the digital realm. My one rule: He has to take the lead . I wouldn't strike up a single conversation once the confetti cues burst that we're a match. That rule trotted out the door once I swiped on a presumably tall, brawn, and accomplished venture capitalist sporting a million-dollar smile.
The clock was ticking; our match would expire in mere hours if one of us didn't take the gambit. Screw it . I made the first intro, and the suave VC responded. Turned out we had a close mutual friend, too.
He had an upcoming business trip but said he'd reach out once he returned. I never heard from the VC guy until one year later when I mistakenly ambled into what felt like a zombie ambush at an intimate Thanksgiving gathering our mutual friend held. Then and there, I vowed never again to take the lead at the precipice of dating !
At 36, however, I surreptitiously stumbled across a mutual acquaintance who left me breathless at one of my girlfriend's husband's 40th surprise birthday celebration.
Featured image by Delmaine Donson/Getty Images