As Told To is a recurring segment on xoNecole where real women are given a platform to tell their stories in first-person narrative as told to a writer.
This is Maya's story, written by Charmin Michelle.
I know this may come to a surprise so many, but here we are. Yes, I got a BBL. If you aren't aware, a BBL is a Brazilian Butt Lift, a cosmetic surgery process where the doctor uses a combination of liposuction and fat-grafting, transfers the fat into the butt, resulting in added volume, defined curves, and a lift. It is technically lipo and a fat transfer. But yeah girl, this has been on my to-do list for a while. And now that I am able to afford it, I went for it.
---
This was a really personal decision for me to get one, and I also went back and forth on whether I would share. In the end, I am in a position to share what I know, so I decided to do so. It could help other women who are considering the surgery make a more informed decision. So, here we go:
Why, sis? Why did you get a BBL?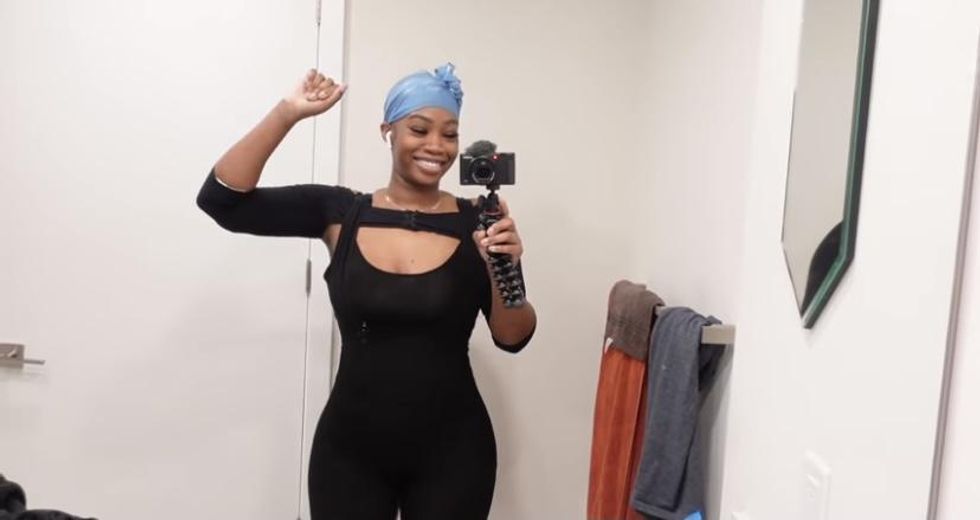 Maya Galore/YouTube
For my surgery, I got 360 lipo, meaning the doctor took fat from my entire abdomen, my love handles, my entire back, my arms, and my sides. I got a fat transfer which means my doctor just took that fat, and put it somewhere else. The fat was then injected into my hips and my butt, creating the hourglass shape I was going for.
I am actually not one of those people who got a BBL to get a fat butt, to be twerking, as someone looking for clout, or whatever. To be honest, I didn't even do this for my career. I got a BBL specifically to have a more feminine look about my body. I wanted an hourglass shape, being that that's not something I was born with. And like most women, I've always have body issues, or things I didn't like, so the things this surgery did for me, I could not have gotten in anybody's gym. Plain and simple. I have been super, super, super fit before—working out, eating clean, all of that—and I had no curves whatsoever. Like...none.
So my decisions had nothing to do with anyone else—my friends, my family, my man. I wanted to look more feminine in my clothing and I just wanted to be happy with myself when no one was in the room but me and Jesus.
And I have been considering this for years. I know it's easy to say that I got one because it's trendy or popular, or whatever the case may be, but I have been researching this for a long time. This is nothing new, ladies. There is nothing new about it. And I had been researching BBLs hard.
Let's talk numbers: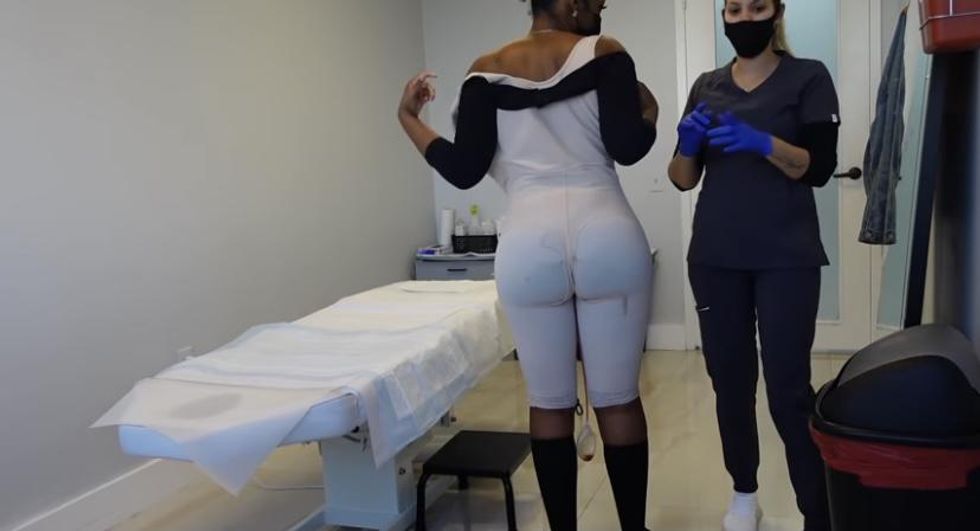 Maya Galore/YouTube
If you are familiar with BBLs, or if you've been doing your research, then you are familiar with Dr. Fisher in Miami, who conducted my surgery. His prices are on the expensive side, my entire BBL surgery—minus the arms—cost $8,000. I added my arms for another thousand, totaling $9,000. This price includes the surgery, my post-op care, the first five massages at his facility afterwards, and more.
A little BBL preparation insight: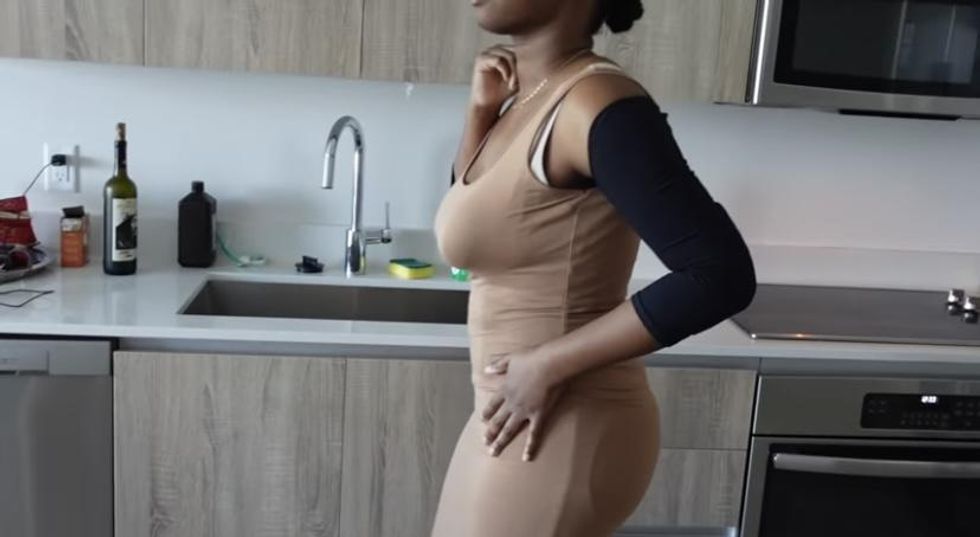 Maya Galore/YouTube
OK, so 30 days leading up to my surgery, I had to stop taking all my vitamins, I couldn't drink alcohol, no drugs, and no medications. I tried to eat clean because doctors advise you to be close to your goal weight before having the surgery to avoid trying to lose weight after (and potentially alter results). You have to get blood work done, and have approved labs prior as well. Sidebar: I was on keto but had to get off because they messed up my labs. Once I began eating food from all food groups, my levels were good to go for surgery.
Obviously, because of the times, I had to take a COVID test as well. You will also need excess fat for the procedure, which is another reason I chose not to lose weight before surgery. You will need a BMI of 32 or less.
Dr. Fisher took 4,000 ccs, the maximum amount of fat you can transfer, and put almost took exactly 2,000 cc's in each butt cheeks and hips.
How is the healing process for a BBL?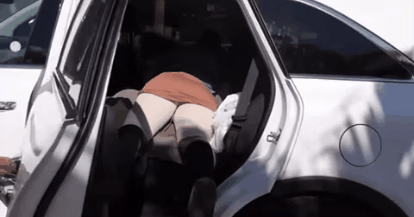 Maya Galore/YouTube
The healing process is...something. You learn the tips and tricks of many things that you've never even thought of before. Things like wearing foam boards under your shapewear to tighten skin, or drains, or placing a marble in your belly button to prevent the skin from hanging too low. I had on waist trainers (and more) all the time. The scars are everywhere your lipo entry points are for both removing fat, as well as taking it out. I couldn't take a bath, couldn't get in the pool for six weeks. And using the bathroom is a new normal (and super uncomfortable).
Everything is uncomfortable. Everything.
The bulk of healing or recovery comes from your lipo areas, not even your butt or hips. You can't sit down until three weeks after surgery, but when that period is over, it's important to ease into it to begin the softening process because you'll notice that it's not soft like a normal booty for a while. The sooner you start to sit, the faster it gets soft. Please keep in mind that doctors cannot change your genetics and they can only work with what you have. This is why BBLs look different on everyone.
I wore four foam boards in my faja (shapewear), and a triangle on my back to create the dip. It's important to note that you're not fully healed, or won't see full results, until six months later despite feeling normal immediately, or not feeling sick.
Also, there is no maintenance for BBLs, which is a perk.
Any regrets?
Having the BBL surgery is something that is extremely personal for me. I did something to improve myself and this is a part of my self-love journey and it's all about loving on yourself, regardless of what that looks like for you.
Financially, I was more than OK, I made this choice when it was a good time for me.
Spiritually, I was a mess. I prayed to God that this was the right thing to do. Every little sign where I questioned if getting a BBL was a part of my story, I paid attention to. He and I talked a LOT. But he gave me the confirmation I needed to move forward, which is why I did.
And honestly, not everyone understands this. Many people questioned my integrity, or somehow thought I was above having cosmetic surgery, and it's so hard for me to rationalize why people were shocked. But, listen, I am a woman with her own personal body issues at the end of the day. I feel like, of all the things to discuss about my experience in having a BBL, that that isn't one that I should have to explain. This is a reflection of something I've been going through my whole life with my body, and it was a choice I made, that I'm super happy about.
This was self-love for me. I loved myself enough to get myself out of that negative space that I felt about myself and my body.
And for that, I couldn't be any happier with my decision.
Maya is a social media influencer and has a beauty channel on YouTube where she sometimes blogs about her daily life. Follow her on Instagram @maya_galore.
Featured image via Maya Galore/Instagram