Joie Chavis has been fitness goals for many of us since she danced her way into our hearts a few years ago. She is a mother of two, one being kid superstar Shai Moss, and a fitness influencer, as owner of Joie In Life fitness brand. She also has her own YouTube channel, where she showcases her daily life as an entrepreneur and mom, a channel that has well over 140K subscribers.
---
Recently, she uploaded a video on her channel discussing all things fitness, from tips and tricks, to her own experiences. And because sis has bawdy-ody-ody-ody-ody, anything she has to say about achieving a healthier lifestyle in order to look like that, well, consider me front row. Like, Seat 1, Row 1 m'kay?
Continue reading for a few quick tips to get our bodies together for the rest of the summer!

Disclaimer: Joie is not a licensed nutritionist or trainer, these tips are based on what works for her.
On How To Gain Weight & Get Thick: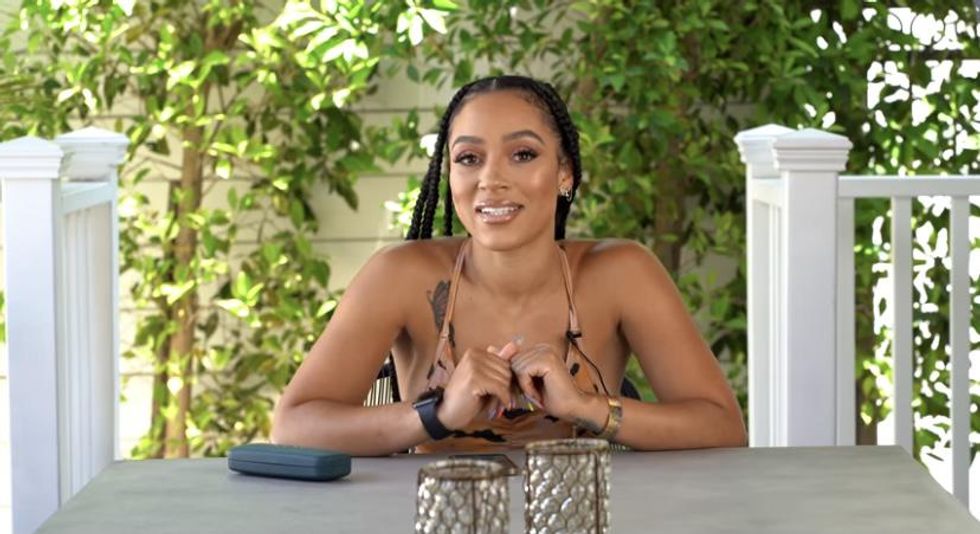 Joie Chavis/YouTube
Joie opens the video with a quick introduction, and hops right in.
The first question? How can we get thicker, sis?! Well, her answer is simple: be consistent and lift weights.
"People stray away from lifting weights because they're scared they're going to get bulky. Don't be afraid of lifting weights. The weights are going to help you build the muscle. It's going to help give you muscle tone in your legs and arms along with eating a lot of protein."
Here's what she recommends: Lift, lift, lift, and incorporate protein shakes into your diet to help gain healthy weight.
On Why It's So Hard To Get Rid Of Your Tummy: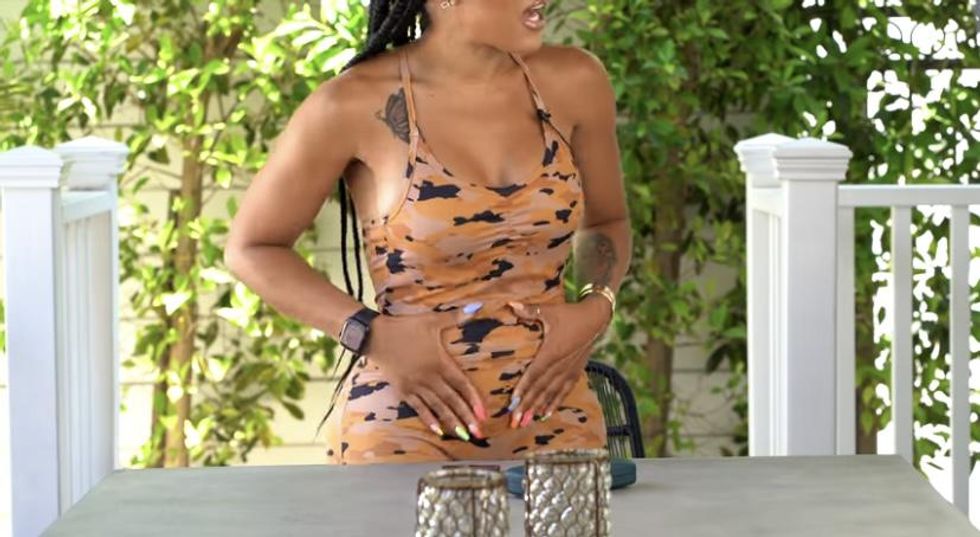 Joie Chavis/YouTube
"The stomach is the hardest area to tone, especially if you're so up and down with your weight or you've had kids and you have loose skin. That's where your uterus is so you can't get rid of it, but you can tone your stomach. It's mostly just cardio that I do to keep my stomach tight, and diet. Diet is so important."
Here's what she recommends: Start small. Try a week without eating breads/flour, sweets, dairy, or sodas, and double your protein. "I promise you, it'll make a huge difference."
On If You Should Focus On Cardio Or Strength Training In Order To Lose Weight: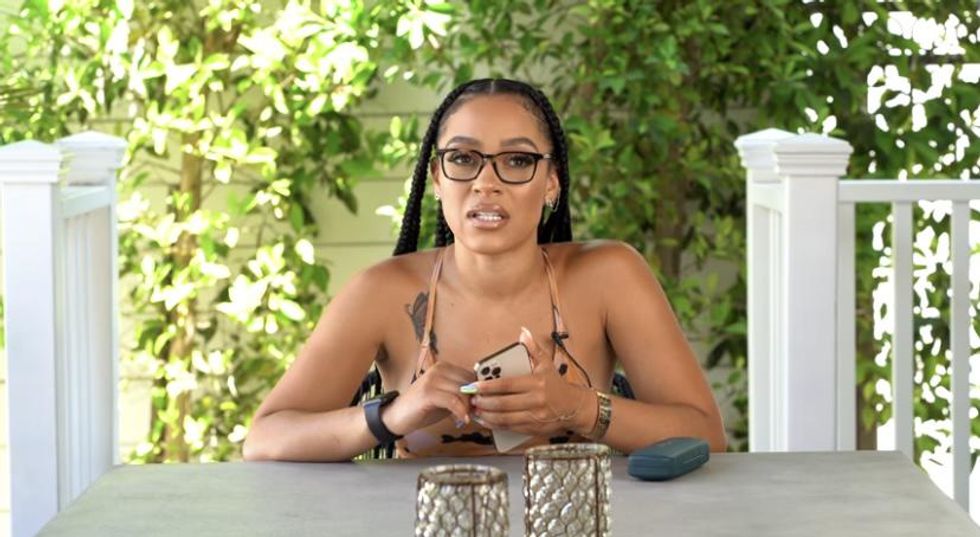 Joie Chavis/YouTube
Joie reveals that she notices that she has better results when she does both to tighten up.
"I would do both. If you're trying to lose weight, I feel like, you should do both because you don't want to lose so much weight from cardio and you're super flabby or you have loose skin but you have no muscle tone, no definition, you just lost weight. I would do weightlifting and cardio. Intense cardio, though."
Here's what she recommends: Sprints, stairs, weightlifting, and clean dieting.
On If Waist Trainers Are For Back Support Or Losing Inches: 
"Both. It gives you really good posture. The more you wear it, and sweat with it, and eat with it on, you're [also] not going to eat as much."
Joie On How Long It Took Her To See Progress In Her Butt Growth Journey: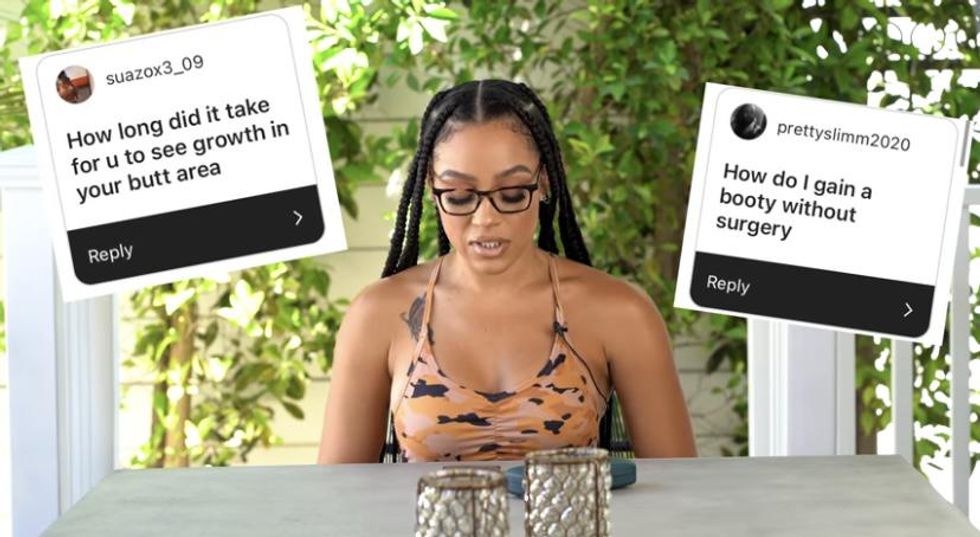 Joie Chavis/YouTube
OK, so we all know that Ms. Joie has an amazing rear that has us hitting 1000 squats a day. And according to the model, that will help, as long as you're patient with the process.
"It really takes time. It's not going to happen overnight and maybe because I'm getting older, it takes me a little bit longer and it's harder to be strict on what I eat. It just takes time. You look at some of the challenges that me and my trainer have put together, it's amazing to see their bodies transform."
Here's what she recommends: Be consistent and give yourself a few months to see real changes. "It'll push you to just keep going further."
On Hacks For Curbing Your Appetite When Dieting:
"You really have to snack. That's why they say it's better to eat like seven small meals in a day rather than three big ones. Water is essential."
What she recommends: Consistently have something with you, whether it's nuts, fruit, a smoothie, or water. Increase your water intake and eat small meals.
Joie also touches on how she resists eating bad foods when going out, hitting weight loss plateaus, and what pills she takes when dieting. Watch the full video below:
Are you a member of our insiders squad? Join us in the xoTribe Members Community today!
Featured image by Joie Chavis/YouTube