This article is in partnership with Sensodyne.
Our teeth are connected to so many things - our nutrition, our confidence, and our overall mood. We often take for granted how important healthy teeth are, until issues like tooth sensitivity or gum recession come to remind us. Like most things related to our bodies, prevention is the best medicine. Here are five things you can do immediately to improve your oral hygiene, prevent tooth sensitivity, and avoid dental issues down the road.
1) Go Easy On the Rough Brushing: Brushing your teeth is and always will be priority number one in the oral hygiene department. No surprises there! However, there is such a thing as applying too much pressure when brushing…and that can lead to problems over time. Use a toothbrush with soft bristles and brush in smooth, circular motions. It may seem counterintuitive, but a gentle approach to brushing is the most effective way to clean those pearly whites without wearing away enamel and exposing sensitive areas of the teeth.
2) Use A Desensitizing Toothpaste: As everyone knows, mouth pain can be highly uncomfortable; but tooth sensitivity is a whole different beast. Hot weather favorites like ice cream and popsicles have the ability to trigger tooth sensitivity, which might make you want to stay away from icy foods altogether. But as always, prevention is the best medicine here. Switching to a toothpaste like Sensodyne's Sensitivity & Gum toothpaste specifically designed for sensitive teeth will help build a protective layer over sensitive areas of the tooth. Over time, those sharp sensations that occur with extremely cold foods will subside, and you'll be back to treating yourself to your icy faves like this one!
3) Floss, Rinse, Brush. (And In That Order!): Have you ever heard the saying, "It's not what you do, but how you do it"? Well, the same thing applies to taking care of your teeth. Even if you are flossing and brushing religiously, you could be missing out on some of the benefits simply because you aren't doing so in the right order. Flossing is best to do before brushing because it removes food particles and plaque from places your toothbrush can't reach. After a proper flossing sesh, it is important to rinse out your mouth with water after. Finally, you can whip out your toothbrush and get to brushing. Though many of us commonly rinse with water after brushing to remove excess toothpaste, it may not be the best thing for our teeth. That's because fluoride, the active ingredient in toothpaste that protects your enamel, works best when it gets to sit on the teeth and continue working its magic. Rinsing with water after brushing doesn't let the toothpaste go to work like it really can. Changing up your order may take some getting used to, but over time, you'll see the difference.
4) Stay Hydrated: Upping your water supply is a no-fail way to level up your health overall, and your teeth are no exception to this rule. Drinking water not only helps maintain a healthy pH balance in your mouth, but it also washes away residue and acids that can cause enamel erosion. It also helps you steer clear of dry mouth, which is a gateway to bad breath. And who needs that?
5) Show Your Gums Some Love: When it comes to improving your smile, you may be laser-focused on getting your teeth whiter, straighter, and overall healthier. Rightfully so, as these are all attributes of a megawatt smile; but you certainly don't want to leave gum health out of the equation. If you neglect your gums, you'll start to notice the effects of plaque buildup, which can irritate the gums and cause gingivitis, the earliest stage of gum disease. Seeing blood while brushing and flossing is a tell-tale sign that your gums are suffering. You may also experience gum recession — a condition where the gum tissue surrounding your teeth pulls back, exposing more of your tooth. Brushing at least twice a day with a gum-protecting toothpaste like Sensodyne Sensitivity and Gum, coupled with regular dentist visits, will keep your gums shining as bright as those pearly whites.
32-year-old social media influencer and mother of five, Ariel B, did not set out to tell her story; but it was her truth that set her free. Her truth is also the inspiration for her new podcast "This Too Shall Pass," produced by Idea To Launch Productions. The podcast delves into Ariel's life and journey as a single parent and a domestic violence survivor. But it also serves as a window into her past traumas that have fostered her resilience.
In an exclusive interview with xoNecole, Ariel B. reveals that her online following grew after she decided to share the realistic, non-curated parts of her life on social media at the advice of her therapist. "Growing up, I was taught to hide things that made you seem less than," she says. "I didn't mind speaking at the shelter for women and children. I didn't mind speaking in my domestic violence group with other women, but I was ashamed to talk about it with people that I felt had a perfect life. So [my therapist] said 'No, you need to get used to telling your story. If you don't like it or you feel some kind of way, just delete it.' I started first on Instagram, and that was probably the first time I dipped my toe in the social media world of telling the truth."
Ariel's followers became inspired by her honest and raw day-in-the-life perspective: the days when she would be over her budget, her kids' rooms wouldn't be the tidiest, or when she'd be running late for pick-ups and drop-offs. Her relatability made single mothers everywhere feel seen, but there's much more to life Ariel's story that she's found the bravery to open up about.

The Florida native had her first child when she was 16 years old. Growing up in a middle-class suburban family, she says she felt judged by family and peers for having children out of wedlock. "I already had two kids before I got married," she says. "And when I got married, I think that was my parents' sigh of relief. Like, oh my gosh, she's finally married. She's not a single mother of two. She should be safe. It was a disaster."
Ariel says marriage was great in the beginning. Her ex-husband presented himself as loving and was a proud stepfather to her two children. After welcoming two more children with her ex-husband, she says that's when the problems started. "We were arguing all the time. The finances were bad. And then it got to the point where he was consuming a lot of alcohol all the time," she says. "And when the alcohol got bad, it got physical. I was embarrassed. I just invited all of my family to this wedding and everyone's so happy that I'm married, but I'm miserable."
Ariel eventually filed for divorce, and was then forced to get a restraining order after her ex proceeded to stalk her. Though these frightening moments are behind her, she's working every day to address the residual trauma. "It was a lot of trauma to get where we are, and a lot to finally feel safe," she says. "But I just wanted to do whatever I had to do so my children wouldn't have to heal from a choice that I made."
It's clear that Ariel's adorable children, ranging from ages three to fifteen, are her biggest inspiration. She often posts videos of herself teaching them important life lessons like how to create a budget and maintain good credit. It's these important life skills that many of her followers said they wished they had learned growing up. For Ariel, her greatest goal is to fill up their self-love tank. "The world is going to knock you down enough when you get older," she says. "So if I can push them out there at a hundred percent if the world can only knock them down to 80, I'd be happy with that. But if they only go out there at 80 and the world can get them down to 60 or less than half of who they are, that's a problem for me."

When it comes to her new podcast, Ariel isn't afraid of the judgments that may come, both from loved ones and strangers. "When you tell the truth, there's nothing to hide from," she says. "I am a single mother of five. I do have more than one child's father. We are on a budget. And when I was able to just be honest, I think I wasn't shameful anymore. I didn't have to pretend and I was able to tell my truth out loud."

"This Too Shall Pass" is out now!
From Rihanna and Beyoncé to Mary J. Blige and Lil' Kim, there are legions of Black women who represent the versatility, ingenuity, and brilliance of Black women's hair. In episode two of "The Root Of It," xoNecole invites Ursula Stephen to speak on some of the iconic hairstyles she's made trend, and also some popular styles she's loving right now. We also watch Ursula and host Blake Newby talk about mitigating the risk of going blonde by protecting your strands from the scalp all the way down.
Watch episode two of "The Root If It" now.
'The Root of It' Episode 2: We Set The Trendsyoutu.be
For Black women, hair isn't just hair. It's our mouthpiece and our magic.
xoNecole is proud to introduce "The Root Of It," a visual hair story in partnership with SheaMoisture. For this cozy and no-frills experience, we tasked world-renowned hairstylist Ursula Stephen with creating hair transformations on three of our favorite influencers: Jasmine Moses (@slimreshae), Mel Mitchell (@itsmelmitch) and Tiffany Renee (@iam.tiffany.renee). Hosted by former beauty editor turned content creator Blake Newby, "The Root Of It" takes us on a journey of hair as the ultimate expression. We pay homage to the innovators in Black hair that have birthed a generation of styles. Most importantly, we get a little scalp education, learning the basics of how to care for our crowns by focusing first on the scalp.
Watch episode one of "The Root Of It" now, and stay tuned for episodes two and three!
Singer/actress Amber Riley brings the same emotional vulnerability to her art as she does her life—and we are all better for it. The former Glee star and Masked Singer winner opened up about her love life in her recent xoNecole digital cover story, revealing what it took to find the strength to end her engagement and, eventually, find love again.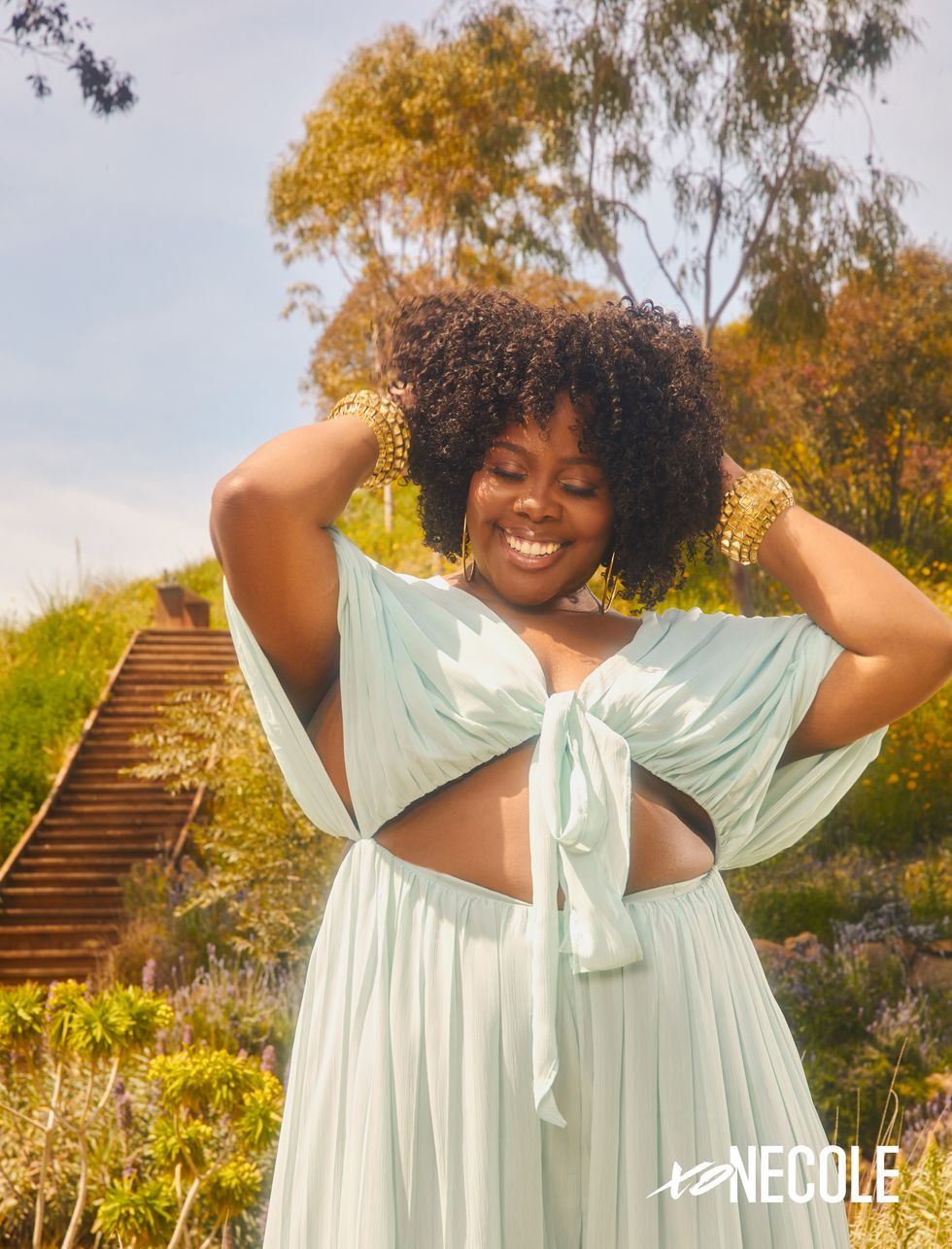 Credit: Ally Green
Riley first met her ex-fiancé Desean Black, through an xoNecole #MCM post, which prompted her to slide into his DMs and make the first move. After going public as a couple and even appearing together on Netflix's Love That For Us series, Riley and Black decided to call off their engagement. Riley, for the most part, had been mum on the reason behind the split but shared exclusively with xoNecole what led to them ultimately parting ways.
"When it was good, it was good," she explains. "When it was bad, it was terrible, hunny. I had to get the fuck up out of there." Riley ultimately decided that she would do what was best for her, regardless of how invested folks might have been in the relationship. "I don't owe anybody a happily ever after," she continued. "You find happiness and enjoy it and work through it."
Fast forward to the present day, Riley is in a happy and seemingly thriving relationship with her new man. Riley revealed her new relationship on Valentine's Day 2023, saying, "I decided to post him on Valentine's Day, partially because I was in the dog house. I got in trouble with him," she says, half-joking before turning serious. "The breakup was never going to stop me from finding love. Or at least trying.
This time around is different. Riley seems intentional about keeping this relationship a tad more private. She says she is not hiding her boyfriend of eight months but rather being protective of him because he's a father and isn't interested in becoming a public figure.
Riley also shared about her healing journey and the fight that it's been to reach this level of happiness. "I think one of my superpowers is resilience because, at the end of the day, I'm going to kick, scream, cry, cuss, be mad and disappointed, but I'm going to get up and risk having to deal with it all again. It's worth it for the happy moments."
Featured image by Frazer Harrison/Getty Images
Black women are not a monolith. We all are deserving of healing and wholeness despite what we've been through, how much money we have in the bank, or what we look like. Most importantly, we are enough—even when we are not working, earning, or serving.
Welcome to Black Girl Whole, your space to find the wellness routine that aligns with you! This brand-new marketplace by xoNecole is a safe space for Black women to activate their healing, find the inspiration to rest, and receive reassurance that we are one small act away from finding our happiness.

Want to discover where you are on your wellness journey? You don't have to look far. In partnership with European Wax Center, we're bringing you a customized wellness quiz to help you up your wellness game. Answer our short series of questions to figure out which type of wellness lover you are, what you need to bring more balance into your life, and then go deeper by shopping products geared towards clearing your mind, healing your body, and soothing your spirit.
Ready to get whole? Take our quiz now!