Miguel's fitness journey started in an unlikely way. Before going on tour with R&B superstar, Trey Songz, Miguel and was determined to, "not look like the scrawny dude on tour." Miguel told Men's Health that he worked out 6-7 days a week for six months before he reached his personal #BodyGoals, but decided to keep with the practice well after the tour. Since then, Miguel says that his idea of mental and physical fitness have shifted dramatically.
---
Those of us who aren't world-renowned superstars know that making time to stay mentally and physically fit can be a struggle. Between adulting and fighting to find a modicum of personal time, it's hard enough to remember to eat. But Miguel's way of thinking about health and wellness may help you change your routine for the better. He told Men's Health:
"My workout regimen is more about clarity and consistency."

The keto-friendly superstar and his wife, Nazanin, share a gym, which is also conveniently their garage. This makes it easy for them to get out a quick workout routine together, or for them to have their own space for fitness as a part of their individual daily routine. Miguel says that he usually starts his morning at about 6 a.m. with a mini-meditation session.
"I try to wake up early in the morning, get my mind right, get a meditation in."
According to Miguel, true physical fitness isn't just about looking good, wellness works from the inside-out. Before the singer hops into the studio or his tasks for the day, you can catch him getting in a few moments of meditation, and that's a sure thing. He said:

"All of it is like a balance for me so I meditate regularly as well. It's a part of the regimen, so that's why I like to wake up early. I get up before most people would. I like to wake up at 6:00-6:30 these days. Get a meditation in for 20-30 minutes and then kind of just let that settle in, think about what I have to accomplish for the day. Then jump in on a workout around 8:00."
Now, moving on to that bawdy. Have mercy on me. Miguel says that he keeps his TV-ready physique by working out five times a week, but these days, he's not doing it for the gains.
"I try and work out five times a week now. For me, it's more of a productivity tool. There was a time when I had serious fitness goals and aesthetic goals that I was reaching for and I think now it's more about just having a daily routine."

And it makes sense. Science says that exercise can be a remedy for fatigue and boost self-esteem, while meditation can reduce anxiety. Finding ways to keep your mental AND physical muscles strong is imperative to your productivity. What a better way to start the morning than with a sh*tload of endorphins empowering you to rule the world and the mindfulness to take your day one moment at a time. Sounds like a formula for one dope a** day.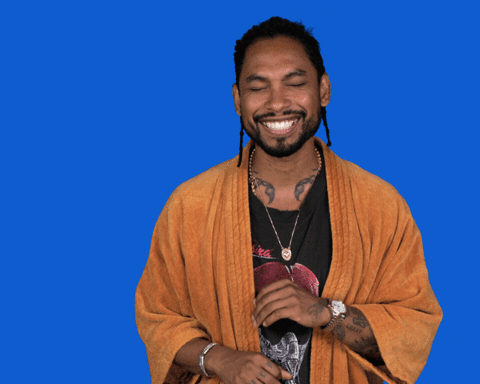 media.giphy.com
Finally, Miguel shared that although sometimes his workouts are for clarity and require silence, there are certainly levels to sh*t when it comes to his mood in the gym. He explained:

"So, music. It depends. I'm moody with the music in my workouts. Some days I wake up and the workout is just for clarity of mind so I don't really want any music. And then other days I need a little bit of Meek Mill. I need some Drake."
Miguel encourages us to stop looking at fitness like it's a chore, and instead use it as a productivity-booster. Instead of thinking of that trip to the gym as just another activity to check off of your to-do list, use exercise and meditation as trusted sidekicks that will assist you in kicking ass all damn day.
Check out the full clip below or on Men'sHealth.com!
Featured image by Jamie Lamor Thompson / Shutterstock.com