Lori Harvey's foray into modeling might not be what you think. While she models sexy fits on Instagram, she isn't what you would call an Instagram model. If you look at her resume, you will see that she has walked runways for luxury brands such as Dolce and Gabbana and has been featured in campaigns for Chanel and most recently Burberry. At 5'3'' with a curvy frame, Lori isn't your traditional model, and she dealt with body insecurities when she first entered the fashion industry.
---
Talking with PopSugar, the SKN by LH founder said, "When I was younger, I really paid attention to what people thought about me and how people thought my body looked," she said.
Lori made her runway debut when she was 20 years old. "When I started modeling, I felt like I had to get super skinny because I wasn't tall. I'm naturally more curvy, so I put a lot of pressure on myself to be a certain size and look a certain way. It took such a toll on me mentally."
Prior to pursuing modeling as a full-time career, the 25-year-old was a competitive equestrian. However, her dream of turning pro was shot after she suffered a major sports injury that if she continued with it, could have left her paralyzed.
"That was a life-shattering moment for me," she said. "I had this plan in my mind for so long that this is going to be my life, this is going to be my career. I felt a little lost trying to figure out, 'OK, what am I going to do now?'"
Pivoting into modeling has proven successful for her and now she is working to become a businesswoman. She launched a skincare line and she is hoping to create other businesses. Despite the early bouts of self-doubt, these days, Lori is feeling more at home in the woman she is than ever before.
Keep scrolling to learn more about how the model-turned entrepreneur takes care of herself inside and out.
Lori Harvey Starts Her Mornings With Celery Juice
While most of us opt for coffee first thing in the a.m., Lori swears by a daily dose of celery juice on an empty stomach. In an interview with The Strategist, she revealed:
"I drink celery juice first thing in the morning, every single morning. I've been doing it for at least three years. One of my trainers swore by it and got me hooked. It's great for digestion and inflammation and is a good source of antioxidants. If you want a flat tummy, it's really good for that, too. It tastes like a very healthy green juice — not the best taste, but you get used to it after a while and the results are worth it."
Her favorite is from Kreation, a company based in L.A. She also chases the celery juice down with a Vitamin C shot from the same place. She told NYLON, "I think that really jump starts my digestive system and it's good for my skin as well."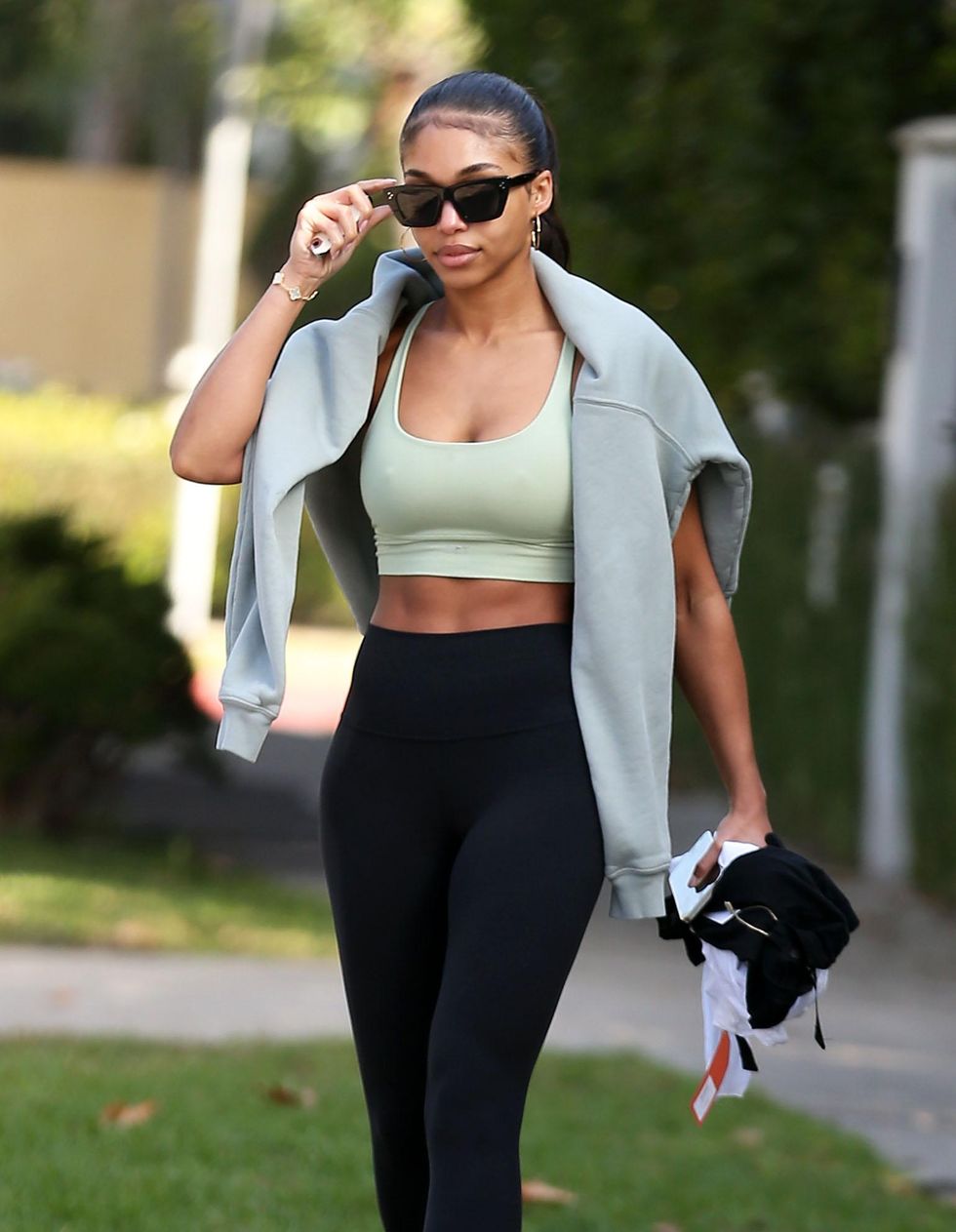 TheCelebrityfinder/MEGA/GC Images
Lori's Workout Routine Includes Pilates
If you ever catch a glimpse of Lori outside of social media, nine times out of ten, it's her leaving a Pilates class. She shared with Pretty Little Thing that she typically switches up her daily workouts between cardio and strength training during her week and "maybe incorporate a Pilates class or two in there." She has also mentioned hiking as another go-to for fitness and as a stress-reliever.
She continued about her workouts, "I start off with a five-minute warmup, then I'll usually do a few circuits of strength training, either lower or upper body depending on what day it is and I always finish with ab work."
A Regular Visit to the Sauna Is a Must in Lori Harvey's Wellness Routine
After her Pilates class, Lori prefers to soak up some heat and steam courtesy of a 30-minute visit to the sauna. She explained, "The sauna is also really, really good for your skin and it's very therapeutic, and then I shower. I typically try to get in the sauna after I work out every day for at least 30 minutes. It helps me relax. I like to gather my thoughts in the sauna."
Lori Attributes Hair Growth to a $40 Hair Oil
For her signature mane, one of her go-to's for growth and maintenance is the No.5 Rosemary + Mint Hair Growth Oil by The Hair Kitchen. The founder and CEO explained, "I try to use it for like, two, three days before a wash day and really oil my scalp up. My hair falls below the middle of my back now — it grew in a matter of months. The oil has rosemary in it, which is good for hair growth, and peppermint, which makes your scalp feel fresh and tingly."
Lori Harvey's Skincare Routine Is SKN by LH
​Not surprisingly, Lori attributes her immaculate skin to her uber-successful skincare line, SKN by LH. She broke down her routine to NYLON, "My daily skincare routine consists of my Goji Berry Cleanser, White Tea Toner, Vitamin C Serum, the Peptide Eye Complex, and Niacinamide Cream– those are all from my line SKN x LH. It's the perfect easy everyday skincare routine."
She added, "I have been embracing not putting on any makeup and just taking care of my skin. It's been so good! It's an overall confidence boost for me when my skin looks good and it's clear."
Featured image by Jamie McCarthy/Getty Images for Michael Kors