How We Met is a series where xoNecole talks about love and relationships with real-life couples. We learn how they met, how like turned into love, and how they make their love work.
One thing I've been seeing return to my social media feed is the opportunity to travel. Since the top of 2020, the world has been trying to figure out what "catching a flight" will look like in the future. And when you travel with your bae , it is an extraordinary experience that should be on everyone's bucket list. On a baecation, you are able to unwind from the daily Zoom meetings and experience another culture together. It's also another way to really take your intimacy to another level and grow closer to your boo mentally, physically, and emotionally.
---
One couple who prioritizes their love for travel and love for each other are digital creators LaNaiza Kelly and Mahdi Gaines. Originally from New Orleans, LaNaiza and Mahdi met each other at work when Mahdi noticed LaNaiza around the office and attempted to get to know her. One day, Mahdi joked that whenever she was around him, that there should be a smile. This exchange turned into an authentic relationship where they'd go everywhere together, including traveling the world.
As their love for each other grew, they created their own platform, Love at First Flight , where they share their journey of love and travel. This is a couple that knows how to put the bae in baecation. After three years, LaNaiza and Mahdi are still showing up for each other through amazing global experiences and smiling every step of the way.
In this installment of xoNecole's How We Met , LaNaiza and Mahdi share how their love story is based on honesty, authenticity, and unlearning bad habits.
How We Met
Mahdi: I was in marketing and she was in sales. I actually transferred over to the sales department and that's when we met. LaNaiza used to walk around with this mad look on her face. She is not a morning person. One day I asked her, "Why do you look so mad in the morning?" And she told me, "Don't worry about it." My response was, "Well, you need to make sure you smile when you're around me," and she told me she will make sure she smiles next time.
LaNaiza: Yeah, I think it was a pretty well-known thing at work that I was not a morning person, so I never looked happy in the morning. Then this guy tried to tell me to smile, and I was like, "OK." I am super-sarcastic, so every time I saw him after that I had the biggest smile on my face. That's really how things got started. It was just a bunch of sarcasm with each other.
First Date
Mahdi: Usually LaNaiza and I would hang out, but it was always with a group. But one day, we decided to go to this place called Barcadia. She came over that evening to my place and she was all dressed up. She blew my mind when she showed up. I felt I was underdressed. We had a really good time that night. It was amazing.
LaNaiza: I was a ball of nerves that night. I was actually really nervous and tried to avoid any kind of feelings toward him. I wasn't looking to be in a relationship , but he was very persistent. We hung out a lot already, but I felt that this time was different and it was turning into something more. I started freaking out. But that night was a really good night at the end of the day.
The One
LaNaiza: I think the moment when I started to like him, I was thinking to myself, 'I don't want to do this anymore.' But I couldn't deny it, you know? I would notice myself feeling salty if I couldn't hang out with him sometimes, so I had to be honest with myself that I was ready [for a relationship].
Mahdi: It was pretty early on for me. Even when we were hanging out, I noticed that I stopped wanting to hang out as a group and more one-on-one with LaNaiza. At a certain point, I kind of knew that a relationship with her was where my mind was going. One night we were hanging out at this club and I told her, "You know what, what's going on here? I'm interested in you for real.'" I kind of laid it out on the table.
"At a certain point, I kind of knew that a relationship with her was where my mind was going. One night we were hanging out at this club and I told her, 'You know what, what's going on here? I'm interested in you for real.'"
Favorite Things
LaNaiza: I love that Mahdi is super goofy. He has a great sense of humor and can make friends with anyone you can imagine. I really admire that about him because sometimes I can be a little standoffish. He still embraces that inner child in him. I believe that's the core of who he truly is.
Mahdi: LaNaiza has this hard outer shell that everyone knows about but she has the biggest heart ever. She cares about people, animals, you name it. That is something that really attracted me to her. Earlier on when we were dating , I noticed that soft heart. That really means a lot to me.
The "L" Word
Mahdi: I think it was a couple of months into the relationship for me. We moved so organically and I had strong feelings for LaNaiza. We were so close and she was my best friend. I could talk to her about anything even before we became a romantic relationship, so when we finally got together, it just clicked. This was everything I ever wanted and I have never felt this way about anybody. I started thinking about my future and she was the only person I wanted to be in it with me.
LaNaiza: For me, I knew I loved him but I didn't want to admit it. When I started to feel my walls coming down and I was comfortable to just be myself around Mahdi, that was when I knew. I used to never think about the future with someone and it just felt right with him. It was just one of those things where when you know, you know.
"I knew I loved him but I didn't want to admit it. When I started to feel my walls coming down and I was comfortable to just be myself around Mahdi, that was when I knew. I used to never think about the future with someone and it just felt right with him. It was just one of those things where when you know, you know."
Love Lessons
Mahdi: What I've learned about love is that when you love somebody, you give that person the real you. A lot of people like to put up a front or try to be someone else in order to fit this ideal partner . But with LaNaiza, she is unapologetically herself. She reminds me all the time (laughs). I love that because that makes me want to be unapologetically myself too.
LaNaiza: I have learned that love is a job. It is a continuing thing that you have to work toward every day. There are times where we butt heads, but if you really love someone, you have to put in the work and the effort to keep the love alive—to show up for one another.
Early Challenges
LaNaiza: In the beginning, we were both coming out of serious relationships . We were both in unhealthy relationships where we developed bad habits. We had to unlearn those habits in order to be with each other. We were honestly figuring out how to love essentially and learning how we would want to receive love. One habit I had to unlearn was communication. I am not good at communicating (laughs). I am very quick to express when I am angry. But for me it was learning how to express how I'm feeling when I am feeling it. Instead of holding it in and blowing up later.
Mahdi: For me, I had to unlearn a lot of things. I felt that I had to take care of everything like I did in my previous relationship, but LaNaiza taught me that I don't have to do everything. We are a team. With her, I feel like I am in a true partnership. I have never felt like this before. I remember we went on our first trip to Puerto Rico. The room was in my name and we were checking in. At first, I was going to take care of everything, but then LaNaiza stepped up and handled the check-in—honestly, better than I would have. As I watched her, I thought to myself, "You know what, I like this!"
Individual Self-Care
LaNaiza: We both have busy lives, so I think it is important to carve out some time for hobbies. One of my favorite things to do is salsa dancing. It's a time for me to be social and it's also how I like to unwind. Mahdi and I spend a lot of time together so we try to carve out our alone time when we can.
Mahdi: So LaNaiza is a night owl and I'm an early bird. So I like to get a morning workout [in] at around 6 a.m. It's a good start to my morning and it helps me clear my head. Then when night comes around, I'm already tired but LaNaiza is still working on emails and things. It just works because she knows I'm out for the count anyways.
Shared Values
LaNaiza: I think one shared value is just being honest with each other. I think that should be the foundation in any relationship.
Mahdi: We also talk about our life goals a lot to each other. We keep each other motivated and focused on what the end goal is. We have meetings about it and everything.
For more of LaNaiza and Mahdi, follow them on Instagram @loveatfirstflight_ .
Featured image via Love at First Flight

Related Articles Around the Web
K Byrd
'K' is a multi-hyphenated free spirit from Chicago. She is a lover of stories and the people who tell them. As a writer, 9-5er, and Safe Space Curator, she values creating the life she wants and enjoying the journey along the way. You can follow her on Instagram @theletter__k_ .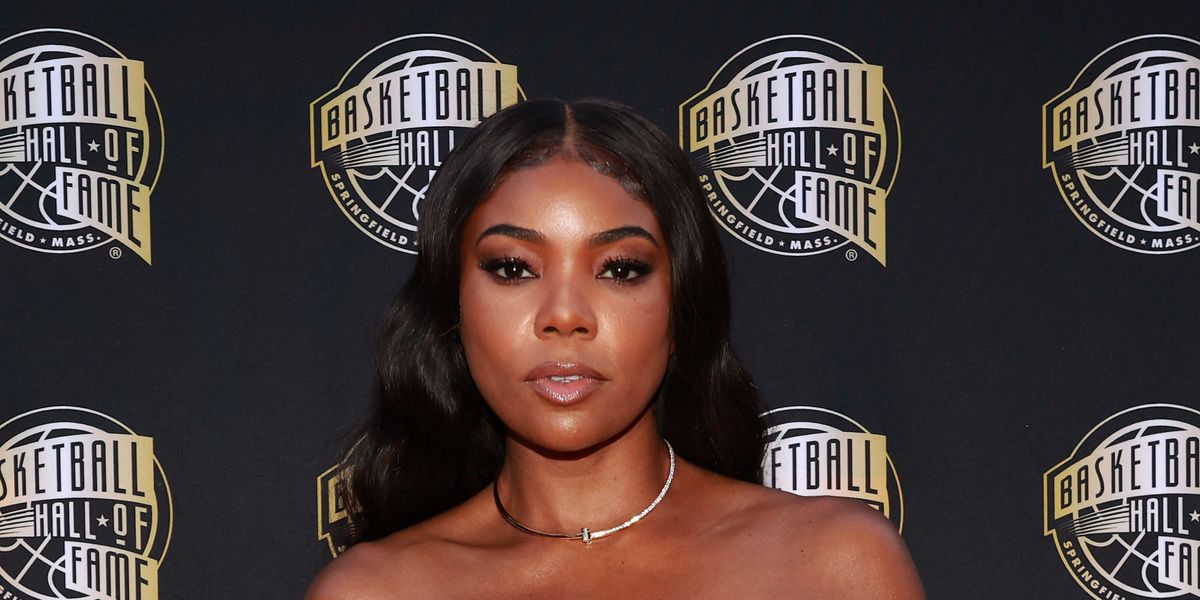 Whenever Gabrielle Union graces the movie screen, she immediately commands attention. From her unforgettable scenes in films like Bring It On and Two Can Play That Game to her most recent film, in which she stars and produces Netflix's The Perfect Find , there's no denying that she is that girl.
Off-screen, she uses that power for good by sharing her trials and tribulations with other women in hopes of helping those who may be going through the same things or preventing them from experiencing them altogether. Recently, the Flawless by Gabrielle Union founder partnered with Clearblue to speak at the launch of their Menopause Stage Indicator, where she also shared her experience with being perimenopausal.
In a xoNecole exclusive, the iconic actress opens up about embracing this season of her life, new projects, and overall being a "bad motherfucker." Gabrielle reveals that she was 37 years old when she was diagnosed with perimenopause and is still going through it at 51 years old. Mayo Clinic says perimenopause "refers to the time during which your body makes the natural transition to menopause , marking the end of the reproductive years."
"I haven't crossed over the next phase just yet, but I think part of it is when you hear any form of menopause, you automatically think of your mother or grandmother. It feels like an old-person thing, but for me, I was 37 and like not understanding what that really meant for me. And I don't think we focus so much on the word menopause without understanding that perimenopause is just the time before menopause," she tells us.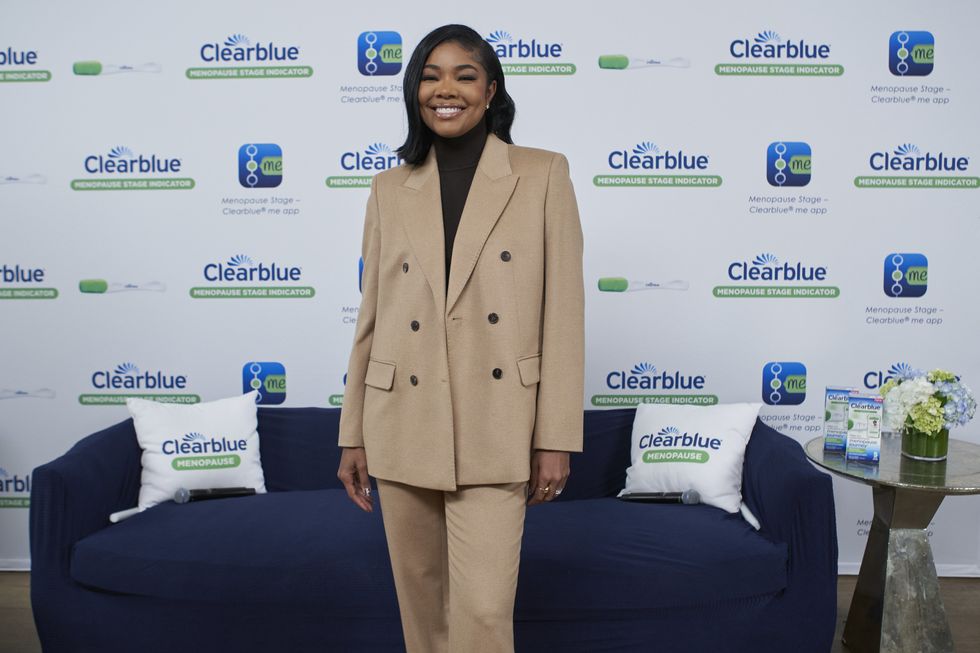 Gabrielle Union
Photo by Brian Thomas
"But you can experience a lot of the same things during that period that people talk about, that they experienced during menopause. So you could get a hot flash, you could get the weight gain, the hair loss, depression , anxiety , like all of it, mental health challenges , all of that can come, you know, at any stage of the menopausal journey and like for me, I've been in perimenopause like 13, 14 years. When you know, most doctors are like, 'Oh, but it's usually about ten years, and I'm like, 'Uhh, I'm still going (laughs).'"
Conversations about perimenopause, fibroids, and all the things that are associated with women's bodies have often been considered taboo and thus not discussed publicly. However, times are changing, and thanks to the Gabrielle's and the Tia Mowry 's, more women are having an authentic discourse about women's health. These open discussions lead to the creation of more safe spaces and support for one another.
"I want to be in community with folks. I don't ever want to feel like I'm on an island about anything. So, if I can help create community where we are lacking, I want to be a part of that," she says. "So, it's like there's no harm in talking about it. You know what I mean? Like, I was a bad motherfucker before perimenopause. I'm a bad motherfucker now, and I'll be a bad motherfucker after menopause. Know what I'm saying? None of that has to change. How I'm a bad motherfucker, I welcome that part of the change. I'm just getting better and stronger and more intelligent, more wise, more patient, more compassionate, more empathetic. All of that is very, very welcomed, and none of it should be scary."
The Being Mary Jane star hasn't been shy about her stance on therapy . If you don't know, here's a hint: she's all for it, and she encourages others to try it as well. She likens therapy to dating by suggesting that you keep looking for the right therapist to match your needs. Two other essential keys to her growth are radical transparency and radical acceptance (though she admits she is still working on the latter).
"I was a bad motherfucker before perimenopause. I'm a bad motherfucker now, and I'll be a bad motherfucker after menopause. Know what I'm saying? None of that has to change. How I'm a bad motherfucker, I welcome that part of the change."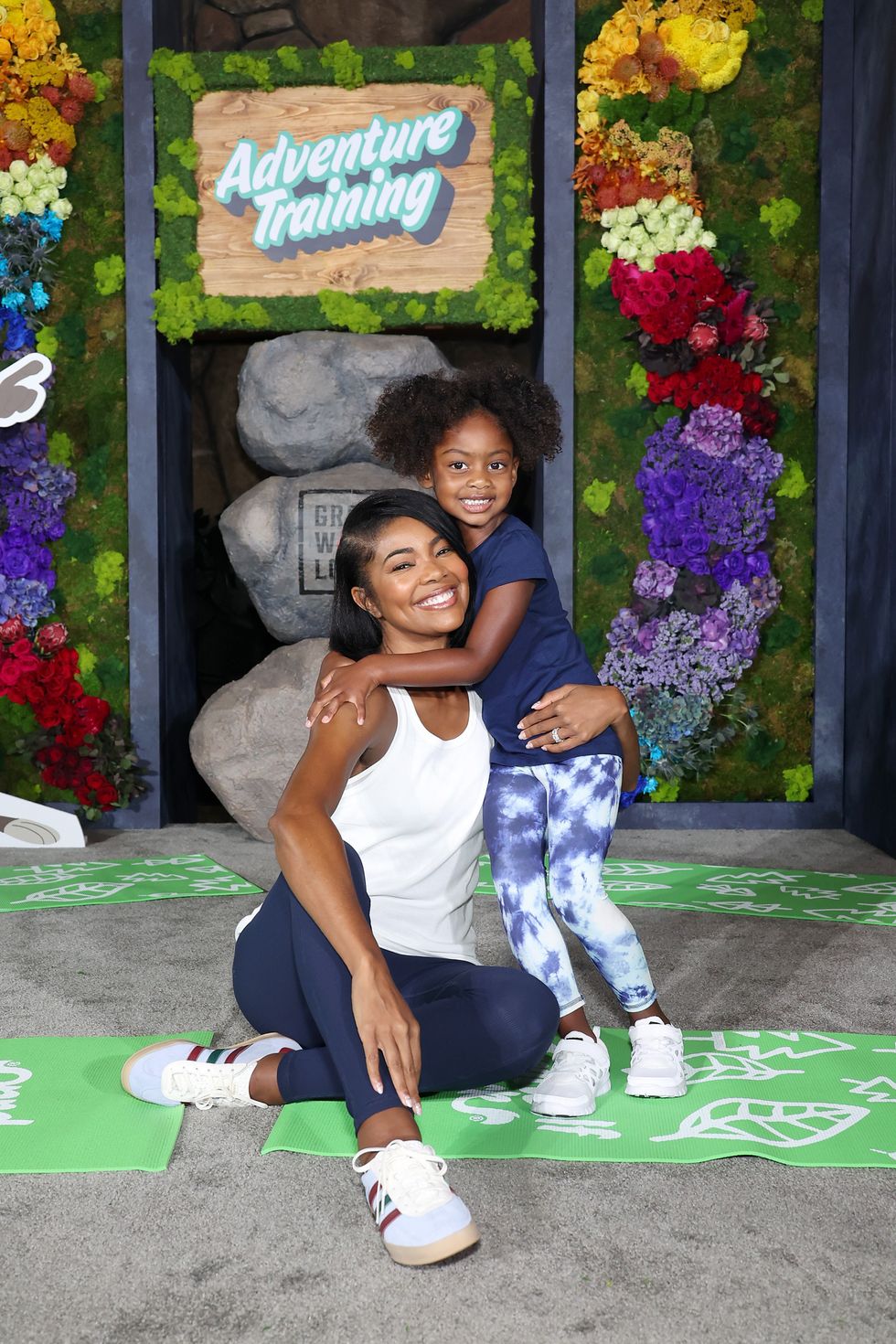 Gabrielle Union and Kaavia Union-Wade
Photo by Monica Schipper/Getty Images
"I hope that a.) you recognize that you're not alone. Seek out help and know that it's okay to be honest about what the hell is happening in your life. That's the only way that you know you can get help, and that's also the only other way that people know that you are in need if there's something going on," she says, "because we have all these big, very wild, high expectations of people, but if they don't know what they're actually dealing with, they're always going to be failing, and you will always be disappointed. So how about just tell the truth, be transparent, and let people know where you are. So they can be of service, they can be compassionate."
Gabrielle's transparency is what makes her so relatable, and has so many people root for her. Whether through her TV and film projects, her memoirs, or her social media, the actress has a knack for making you feel like she's your homegirl. Scrolling through her Instagram, you see the special moments with her family, exciting new business ventures , and jaw-dropping fashion moments. Throughout her life and career, we've seen her evolve in a multitude of ways. From producing films to starting a haircare line to marriage and motherhood , her journey is a story of courage and triumph. And right now, in this season, she's asking, "What's next?"
"This is a season of discovery and change. In a billion ways," says the NAACP Image Award winner. "The notion of like, 'Oh, so and so changed. They got brand new.' I want you to be brand new. I want me to be brand new. I want us to be always constantly growing, evolving. Having more clarity, moving with different purpose, like, and all of that is for me very, very welcomed."

"I want you to be brand new. I want me to be brand new. I want us to be always constantly growing, evolving. Having more clarity, moving with different purpose, like, and all of that is for me very, very welcomed."
She continues, "So I'm just trying to figure out what's next. You know what I mean? I'm jumping into what's next. I'm excited going into what's next and new. I'm just sort of embracing all of what life has to offer."
Look out for Gabrielle in the upcoming indie film Riff Raff , which is a crime comedy starring her and Jennifer Coolidge, and she will also produce The Idea of You , which stars Anne Hathaway.
Feature image by Mike Lawrie/Getty Images

Will Smith and Jada Pinkett Smith went to social media to share their Thanksgiving holiday with followers. The pair were surrounded by family and friends Thursday, and both posted how grateful they were to be with the ones they loved. Yet this comes on the heels of Pinkett Smith's whirlwind of negative opinions and critics forecasting her book would be a flop.
Despite the negative feedback she received, Worthy , Pinkett Smith's memoir, still debuted at #3 on the New York Times ' Best Seller list on October 25. The greatest backlash she received was centered around her relationship with Smith and the fact that the two had been living separate lives since 2016 .
The commentary about their marriage overshadowed the reality that this book is ultimately about her journey to self-worth and the path she's had to take in order to get there.
Social media comments about her book tour ranged from, "Me counting all the times Jada woke up and chose to embarrass Will Smith," to podcasts like The Joe Budden Podcast saying, "Take me out the group chat," which was a sentiment shared by many celebrities and fans alike. Yet, a point made by comedian KevOnStage proved that even though people say they don't want to know about the Smiths, they're secretly interested and want to know more.
Since the Smiths were wed in 1997, people have been fascinated with their marriage, and rumors about their marital arrangement have always been a topic of conversation. People continue to speculate that the pair is gay and swingers , and even new allegations have come out that Smith and Duane Martin shared an intimate relationship at one point.
However, despite their consistent united front throughout their marriage in recent years, Pinkett Smith has borne the brunt of backlash in the couple's relationship, from her entanglement with August Alsina to Smith slapping Chris Rock at the 2022 Academy Awards to the recent truths she's shared about the couple's marriage in her memoir.
Individuals are consistently running to the internet to support Smith and villainize Pinkett Smith, from podcast guests saying things such as "She doesn't like Will, she likes the lifestyle" to deeming her "mean" or "manipulative" because of her facial expressions and demeanor.
Likewise, when you have hosts of daytime talk shows such as Ana Navarro saying , "I think she's having a relationship with her bank account," insinuating Pinkett Smith only shared stories about Smith to increase her book sales, it begs the question of where was this same energy when Smith released his memoir?
In Will , Smith discusses both of his marriages and how, in relationships , because of his upbringing, he needed constant validation and praise from his partners to feel secure. He also shared the reality that Pinkett Smith never wanted to be married, just as she never wanted the huge estate they share in California, but he wanted to give it to her despite her feelings about it.
Smith admitted to creating this family empire that only further boosted his ego and what he wanted his legacy to be instead of actually asking his family what they wanted or needed. People praised him for his vulnerability and said his book was an inspiration.
So how is it that one book about a person's family, upbringing, and journey to self is praised, and another is villainized? The glaring thought that comes to me is, does likability often trump accountability?
People love Smith and his "good guy" persona; he's always been an attractive, charismatic man that people can relate to, so even when he speaks about the way he mismanaged his marriage and family, it's seen as growth. On the contrary, because Pinkett Smith doesn't constantly fawn over him and shares how miserable she was in their marriage, she's the villain.
People still blame her for not stopping Smith from smacking Rock at the Oscars and share their sentiments about how she embarrassed Smith with her entanglement with Alsina. Though this is a celebrity couple we've all followed for years, the question must be asked, how much accountability must Black women be subjected to in relationship to their partners' actions?
Why is it that the media is more interested in the marriage between Smith and Pinkett Smith than her childhood, or the fact her memoir consists of writing prompts, meditations, and methods for other women to find their sense of worth ?
Could it be that the larger society doesn't value Black women having the tools to find their own sense of worth? Or is it that Black women are expected to accept whatever is given to them regardless of how they feel or what they want?
The exclusive interview with Eboni K. Williams ( @ebonikwilliams ) and Dr. Iyanla Vanzant about if she would date a bus driver seems to have a lot of people talking. You can watch her response tonight on #theGrio . Catch the full interview, here: https://t.co/ctxE0zKFWj pic.twitter.com/BhIO52T2fg

— theGrio.com (@theGrio) May 2, 2023
When Eboni K. Williams shared that she wasn't interested in dating a bus driver, the internet blew up with individuals saying that Black women need to be less selective with their dating prospects. The commentary around this conversation shed much light on the reality that this demographic is expected and invited to settle in love if they actually want a life partner.
Black women aren't often given the space to find their joy, fulfillment, or even self-worth because of the responsibility they're forced to acquire in order to support their families and communities. Yet, "high value" Black men speak vehemently about Black women's masculinity and inability to submit. We're often inundated with podcast guests sharing that they're not impressed by our success and are uninterested in our aspirations.
Black women, from a young age, are taught to place their community first and cater to the men around them regardless of what they do or how they behave.
We see this when young girls are told to put on pants when male relatives come around, we experience it when domestic violence survivors are encouraged not to press charges against their perpetrators, and we even see it when Black women face backlash for dating outside of their race.
The way Pinkett Smith has been treated since sharing the truth about her life and journey of discovering her self-worth is another example of how the world isn't receptive to Black women being their most authentic selves.
It's another example we can hold up to illustrate how Black women are expected to be magical but not human.
Even with this article, I'm sure there will be many who want to argue why Pinkett Smith was wrong in her narrative, but at the end of the day, it was her story to tell, and no one has more authority to share her lived experience than her.
Let's make things inbox official! Sign up for the xoNecole newsletter for daily love, wellness, career, and exclusive content delivered straight to your inbox.
Featured image by James Devaney/GC Images