I'm an island girl at heart.
---
I was born, raised, and still live in the beautiful islands of The Bahamas so I know for a fact that when I see bridal parties, girl squads, and women in general living their best lives on an island getaway and hashtagging their pics with #travelgoals, they're telling no lies!
I was invited on an all-girls trip to Barbados last year and I was super excited to soak in the sun on an island I'd never visited before! As a travel writer, this trip proved to be like none I'd ever experienced.
The trip was the brainchild of Black Girls Travel Too (BGTT) owner Danny Rivers-Mitchell whose company encourages, promotes, and supports Black women traveling the world and occupying spaces "they" say we can't or shouldn't be in. For the first time ever, 10 influential Black queens descended on an island at once to soak up some sun and prove that we too have an audience, reach and influence. In fact, when combined our followers total more than one million!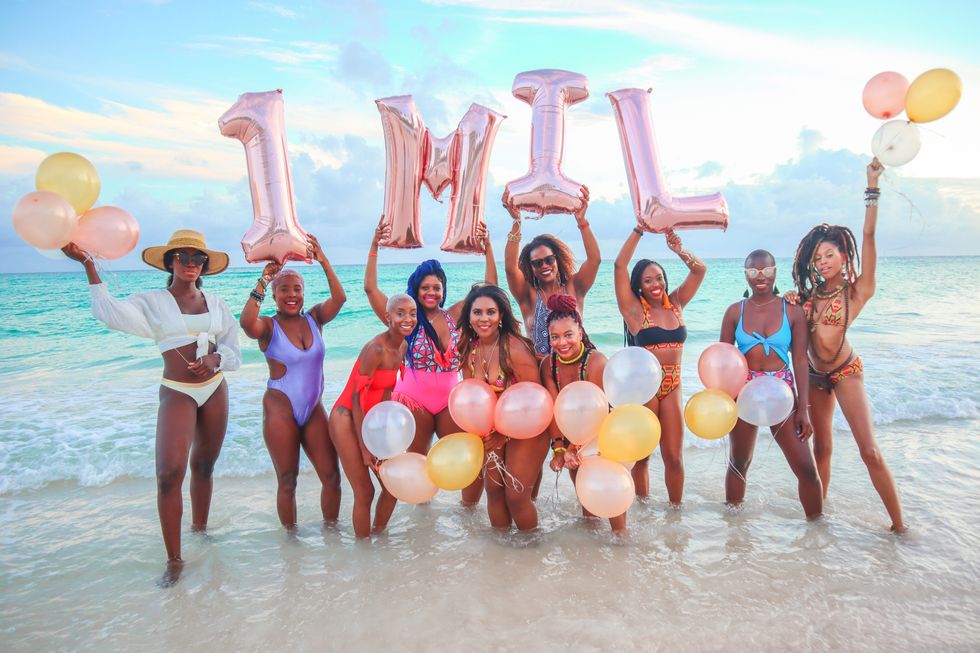 The ladies & Writer Ianthia Smith showing the impact of their reachPhoto by Will Edmond
How's that for influence?

After an early morning meet up in the JFK Airport in New York, friendships, bonds, and connections were immediately formed, and as we boarded our five-hour flight to paradise, it was crystal clear that this would be a girls trip I wouldn't soon forget.
Like most island destinations, the minute you hop off the plane, you're immediately hugged by sweet island breezes and intoxicated by the salt left lingering the air by the ocean's waves. Barbados is no different. It didn't help that we were in Rihanna's home country either, so our inner "bad gals" were all activated as we brought the bikinis, the melanin, and the sass!
Check out these 5 times me and my newest gal pals got our entire lives in Barbados!
Private Cooking Class on the Beach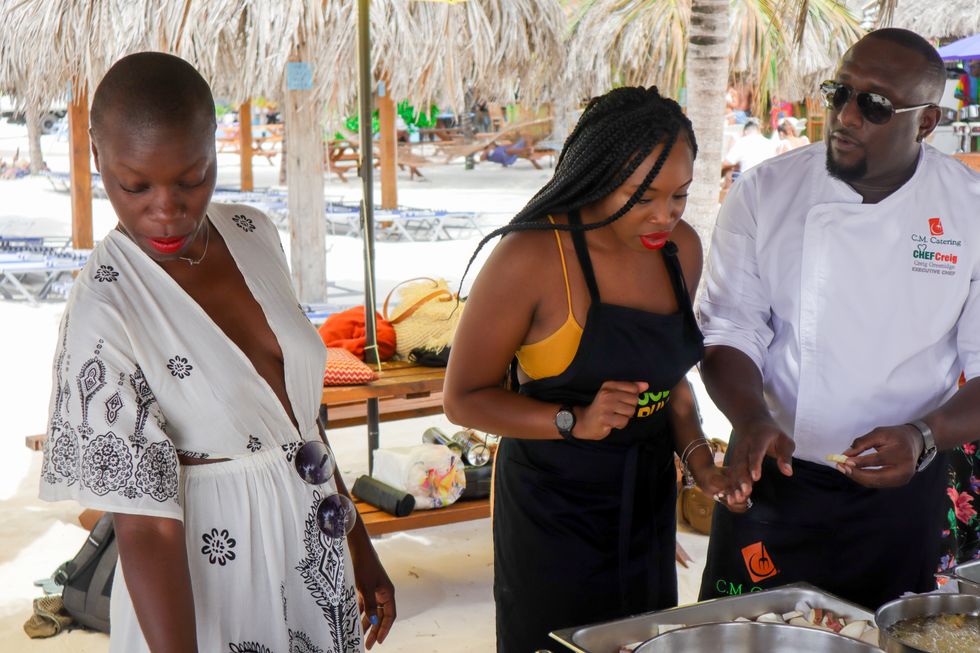 Writer Ianthia Smith cooking with Barbados celeb chef Craig Greenidge
Photo by Will Edmond
Our first day out, we headed to the beach for a cooking demo with one of Barbados' celebrity chefs, Craig Greenidge. The entire atmosphere at Pirate's Cove was so tranquil and serene. Hammocks swayed in the midday sun as tropical drinks and cups of rum punch flowed endlessly. The sea glistened as the powder white sand seemingly evaporated between my toes. We were like little kids on the beach; dipping our toes in the water, running amuck and trying hard to pay attention to the chef as he walked us through cooking our meal of cassava chips, fish cakes, and curry chicken salad.
We helped to whip up a traditional Bajan meal and washed it back with more rum punch, of course. The food was delicious, but the relaxing mood and quiet of the beach satisfied our appetites more. We walked along the sandy shoreline for what seemed like hours, bonding, connecting, and capturing fire images of each other.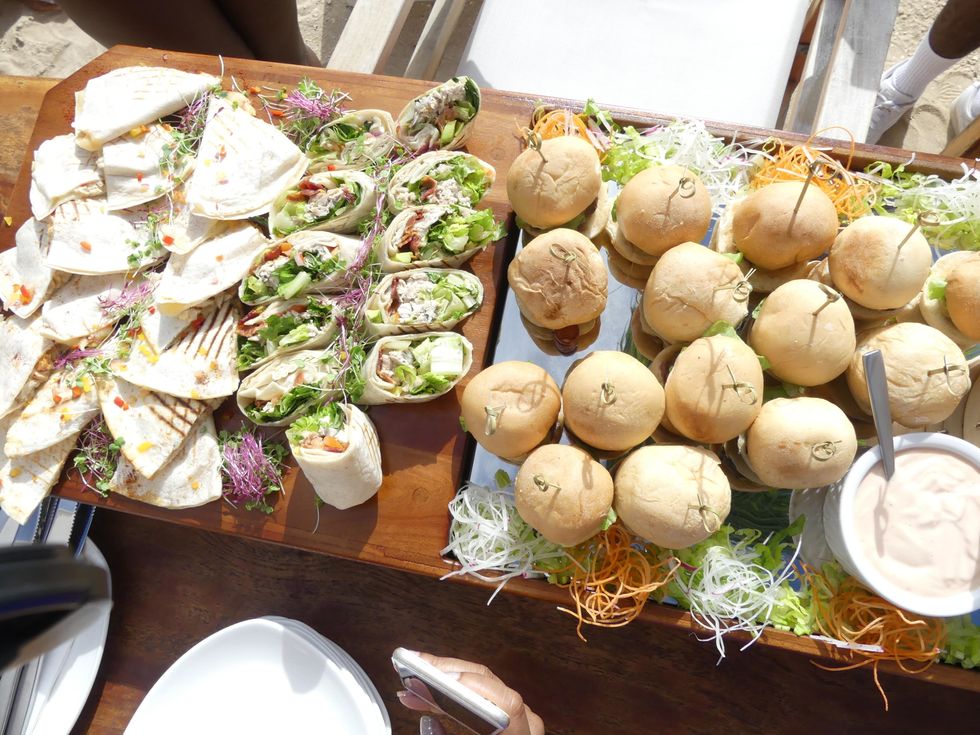 The results of the girls' private cooking lesson on the beach
Photo c/o Ianthia Smith
Nikki Beach was LIT!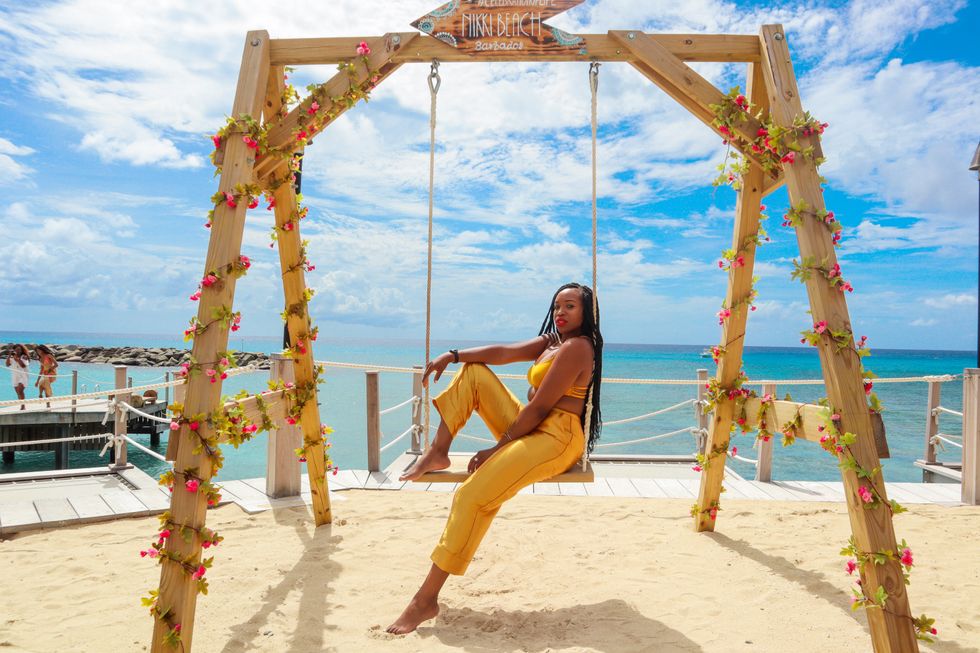 Writer Ianthia Smith keeping things mellow in yellow on Nikki Beach
Photo by Will Edmond
No girls trip to Barbados is complete without a visit to Nikki Beach. I was not ready for the insane amount of fun and frolic that was awaiting my arrival at this posh, luxurious destination. The minute we arrived, it was clear that Nikki Beach was made with a queen in mind. Day beds and lounges stretched the length of the pool on one side, while the beach gave endless views on the other. Our section was ready and waiting for us when we arrived and we quickly traded whatever we were wearing for bikinis and one pieces. The vibe at Nikki Beach was lit for the entire time we were there. Freshly made mojitos were delivered to us with all the pomp and pageantry we deserved; our delicious spread was served on the cutest little boat complete with sparklers, music and...abs!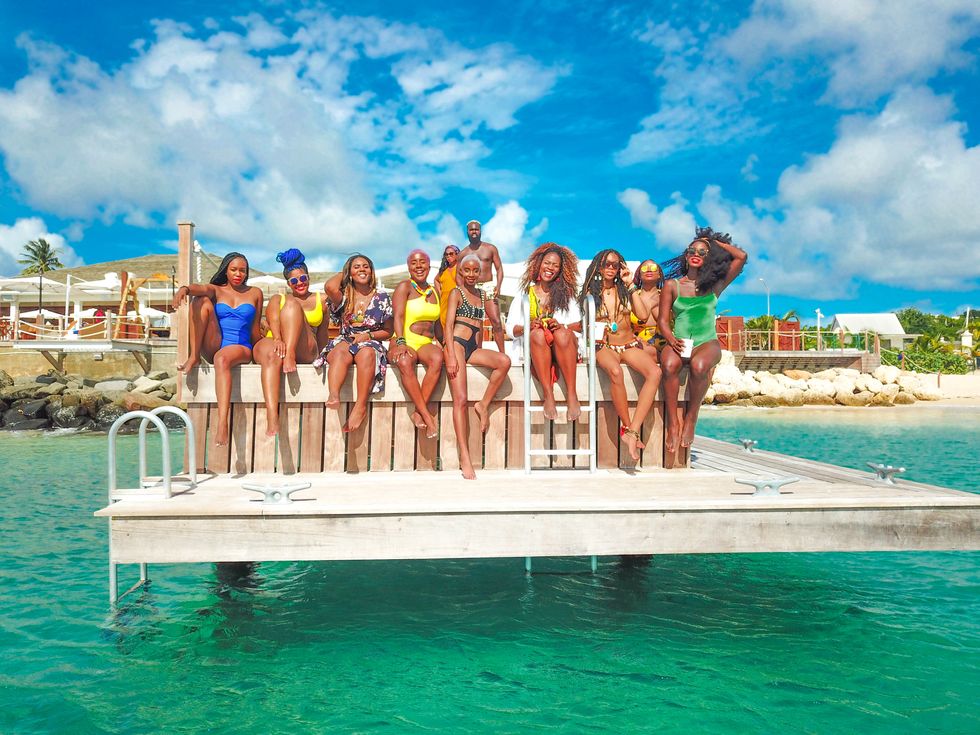 The beautiful ladies & Writer Ianthia Smith stylin' and profilin'
Photo by Will Edmond
A Catamaran Cruise for the Queens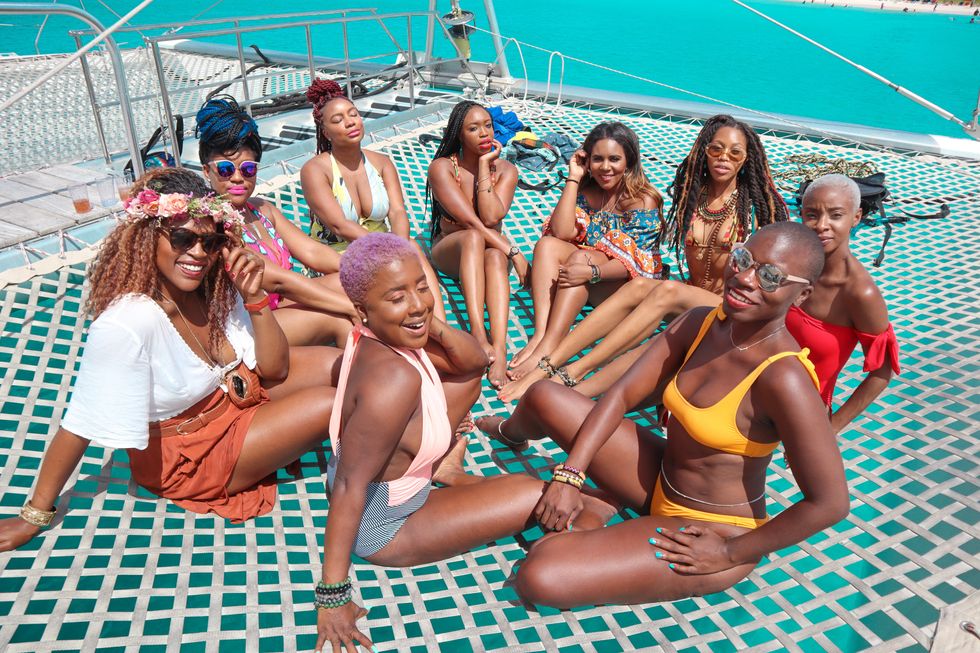 The ladies enjoying sunbathing on their luxurious cruise
Photo by Will Edmond
We left land for a bit to head out on the water for a day of sailing and sun bathing...and scoping out Rihanna's mansion! On the high seas, we coined the phrase, "Riri, are you home?!" because we annoyingly shouted it for 20 minutes straight, hoping our favorite bad gal would hear us, and possibly come out on the balcony. We had a successful day of doing absolutely nothing as we lathered our melanin in the warm Bajan sun. Our catamaran cruise took us on a magical tour of the island, passing by mansions and five-star developments on the way. At one point, we stopped to snorkel and swim with the turtles and hop on jet skis, where some of us were far more adventurous than others. It was one of the most relaxing parts of the trip and...Rihanna never came outside lol.
Visiting Rihanna's Childhood Home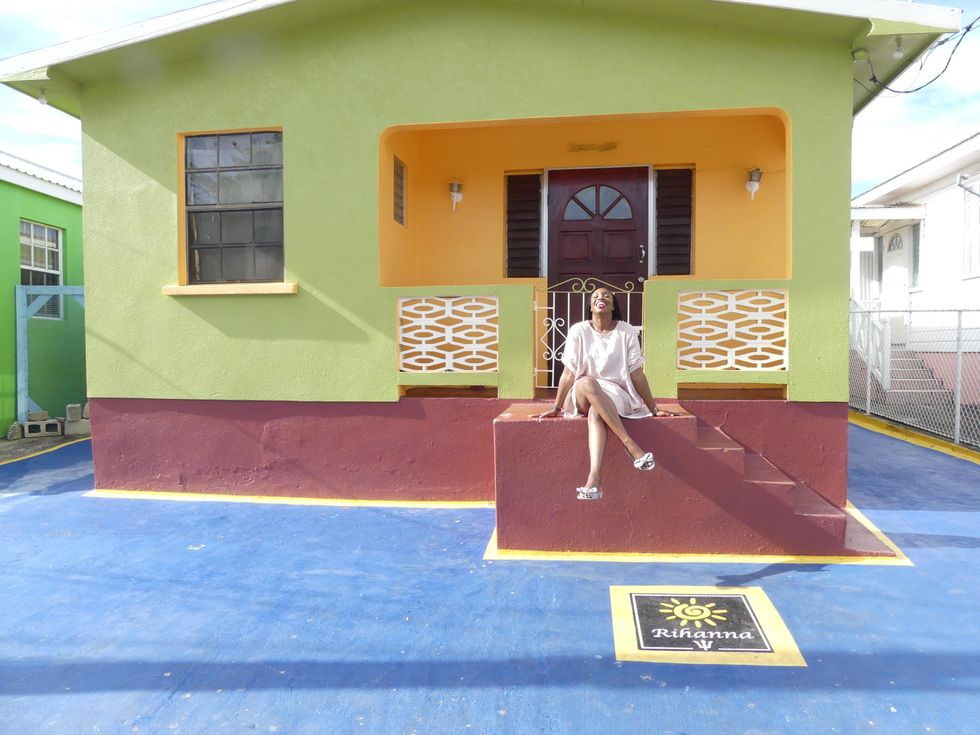 Writer Ianthia Smith posted up on Rihanna Drive
Photo c/o Ianthia Smith
So, this time we got a little closer to Rihanna, but she still wasn't home! Either way, we got our entire lives visiting the home she grew up in. The tiny, but colorful house sits on a quaint corner named Rihanna Drive, in honor of our girl! There's this huge plaque sitting at the corner of the entrance, paying homage to the music and beauty mogul. A tiny red and white bar also welcomes you in. This building is definitely everything Rihanna, with paintings splashed on the ground featuring some of her song titles. We spent so much time at Riri's homestead taking a million photos on her front porch and chatting it up with the neighbors and Ms. Marj, the cutest little old lady who claims to be Rihanna's godmother. Here is where we got to see just how much the people of Barbados love and cherish Rihanna, just like we do!
The Safari Ride with Breathtaking Views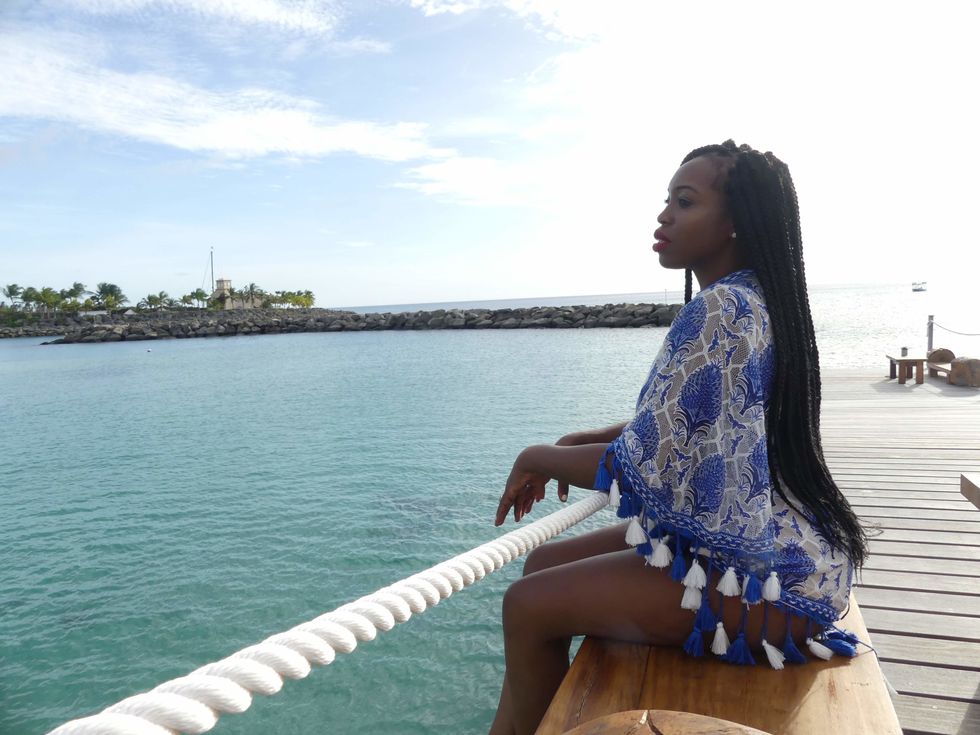 Writer Ianthia Smith looking out into the beauty of the ocean
Photo c/o Ianthia Smith
On our last full day on the island, we hopped on two separate trucks for a Bajan safari ride at dusk. We got a late start and raced to beat the setting sun. But before the light escaped us, we were able to take in some of the most enchanting views of Barbados. We trucked through these close knit communities passing by mountains, beaches, and the most beautiful smiles, and warmest waves on the way. I had no clue Barbados had as many breathtaking views as it does. Bathsheba, to me, though, was the most beautiful. With large boulders sitting far out in the middle of the ocean and some casually resting on the roadside, the views here were dramatic, but so calming. On the way back, our tour guide Glein let us connect to his Bluetooth for an hour-long Rihanna jam out session. We sang our lungs out to so many of her songs as the winds flung our hair to the skies and the nighttime cool kissed us goodbye...until next time.
This was my first trip to another Caribbean country and I can admit that I've certainly been missing out. But being in Barbados, I enjoyed this strange familiarity and quickly remembered that even if you take the girl off the island and put her on another one, she'll always be at home.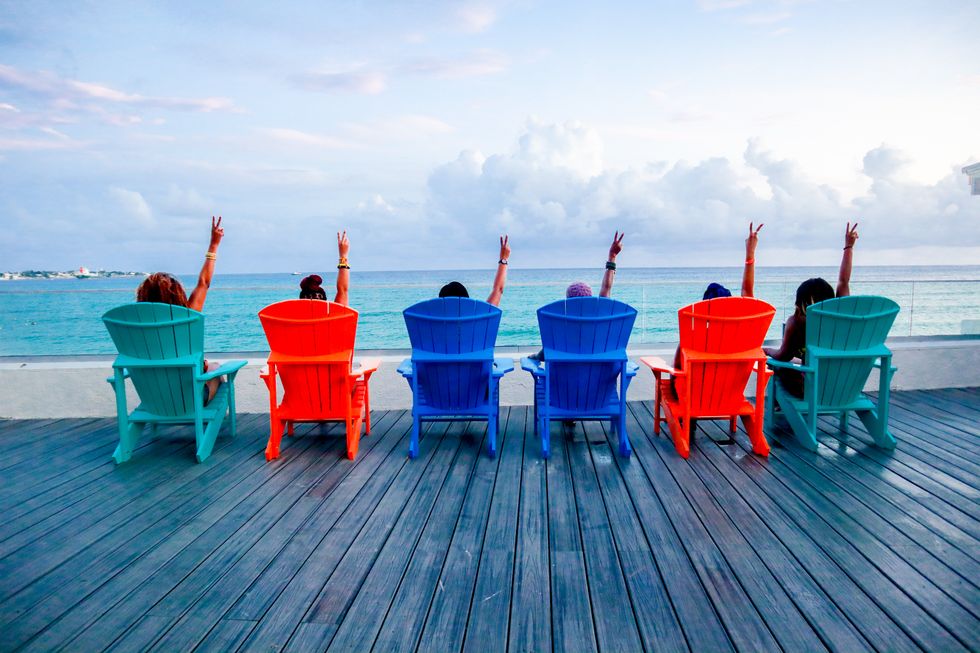 It's all about peace and love on this gorgeous Barbados adventure
Photo by Will Edmond
Related Stories
The Top Travel Destinations For 2019, According To Travel Experts – Read More
The 10 Best Female Solo Travel Destinations – Read More
How To Travel The World With A Full-Time Job – Read More
Featured image by Will Edmond. Originally published January 15, 2019.