Ianthia Smith
Ianthia is a freelance Bahamian writer, journalist, TV host and producer and travel and lifestyle blogger with works and features in Essence, Forbes Travel Guide and Sheen Magazine. A TV anchor turned full-time blogger, Ianthia quickly became one of The Bahamas' top influencers; even being awarded the honor at the 2017 Bahamas 40 Under 40 awards. Ianthia's MiniSkirts and Microphones website (www.ianthia-smith.com) is a travel and lifestyle blog for busy millennial women looking for advice and inspiration on how to transition from 9 to 5 to fulltime girl boss while being a woman in the age of social media.
Something went terribly wrong when I hit 31! Work was great, my love life was intact, and my relationships with friends and family had never been better, but my skin was an entirely different story.

In the past, I was labeled by my girls as "the friend with great skin". I could pick and choose the days I wore make-up; foundation and concealer were optional for me and hardly ever worn. My skin glowed on command and was flawless. That is, until a few days before my 31st birthday.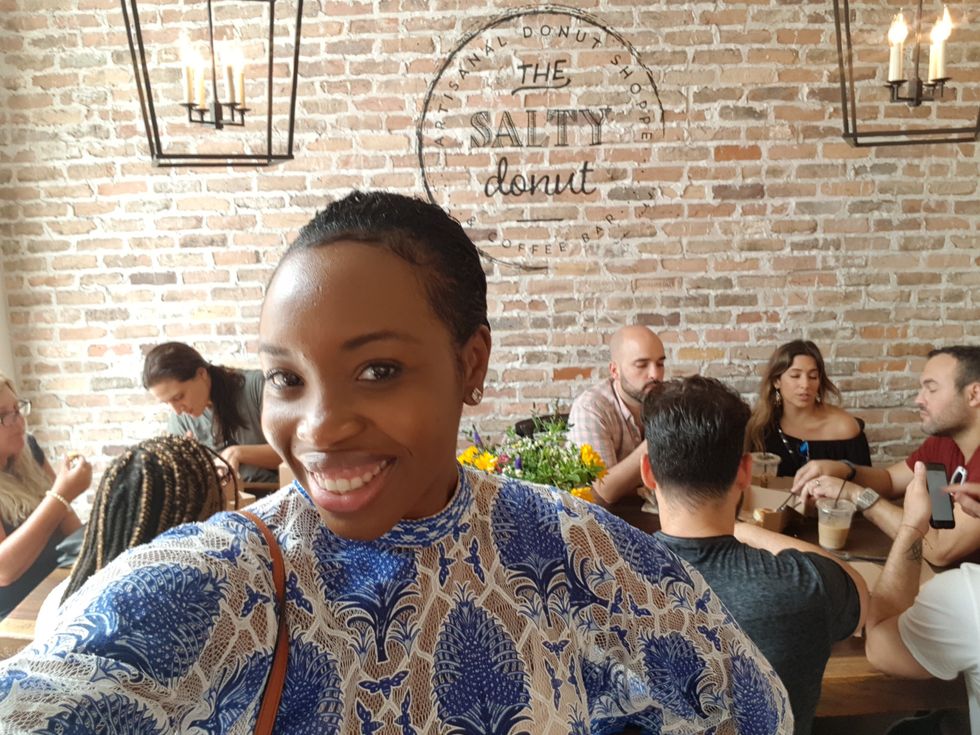 Writer Ianthia Smith
Pimples of epic proportions popped up on my cheeks and on both sides of my forehead, just above the brows. When one blemish disappeared, another appeared almost instantly in its place. The bumps were painful, swollen, and tore my skin leaving massive breakage and tears. "Healing" actually turned to hyperpigmentation and I found myself wearing makeup everywhere, even in the gym (only to watch it drip onto the floor mat as I did my fifth set of squats).

The worst part was, I couldn't figure out why all of this was happening now. I've had pimples before, but the size and frequency at which these appeared was alarming, I just knew something was wrong.
My "glow up" had dimmed and I didn't know what to do.
I tried everything, including but not limited to changing my diet, working out more, drinking more water, changing my makeup brushes, updating my skincare regimen…nothing worked! I finally visited my doctor who suspected I had a hormonal imbalance and put me on birth control and Retin-A. She also suggested that I try a chemical peel.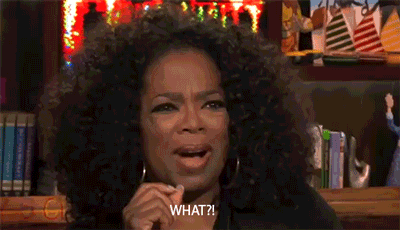 media.giphy.com
This sounded painful, but I was desperate to get back to the skin I knew and love. I quickly booked a consultation with the recommended dermatologist who confirmed that hormones were to blame for my skin problems and that a chemical peel would help to rid my face of dead, broken, and dull skin. She explained that the process uses a mixture of different acids that are applied to the face, given time to dry, and ultimately shed a thin layer of the skin to reveal a new glow.

About a week later, I went in for my chemical peel application. When I arrived at the doctor's office, I had to fill out a consent form and then, it was peel time! And if you ever consider this option as a solution to your dermatology-related woes, here's what you should expect:
Before My Chemical Peel Appointment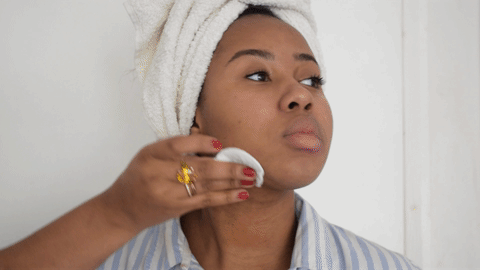 media.rbl.ms
Before the application, I used a moist cloth to remove all products, sweat, and oil that was on my skin. The doctor then came in and used a cotton ball to apply the small cup of brown liquid to my skin. After about four passes, all the liquid was gone and it was time to wait and peel.

The Chemical Peel Procedure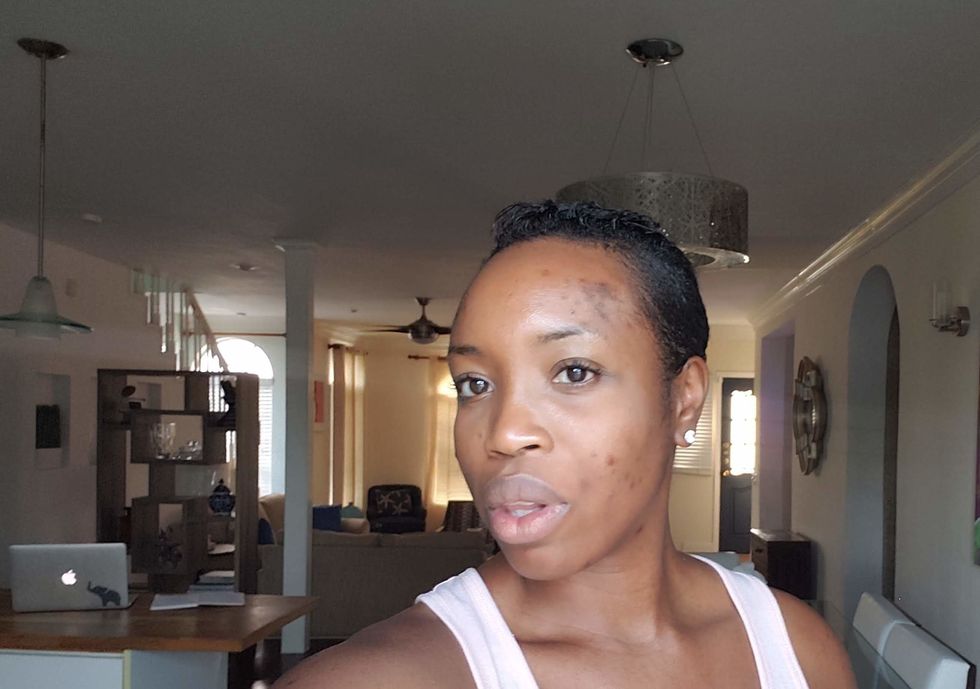 Day One
The day of the peel, my skin had a noticeably orange color, of course because the product was still on. There was no tightness, no pain. I experienced a slight stinging sensation from sun exposure, but that's normal and once I blasted the air conditioning in the car, it became less bothersome.

I was given a post-peel kit, which included some anti-itch cream, sunscreen, and moist towelettes that acted as mini-peels that I had to apply for the next two or three days.
The Next Few Days
By the second day, my skin was still pretty normal looking. In fact, I even wore makeup on this day and no evidence of peeling was noticeable. My skin still felt fine and looked pretty normal as the orange-like glow started to fade.
Day three was when the fun began. I was almost excited to see my old, bruised, and damaged skin start to peel away. It started around the mouth area, as predicted. Since we're constantly talking and chewing, the peel usually starts here first. What began as a small spot of peeling earlier that morning had spread around my entire mouth and instantly I could see the amazing difference between my old skin and the new glow peeking through. It was like magic!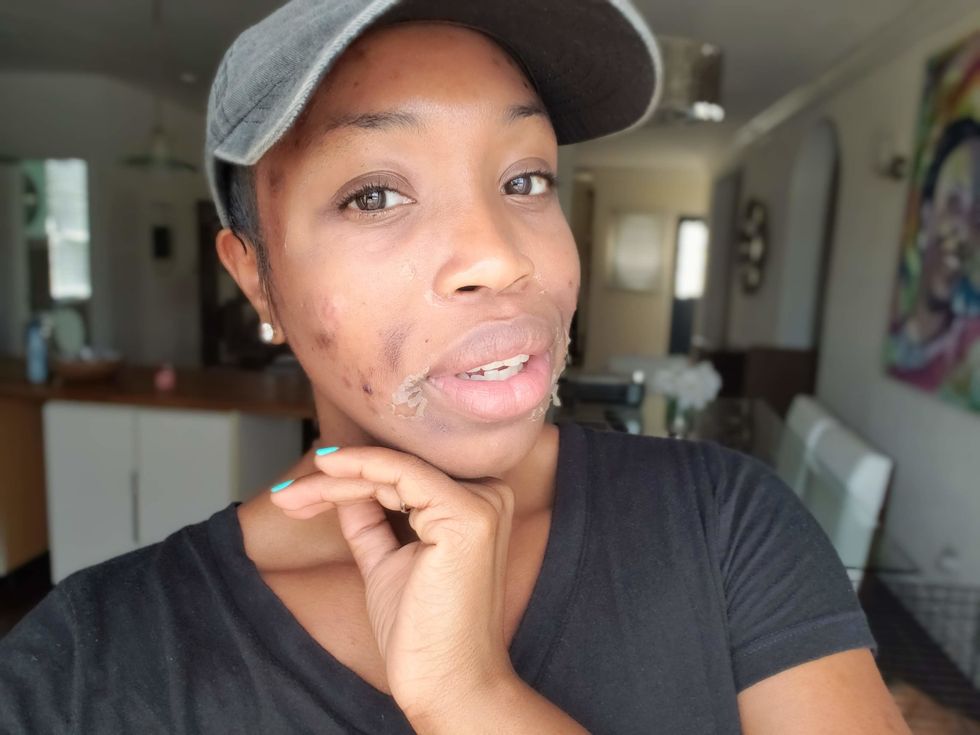 Day Three
Day four was pretty intense as the peel was in full effect! I could now see other parts of my skin start to tighten as it prepared to peel. Peeling around my mouth had now increased to my cheeks and forehead! With each passing hour, the old skin was turning a darker color and was slowly starting to lift away. So far during the process, there had been no pain, minimum itching, and hardly any discomfort…except for when I looked in the mirror, of course.

Here is where you'd want to load up on your favorite Netflix shows and snacks and stay indoors.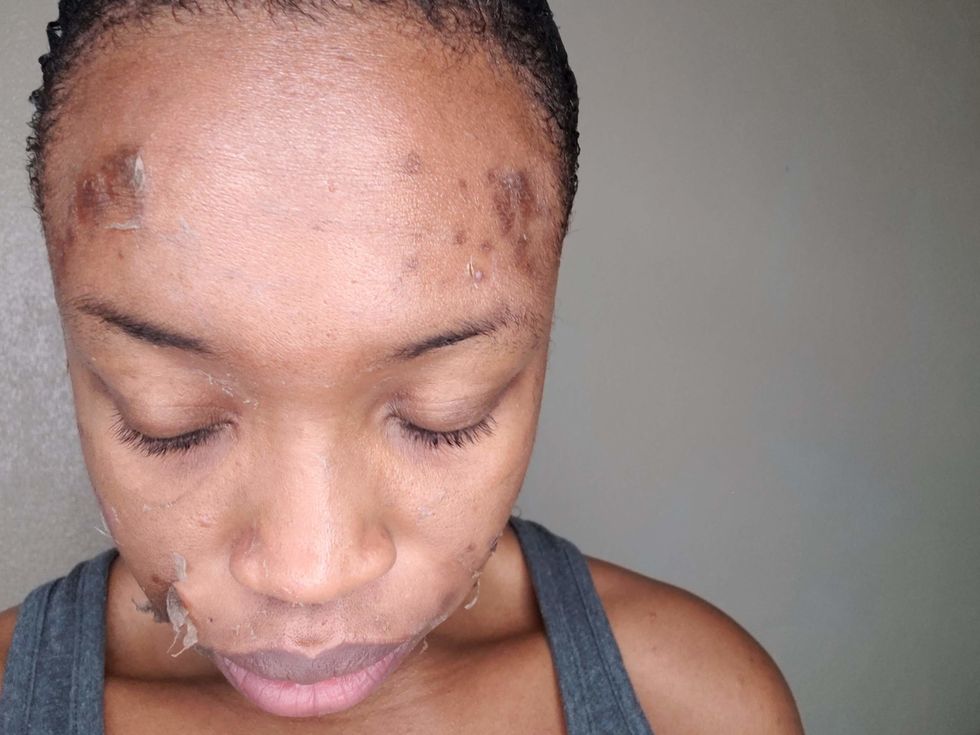 Day Four
By day five, my entire face was peeling, and I could now see the skin that had troubled me for so long falling away to reveal a new, softer, more supple face. It was indeed a scary sight to behold, but I could already see the results and it was so worth it. I could see a new me, ready to shine through. Aesthetically speaking, days five and six were pretty much all the same as the peeling continued.

In A Week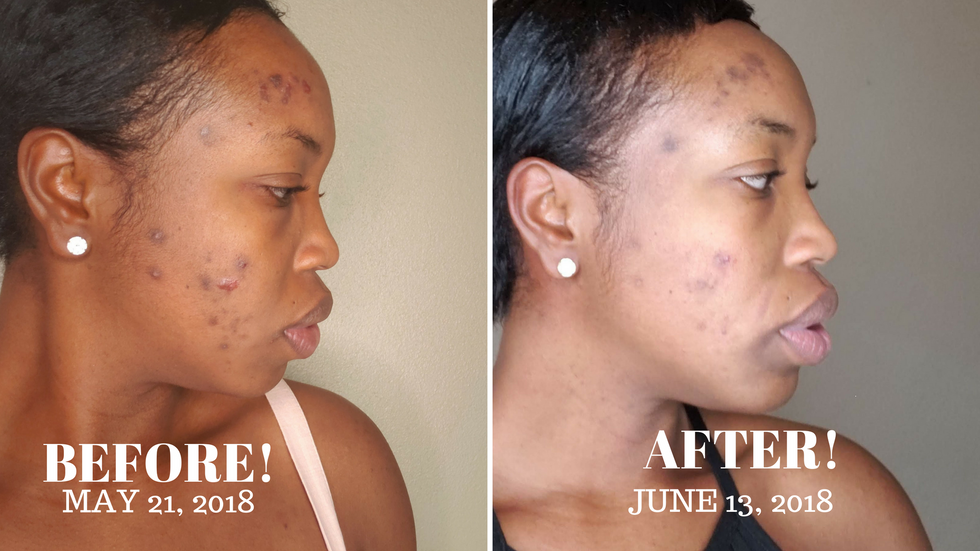 Seven days later, my new skin had arrived! The peeling was completely done and my face had never been softer and smoother. The dry patchy skin was gone, scabs and scars left behind from tearing had disappeared, my uneven tone had balanced out. Finally, my hyperpigmentation was lightening and my glow up was back on the come up.

The day before my chemical peel appointment, I had somehow convinced myself to cancel, but at the very last minute I changed my mind and I'm so happy I did.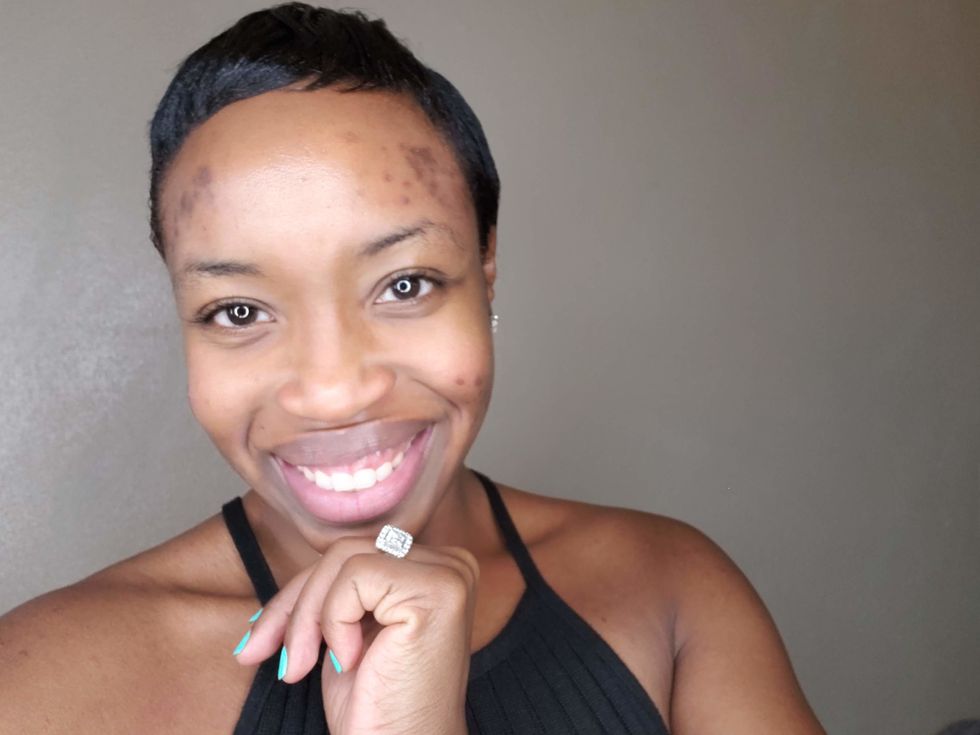 Day Seven
Not only did the chemical peel have immediate benefits for my skin, but even more than two months later, I can still feel its effects.

I haven't seen one of those dreaded pimples in months (knocks on wood), my dark marks are still lightening, and my foundation now glides on my skin like butter. The downtime wasn't that bad either, I personally only needed seven days, and I was only stuck in my house for three of them.
Here's What I Think About Chemical Peels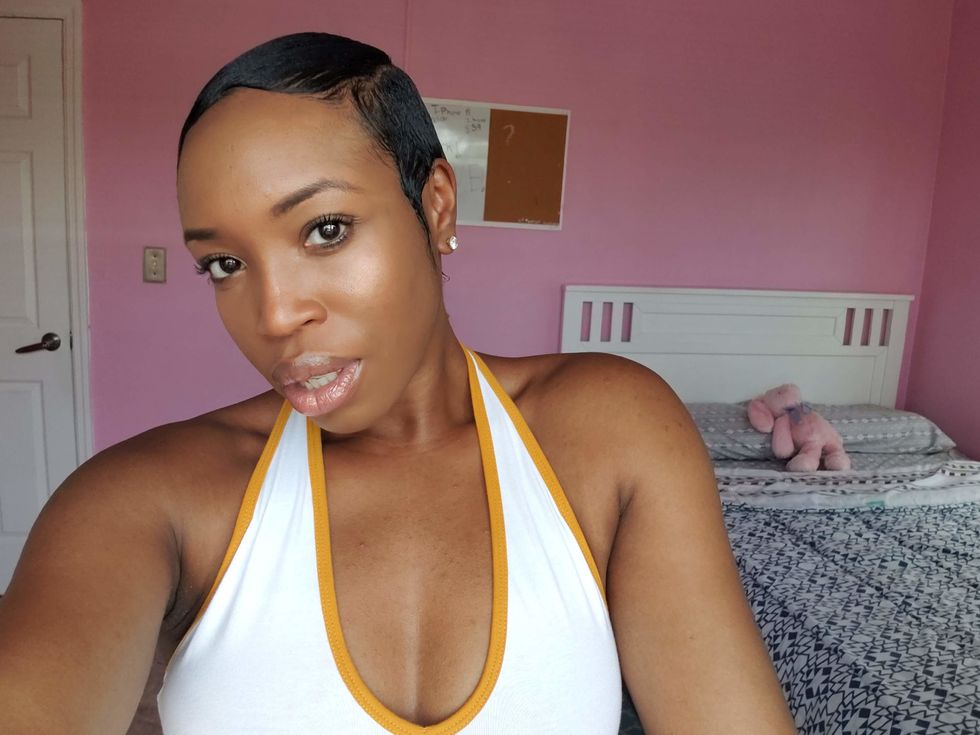 Writer Ianthia Smith One Month Post-Peel
The words 'chemical peel' does sound scary next to each other, but for me it was a much needed addition to my tired skincare routine and I've now added it to my annual calendar. For anyone experiencing stubborn acne issues that just won't go away, I would really recommend speaking to your doctor about this procedure. It might change your life, just like it did mine.

Our faces go through so much drama on a daily basis, and just like everything else in our life we sometimes need to shed a layer or two to get back to our glory days.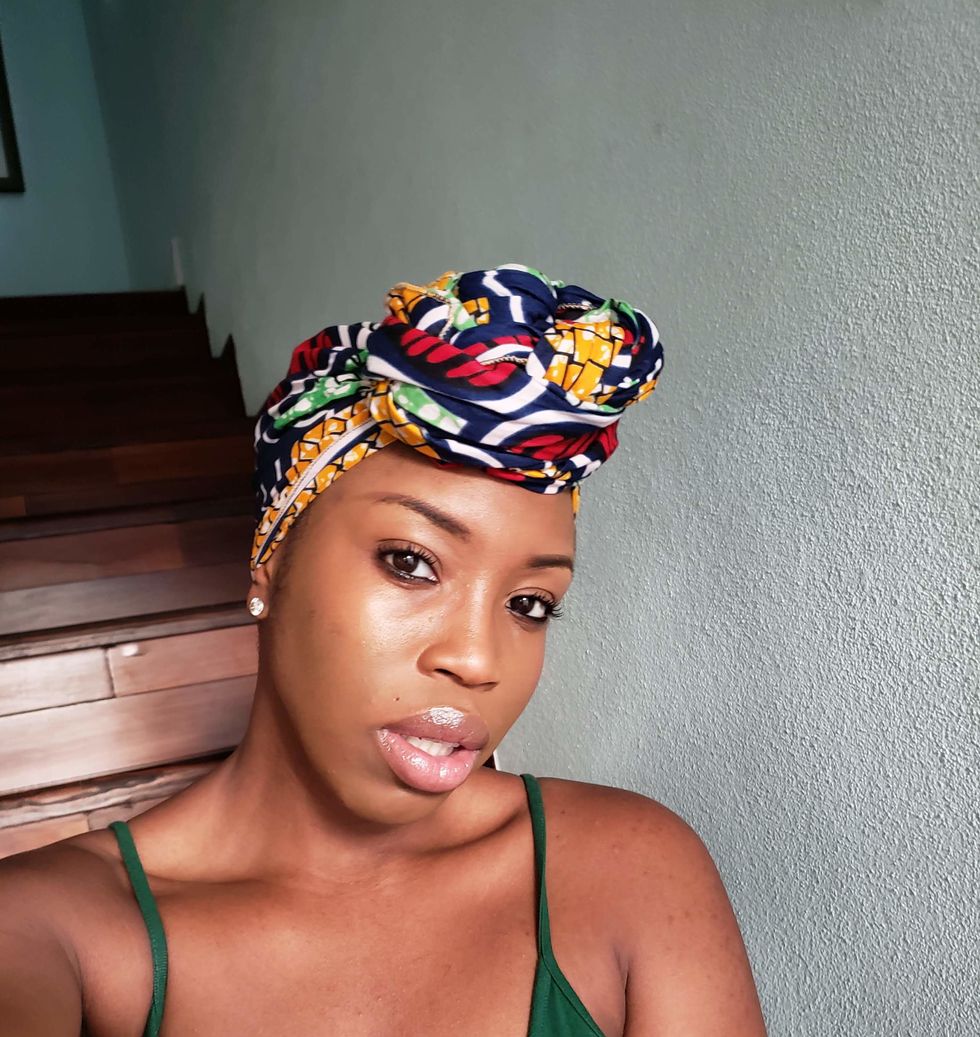 Ianthia Two Months Post-Peel
Click here to watch my full journey or watch my experience by clicking the video down below:
Originally published September 11, 2018
It's been almost five years now since I cold turkey walked off my news reporter job to blog full-time. Since then, I've experienced so many highs and lows of being an entrepreneur and #girlboss. From overlooking some important business details, to learning (the hard way) to deal with shady clients, losing some of my work benefits and not thinking about financial planning for my later years; I literally had a crash course in becoming a businesswoman.
With entrepreneurship being all the rage these days, so many people only flaunt the glitz and glamour of being in business but forget to share those little nuggets of how to actually make it work. In entrepreneurship, there's a lot of personal and professional business (no pun intended) to handle that can easily be forgotten or missed.
Quitting your job to build your own empire or to bring a passion to life is indeed a risky move to make, but it's also a move that can be both beneficial and fulfilling. Just like everything else in life, you have to weigh out the pros, cons and, "Girl, you sure you wanna do this?" scenarios. Don't be one of those people who quit their job to work for themselves…but forget to build a business!
Keep these four things in mind if you're on the road to entrepreneurship.
Make the business official.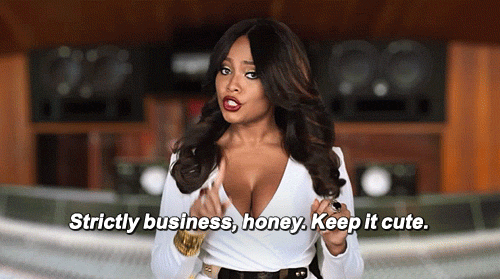 Giphy
It took me fifty-leven days for one company to run me my check and another flat out refused to book me because I didn't have a business license. Sure, I could do the work and in my head it was easy for them to just write a check out in my name. All companies are different and not everyone can just write the check; they all follow procedures and processes unique to them and sis, you don't want to get caught up in all of that. I found that it made being an entrepreneur much easier when I could supply a client with proper, legal documentation on behalf of my company. Not only does it help you to get paid easier it also proves that you take your business and coins seriously.
Benefits? What benefits? 
As soon as you say, "I quit!", one of the first things that disappear are your employee benefits. As a woman, it was super important for me to have some kind of health insurance, but the minute I walked out that door, I was on my own. Some companies are great in that they allow past employees to stay in their group plans but make the payments themselves; others just drop you. I've been making the sacrifice for five years now to pay my health and life insurance out of pocket; because of the way life is set up these days, I can't chance it. If this is important to you, make sure to keep this in mind as you journey to entrepreneurship. Will you need new insurance, can you join a group one…do you even care? And then there's the pension plan. How will you save money for retirement? Will you set up your own plan? This is definitely worth the conversation and discussion.
Where'd the money go?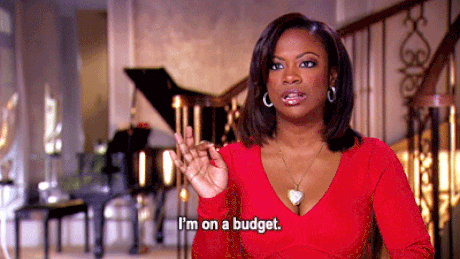 Giphy
I'm cheap. And I'm not afraid to admit it. As a freelance writer and TV host and occasional influencer who partners with brands, I know firsthand how fickle this industry can be. I've had partnerships taken away, given the 30-day notice and left to literally count my coins. Learning how to effectively budget and manage money is a great skill to have as an entrepreneur, in any field. All businesses, even the well-off, established ones, experience ebbs and flows in their companies and yours won't be exempt. Buffer those crazy days by saving, budgeting and investing.
It's not an easy road.
Being my own boss is one of the greatest pleasures I've ever experienced. It's a thrilling journey of highs and lows that stretch you and strengthen you; it's simultaneously fickle and fulfilling, it has its bumpy days and days where everything is going right. More importantly, it's not for everybody. If you've decided though that you can and will do this, you have to commit to the cause and fight through the tough times.
Want more stories like this? Sign up for our newsletter here and check out the related reads below:
Passion Over Paycheck: Why I Quit My Job At 30 To Start Living
How To Cope When You Hate Your Job
These 3 Women Boldly Quit Their Jobs & Changed Careers
I Quit My Job 3 Years Ago And Built A Badass Brand With These 5 Tips
Featured image by Shutterstock
I'm an island girl at heart.
I was born, raised, and still live in the beautiful islands of The Bahamas so I know for a fact that when I see bridal parties, girl squads, and women in general living their best lives on an island getaway and hashtagging their pics with #travelgoals, they're telling no lies!
I was invited on an all-girls trip to Barbados last year and I was super excited to soak in the sun on an island I'd never visited before! As a travel writer, this trip proved to be like none I'd ever experienced.
The trip was the brainchild of Black Girls Travel Too (BGTT) owner Danny Rivers-Mitchell whose company encourages, promotes, and supports Black women traveling the world and occupying spaces "they" say we can't or shouldn't be in. For the first time ever, 10 influential Black queens descended on an island at once to soak up some sun and prove that we too have an audience, reach and influence. In fact, when combined our followers total more than one million!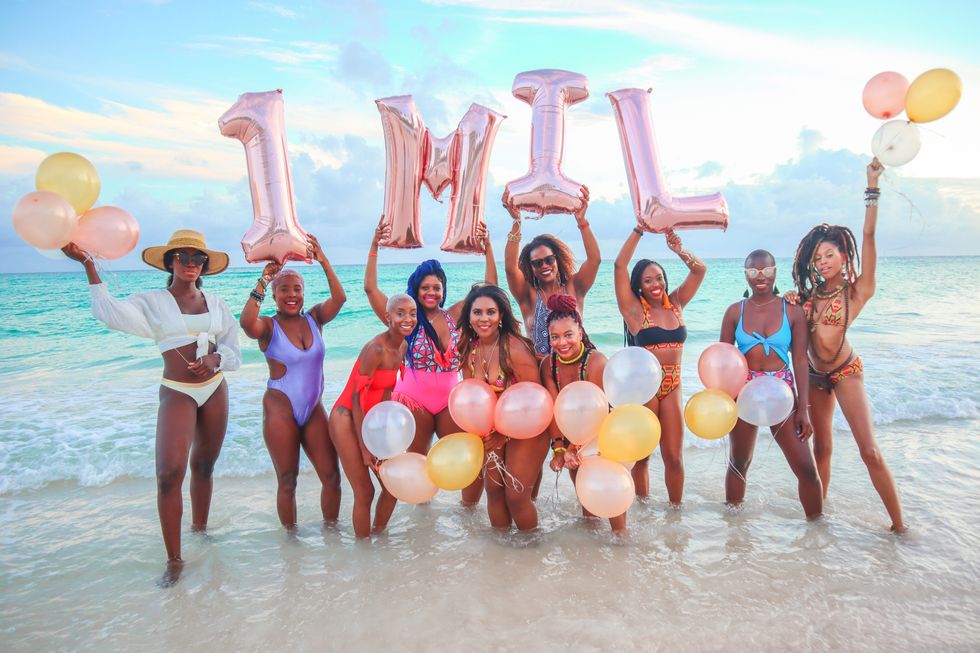 The ladies & Writer Ianthia Smith showing the impact of their reachPhoto by Will Edmond
How's that for influence?

After an early morning meet up in the JFK Airport in New York, friendships, bonds, and connections were immediately formed, and as we boarded our five-hour flight to paradise, it was crystal clear that this would be a girls trip I wouldn't soon forget.
Like most island destinations, the minute you hop off the plane, you're immediately hugged by sweet island breezes and intoxicated by the salt left lingering the air by the ocean's waves. Barbados is no different. It didn't help that we were in Rihanna's home country either, so our inner "bad gals" were all activated as we brought the bikinis, the melanin, and the sass!
Check out these 5 times me and my newest gal pals got our entire lives in Barbados!
Private Cooking Class on the Beach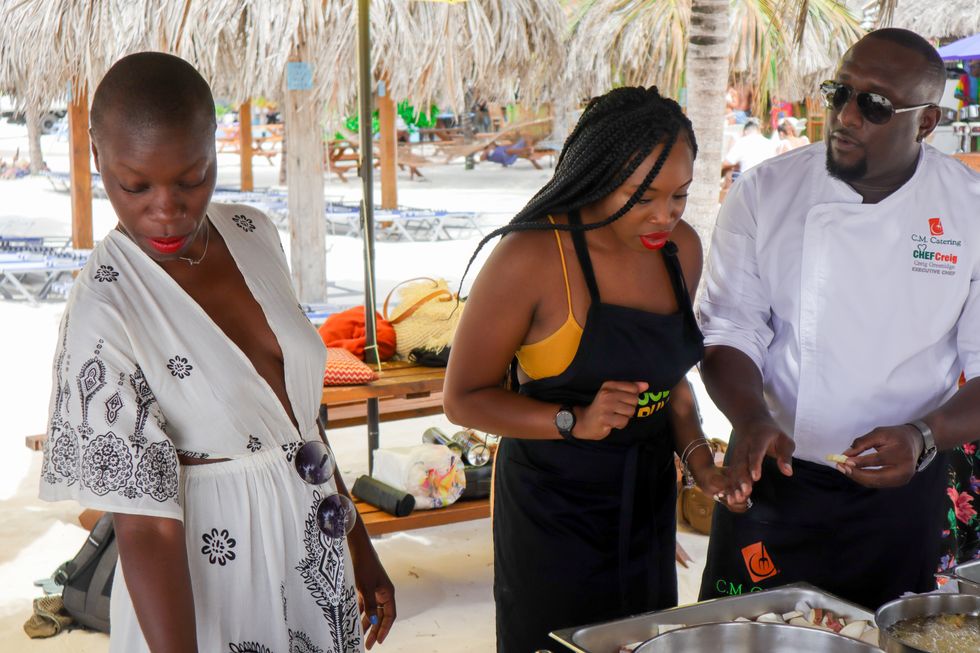 Writer Ianthia Smith cooking with Barbados celeb chef Craig Greenidge
Photo by Will Edmond
Our first day out, we headed to the beach for a cooking demo with one of Barbados' celebrity chefs, Craig Greenidge. The entire atmosphere at Pirate's Cove was so tranquil and serene. Hammocks swayed in the midday sun as tropical drinks and cups of rum punch flowed endlessly. The sea glistened as the powder white sand seemingly evaporated between my toes. We were like little kids on the beach; dipping our toes in the water, running amuck and trying hard to pay attention to the chef as he walked us through cooking our meal of cassava chips, fish cakes, and curry chicken salad.
We helped to whip up a traditional Bajan meal and washed it back with more rum punch, of course. The food was delicious, but the relaxing mood and quiet of the beach satisfied our appetites more. We walked along the sandy shoreline for what seemed like hours, bonding, connecting, and capturing fire images of each other.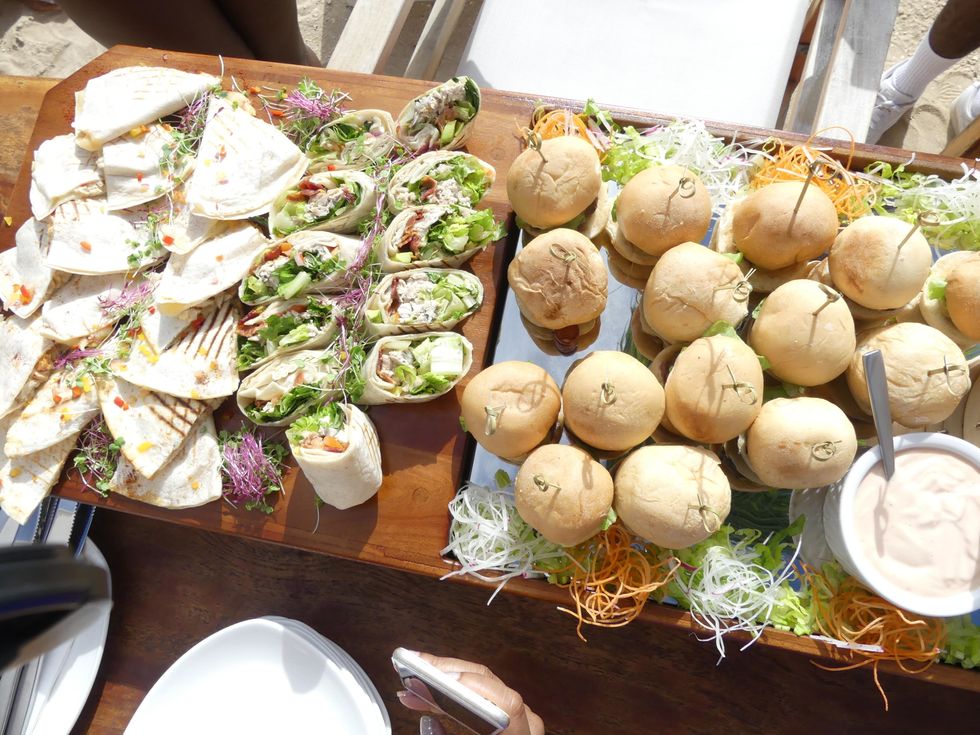 The results of the girls' private cooking lesson on the beach
Photo c/o Ianthia Smith
Nikki Beach was LIT!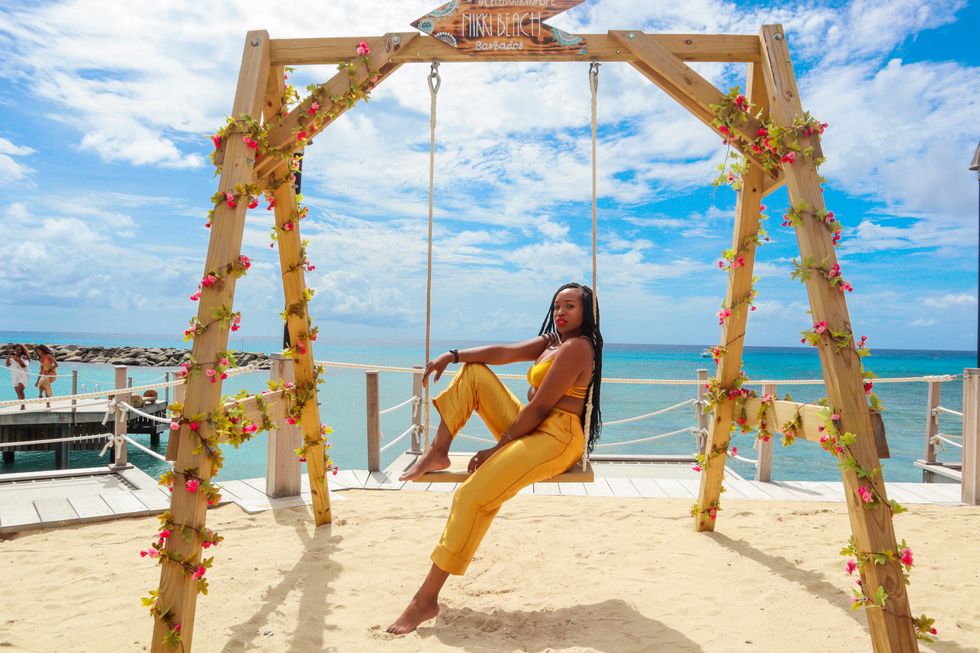 Writer Ianthia Smith keeping things mellow in yellow on Nikki Beach
Photo by Will Edmond
No girls trip to Barbados is complete without a visit to Nikki Beach. I was not ready for the insane amount of fun and frolic that was awaiting my arrival at this posh, luxurious destination. The minute we arrived, it was clear that Nikki Beach was made with a queen in mind. Day beds and lounges stretched the length of the pool on one side, while the beach gave endless views on the other. Our section was ready and waiting for us when we arrived and we quickly traded whatever we were wearing for bikinis and one pieces. The vibe at Nikki Beach was lit for the entire time we were there. Freshly made mojitos were delivered to us with all the pomp and pageantry we deserved; our delicious spread was served on the cutest little boat complete with sparklers, music and...abs!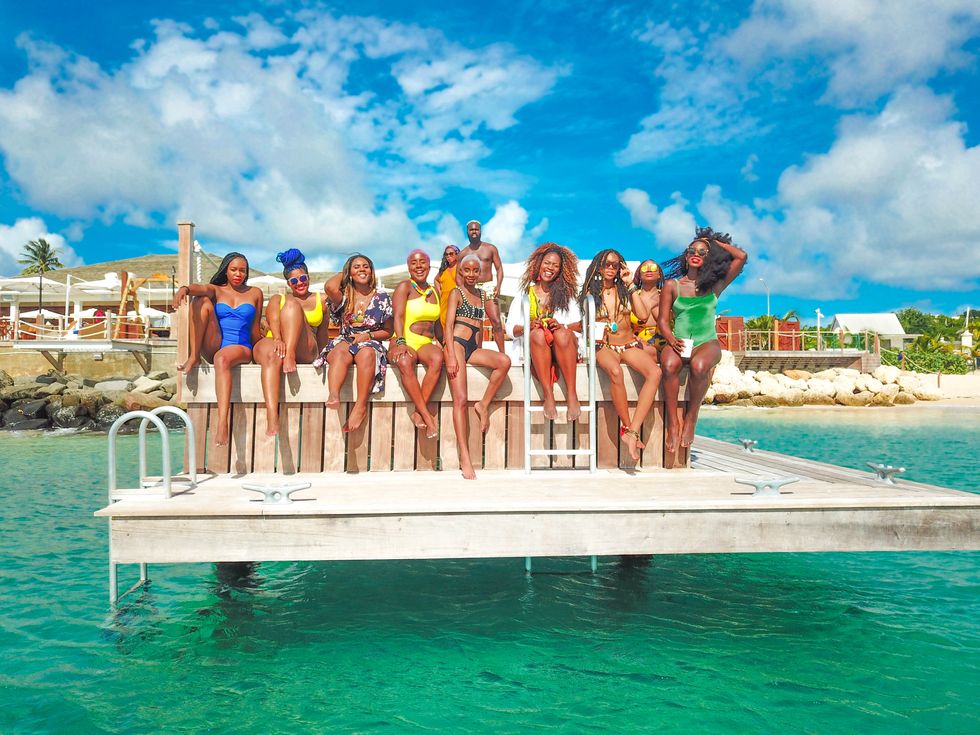 The beautiful ladies & Writer Ianthia Smith stylin' and profilin'
Photo by Will Edmond
A Catamaran Cruise for the Queens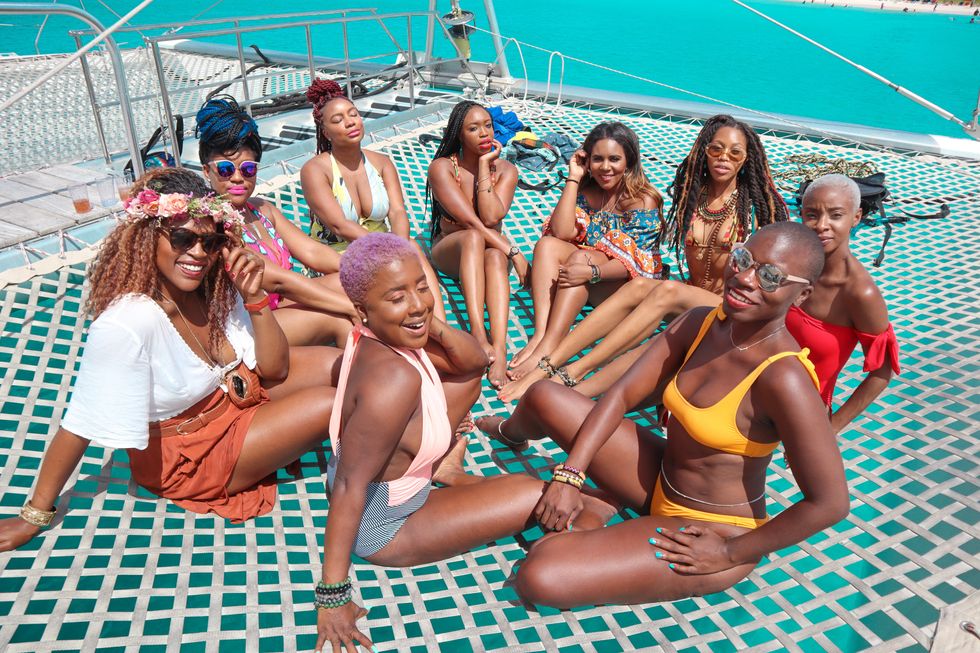 The ladies enjoying sunbathing on their luxurious cruise
Photo by Will Edmond
We left land for a bit to head out on the water for a day of sailing and sun bathing...and scoping out Rihanna's mansion! On the high seas, we coined the phrase, "Riri, are you home?!" because we annoyingly shouted it for 20 minutes straight, hoping our favorite bad gal would hear us, and possibly come out on the balcony. We had a successful day of doing absolutely nothing as we lathered our melanin in the warm Bajan sun. Our catamaran cruise took us on a magical tour of the island, passing by mansions and five-star developments on the way. At one point, we stopped to snorkel and swim with the turtles and hop on jet skis, where some of us were far more adventurous than others. It was one of the most relaxing parts of the trip and...Rihanna never came outside lol.
Visiting Rihanna's Childhood Home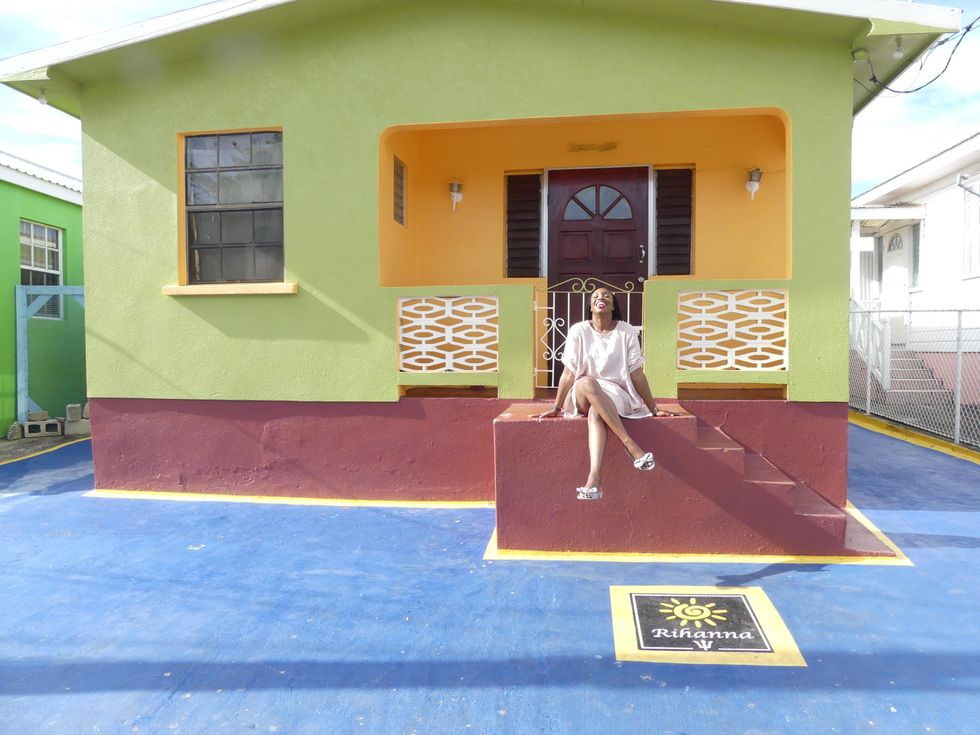 Writer Ianthia Smith posted up on Rihanna Drive
Photo c/o Ianthia Smith
So, this time we got a little closer to Rihanna, but she still wasn't home! Either way, we got our entire lives visiting the home she grew up in. The tiny, but colorful house sits on a quaint corner named Rihanna Drive, in honor of our girl! There's this huge plaque sitting at the corner of the entrance, paying homage to the music and beauty mogul. A tiny red and white bar also welcomes you in. This building is definitely everything Rihanna, with paintings splashed on the ground featuring some of her song titles. We spent so much time at Riri's homestead taking a million photos on her front porch and chatting it up with the neighbors and Ms. Marj, the cutest little old lady who claims to be Rihanna's godmother. Here is where we got to see just how much the people of Barbados love and cherish Rihanna, just like we do!
The Safari Ride with Breathtaking Views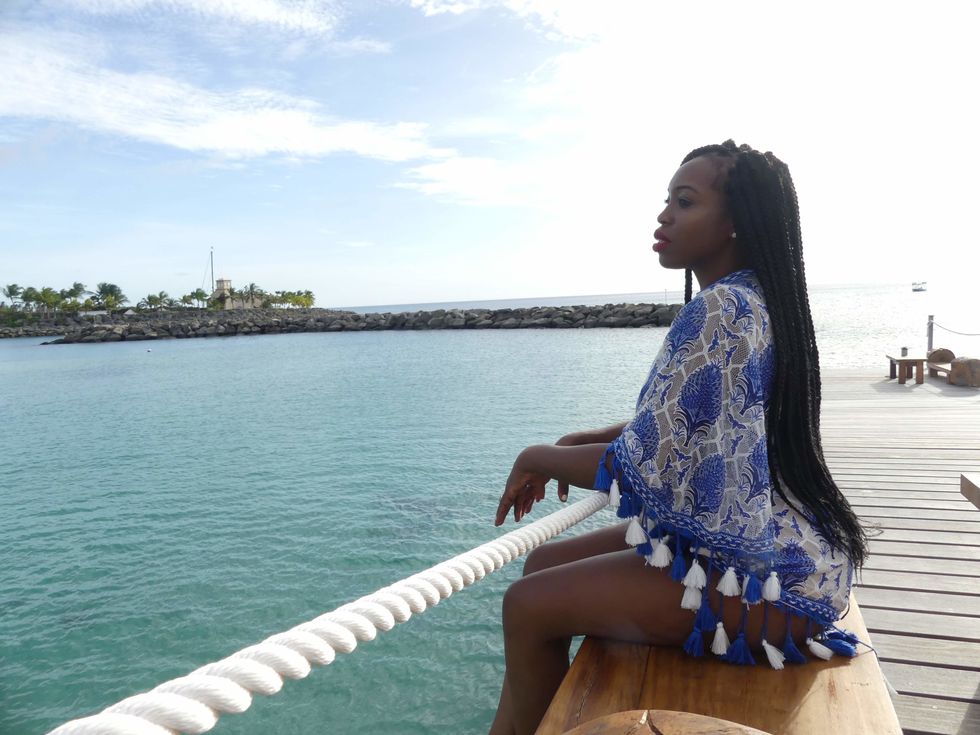 Writer Ianthia Smith looking out into the beauty of the ocean
Photo c/o Ianthia Smith
On our last full day on the island, we hopped on two separate trucks for a Bajan safari ride at dusk. We got a late start and raced to beat the setting sun. But before the light escaped us, we were able to take in some of the most enchanting views of Barbados. We trucked through these close knit communities passing by mountains, beaches, and the most beautiful smiles, and warmest waves on the way. I had no clue Barbados had as many breathtaking views as it does. Bathsheba, to me, though, was the most beautiful. With large boulders sitting far out in the middle of the ocean and some casually resting on the roadside, the views here were dramatic, but so calming. On the way back, our tour guide Glein let us connect to his Bluetooth for an hour-long Rihanna jam out session. We sang our lungs out to so many of her songs as the winds flung our hair to the skies and the nighttime cool kissed us goodbye...until next time.
This was my first trip to another Caribbean country and I can admit that I've certainly been missing out. But being in Barbados, I enjoyed this strange familiarity and quickly remembered that even if you take the girl off the island and put her on another one, she'll always be at home.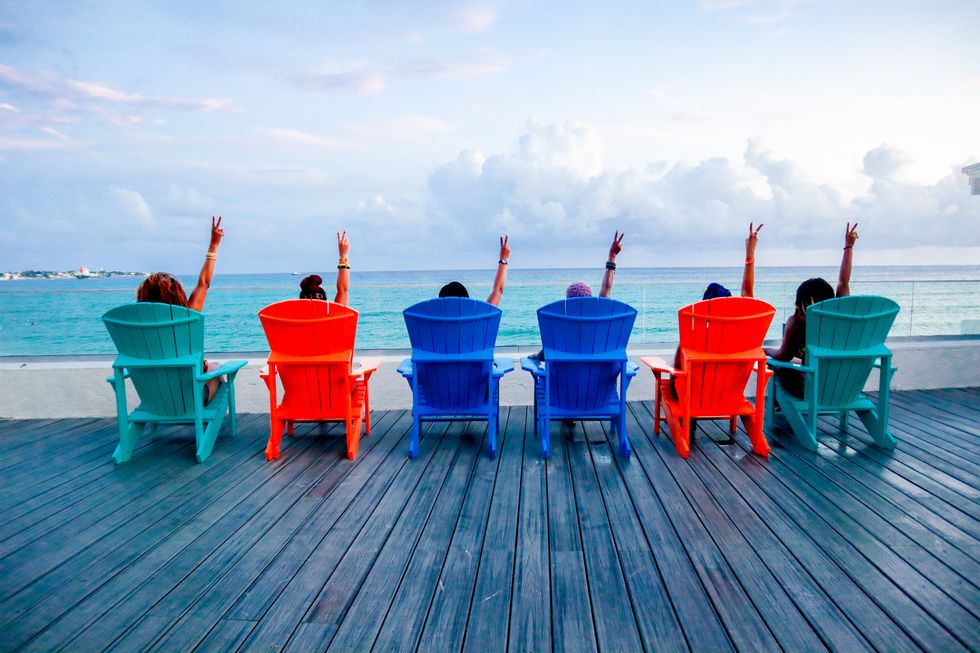 It's all about peace and love on this gorgeous Barbados adventure
Photo by Will Edmond
Related Stories
The Top Travel Destinations For 2019, According To Travel Experts – Read More
The 10 Best Female Solo Travel Destinations – Read More
How To Travel The World With A Full-Time Job – Read More
Featured image by Will Edmond. Originally published January 15, 2019.
I've paid for them, I've downloaded the free ones, I've stayed up watching the clock as my favorite online marketers released theirs and I've even written a few myself.
These days just about everyone with an online business is turning to creating e-books as a way to catch and keep their audience's attention. While some people love the scent of books ageing in their home, there are those who'd much rather scroll through their reads than flip through them. E-book sales are said to have drastically increased over the past few years with more and more people downloading their favorite reads into their Kindle and mobile devices.
And I can attest to that. I recently published my second e-book #PitchSayWhat?! and watching the online sales gives me goosebumps, in a good way. The book features my five-step guide for all freelancers and creatives who dream of working with the magazines, talent agencies, restaurants or corporations they admire and outlines how I was able to successfully pitch my work as a writer, get picked, published and paid.
Honestly, I wish I had tapped into this side hustle much sooner than I did, but timing is everything, right? There are literally millions of e-books available to you right now, and some I'm sure are still in the works (like my third, fourth, and fifth!).
Here are five reasons you should get to working on your very own e-book.
Make money while you sleep. 
E-books are an easy way to add some meat to your monthly salary…and you really don't have to do anything. Outside of some great online and in-person marketing, e-book sales can easily fatten that bank account. Once it's published, you let people know about it and if it's attractive, your e-book could literally make you money forever (in my Cardi B voice). You never know when someone is seeking out the information you've written about; it could be months or even years after you first publish your e-book that a new reader finds (and pays) you.
Solidify yourself as an authority.
Every time I've written an e-book, I've gotten messages from my readers who say I educated them, sparked a thought or even prompted them to start a business; that's because I was able to either answer a question, solve a problem or bring clarity to an issue. Doing the proper research on your e-book topic and carefully executing that will no doubt identify you as a solid and credible source in that field.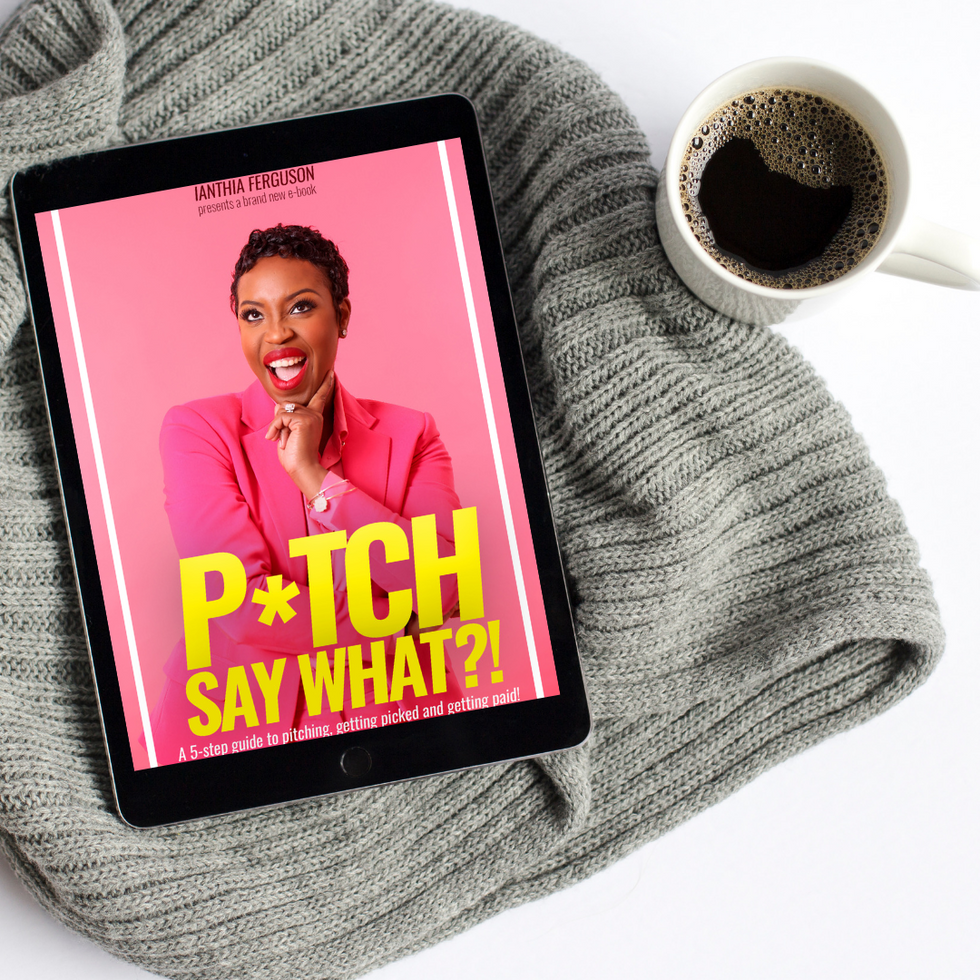 Perfectly package your thoughts.
I run my MiniSkirts and Microphones travel and lifestyle blog and sometimes I have this urge to flesh out a topic in more space than a blog post would allow…and my readers would care to scroll through. I've found that writing e-books are great for beautifully packaging the information I want to share. Working with a graphic artist, choosing the colors, fonts and styles, and coming up with catchy chapter topics and e-book titles really elevate the experience. It quickly turned into a project I couldn't wait to see come to life. I even threw a party for my first e-book launch to bring more life to the brand and give people something to talk and post about.
Grow your numbers/following.
My first e-book Create. Post. Push is available as a free download on my website. The reason I wrote it was really to increase my email subscriptions and get more people on my list, and it worked! I saw my subscription numbers grow from just under 100 to well over 500 in just a few short days. The book was beautifully done. I had promo fliers made up and some of my followers were even talking about it. So, naturally the people who didn't know about it, wanted in and my social media tribe grew exponentially. Making my e-book available for free as a download caught the eyes and ears of many who wanted to get all the gems I was spilling in the book on ways to stay consistent with your online content. To this day, I'm still collecting emails because of that e-book.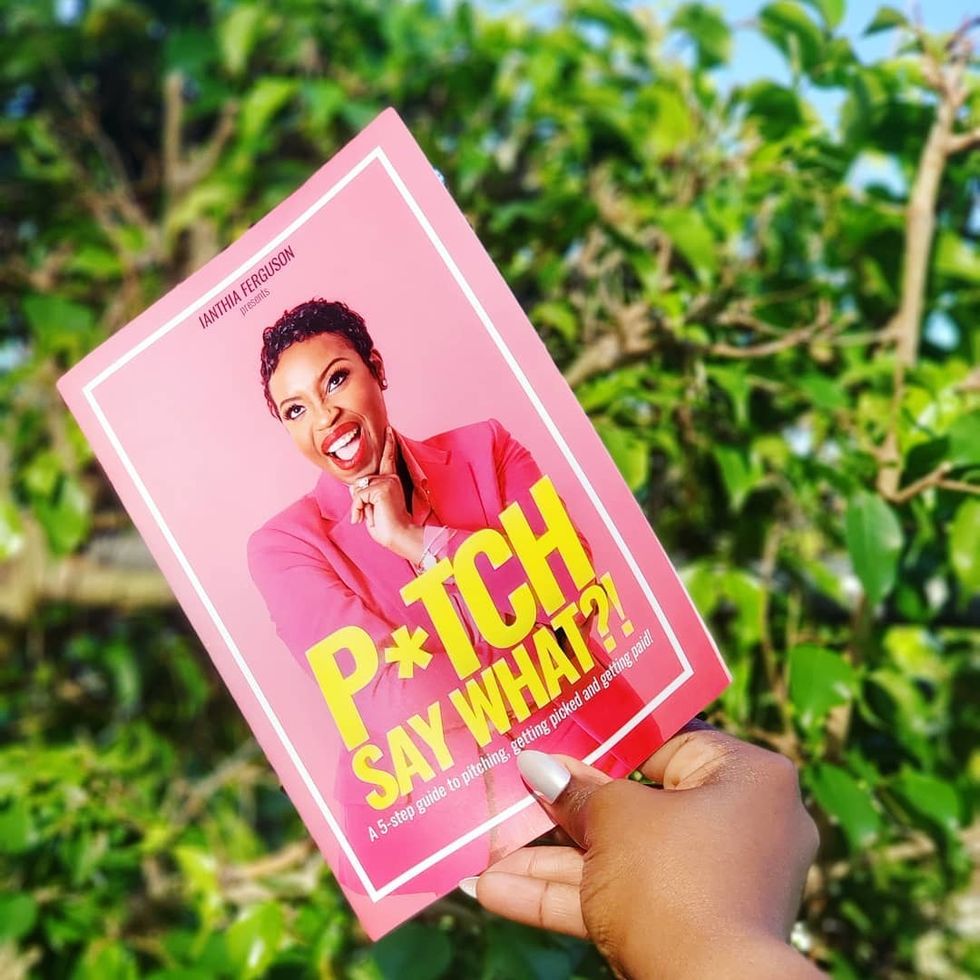 Your e-book can be about anything. 
There are no rules to this; you can literally write an e-book on any topic you like. Just like blogs have their niches and never-ending topics, so do e-books. As long as you're able to flesh out your ideas on a particular topic, provide some well-rounded chapters and points, then you're in. Your e-book can also be as long or as short as you'd like, too. My first e-book was about 15 pages and the second one was a 30-pager. That's it.
E-books are the perfect projects to take on if you're looking to increase your online presence and voice while increasing your coins.
Featured image by Getty Images
Want more stories like this? Sign up for our newsletter here and check out the related reads below:
Why Personal Brands Are Important For Black Women
5 Overlooked Branding Mistakes That'll Sink Your Business
I Quit My Job 3 Years Ago And Built A Badass Brand With These Tips
Bey stole my look!
Let me take that back right now before the hive comes a-swarming. No, Beyonce did not steal my look, but it just so happens that I was caught up in one of the most amazing "bish stole my look!" moments; one that I won't ever forget!
It was brought to my attention recently that Queen Bey and I have much more in common than keeping hot sauce in our bags, knowing that girls do in fact run the world and, yes, and realizing that the best revenge is in fact that paper! It seems Beyonce and I are sisters in fashion who love a dramatic-ass, extra-ass, sexy-ass freak 'em dress; so much so that we wore the exact same wedding gown...kind of!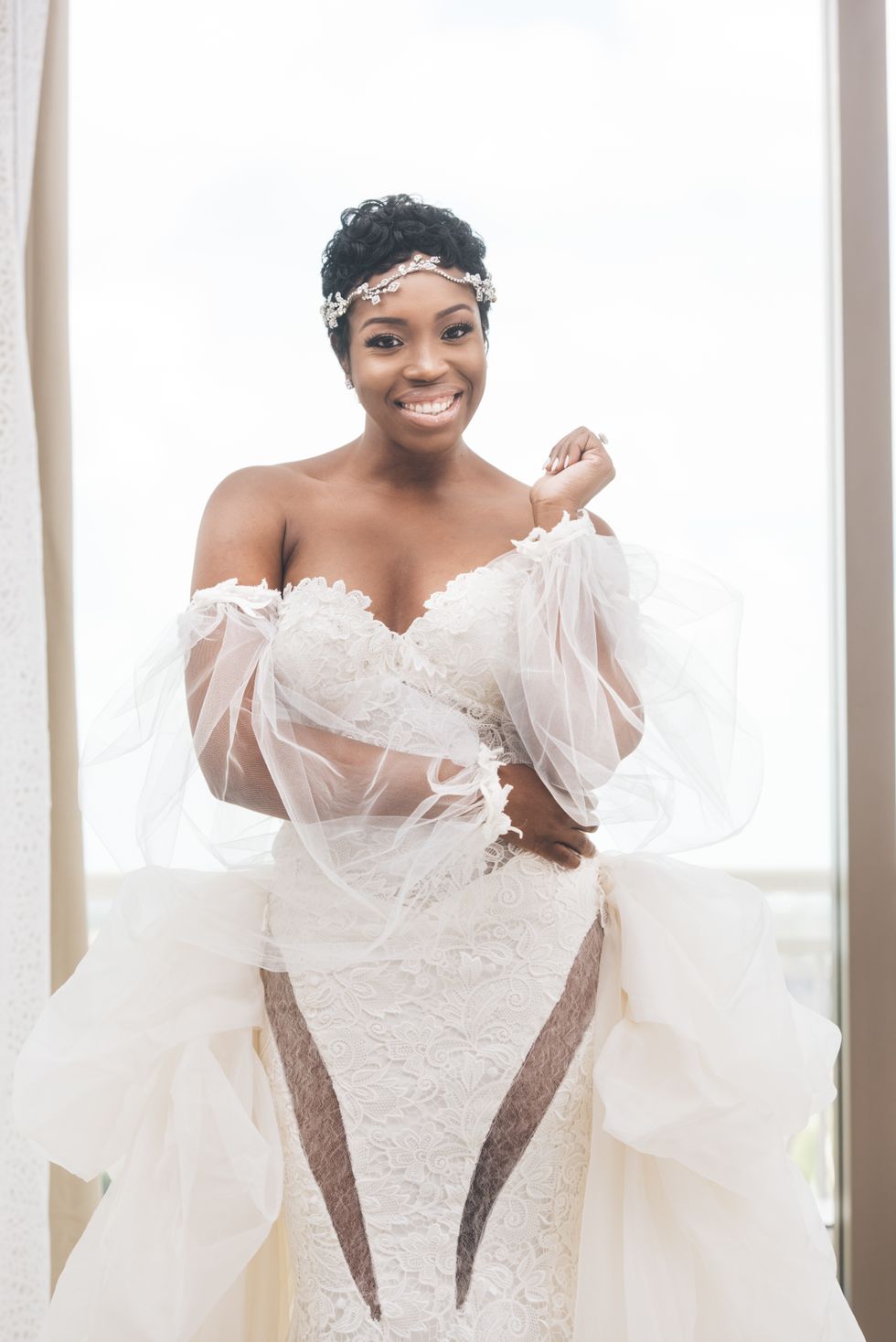 Writer Ianthia Smith wearing her dream wedding dressNDO Films and Photography
After Beyonce released her Netflix special Homecoming, in which she blessed us with some never-before-seen photos of her family, including a less than two-second glimpse of the dress she wore during her June 2018 vow renewal to husband Jay-Z. It seemed like everyone was typing "Beyonce vow renewal dress" in their browsers and the photos went viral.

I'd not so long shared the story of my wedding day; inclusive of my dress woes (my designer dumped me six weeks before my big day!) on my own blog, so the photos of my wedding look was still fresh in people's minds. This explains why I woke up to literally hundreds of mentions and tags and retweets from friends and family and anyone who knew; everyone wanted to let me know that "Beyonce has on your wedding dress!"

Where It All Began
Dress shopping for my wedding was an insane experience. It came with all of the highs and lows you've seen in the movies. I'd been Googling and searching and looking for my dress, for what seems like months when one day, I came across the Galia Lahav "Thelma" gown and immediately fell in love!
The romantic Victorian-styled gown features billowing sleeves, a mermaid fit, off-the-shoulder deliciousness, a dramatic bustle and these elongated thigh cut-outs that added the "well damn" to the dress. The gown is a beauty and tells a story all its own. I screenshotted, downloaded, dreamed about and fawned over this dress for weeks! I needed to have it!
Well, just my luck, every bridal store I contacted looking to try on Thelma only had the dress during their trunk shows and my travel schedules never lined up for me to fit my dream gown. This is when I contacted a designer to make my very own custom version; but weeks before the big day, he bailed and was like, "Issa no for me. I'm out!" Sis, let me tell you; my wedding dress dreams came crashing down and I frantically searched for a dress; any dress. I was so bummed out, I was willing to get any dress that was available and within budget. But Thelma haunted me. I needed her.
Bey Stole My Look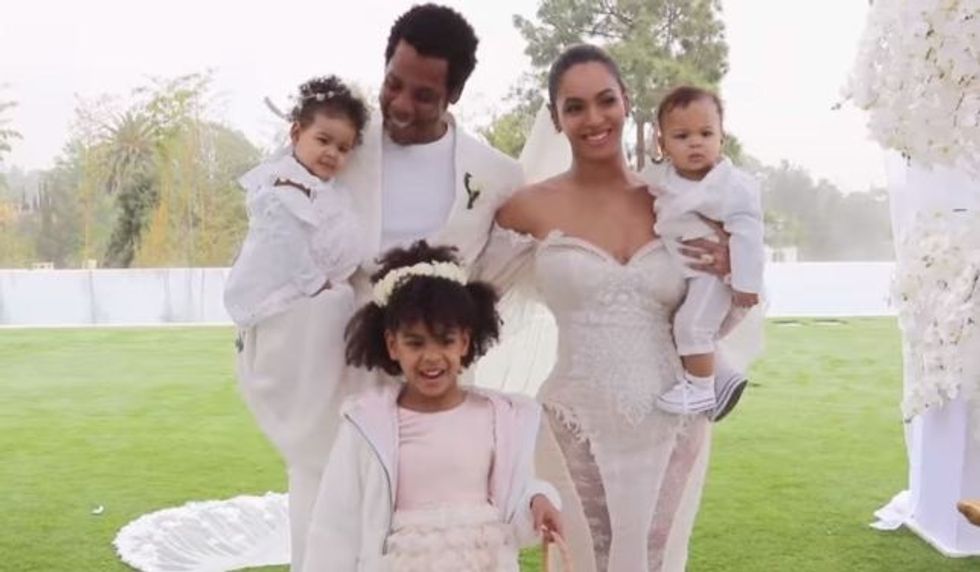 Beyonce wearing Gaila Lahav during her vow renewal in 'Homecoming'
During one of my wee-hours-of-the-morning Internet searches, my blurry eyes came across a very blurred photo of Thelma. It was a photo of Beyonce; wearing the dress.
The photo was shared during a montage during her On The Run Tour II concert. The photo I saw only showed her from mid-chest up, giving just a peek at the dress. To some, she was just wearing a white dress; to me...she was wearing my dress! I'd soaked this gown so deeply into my memory that I could spot it a mile away.
Honestly, I wanted to cry! It was now four weeks before my wedding and just like many other brides, I wanted that element of surprise. I didn't want to see my wedding dress plastered all over the Internet before I actually got a chance to wear it; especially not by Beyonce! I mean come on, who wants to get on stage after Beyonce performs?
Was she going to share more photos? Was she going to post a full shot of the dress? Was she going to steal my thunder? Call me crazy, but these were my exact thoughts. I called my sister in a frenzy and screamed, "Beyonce has on my dress!" We were both fearful that the woman who has the ability to command the world's attention would quadruple my dress stress with just one little post on Instagram.
Since we weren't so sure what Beyonce would do, we figured if she did share the photos, we had two options: be sad over something we couldn't control anyway or turn this experience into one hell of a "I got married in Beyonce's wedding dress" story.
And here we are!
The Ultimate Happy Ending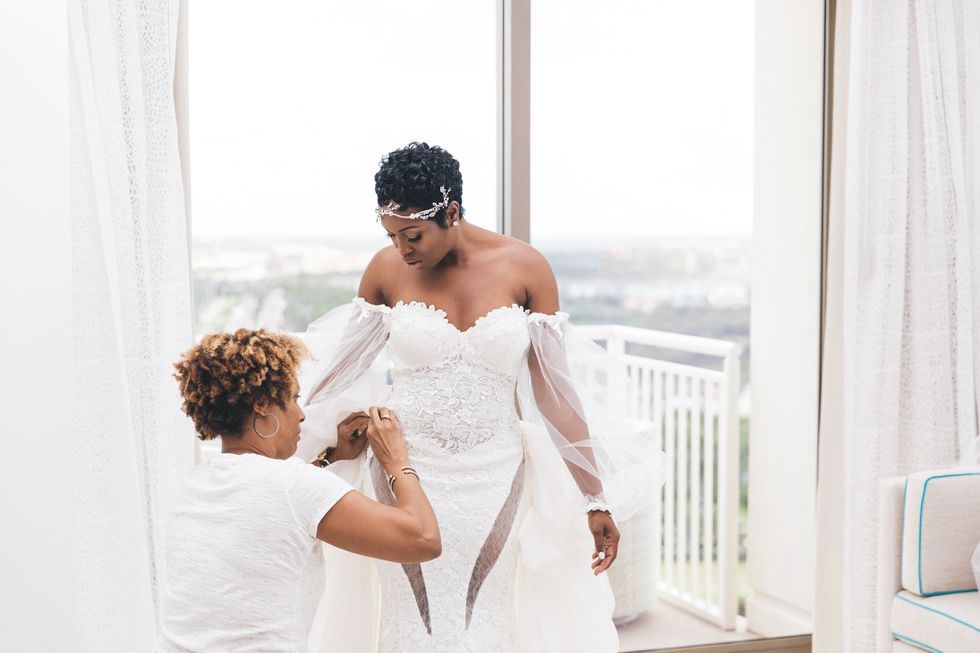 Writer Ianthia Smith in her wedding dress
I eventually found another dress designer who finally brought my dreams to life. In between stalking Bey's Instagram to see if she'd posted any of the pics (thankfully she didn't); we fitted, cut, sewed and embellished my own customized gown to the gawds! I had a mini heart attack with each button being placed, every piece of lace being laid and with every fitting.
On August 18, 2018, after one hell of a rollercoaster ride, I finally walked down the aisle in the perfect wedding dress, handmade for me.
Almost nine months later when my phone was blowing up with the "Beyonce stole your look" messages, I was smiling on the inside knowing that I'd figured this out long ago.
It weirdly and funnily felt like a little secret Bey and I were keeping. She waited on me, in my head; only sharing those photos of our dress months after I got married.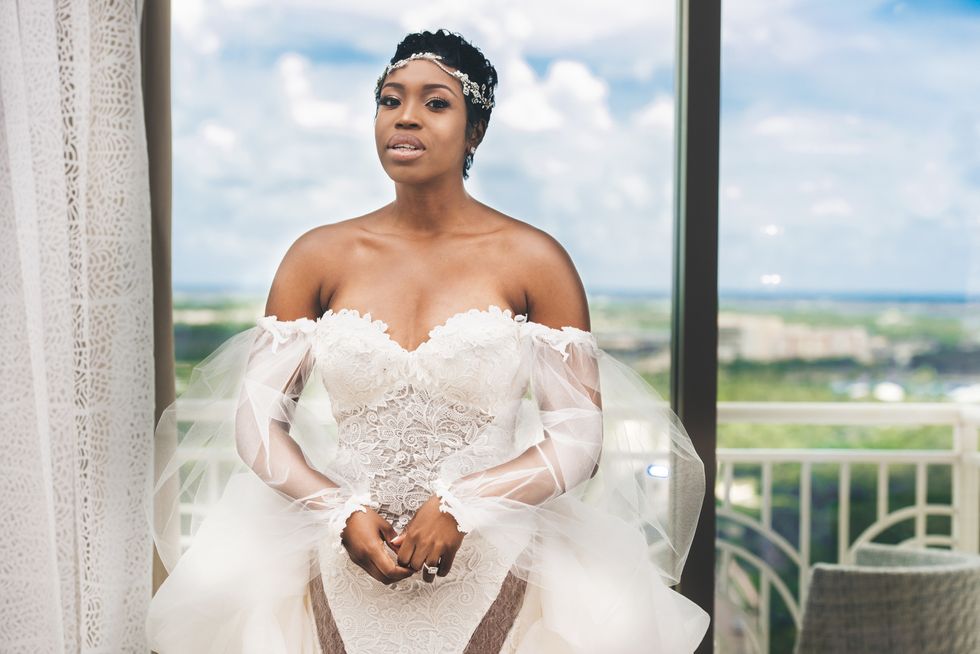 I gushed at how beautiful she looked in her dress, wondering if we shared the same overwhelming feeling of saying yes to the dress, as she fit. Of course, I don't have a Beyonce-sized budget; if I did, I would've flown that elusive gown directly to me.
But I'm so happy I was able to wrangle a team of amazing people who were able to customize, recreate and deliver the dress of my dreams, despite it all.
Whew, chile, a blessing.
In the past, I've been made to question the Queen's timing; you know how she does it with her in the middle of the night releases, having us waiting up 'till 3:00 a.m. while I'm falling asleep on my laptop. Girl, after this experience I shall never question this diva's timeline ever again. This time it worked in my favor. Bow down!
Credits:
Photos: NDO Films and Photography
Dress Designer: Apryl Jasmine
Makeup Artist: Regina McCook
Hair Stylist: Salon Sade International
Want more stories like this? Sign up for our newsletter here and check out the related reads below:
Sooo...Do You Want A Marriage? Or Just A Wedding?
Everything We Learned From Beyonce's 'Homecoming'
5 Steps To A Frugal Wedding On A Budget
Nowadays, women aren't playing when it comes to self-care. I know I'm not. Whatever versions of it we individually decide to seek out, we stop at nothing to gain that inner peace and zen we all need. From taking solo or group trips, alone days at the spa, shutting out social media, turning the phone's ringer off for the day, a therapy session, or simply having a mug of tea, women are seemingly mastering the art of self-care and reclaiming our energy at any and all costs.
And while this is so necessary for survival, to take care of our families and be our badass selves in all facets of our lives, I'm now realizing the importance of sharing these self-care tips with the men in our lives. I know, I know, we can't let them in on all the secrets, but passing on a little bit of the wellness wealth to our husbands, boyfriends, fathers, brothers, friends, uncles, and even grandfathers could be a mutually beneficial deal. Here's why I share my self-care tips with the guys in my life.
1

.

They need it too, especially now.
Men are usually the last ones to admit that they need help, especially if it has to do with their mental or physical health; this is where we come in! If I'm being frank, Black people as a whole have been really seeing the ugly side of the world. From the ignorance with people using black face to sell clothing and shoes and even in politics, we've been straight up disrespected a lot recently. As women, we have our rituals and regimens down packed to help us fend off any and all negative energy that comes our way, but what about our guys? Sharing my self-care tips with the men in my life helps me to help them tackle the woes of the world as well because, I need them to survive!
2

.

It strengthens our bond.
I've always been super close with my dad, but over the past few years we tightened our bond over our love for healthy eating and using natural remedies to cure minor illnesses and my silly acne! For me, self-care is slathering fresh aloe vera on my face three times a week and now using his recipes for the best fresh juices. Sharing my moisturizing techniques with my husband or teaching my brothers how to pray and meditate all draw me closer to the men in my life.
3

.

Helping them helps me.
Who doesn't want their husband, fathers, brothers and uncles around and healthy for as long as possible? Since these are the men I live with or interact with on a daily basis, it only makes sense that helping them to be their healthiest and well cared for selves will reap benefits for me too. Who are the biggest babies when they sick? Men! But, armed with a world of knowledge on how to care for themselves, internally and externally, saves me from constantly having to be the "fixer."
Do you share your self-care and wellness tips with the men around you?
Featured image by Getty Images