Bey stole my look!
Let me take that back right now before the hive comes a-swarming. No, Beyonce did not steal my look, but it just so happens that I was caught up in one of the most amazing "bish stole my look!" moments; one that I won't ever forget!
---
It was brought to my attention recently that Queen Bey and I have much more in common than keeping hot sauce in our bags, knowing that girls do in fact run the world and, yes, and realizing that the best revenge is in fact that paper! It seems Beyonce and I are sisters in fashion who love a dramatic-ass, extra-ass, sexy-ass freak 'em dress; so much so that we wore the exact same wedding gown...kind of!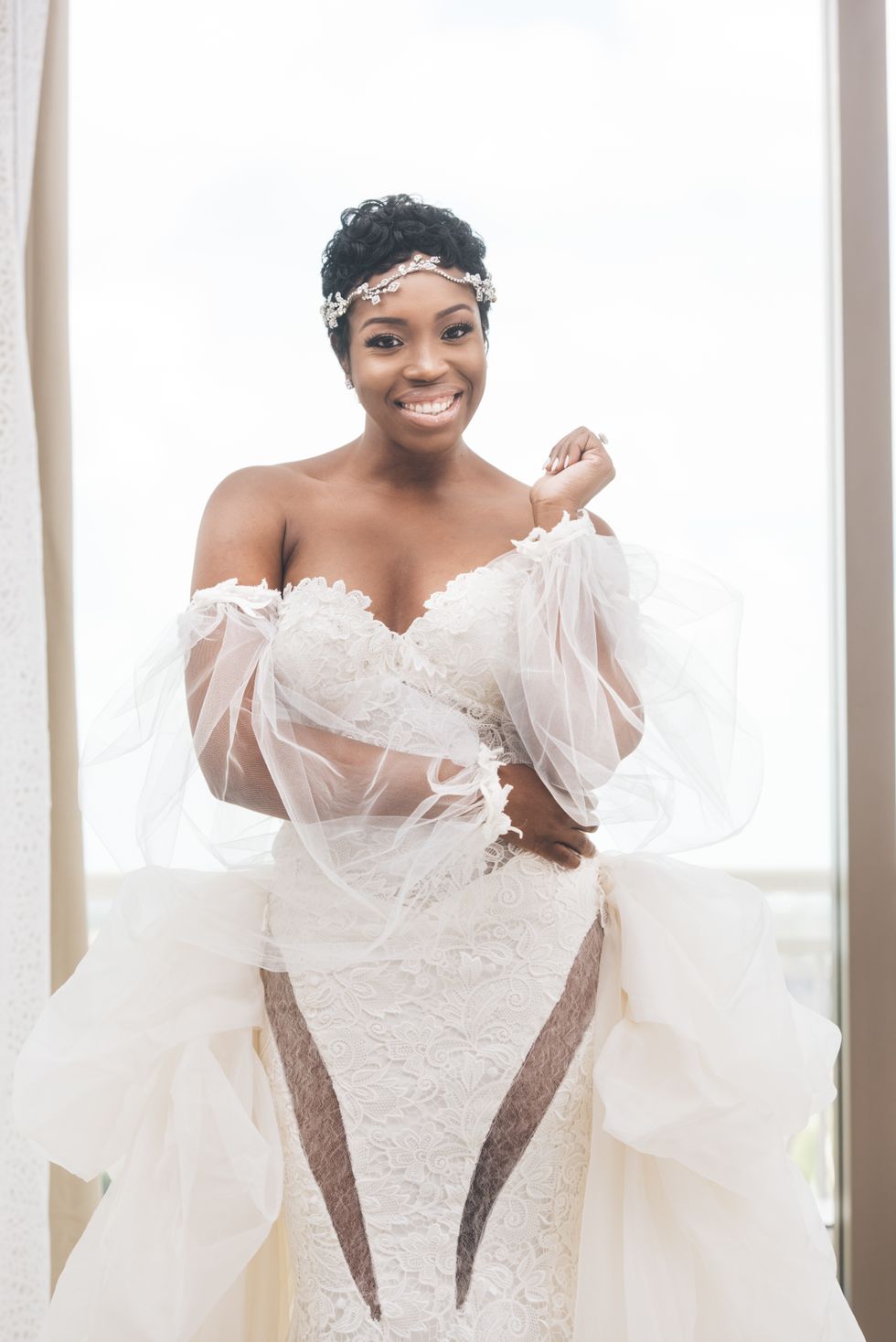 Writer Ianthia Smith wearing her dream wedding dressNDO Films and Photography
After Beyonce released her Netflix special Homecoming, in which she blessed us with some never-before-seen photos of her family, including a less than two-second glimpse of the dress she wore during her June 2018 vow renewal to husband Jay-Z. It seemed like everyone was typing "Beyonce vow renewal dress" in their browsers and the photos went viral.

I'd not so long shared the story of my wedding day; inclusive of my dress woes (my designer dumped me six weeks before my big day!) on my own blog, so the photos of my wedding look was still fresh in people's minds. This explains why I woke up to literally hundreds of mentions and tags and retweets from friends and family and anyone who knew; everyone wanted to let me know that "Beyonce has on your wedding dress!"

Where It All Began
Dress shopping for my wedding was an insane experience. It came with all of the highs and lows you've seen in the movies. I'd been Googling and searching and looking for my dress, for what seems like months when one day, I came across the Galia Lahav "Thelma" gown and immediately fell in love!
The romantic Victorian-styled gown features billowing sleeves, a mermaid fit, off-the-shoulder deliciousness, a dramatic bustle and these elongated thigh cut-outs that added the "well damn" to the dress. The gown is a beauty and tells a story all its own. I screenshotted, downloaded, dreamed about and fawned over this dress for weeks! I needed to have it!
Well, just my luck, every bridal store I contacted looking to try on Thelma only had the dress during their trunk shows and my travel schedules never lined up for me to fit my dream gown. This is when I contacted a designer to make my very own custom version; but weeks before the big day, he bailed and was like, "Issa no for me. I'm out!" Sis, let me tell you; my wedding dress dreams came crashing down and I frantically searched for a dress; any dress. I was so bummed out, I was willing to get any dress that was available and within budget. But Thelma haunted me. I needed her.
Bey Stole My Look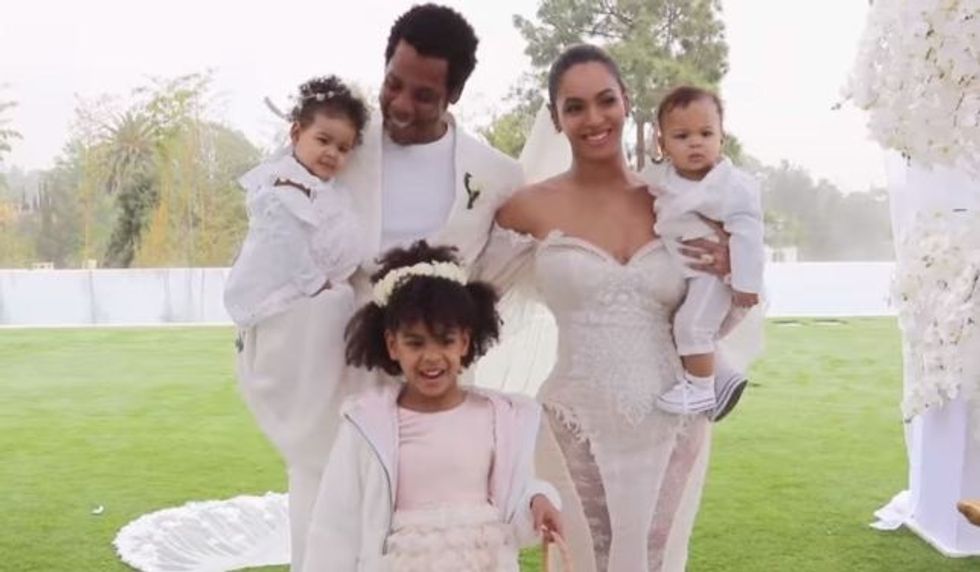 Beyonce wearing Gaila Lahav during her vow renewal in 'Homecoming'
During one of my wee-hours-of-the-morning Internet searches, my blurry eyes came across a very blurred photo of Thelma. It was a photo of Beyonce; wearing the dress.
The photo was shared during a montage during her On The Run Tour II concert. The photo I saw only showed her from mid-chest up, giving just a peek at the dress. To some, she was just wearing a white dress; to me...she was wearing my dress! I'd soaked this gown so deeply into my memory that I could spot it a mile away.
Honestly, I wanted to cry! It was now four weeks before my wedding and just like many other brides, I wanted that element of surprise. I didn't want to see my wedding dress plastered all over the Internet before I actually got a chance to wear it; especially not by Beyonce! I mean come on, who wants to get on stage after Beyonce performs?
Was she going to share more photos? Was she going to post a full shot of the dress? Was she going to steal my thunder? Call me crazy, but these were my exact thoughts. I called my sister in a frenzy and screamed, "Beyonce has on my dress!" We were both fearful that the woman who has the ability to command the world's attention would quadruple my dress stress with just one little post on Instagram.
Since we weren't so sure what Beyonce would do, we figured if she did share the photos, we had two options: be sad over something we couldn't control anyway or turn this experience into one hell of a "I got married in Beyonce's wedding dress" story.
And here we are!
The Ultimate Happy Ending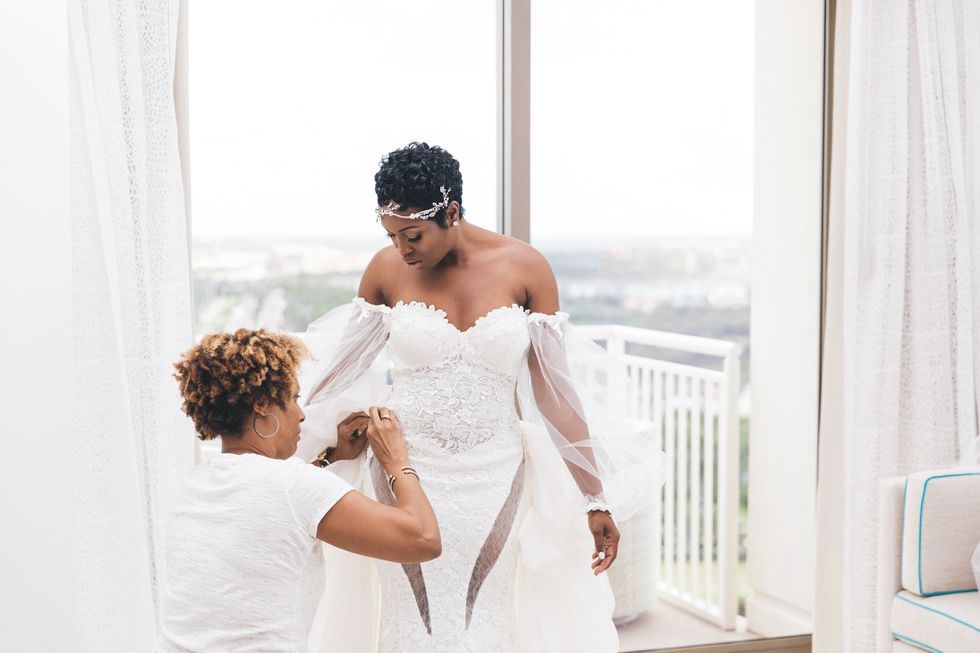 Writer Ianthia Smith in her wedding dress
I eventually found another dress designer who finally brought my dreams to life. In between stalking Bey's Instagram to see if she'd posted any of the pics (thankfully she didn't); we fitted, cut, sewed and embellished my own customized gown to the gawds! I had a mini heart attack with each button being placed, every piece of lace being laid and with every fitting.
On August 18, 2018, after one hell of a rollercoaster ride, I finally walked down the aisle in the perfect wedding dress, handmade for me.
Almost nine months later when my phone was blowing up with the "Beyonce stole your look" messages, I was smiling on the inside knowing that I'd figured this out long ago.
It weirdly and funnily felt like a little secret Bey and I were keeping. She waited on me, in my head; only sharing those photos of our dress months after I got married.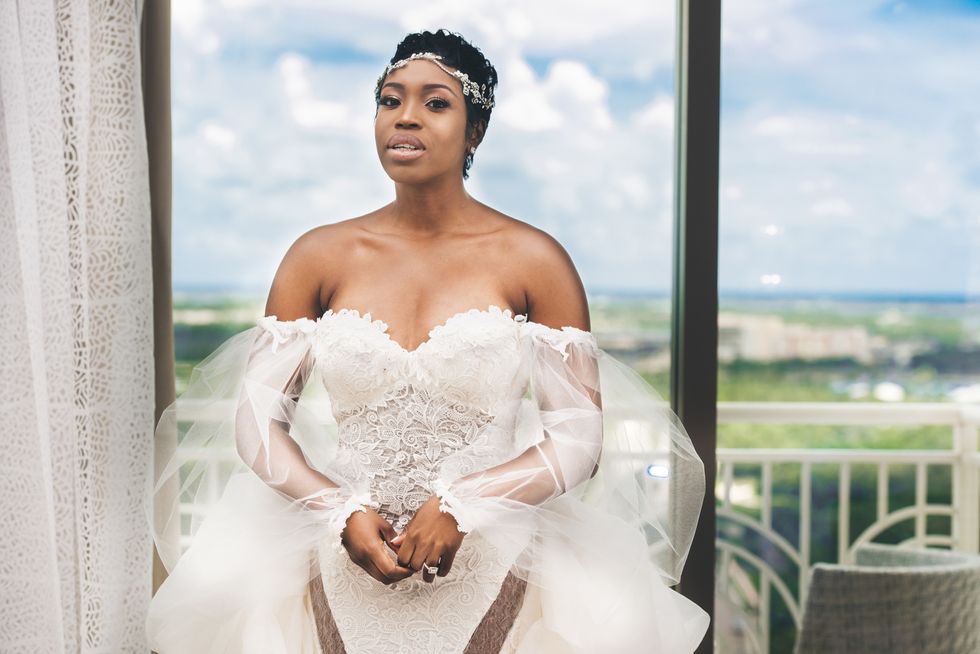 I gushed at how beautiful she looked in her dress, wondering if we shared the same overwhelming feeling of saying yes to the dress, as she fit. Of course, I don't have a Beyonce-sized budget; if I did, I would've flown that elusive gown directly to me.
But I'm so happy I was able to wrangle a team of amazing people who were able to customize, recreate and deliver the dress of my dreams, despite it all.
Whew, chile, a blessing.
In the past, I've been made to question the Queen's timing; you know how she does it with her in the middle of the night releases, having us waiting up 'till 3:00 a.m. while I'm falling asleep on my laptop. Girl, after this experience I shall never question this diva's timeline ever again. This time it worked in my favor. Bow down!
Credits:
Photos: NDO Films and Photography
Dress Designer: Apryl Jasmine
Makeup Artist: Regina McCook
Hair Stylist: Salon Sade International
Want more stories like this? Sign up for our newsletter here and check out the related reads below:
Sooo...Do You Want A Marriage? Or Just A Wedding?
Everything We Learned From Beyonce's 'Homecoming'
5 Steps To A Frugal Wedding On A Budget