We were introduced to Samuel Blot and Thaina Madere two years ago when their proposal story struck a chord with us.
---
After meeting time and time again, Sam pursued Thaina, and although it wasn't love at first sight for Thaina, she eventually fell for him. Over time, the love they felt grew, but would eventually prove to not be enough and the couple broke up.
It wouldn't take Sam long to realize Thaina was his one though. For nine months, he prayed, he bided his time, he fasted, and most of all, he worked to become the man that Thaina needed him to be and the man that she deserved. He courted her thoroughly for a second time and nine months later, he proposed. "I knew that forever was what I wanted to be for her, and I knew I couldn't settle for anything less. It wasn't instant, but I won her back – and I've felt like I won the lottery every day since," he said.
When the time came to propose to her in that beautiful garden setting, he had no doubts the love of his life would say "yes."
A little over a year later, they made their commitment official under the eyes of God and surrounded by family and friends on November 5, 2017. From "She Said Yes" to "I Do," we're happy to join the Blots as they tie the knot and embark on their journey to forever. Read on as the bride and groom share some of the key elements that made their big day truly special.
Here & Now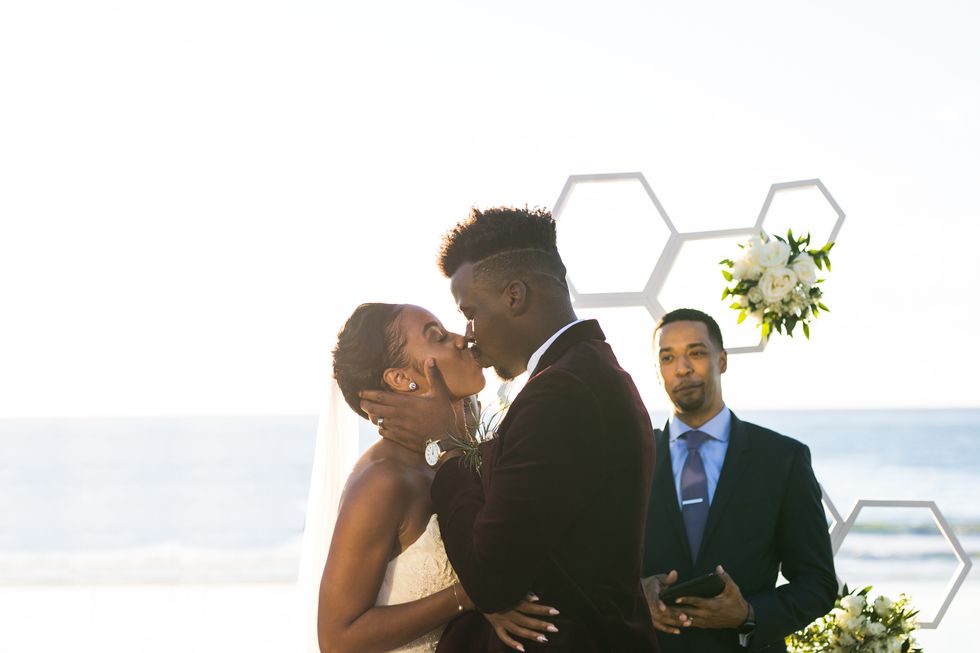 Jonathan Adjahoe and Ned Magdaleno
"We had gone through so much up to that point, saying 'I do' wasn't really a leap, it was a confirmation of what we already knew. When you go through the moments in our relationship, when it is time to say 'I do,' we knew that it was a promise already paid for in hugs, sweat, and tears," she said.
The Sweetest Thing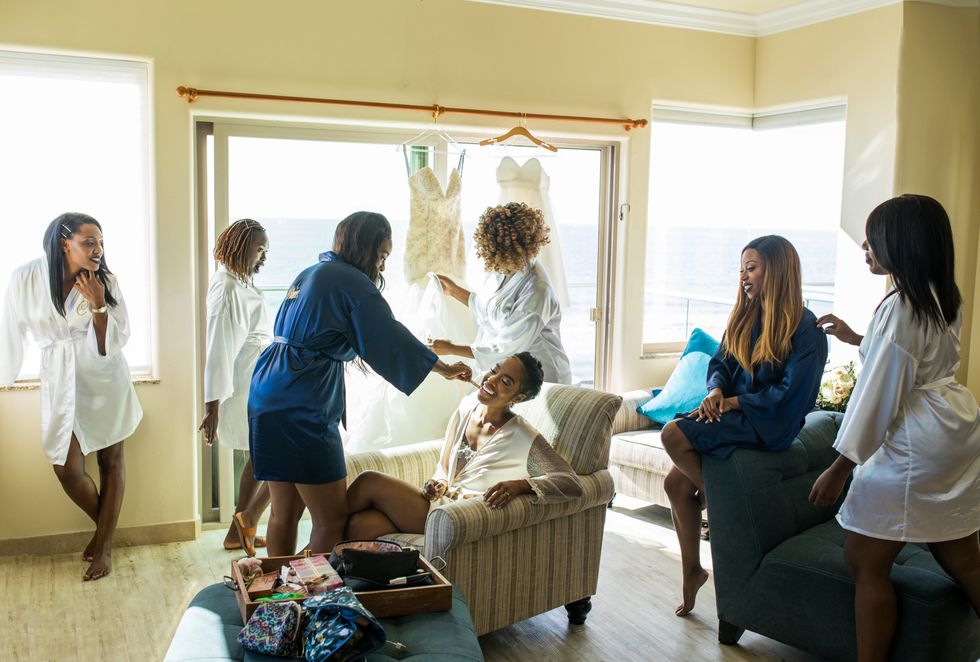 Jonathan Adjahoe and Ned Magdaleno
"It's hard to pick [a favorite memory] but the morning of the wedding I woke up feeling so much peace and so sure that I was exactly where I needed to be," Thaina said. "I thought I would be stressed because it was the day of and I still hadn't written my vows, but all of the anxiousness of wedding prep ceased to exist because at that point, nothing else mattered but that I was hours away from becoming one with my man."
From This Moment On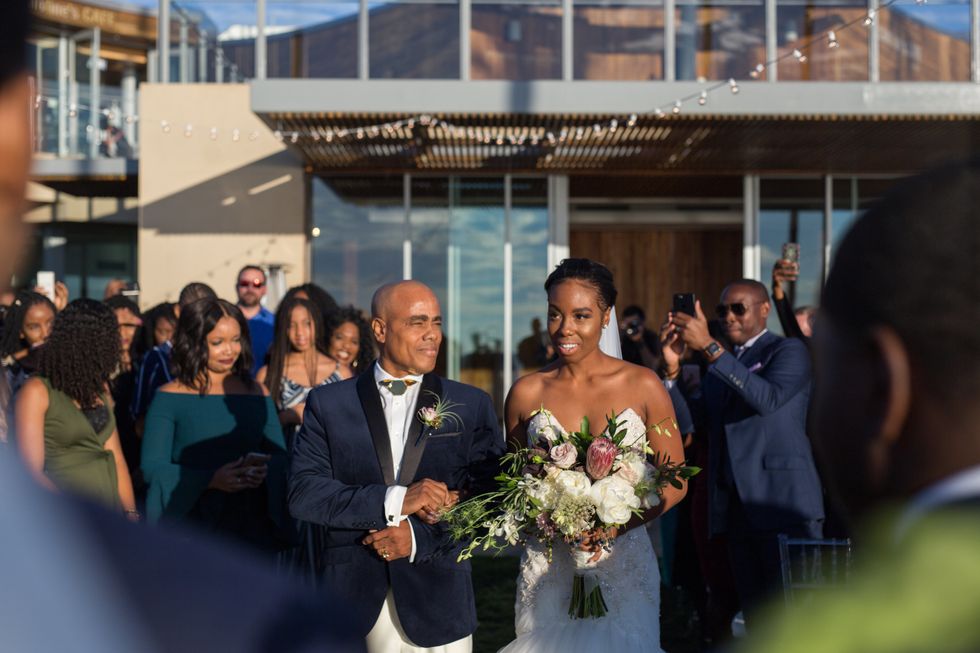 Jonathan Adjahoe and Ned Magdaleno
"The most memorable moment [for me that day] was when I first saw her turn the corner to walk down the aisle," Sam recalled. "I knew she would be beautiful, but I could never imagine how beautiful. When I saw her, though I knew before, I was reminded that this is my wife; my forever. As she walked down the aisle, I knew there would be tears, but as a man who rarely cries I was surprised to find I had more than enough for the both of us."
Always & Forever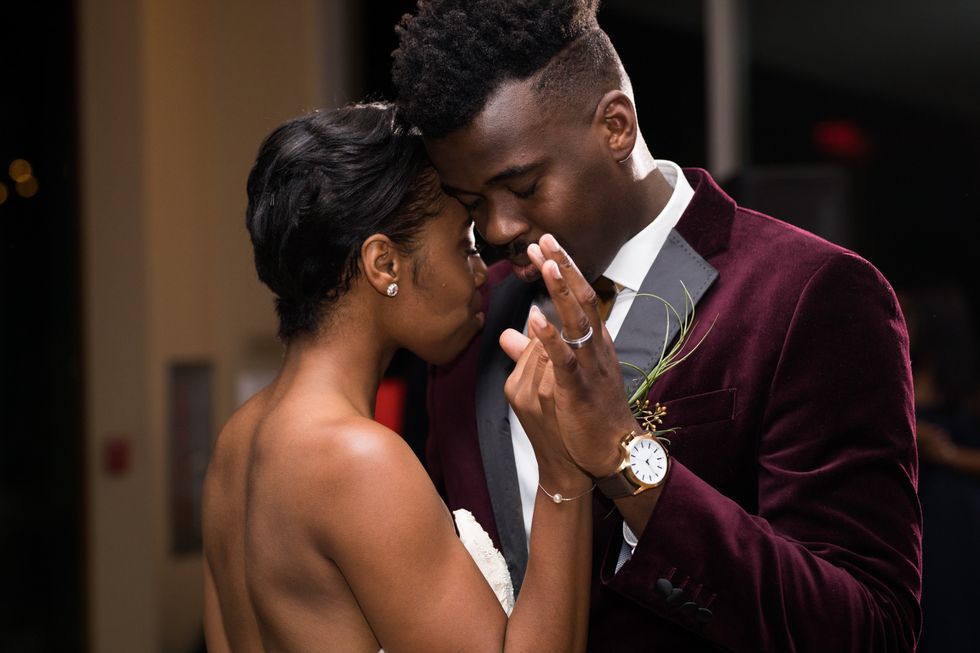 Jonathan Adjahoe and Ned Magdaleno
"We feel that even though we've been in love for years, marriage is the beginning of our great journey," Thaina shared. "So far, we have already had moments where we can't believe the blessings we have received, and we're only in the first few months! Living with your best friend has been as amazing as it sounds. We banter back and forth, get on each other's nerves, squabble over leaving the seat up, and learn about all kinds of strange habits; but as Sam always says, 'That day marked the first day in a long line of the best days of my life.'"
Click through the gallery below for behind-the-scene photos and intimate details that made their wedding amazing.
Jonathan Adjahoe and Ned Magdaleno
"We got married at Scripps Seaside Forum in La Jolla, San Diego. We wanted a beach wedding but didn't like the idea of toes in the sand so the cliffside lawn wedding was our happy medium. We also loved that the glass doors behind the lawn area of our ceremony slid open for an indoor/outdoor reception. I just knew that dancing the night away accompanied by views and sounds of the waves would be magical."
Congrats Mr. & Mrs. Blot!
To keep up with the couple and their newlywed bliss, follow them on Instagram @thainamadere and @blottedinq.