---
As Told To is a recurring segment on xoNecole where real women are given a platform to tell their stories in first-person narrative as told to a writer.
This is Chef Crystal's story, as told to Charmin Michelle.
So funny story: I once made a "meat substitution" when I first became Prince's private chef.
I had been cooking dinner for him and his band for several weeks, but one afternoon he requested me for a private dinner. I remember I made this delicious vegetarian meal for him and his guest, but it didn't go over well at all. I was asked to not only throw it in the trash, but to throw it in the trash outside! I was mortified.
It all worked out in the end because he ended up hiring me full-time after that. But this was one of the days where I learned that my triumphant game was unmatched.
I'm Chef Crystal, a single working mother of two who has proven that healthy eating can be achieved at all ages, no matter the circumstance. From the artist Prince, will.i.am, Jessica Simpson, Lucas Films, and more, I have used this same philosophy in my approach to educating others on sustainable eating.
I knew all my life that I wanted to be a chef. I cooked for all the neighborhood kids and was constantly trying new foods. My mom wanted us to have an opportunity to see the world the way she never did as a child, so we ate out at fancy restaurants all the time. She allowed us to travel with our friends and their families, so being exposed to different cultures growing up just elevated how I saw food. I remember her always telling me, "You can do anything you put your mind to," and that's exactly what I did. So, as you can imagine my house was a very positive environment.
I was always active in school, I played sports, and was a cheerleader. I had a large supportive family. My grandfather has 11 brothers and sisters, so I grew up going to fish frys, barbecues, and potlucks. He was the family chef until he passed the torch to me, and food was the common denominator at every function. I would say we had a typical black family with sprinkles of the United Nations as many of us married outside of our race. It created a foundation of acceptance and love because we all thrived as one family.
But like most of us, growing up in a black family that loves mac and cheese, collard greens, and fried chicken, I knew early on that I wanted to be a chef that focused on healthy cuisine that was palatable. I have had so many conversations with my grandfather (who was a cook in the army) on how to recreate foods that we loved as a kid with ingredients that aren't going to give us high blood pressure.
So, I decided to do something about it.
But before I could get there, life took a few unexpected turns. During the start of my career, I found myself in the middle of a divorce. Yet, instead of allowing food to be an enemy or crutch as we often do during tough times, it became an ally. I literally took a negative situation and turned it into a platform that expanded my career into an outlet for self-love. This platform is Chef's Guide To Divorce, where "eating your feelings" never tasted so good.
After all, I couldn't let divorce stop or distract me. And as I always say, nobody ever died of divorce...or at least that's what I keep telling myself. I'm a true believer in when life gets messy, you should get in the kitchen and get messier. We all have a natural ability to pivot built inside of us, it's up to us to tap into it. When life gives you lemons, go ahead and make that lemon drop martini, ladies.
--
Through it all, I love that I've learned so much about myself in the process; about balancing my career with my kids. That's all I want for both myself, and other women. And I am a true advocate of trusting that everything will all work out.
As career moms, we put so much pressure on ourselves to get it right. I know for me that I give 100% every day, but that 100% looks different every day.
I have a commitment to sit and have dinner with my kids four times a week, and everyone in my life is aware of that. So, during that time, I am just not available. This way my kids feel seen, and they have my undivided attention. I turn off my phone from 7-9pm so that I am only focused on my kids. I also include them in my plans so that they can hold me to my words and I don't break promises. I recognized many years ago that when I was at work I get to be at work, and when I'm home I get to be at home. Most importantly, I made it a priority to educate and cook meals alongside my children with the fresh produce we've grown in our own backyard.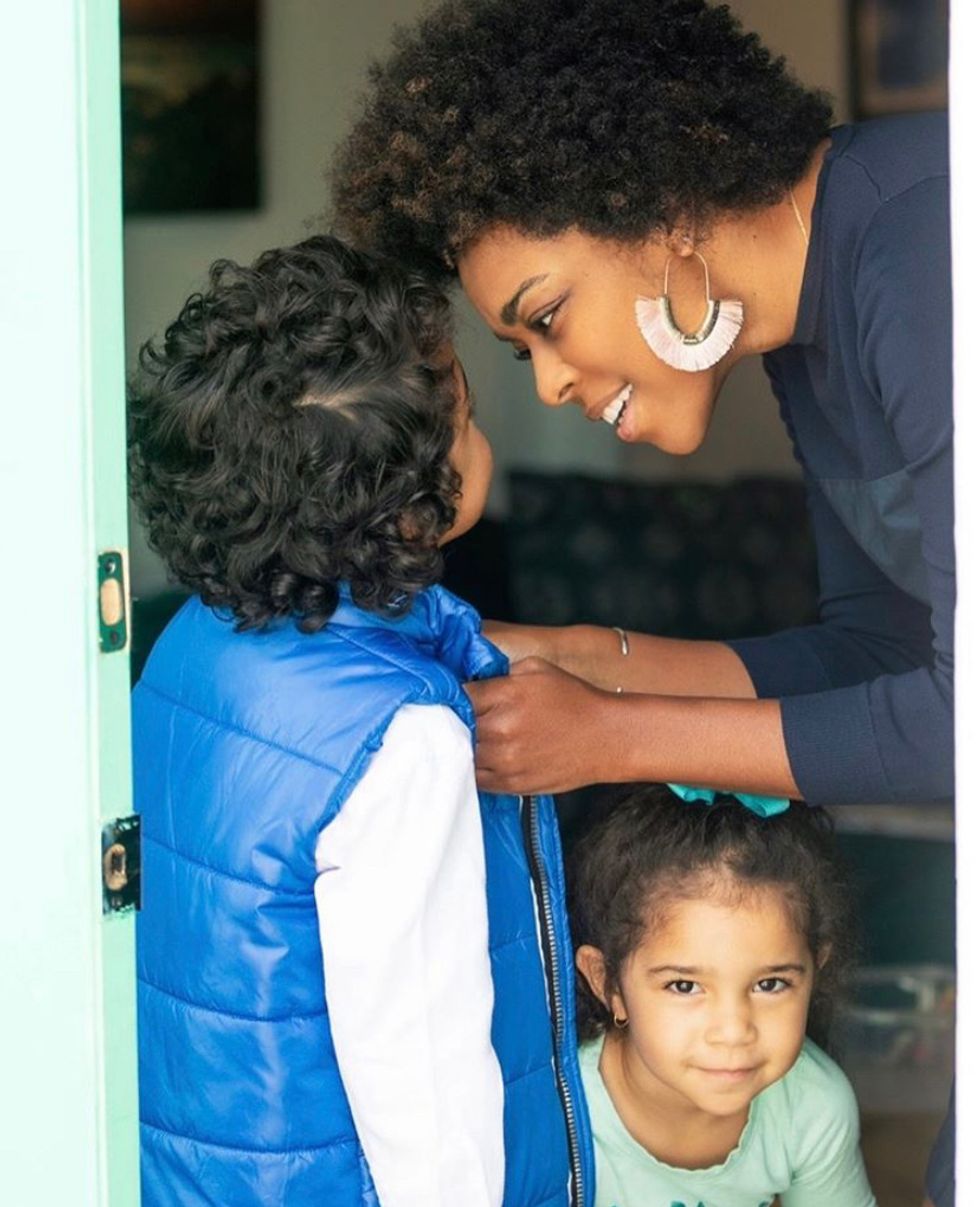 Courtesy of Chef Crystal
That's how I have triumphed, how I have found my peace of mind.

My self-care practice is to always say yes to happiness; to our happiness. And I know that creating happiness for myself, creates happiness for others. Learning yourself through adversity is key—a major key. Now I know, without a doubt, that I am a powerful, confident, joyful woman. Making the best of life, liberty, and the pursuit of happiness, regardless of any obstacles.
And I can make a killer vegan stuffed bell pepper, too.
Crystal also heads numerous projects that promote healthy eating such as, @ChefCrystalzGuide (lifestyle Chef brand) and #CineSoul Dine (community film, music, and dinner series in partnership with Airbnb). To learn more about Crystal's Chef Guide to Divorce, visit her website. You can also follow her on Instagram @ChefCrystalzWorld.
Feature image courtesy of Chef Crystal Blanchette