---
This summer, OWN and Will Packer are teaming up to bring a new scandal to television with their series Ambitions. Sexy, scandalous, and over the top dramatic, Ambitions, has a storyline to quench every TV lover's thirst. With an ensemble cast including Robin Givens, Brian J. White, Essence Atkins, Brely Evans, Kendrick Cross, and Erica Page, you'll love to hate them and hate to love them. "Delicious is the only way to describe it," says Robin Givens.
On Monday night (June 17), Atlanta's socialites amassed at the Gathering Spot in Downtown Atlanta to celebrate the premiere of this summer's sexiest show. Will Packer, Robin Givens, Essence Atkins, Brian White, Kendrick Cross, Brely Evans, Mara Hall, and Erica Page graced the carpet excited for the audience to witness what felt like television's best kept secret. Joining them in attendance were Marlo Hampton, Tameka (Tiny) Harris, Cynthia Bailey, former Atlanta Mayor Kasim Reed, Green Leaf's Merle Dandridge, Real Housewives of Atlanta castmate Tanya Sam, actress Terri J. Vaughn, and If Loving You is Wrong actor Joel Rush.
Created by Jamey Giddens and produced by Will Packer, Ambitions follows the lives of sorority sisters turned frenemies Stephanie Carlisle (Robin Givens) and Amara Huges (Essence Atkins). As the old saying goes, one woman's ex is another woman's husband, and Stephanie can't abide by that code. Raised by wolves and fueled by ambition, Stephanie is on a mission to reclaim everything that rightfully belongs to her. Even if that means stepping over those closest to her. "This is a soap about politics but it's a fun, juicy; oh my God I can live vicariously through these rich people behaving badly,'' says Jamey.
Ambitions takes behaving badly to another level. Aside from politics and scandals, the sex scenes will have your eyes glued to the screen and jaw on the floor. Let Brely Evans tell it, "Everybody on Ambitions is getting some."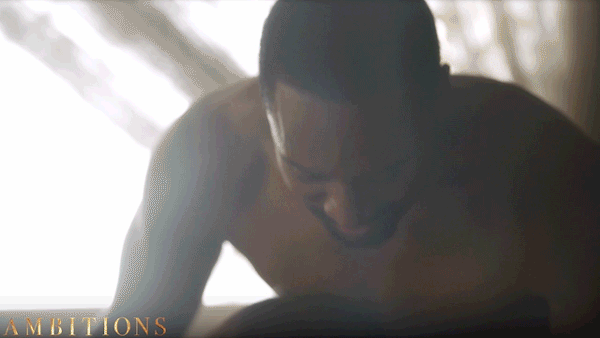 This is the type of show you can't stand to look away from. One turn of the neck and you could miss one of the steamiest, seductive sex scenes in soap opera history. "If you've read any of the reviews about Ambitions, there's a whole lot of sex going on in this show. So, just society today responds to that. So, there are a lot of good looking people having sex with one another. So, I'm going to tune in, I know that," says Joel Rush.

Unfortunately, we can't give all the juicy details away, but you might notice a very familiar face in the first episode. xoNecole's editor-in-chief Necole Kane makes her acting debut in her first-ever role. We see you boss lady!
For more behind the scenes footage from the Ambitions premiere, watch the video below. Be sure to catch Ambitions on OWN every Tuesday at 10pm.
INSIDE THE ATLANTA PREMIERE OF AMBITIONSwww.youtube.com
For more exclusive content and original series, subscribe to our YouTube channel.