Naomi Osaka is the superhero that we didn't know we needed in our lives. Or maybe we did? I mean, I knew she was a superhero from the moment she boldly and unapologetically took the stage in the name of police brutality in 2020. She was over the questioning as to why she decided to represent for Black pain, and decided to bring the message to the covers of Vogue Magazine . Emmett Till's name and legacy is in Vogue . VOGUE . A place where at the time of his murder, he would have never been welcome.
---
Alexa, throw on "What A Time To Be Alive."
Because witnessing Naomi is just that. But this time, thanks to her routine fearlessness, Naomi is being a leader in a different way: by removing herself from one of the biggest tournaments in the game of tennis all for the sake of her mental health.
It all started when she announced via social media that she would not partake in this year's French Open press, mainly because the constant questioning and scrutiny created an added layer of stress to the athlete. The four-time major champion and No. 2-ranked player was eventually fined $15,000 when she didn't speak to reporters after her first-round victory, causing the champ to pull out of the tournament entirely the next day.
Her entire statement is below:
The courage of removing herself for herself, encouraged other athletes to take a step back and question what it means to be forced to face constant questioning and berating on a grand scale. And a plethora of athletes and celebs alike, who understand her perspective firsthand, gathered around and supported her 1000 percent.
From fellow tennis champions Venus Williams, Coco Gauff, and Sloan Stephens:

Naomi Osaka/Instagram

Naomi Osaka/Instagram

Naomi Osaka/Instagram
All the way to other pro-athletes who could relate:

Naomi Osaka/Instagram

Naomi Osaka/Instagram

Naomi Osaka/Instagram

Naomi Osaka/Instagram
(Sidebar: it's worth noting that Kyrie Irving has been fined $60,000 this season alone for skipping media obligations.)
As for now, the French Open's President responded to Naomi's withdrawal by saying he wishes Osaka "the quickest possible recovery." Um, OK. I'm sure there will be more to come from them on the subject, but anyway.
Thankfully, what we can all appreciate about Naomi's courage is that maybe if we took a step back and took the time to think differently about the processes in place, then maybe we have the opportunity to witness pro-athletes compete at an all-time higher level, especially with personal battles in tact.
As for us, we're going to always support and protect this queen at all costs. Here's to hoping that we all do the same. Take care of yourself, Naomi!
Are you a member of our insiders squad? Join us in the xoTribe Members Community today!

Featured image by Graham Denholm/Getty Images
Charmin Michelle
Charmin Michelle is a southern native and creative spirit who works as a content marketer and events manager in Chicago. She enjoys traveling, #SummertimeChi, and the journey of mastering womanhood. Connect with her on Instagram @charminmichelle .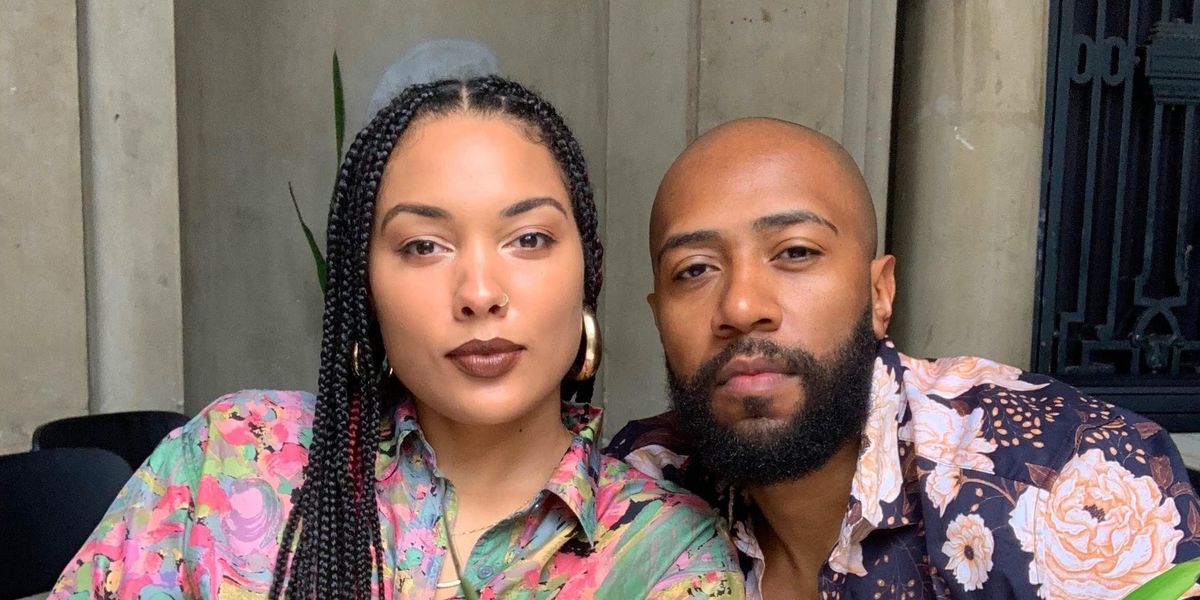 How We Met is a series where xoNecole talks love and relationships with real-life couples. We learn how they met, how like turned into love, and how they make their love work.
As I move through life and experience different highs and lows, one thing that has become increasingly clear is the importance of self-love and self-worth . Now, I'm not saying it's always easy, but I do feel like if it's in a good place, people experience life more fully. And when it comes to love, my friend Amanda Wicks and her husband, Will Ford, are the perfect example.
Amanda may not remember this, but years ago, on one of her many visits back to Atlanta (we both went to Clark Atlanta University), she sat across from me at a dinner table and declared she was done looking for love . She was happy with who she was, and while she still desired it, it was no longer something she was chasing. "If it happens, it happens," she said. The statement was so bold it made me quickly reroute our usual dating story catch-ups and awkwardly move to a different topic.
Well, the next time we met up, she told me she had met someone and was moving to Houston to live with him. Imagine my surprise and concern. Later, I'd find out that this decision, like so many other elements of their relationship, flowed naturally and organically. Their whole partnership has been full of peace and vulnerability.
Fast forward to today's conversation, they're still living together, celebrating four years of marriage, and planning to create a family. And while this stage of their story sounds generally normal, the way they got there is nothing but. Check out the " How We Met " feature below to see how a couple who never spoke on the phone and lived in different states ended up in a loving marriage full of ease, art, and authenticity.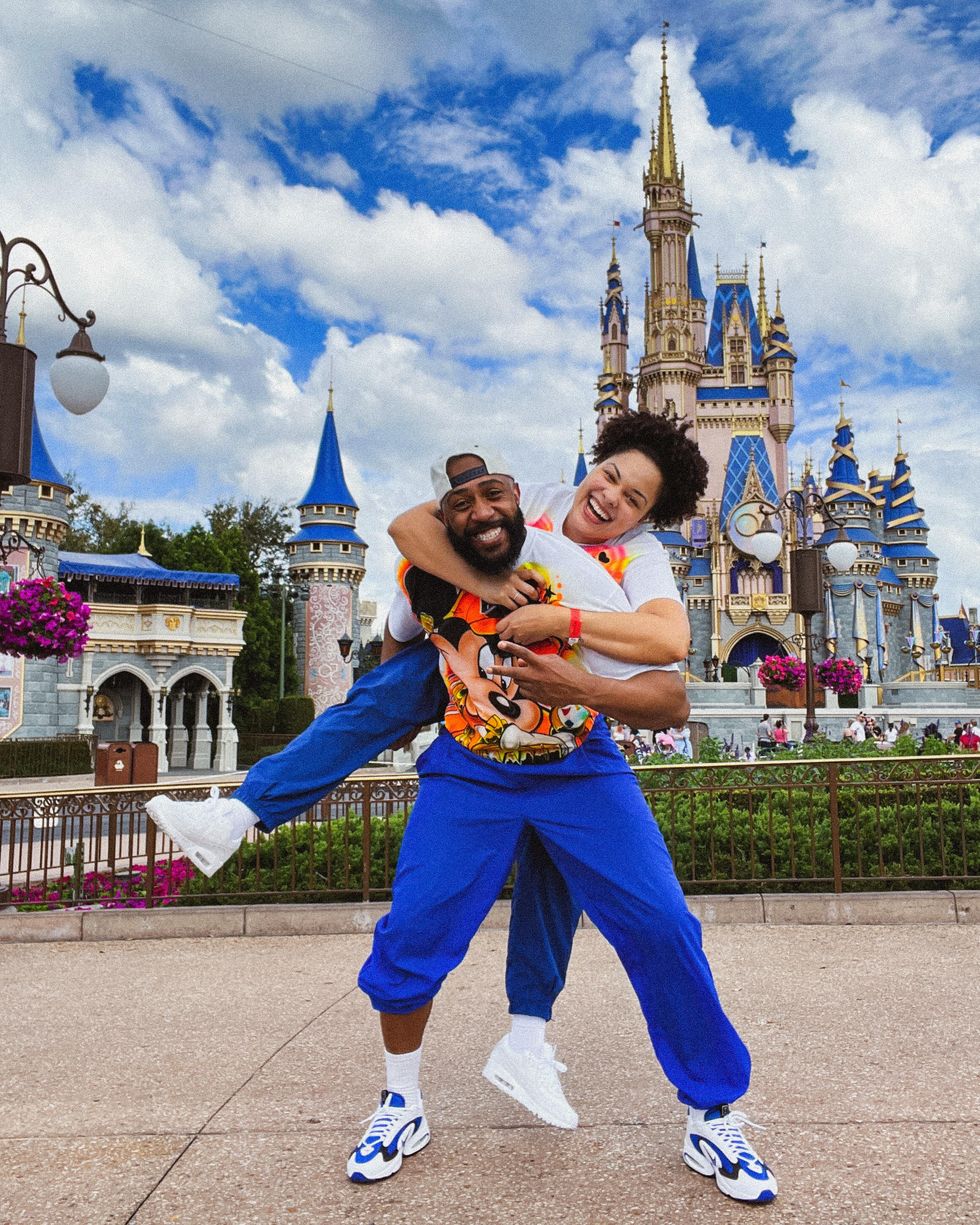 Photo courtesy of Amanda Wicks and Will Ford
Walk me through your 'How We Met' story.
Amanda: We met on Instagram (laughs). He followed me first, and I followed back because he does art, and I was intrigued by that. Honestly, we followed each other for a while before we connected. But I remember one day I saw a post where he had on a Martin t-shirt that I liked, and that sparked our conversation. He ended up telling me he made the shirt and actually mailed me one. So when I got it, I made a post wearing it, and that's where the conversation started. Since that day we've communicated every day since.
Will: Yeah, I initially saw her on a short-hair Instagram page and followed her because I thought she was attractive. I actually showed her to my co-workers on one of our monthly outings as an example of my "type" – something I had never done. But one thing I will say is, I noticed she had on a Nina Simone shirt in one of her photos, that's what got me. It showed she had more depth.
I guess that answers my next question. Did you have an initial attraction to each other?
Will: (Laughs) Yeah, I did.
Amanda: For me, no. I just wasn't looking at him through that lens. I didn't follow him because he was attractive. I don't follow people online because of that. I actually remember a time when we were going back and forth, and I was like, "Aye, you kinda cute." It was a specific moment. Once I started looking through his page more often, I started to view him that way, but it still was more of an acknowledgment. We really connected primarily because of our creative interests .
So, how did it go to the next level?
Amanda: I was in Nashville, and he was in Houston. But I'm somebody where if I feel like doing something, I'm going to do it. I had been meaning to go to Houston for a while to see a friend, so I felt like it was the perfect combination of a circumstance. We had been talking a lot, and I knew I liked him as a person and really wanted to meet him, but of course, I was aware of the idea that it could blossom into more. I remember I sent him a text saying, "Would you think I was crazy if I pulled up to Houston?"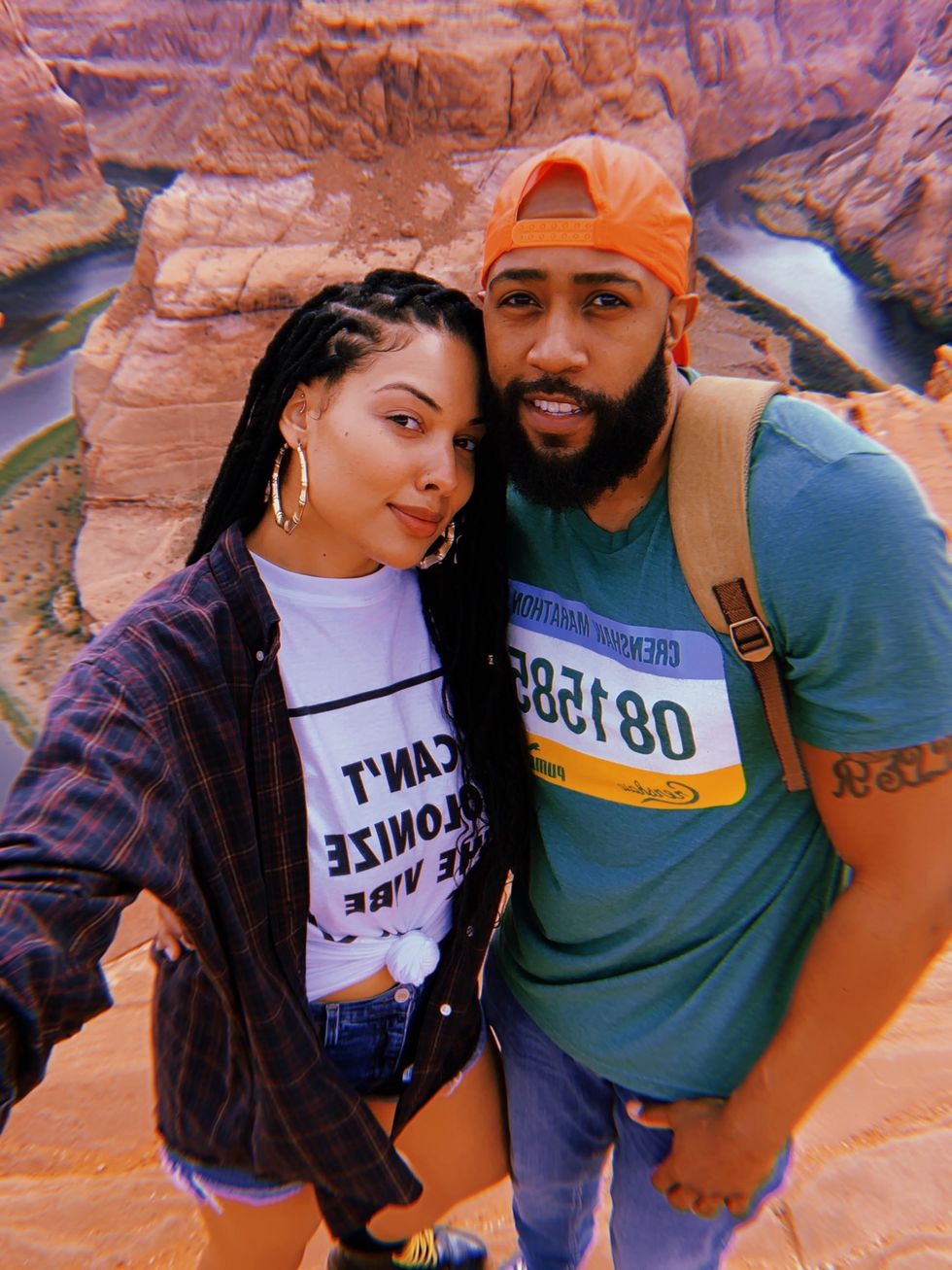 Photo courtesy of Amanda Wicks and Will Ford
What was your reply? Did you think she was crazy?
Will: In my mind, I was like, I don't know. (Laughs) I wanted her to, though, so I wasn't going to say yeah. It was a little wild, but I encouraged it.
Okay, so tell me about the date.
Amanda: I don't know if you'd call it our first "date," but the first time we met, we went to a skating rink. I was a little nervous about meeting him in person. Like, what if we don't have chemistry – that was in the back of my head a little. But I brought my friend with me as a buffer, and thank God I did because he was so quiet the whole night. I literally can't think of one thing he said the entire time. But the saving grace was that we had built a rapport. We reconnected the following night and were together until 5 a.m. – just sitting there talking. We ended up spending the whole weekend together.
Will: I'm socially awkward if I don't know you. Also, before the date, I didn't know what she sounded like or anything because, that's another thing, we hadn't talked on the phone. (They both really don't like phone calls, so everything was through texts at this point.) I guess I could say I was kinda nervous, too. I had never met someone through social media, and then here I was, meeting her in person at a skating rink. I hadn't skated in years, I was hoping I didn't fall. But we had just been talking so much that I was open to it.
What made you want to take that risk?
Will: She has a level of authenticity that I've never seen in any other woman before, and once I saw her, it solidified that. I knew I wanted her around.
Amanda: I don't think it was anything specific. It's not hard for me to connect with people. But there were no red flags . We align across the board. That was different. We really connect on how we see the world.
"She has a level of authenticity that I've never seen in any other woman before, and once I saw her, it solidified that. I knew I wanted her around."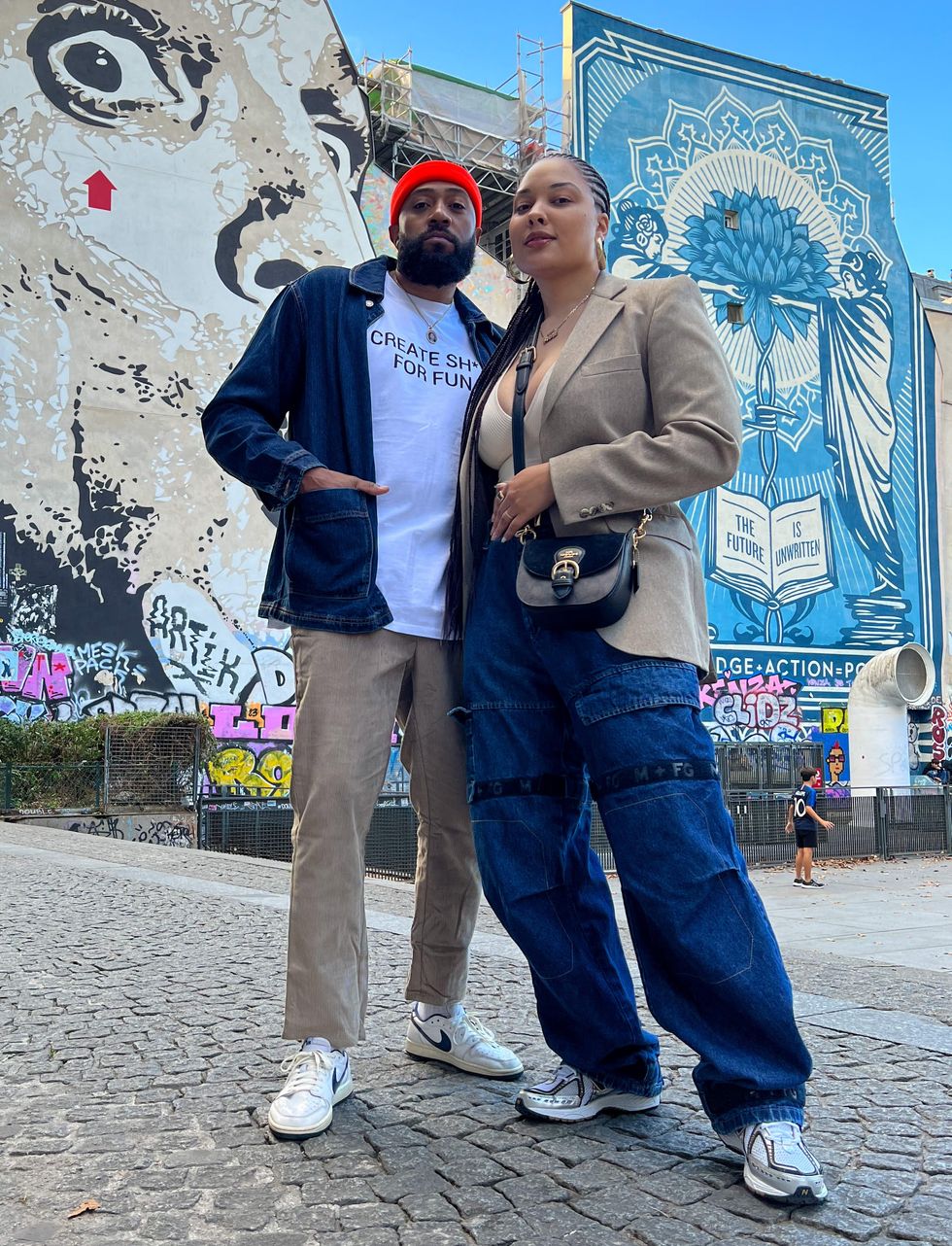 Photo courtesy of Amanda Wicks and Will Ford
Out of curiosity, what are your love languages?
Amanda: I connect with all of them. I think it just depends on what I've been lacking. I appreciate words of affirmation because I'm so big on actions that I like those bold statements of love, and of course, I appreciate quality time. The older I get, the more I appreciate physical touch, but that's not something I need. With receiving gifts, I like thoughtfulness, and I like giving thoughtful gifts, too. But acts of service is for sure my biggest one. I love when someone considers me and makes my life easier. That speaks to me most.
"I love when someone considers me and makes my life easier. That speaks to me most."
Will: I think it all depends on how I'm feeling, too. But probably also acts of service. I like how Amanda will buy me deodorant when I run out (laughs). She just does so much all the time to show that I'm thought of.
At what point in your connection did y'all have the "what are we" conversation?
Will: I don't think we ever had that convo. We never defined anything , we just kinda went with how it was going. However, I knew I wanted it to be more serious when I went to visit her. She had been coming to Houston once a month, and I went to Florida (she was there for work) to see her. I realized I felt comfortable coming into her space, too. That gave me that last little bit of whatever I needed.
Amanda: Yeah, I can't say I had a defined moment like that. But again, as we had more and more interactions, there were just no red flags. The more we thought about it, the more we realized no matter where we went relationship-wise, we were adamant about being a part of each other's lives. We never had the "talking to other people" conversation or anything. But we did both understand we weren't going anywhere. Eventually, it graduated to convos around building a life together , but even that was over six months in. I just liked him as a person.
Have there been any negative revelations that your partnership and marriage have taught you about yourself?
Amanda: I've always felt that partnership is supposed to make the other person's life easier. For me, it was a struggle to let someone help me in all the ways I didn't really know I needed help. As I started having less capacity, I had to realize that it doesn't work anymore. It was hard for me to acknowledge and ask for help. I think that's something I am still coming to terms with, even with other relationships in my life.
Will: I think I'm learning and still learning how to get out of my head. I'm the kind of person who always has to visualize stuff before it happens. And this relationship is the first thing that I don't do that with. Of course, we plan stuff, but I know it's gonna be good regardless. It allows me to stay in the moment. If I can do that with this, which is the most important thing to me, why can't I do that with other things?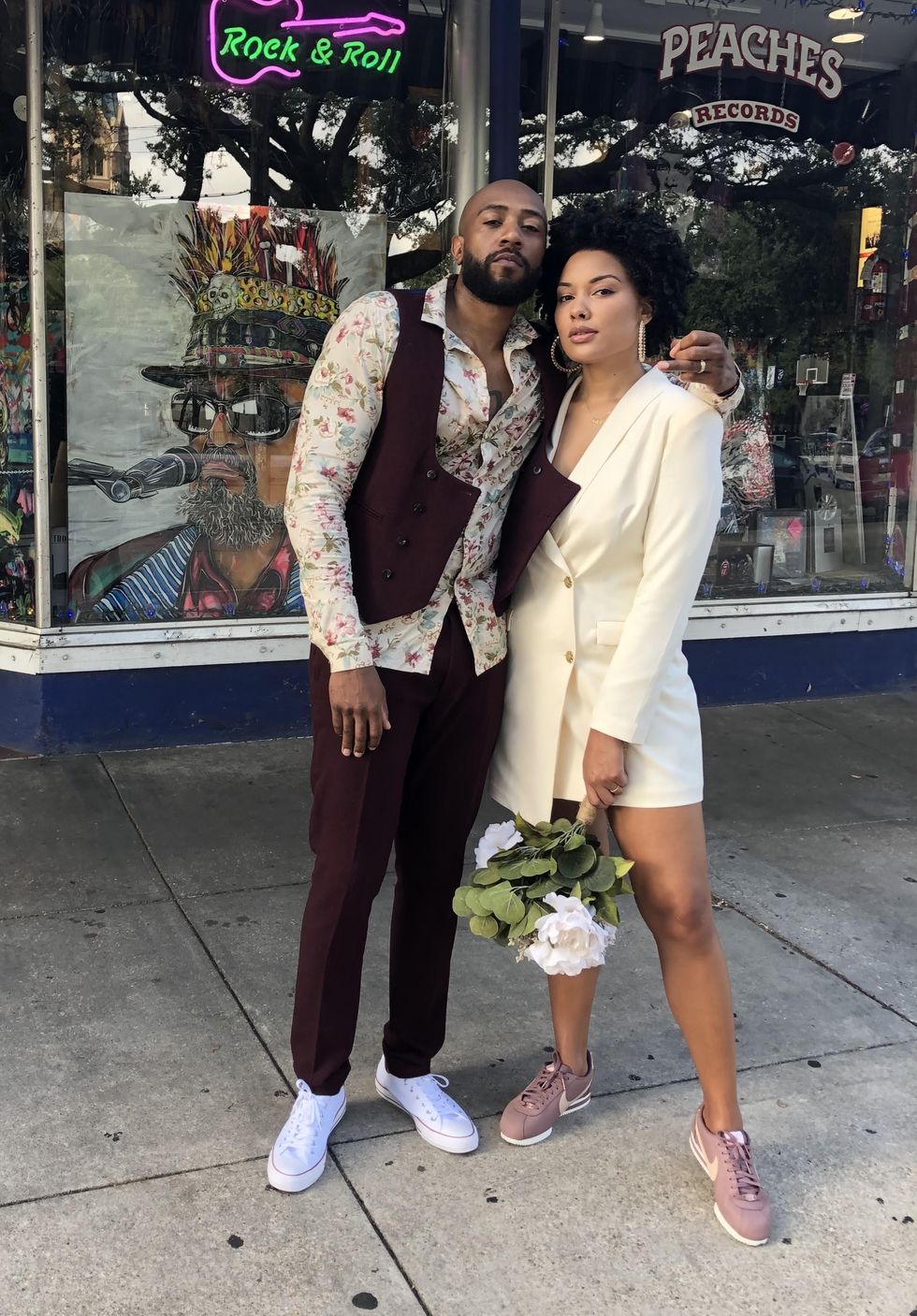 Photo courtesy of Amanda Wicks and Will Ford
What challenges have you faced together?
Will: For me, the preconceived challenge was living together . I've never lived with a woman before. Even in my previous relationship, it was long-distance . I'm also the type of person that likes my space, but as soon as she got here, that was out the window. It was so smooth it made me feel stupid for questioning it.
Amanda: I'm grateful to say we don't necessarily have challenges between each other together. But we have been struggling with infertility and health issues. Our biggest challenge thus far is trying to get pregnant. Even articulating that makes me realize I'm grateful it hasn't caused a rift between us. I think we have been able to face it in a healthy way. But that's an example of how having someone else there can be helpful. I was so functional as a full-blown individual doing everything by myself.
So, in my head, I don't need anyone, but having someone there who is happy to support me has taught me it's okay to welcome that. It's made us stronger because it's taught us how we both function under duress – it's good to know it's not terrible (laughs).
"Our biggest challenge thus far is trying to get pregnant. Even articulating that makes me realize I'm grateful it hasn't caused a rift between us. I think we have been able to face it in a healthy way."
What are some of the shared values that are important to your relationship?
Will: How we see life, what we're here for, and how you're supposed to treat people. It sounds really simple, but it's not as common as you think.
Amanda: We value being really good people – without strings. We both don't value money, but we value stability. So we don't have to endure the "why are you not hustling" arguments. We were both stable people individually, and we came together. Also, we both value meaningful connections , alone time, reflection, and family. That guides us in what we do and how we build a life.
Finally, what is your favorite thing about each other?
Amanda: I'll say one of my favorite things about him is that he's brilliant. I view myself as a smart person, but in my head, he can do what I'm doing ten times faster. There are times I want to push myself to do stuff, and I'll just ask him because I know he can do it. It's incredible.
Will: My favorite thing about her is how people see her. Being a witness to how important she is to other people's lives is amazing. Standing to the side and seeing how she affects them is really special.
Feature image courtesy of Amanda Hicks and Will Ford

When it comes to the love compatibility between a Scorpio woman and a Cancer man, it is an emotional pairing that is an all-consuming one. The Scorpio woman explores the depths of love; the Cancer man is enamored by the intensity he feels around her.
Scorpio Woman Cancer Man Love Compatibility
This is an emotionally charged couple and one where the heart rules. They value a lot of the same things in a relationship and have no problem connecting on a romantic and emotional level.
However, all of the emotions tied to this relationship can also become too overwhelming, and this couple is often hot and cold as a result. When it's good, it's out-of-this-world good, and when it's bad, it's a little overwhelming.
Featured image by Goodboy Picture Company/Getty Images