---
Naomi Osaka is a household name after her win at this year's U.S. Open. She defeated her tennis idol, Serena Williams, after a slew of controversial penalties that nearly overshadowed the 20-year-old's historic victory. Osaka is now the first Japanese singles player to win a Grand Slam, the youngest player in the top 20 rankings for the sport, and she is $3.8 million richer, too. Osaka's rise to tennis greatness is yet another example of the power of representation, the importance of a religious work-ethic, and why humility and poise can go a long way.
To celebrate her victory, here are some more interesting facts about the tennis star that makes her so relatable even though she has risen to stardom at such lightning speed.
The Real Reason She Cried After The US Open
Not many can relate to what it must feel like to be thrust upon the world stage at such a young age, besting your childhood hero, and winning at something that you've spent your whole life dreaming about. But one thing we can all probably relate to is crying when people would otherwise think we should be grinning from ear to ear. I'm guilty of the happy but nervous cry, and so is Naomi by her own admission. She told reporters that she was really just overwhelmed with emotion at the U.S. Open, and not crying from frustration with Serena Williams. She says:
"I feel like there was just a lot of emotions...I couldn't really pinpoint it at the time, I just felt very overwhelmed."

And for anyone who thinks we should feel sorry for the way she won her first Grand Slam title, think again. She told reporters that she has no regrets about the way things played out at the U.S. Open, and that she didn't need to "savor the moment" anymore than she did. She revealed:
"I'm grateful that people care or sympathize, but I don't really think there was anything to be sad about...I don't feel like I would've liked to savor the moment more--I think I do things my own way and everyone is different in their own way so I don't really have any regrets."
She's Biracial And Proud
The 20-year-old Haitian-Japanese has come a long way from her birthplace of Osaka, Japan. The daughter of a Japanese mother and Haitian-American father, the Osaka family had to contend with not only the lack of diversity in Japan, but her own family's disapproval of the interracial couple. The family eventually moved to the US when Naomi was just three years old, initially living in New York before moving to South Florida when Naomi was 8 or 9 years old. This makes her a dual citizen, but when she turned pro in 2013, her father decided to register her with the Japanese Tennis Association so that she could represent her country of birth.
If you needed any proof that she is proud of her Haitian heritage, she shut reporters down when she gracefully gathered them all the way together when discussing her biracial roots.
"Well, my dad is Haitian so I grew up in a Haitian household in New York, and I grew up with my grandma, and my mom is Japanese so I grew up with Japanese culture too. And if you're saying American, because I grew up in America, I have that too. So I hope I answered your question."
The best part of all of this is the potential to help change Japan's perceived reverence for racial homogeneity.
She Secured A Major Bag With Adidas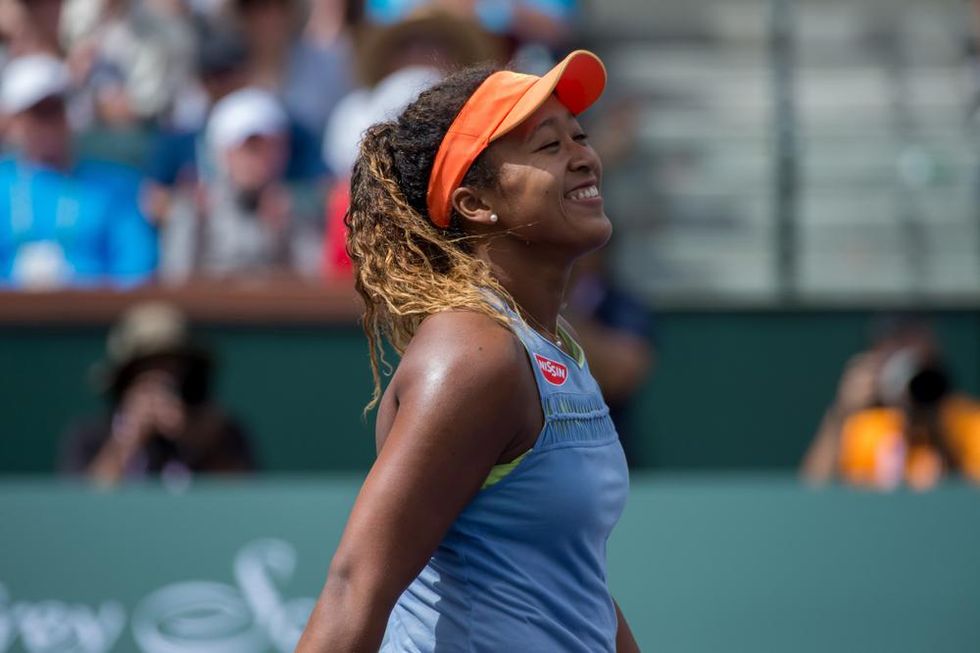 action sports / Shutterstock.com
There is no doubt that her biracial identity can go a long way in shining a light on just how diverse the world really is. Another brand that is hoping to capitalize on the increasing trend of embracing such diversity is Adidas. It was recently announced that Adidas has offered Osaka a deal, which is rumored to be in the $10 million dollar range, and is the largest deal they have ever made with a female tennis player to date.
Not only are they banking on Osaka's appeal as a world class athlete, Adidas knows that Osaka's diverse background and universal appeal will mean more money in the bank for them, too. Go get the bag, Naomi!
Doesn't Own A Car Despite Major Deal With Nissan
When you win a Grand Slam on the world stage, it is almost inevitable that new opportunities will be on the horizon. Your late teens and early twenties are usually a time for self-discovery, enjoying life without a ton of responsibility, learning how to drive and how to navigate life as an official adult. But for the 20-year-old, tennis has been Naomi's number one priority. She's been a tennis pro for the last five years when most young women are concerned about boys and their first car.

It's likely that Osaka will no longer have to worry about the car part, because it was recently announced that the tennis star will become a brand ambassador for Nissan. Her dreams have seemingly begun to come true, and for the tennis player, she is honored to represent Nissan due to it's Japanese origins. She says:
"Growing up, my dad drove a Nissan, so being able to be a brand ambassador now, it feels like I've come full circle."
"This week has been a dream come to life, and I'm so honored to represent Japan and Nissan on the world stage. I was drawn to partner with Nissan because of its strong Japanese DNA and global competitive spirit. The brand is always challenging expectations, and I look forward to bringing its vision for driving excitement to new audiences around the world."
She Crushes On Michael B. Jordan Just Like The Rest Of Us
Anyone who is anyone eventually gets the chance to sit down with Ellen DeGeneres for her daytime talk show. Naomi, who is typically demure in her delivery, played along with Ellen when she asked about some of her faves. She mentioned that Beyonce is her favorite singer and that her celebrity crush just happens to be Michael B. Jordan. Who couldn't relate to that?
And in true Ellen fashion, the talk show host took it one step further and reached out to Jordan on Naomi's behalf. In response, Michael B Jordan recorded the sweetest video that left all of us swooning. He says that Naomi is "an amazing example" that encourages young kids around the world to work hard in pursuit of their dreams. In the video, Jordan says that Osaka is now on his radar, too. He said:
"Just know that all the hard work, the blood, sweat, and tears that you put into this sport, that you put into your journey, people are finally being able to see — and that's a big thing to be proud of...Keep being great, everybody's watching now — me too."
We are all watching now, Naomi: no pressure!
Featured image by action sports / Shutterstock.com