Outside is open for much of the world, and we can all celebrate in our masked glories! And although there are some countries that aren't with the tourism at this time, Italy seems to be welcoming any and everybody with arms wide open. Mainly the celebs of the world, who have been taking advantage of their open borders and living it up, Italian-style.
---
Famously, celebs such as Serena Williams and hubby, and Ciara and Russell Wilson took the trek over to the land of pasta, for their full-on flex baecations.
Now, a few of the ladies are back, all in the name of fashion.
In fact, this past weekend was the Dolce & Gabbana Alta Moda fashion show in Venice, Italy and the stars now only showed up and showed out, but it seems that some new friendships were formed in the process. And listen, the gworls came to play, mkay?! Stars such as Ciara, Vanessa Bryant, Megan Thee Stallion, Queen Normani, Doja Cat, and so many more came to represent in their best dressed and it was everything we didn't know we needed.
In a video captioned, "It's Party Time! @dolcegabbana Venice," Ciara can be seen teaching the ladies Italian en route to the show, singing a few jams, and hanging with A-listers alllllll over the place. And because Ciara is the friend we all need in our lives, of course there was full on footage of her supporting her bestie, Vanessa Bryant, as Kobe's birthday passed a few days prior.
Diddy a.k.a. 'LOVE' was all love as his three daughters ​showed that they get it from mama, Kim.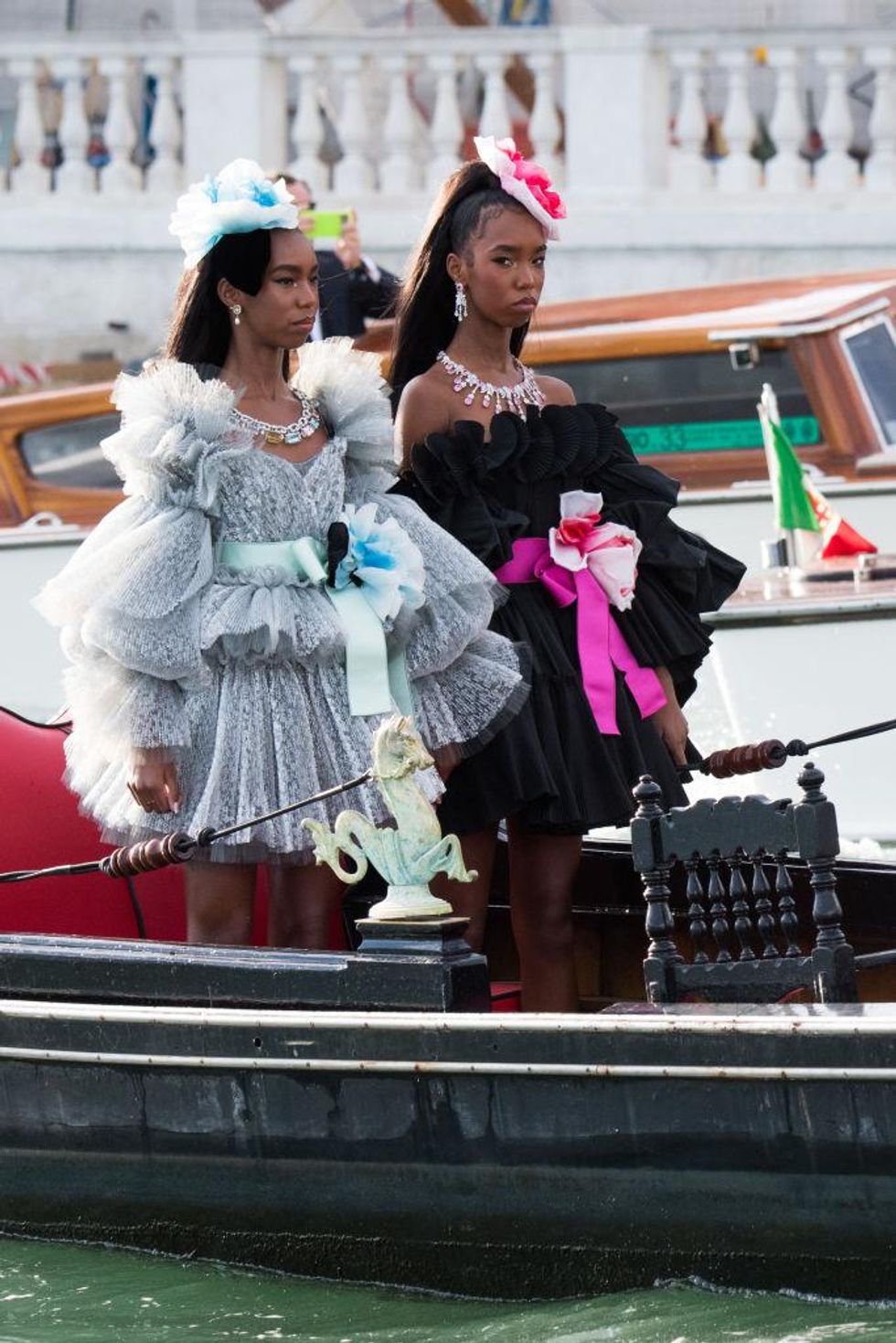 Jacopo Raule/Getty Images
The Combs twins and Chance all walkedslayed the runway as dad looked and cheered his babies on.
"LOVE LOVE LOVE!! Live from Venice"
The rapper, who currently goes by Sean "Love" Combs, took to Instagram to share a few flicks from Venice, Italy, where 14-year-old D'Lila and Jessie walked the runway for Dolce & Gabbana. Diddy shares both children with his late ex, Kim Porter, who died nearly three years ago. D'Lila and Jessie's half-sister, 15-year-old Chance Combs, also made an appearance in he best dressed, which she thanked her dad on IG saying:
"Venice has been AMAZING with my family! Thank you daddy for everything and I'm honored to have been a part of Dolce & Gabbana Alta Moda show. Thank you @dolcegabbana for having us!!! Grazie! #moarmagic."
Queen Normani shut shit down with a hand-painted number that screamed 'Disney Princess'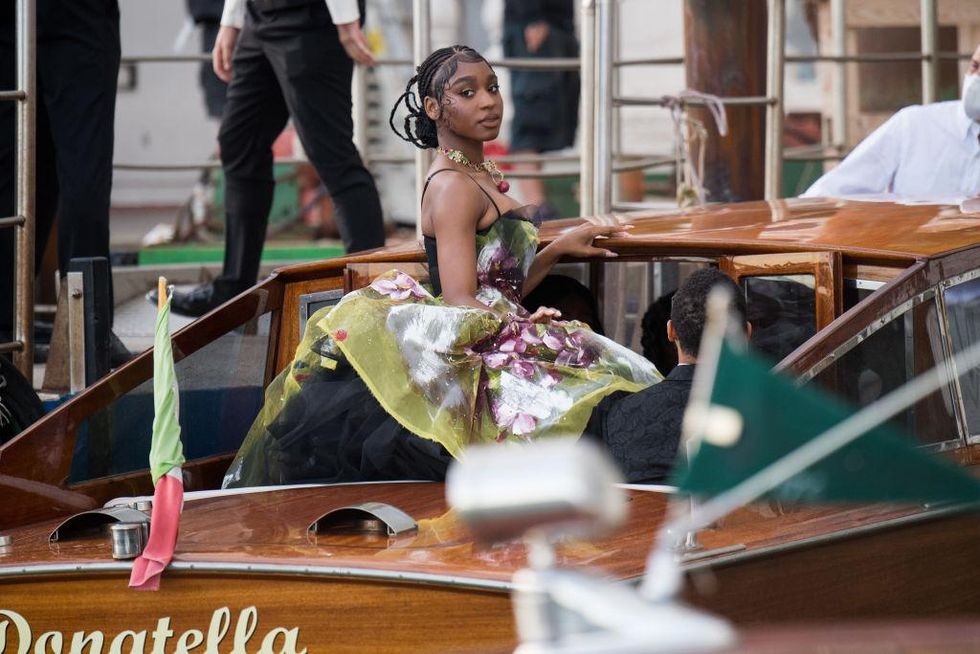 Jacopo Raule/Getty Images
The pop star donned a full ball gown from Dolce & Gabbana's spring 2008 ready-to-wear collection, which she flaunted in a series of photos posted to Instagram by her hairstylist, Ashanti Lation. Sis channeled her inner princess in a green gown and full black tulle skirt that sent the people gagging.
She enjoyed the show alongside Megan Thee Stallion, with whom she previously collaborated on the song "Diamonds" from the Birds of Prey soundtrack, and they each shared videos of themselves seated next to each other on their Instagram Stories, with Normani captioning the clip, "My seester."
Saweetie wore hotel slippers and made us love her even more!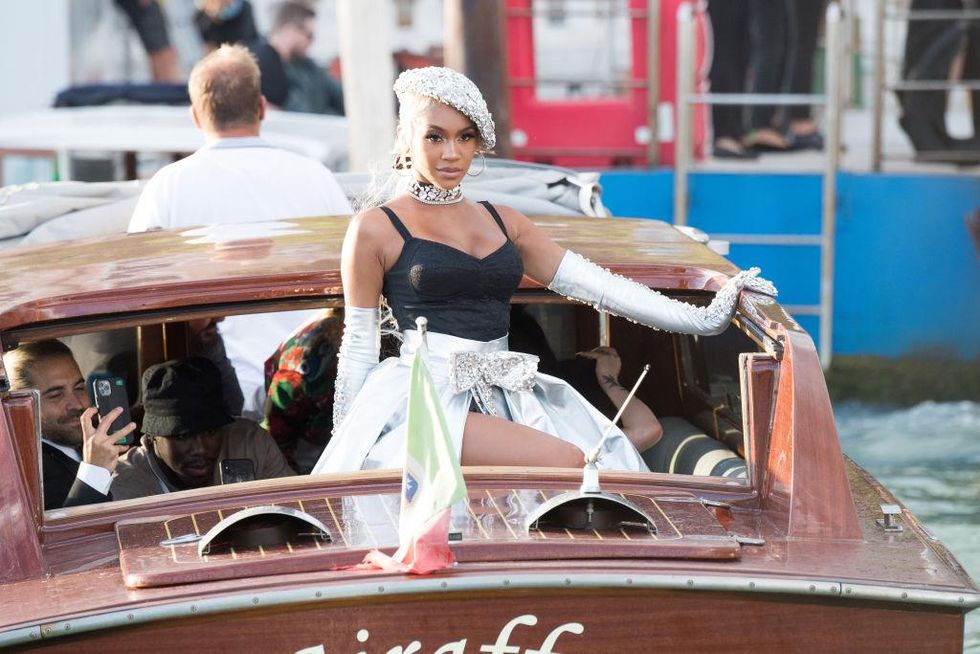 Jacopo Raule/Getty Images
Saweetie mixed high-fashion with the hotel slipper trend yesterday during her time in Italy after her appearance at the Dolce & Gabbana Alta Moda runway show. The rapper was seen at the Excelsior Hotel in Venice with an emerald off-the-shoulder satin dress, which she paired with a jewel-encrusted clutch, crystal hairpins, a silver anklet, a custom necklace with her name and the most comfortable footwear—hotel slippers. It's giving, 'high-fashion, but make it comfortable.'
Sis knows how to keep the people talking. Here for it!
Other celebs such as Aldis Hodge, Doja Cat, PJ Tucker, Vin Diesel, Zoe Saldana, and more made the weekend a star-studded one for the books. Dolce, himself, topped it all off by saying:
"I've worked in fashion for 43 years and I've never known anything like that. I can't take the emotion."
Us either, Mr. Dolce. Us either.
Are you a member of our insiders squad? Join us in the xoTribe Members Community today!

Featured image by Jacopo Raule/Getty Images