---
Before you removed your training wheels, you practiced riding your bike for weeks. We spend years in school preparing to enter the workforce. Athletes train for months at a time before a big game. We spend so much time preparing for the biggest moments in our lives, but one thing you can never prepare for is loss. It's true that nothing in life is more unexpected than death; and although we know that the end of life is inevitable, no matter how much you practice, study, and train, you can never really prepare for the passing of a loved one.
This fact is a reality for the Combs family, who after losing Kim Porter last November, has spent the last six months trying to create a new normal. Diddy, Kim's former partner and father to three of her children, has been transparent about how this loss affected his family and the regrets he has about not popping the question before it was too late.
"Whenever I was around her, I felt as though God had his hand in it. I always felt like God had sent her. Nobody could love me the way she loved me, especially as, you know, as crazy as I acted. I mean, she loved me through some real s–t."
This month, for the first time, ESSENCE chose a man for their Mother's Day cover story and in the interview, Diddy got real about how Kim Porter's death made him a better father to their blended family. Just one month shy of her 40th birthday, Kim Porter was pronounced dead in her California home, and it was a day that turned through the Combs household "upside down". Diddy explained:
"Three days before she passed, she wasn't feeling well. She had the flu, and she sent the kids over to my house so they wouldn't get sick."
Little did they know at the time, what they thought was the flu turned out to be a complex case of pneumonia. Before her untimely death, Diddy recalled the last words he heard from Kim before she took her last breath:
"One night I was checking on her, and she was like, 'Puffy, take care of my babies.' She actually said that to me before she died."
It's important that we treat every conversation that we have with the ones we love like it is our last because unfortunately, it could very well be. Diddy explained that with those words in his mind, he was forced to transform from a grieving man who had just lost the love of his life, into Superdad. He told ESSENCE:
"I jumped into mommy mode. I sent people in every direction to try to make sure the kids would not hear about it on social media or the news. I had to get to the girls' school and find Quincy, who was on set in Atlanta. Christian was on a plane, and I had his phone disconnected so he wouldn't read it in the air. Every time Kim and I talked, it was about the kids. It was what she cared about the most. We'd check in as friends, of course, but we never had a conversation that didn't include the kids. It was like some superhero sh-t."
Although her death was unexpected, Diddy explained that Kim had inadvertently been preparing him for this moment for years. Despite not having the time to process his own emotions, he knew that Kim would want him to think of the kids first.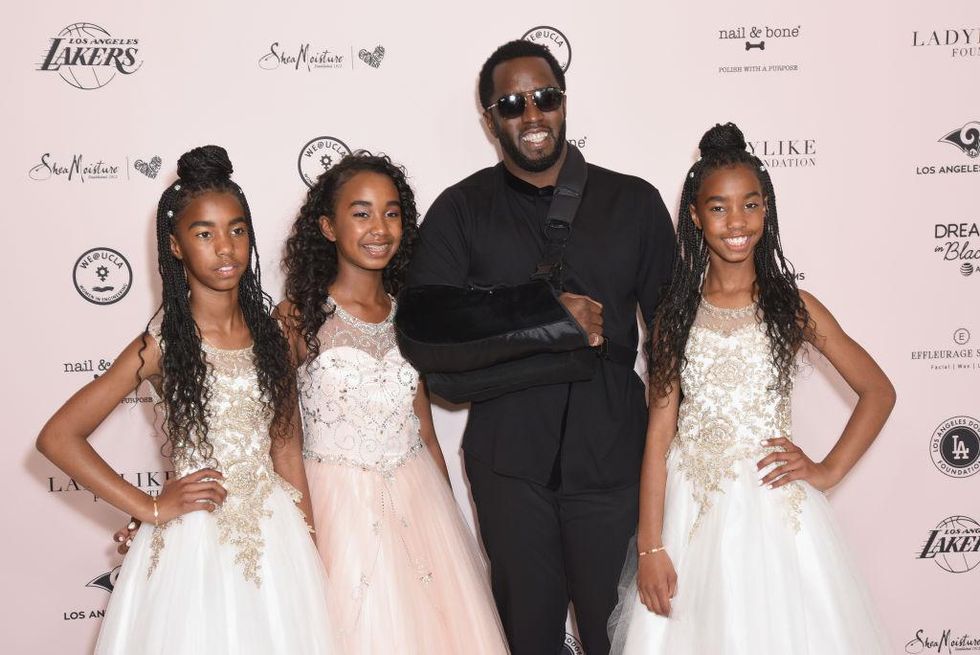 Presley Ann/Getty Images for The LadyLike Foundation
"I ain't even gonna lie. On some level I knew she was training me for this. I knew that I had to be ready to do whatever I was supposed to do if something like this ever happened. There was screaming and crying when I heard the news, of course, but I had to ask myself, What would Kim do? I was scared, and I was crying out to God—and to her—and almost immediately Kim's voice kicked in, and I could hear her saying, 'Make sure you take care of my babies.'"

Diddy explained that the mother of his children's unfortunate death has left a permanent hole in his heart, but has also forced him to become a better man. While before, the entertainment mogul may have put his daddy duties on the back burner, now, he understands that family is the only priority.

"Before this, I was a part-time father, you know? My family was always first, but there are countless times when I chose work over everything else. But every day I can hear her telling me to go and spend some time with the kids and make sure everybody's all right, like she would do. I'm just a lot more present, and, most important, now my kids come before anything else in my life."
Diddy explained that while Kim's death is hard for him to process even today, having his daughters, who exude her radiance in every way, is more than enough to be grateful for.
"Of course, I worry about the girls. One day I asked them how are they being so strong. They said that, in a weird way, their mother had taught them how to deal with death. About six years ago, Kim's mother [Sarah Porter] was diagnosed with stage 4 cancer, and we moved her to L.A. She passed away about a year and a half later, so the girls saw their mother deal with losing her mother. Now, ironically, they are teaching me how to deal with Kim's passing."
Diddy and his tribe prove that pain is inevitable, but suffering is optional, even when life hits you with something as grim and unexpected as death. My dad always says, "if there ain't no beauty, make some," and it's amazing to see how Kim's family can still see life for all of the beauty it has to offer. Rest in heaven, Kim!
Featured image by Presley Ann/Getty Images for The LadyLike Foundation