Life can serve us some unexpected curveballs, one of the most spontaneous is death. In the past year, we've lost a number of our favorite celebrities and the people that we feel for the most are their families because as well all know, the death of a loved one is most painful to the living. The deaths of celebrities including but not limited to Nipsey Hussle and Kim Porter hit so close to home because we can empathize with the family, friends, and sweethearts that they left behind.
It was pronounced that Kim Porter's death was caused by pneumonia, or an infection of the lungs, after she died in her Los Angeles home last November. Kim's death took the internet by storm, prompting a number of celebrities to post tributes in her honor, one of these celebrities being her former partner and father of three of her children, Sean "P. Diddy" Combs.
It's a fact that you don't know what you've got until it's gone, and this was especially true for the "I'll Be Missing You" rapper/producer. Diddy recently reflected on this sentiment in an Instagram post. Under a nostalgic photo of him and his "Bonnie", he wrote:
"I remember Kim flying to see me on the set of can't nobody hold me down. She took like a 12 hour flight to LA and 3 hour ride to the desert. With no complaints. Was always ride or die. From day 1! I called her BONNIE AND I WAS CLYDE! This picture will go down in history as the first time I said she was MINE!!!! AND THE FIRST TIME I TOLD HER I LOVE HER, little did I know I was hers. Miss you BONNIE ❤️ and will forever. Maaaaan life is beautiful to have had these experiences. Love you baby. @ladykp 🖤"
After posting the photo, the star received a whirlwind of backlash from fans who felt that he had done too little too late. One user even made the point that the picture that Diddy posted was taken around the time that Diddy began his widely publicized relationship with Jennifer Lopez during an "off-season" in Kim and his relationship. Despite the immense amount of speculation about Kim and Diddy's relationship, anyone with eyes can see that the couple had an unbreakable connection.

Sean Combs and his Georgia-born sweetheart met and began dating in the 90s when she was in a relationship with her first child, Quincy's, father, Al B. Sure and Diddy was still an A&R. In a 2006 interview with Essence, he explained:
"The first time I saw her, she was at the studio with her ex-boyfriend. I wasn't trying to holler at her or anything, but I was admiring her—her lips, her eyes, her mouth, her shape, her energy—and thinking, 'I wish I had a girl like that.'"
In this interview, Diddy also revealed that he had no real plans to marry Kim, even though he knew she deserved it.
"I know she deserves to get married, but I'm just not ready. It's not a reflection on how much I love Kim. It's that I'm just learning how to be a good boyfriend. When I'm finished with this step, I'll move on to the next."
During their 12-year on-and-off the relationship, Kim gave birth to a son, Christian Combs, and twin daughters, D'Lila Star, and Jessie James. Kim and Diddy split publicly in 2007 when she learned that he may have fathered a child outside of their relationship while she was pregnant with the twins, but they still remained close friends after the fact.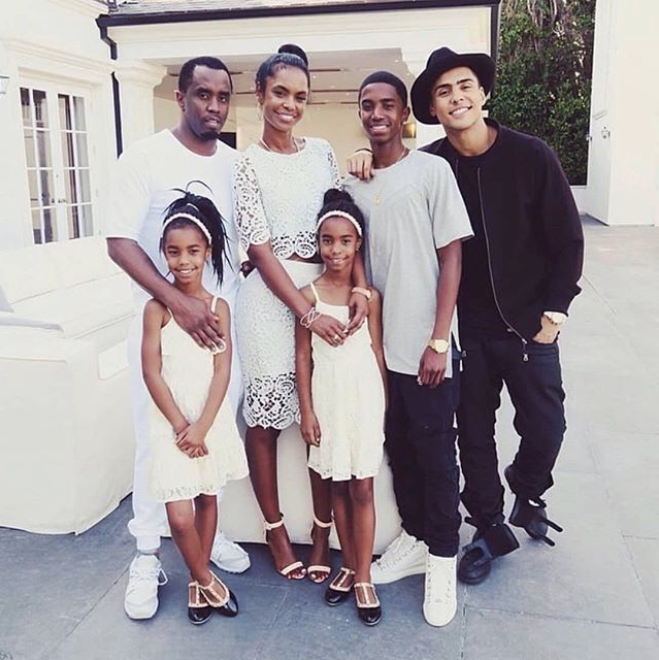 Instagram
It's clear that Diddy and Kim had a genuine love for each other, and marriage wouldn't have necessarily validated that connection, but when someone dies, nothing stings worse than the regret of what "could have been."

This leads us to a very important question that Diddy has finally given us all the answer to: If you loved her so deeply, why didn't you make a real commitment?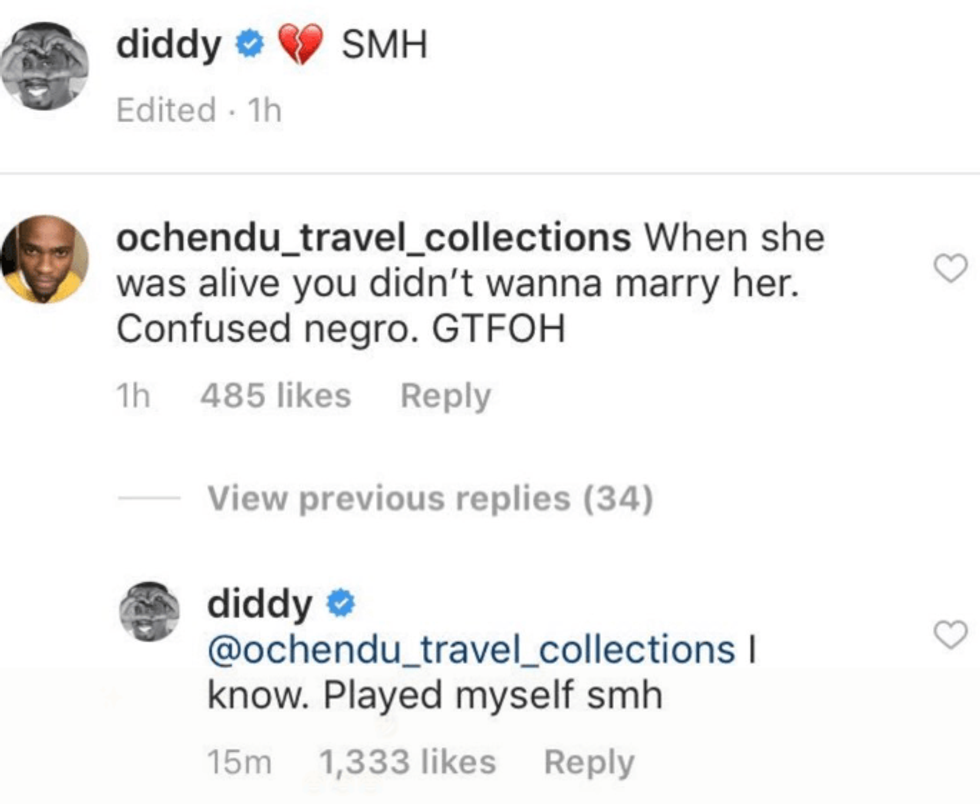 Instagram
The truth is, his inability to commit never really had much to do with Kim at all; he had to look inward for an answer:

"I wasn't ready and that's it. I'm ready now but it's too late. Don't be like me."
You heard it straight from the mogul's mouth, kids. Don't be Diddy. We're all guilty of ending a call on an unfavorable note, or procrastinating about mending old relationships. The untimely deaths of celebrities like Kim Porter and Nipsey Hussle remind us to tell the people we care about "I love you," as well as all of the other things we may need to get off our chests because tomorrow, it may be too late.
Nothing is promised, and this is especially true for the time we have to spend with the people we love. Like most relationships, Kim and Diddy's was imperfect, but it didn't make the love any less real. Rest in heaven Kim! Check out the gallery below to see a timeline of Diddy and Kim's lifetime of love.
Featured image by Peter Kramer/Getty Images.