The trailer for the highly anticipated sequel to Black Panther, Black Panther: Wakanda Forever has finally arrived. And it shows the beloved female characters taking center stage. With Tems' version of Bob Marley's "No Woman, No Cry" playing as the soundtrack in the trailer, it only seems to foreshadow what anxious viewers can expect.
---
Based on the trailer, the characters are in mourning over their beloved king T'Challa. Chadwick Boseman played T'Challa aka Black Panther but sadly passed away on August 28, 2020, after a private battle with cancer.
Since his death, there have been many concerns about how the film will move forward without Boseman. Some people suggested that T'Challa's sister, Shuri, played by Letitia Wright, should be the next Black Panther. Others argued that T'Challa should be recast, however, the film's director Ryan Coogler shut that down. Over the weekend, the cast attended San Diego's Comic-Con to premiere the trailer and Coogler opened up about working on the sequel to Black Panther without Boseman.
"It's going to be hard to follow that up, but we'll try," Coogler said according to Variety. "It's been five years since I was here. I sat about there and we premiered the first footage from 'Black Panther 1,' and sitting next to me was our T'Challa, the late great Chadwick Boseman."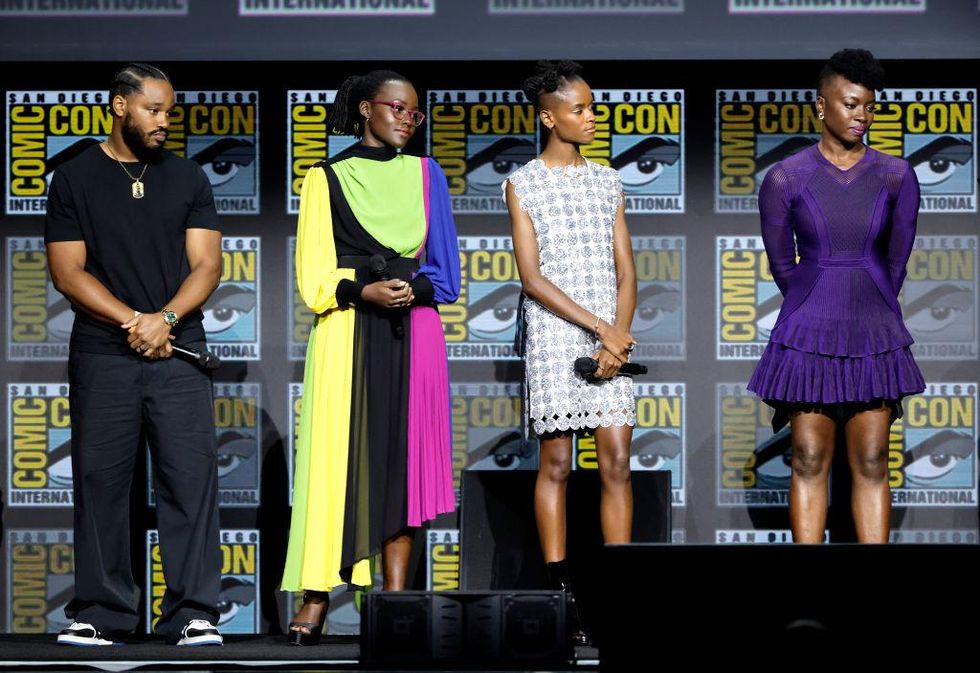 (L-R) Ryan Coogler, Lupita Nyong'o, Letitia Wright, and Danai Gurira speak onstage at the Marvel Cinematic Universe Mega-Panel during 2022 Comic Con International: San Diego at San Diego Convention Center on July 23, 2022 in San Diego, California.Kevin Winter/Getty Images
"I promise you, I can feel his hand on me right now," he said.
Lupita Nyong'o, who played Nakia, T'Challa's love interest, also opened up about working on the film since Boseman's death. "We put our love for Chadwick into this film. We also put our passion," she said via Deadline. "This film has a ton of action and humor. It's also a roller coaster of a movie. It goes to new places in Wakanda that we've never been before but other corners of the MCU."
"The universe of Wakanda is expanding and you have a lot to look forward to," she added.
Angela Bassett, who plays Queen Ramonda of Wakanda, T'Challa's mother, appears to be mourning her son while also having to take on the responsibilities that he left behind. In the trailer, she is heard saying in an emotional, yet powerful monologue, "I am queen of the most powerful nation in the entire world, and my entire family is gone. Have I not given everything?"
Alongside returning characters Ramonda, Shuri and Nakia is Danai Gurira's character Okoye and fans will also see Michaela Coel joining the cast as Aneka.
Black Panther: Wakanda Forever hits theaters on November 11, 2022. Watch the teaser trailer below:
Marvel Studios' Black Panther: Wakanda Forever | Official Teaserwww.youtube.com
Featured image by Kevin Winter/Getty Images