---
Is it me, or does Angela Bassett still look the same as she did in 1993?
The phrase "age ain't nothin' but a number" may have been coined by Aaliyah, but truly comes to life in the form of Angela Bassett. Women are like wine, as we grow older, we become more of a commodity; a fact that is especially true for this timeless actress, who recently sat down with Allure magazine and revealed that she is damn tired of everyone telling her that she looks young for her age.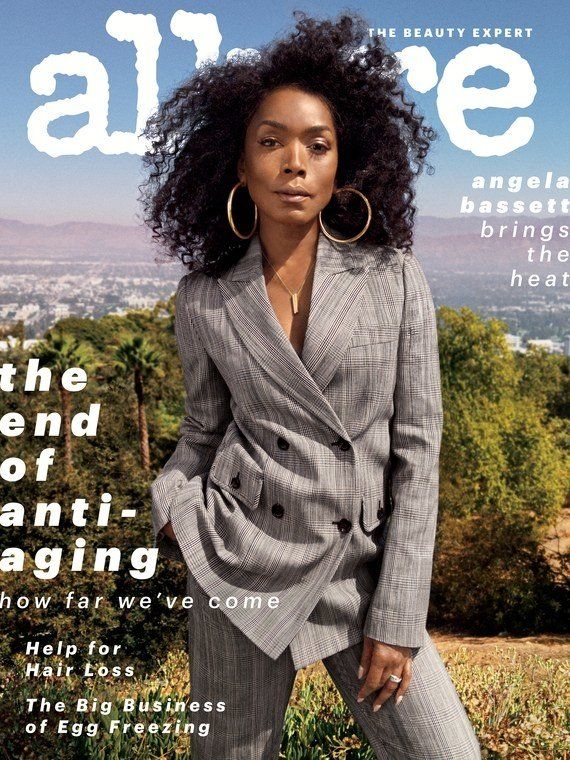 Allure
In the interview, she even recounted a time when a woman in Whole Foods told her that she looked "so young", to which she replied:

"Hearing that is a wonderful thing — seeing as I'm 80!'"
She explained that although she's flattered that she can keep the public wondering how she's snatched our wigs for decades with her ageless beauty and immaculate physique, ageism has become a major factor in her career. She explained:
"As we advance, 60 is the new 40, or 70 is the new 50. It keeps getting pushed. But you have to keep the stress down and the attitude hot."
Thanks to our social media-centric generation, Angela gets to test these standards in her career everyday. In season 3 of American Horror Story, the actress plays an immortal voodoo queen and proves to the world that black don't crack, literally. She shared:
"Yeah, black don't crack. I appreciate that about Ryan Murphy's work, the stories he's interested in telling. He has a brave voice; he's outspoken. [Coven] was a gumbo of social and feminist issues — femininity and womanhood, also ageism and racism, provocative and topical. It was a really powerful season. What it gives you, the actor, is filet mignon, when you've been used to Twinkies."
Although Angela's former work may have been twinkies in her opinion, they were ones that we ate right up. From How Stella Got Her Groove Back to Tina Turner in What's Love Gotta Do With It, Angela Bassett has proven to be one hell of an actress and even more of an icon.
In the 2016 elections, Angela worked with Hillary Clinton's campaign to garner the democratic vote. Her work, by her own definition, is the true definition of real feminism.
Angela's revealed that the road to her spectacular career started at an HBCU and landed her at Yale, where she would ultimately meet the love of her life. Thanks to her mother's high expectations and her undeniable talent, the young actress found herself with two degrees and a life full of potential ahead of her.
"Looking at these pamphlets, these white kids sitting on the grassy knoll with their books… There was no idea at that point that [my mother and I] would go around to these campuses and speak to the kid. You're going to college. Soon as you graduate, you're outta here. Pick any college and go. Lo and behold, got into Howard — thought that's where I'm going. A historically black college, Washington, D.C. Then Yale! You don't get into Yale every day, and my mama is freaking out on the sofa over there. And I only have to take out a loan for 1,200 bucks."
Recently, Angela returned to Yale to accept an honorary doctorate in fine arts, and revealed that it was a surreal experience that brought on a whirlwind of nostalgia.
"It was great to go back to that campus. Those corridors. It comes rushing back, that feeling of being 18 and meeting new folk from around the world, negotiating stuff you never saw before. The food. What is this called — London broil? I'd never been around so many choices in my life. And who are all these people? What is Exeter? Oh, your daddy's a what? Senator, doctor, lawyer. My mother is a data processor for Health and Human Services. Welfare. But I'm here. On financial aid. Doing theater."
Angela has proven to the world that a little black girl from Harlem can grow up to be the Mother of Wakanda, a Yale Graduate, or even an Oscar-winning voodoo queen if she works hard enough. In the interview, she also recalled the time she thought about giving up. She said:
"I said, 'Oh, Uncle Charles, I was supposed to be out here for only six months, but I'm working,'. And he said, 'Baby, don't get off a winning horse.'"
Angela is proof that age doesn't matter when your hustle is timeless, and is a reminder to stop telling women they look young for their age. No matter where we lie on the spectrum of age, we slay.
Click here to read the full interview.
Featured image by Getty Images