Our forever FLOTUS recently published her memoir Becoming, following her from her childhood through the eight years she and our forever POTUS graced the White House.
---
Since its release, Becoming has managed to sell over a million copies in its first week and has broken the record for the longest #1 best-seller on Amazon since Fifty Shades of Grey. I just finished it and, baby, let me tell you, it was a game-changer for me. With my one-hour commute, I listened to it on Audible – she reads it herself and that only adds to the magic.
At 34, I have lived an entire life already, and not the life that I wanted to live. As it turns out, Michelle Obama could not only relate, but has been there herself.
Her courage in sharing her deepest fears and experiences makes the already down-to-earth woman even more personable and relatable. You feel more like you're listening to the story of a friend instead of one of the most powerful women in the United States. While she is aware of the gravity of her responsibility, she insists on remaining the Michelle Robinson she was growing up on the southside of Chicago, even as she slowly became the Michelle Obama that we all know and love.

I don't intend on doing a full report on the book, but wanted to share my takeaways, in the hopes that, if you haven't read the book, you now go get it in whatever version works for you, and you can perhaps feel motivated and inspired for the same reasons I do.
It is Beautifully Written.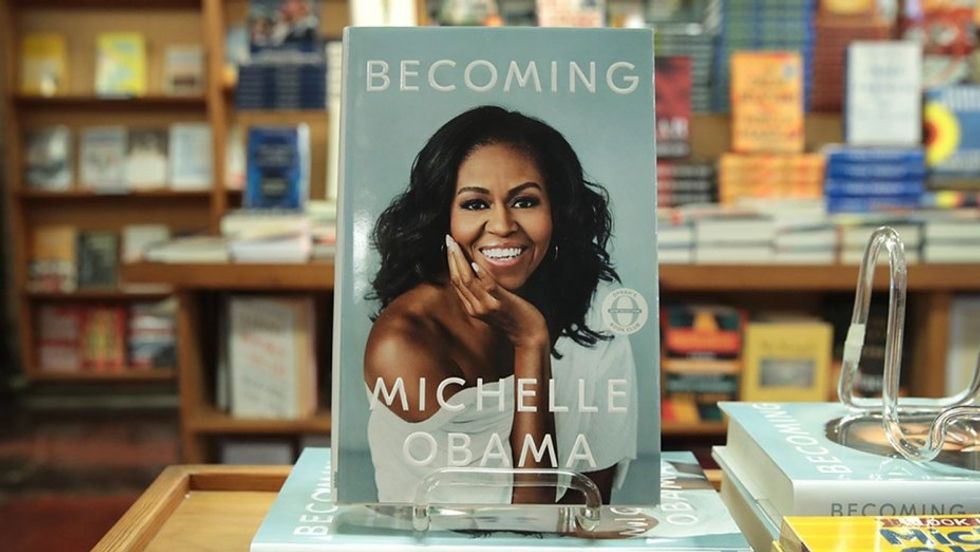 Getty Images
I don't remember reading a memoir at any point in my life that has been written in the style of Becoming. In fact, I have avoided many biographies for that very reason. But at times, this book is almost poetic in its delivery with descriptions so vivid, I sometimes felt that I was there at that time in history with her. This adds to the beauty of the work itself – as Michelle describes striving for excellence, her work is written in such a way that you have no choice but to elevate to her level and not the other way around. You will feel like a better person for reading this book.
She Understands the Power of the Tribe.
While we know it takes a village to raise a child, we also know that it takes a tribe to raise and support a woman. Over the course of the book, several times she invokes the names of her soul sisters, identifying women from her lifetime who have been a part of her tribe. From women who were working mothers like her who needed support during her time with Barack before he even went into politics, to women she became close to on the campaign trail and while in the White House. She truly celebrates and honors those women and drops life lessons about how vital a tribe is to the psyche and soul of a woman, supporting and loving each other and cheering each other on. To have that validated by Michelle truly makes this point hit home.
She Upholds Family First.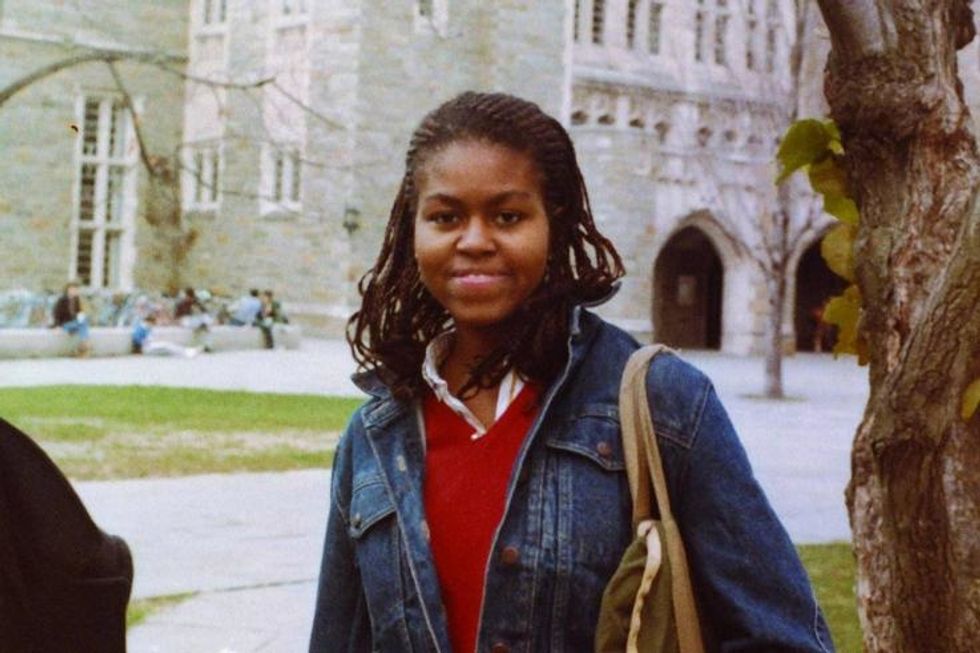 Michelle Obama at Princeton in 1984
Michelle Obama
Michelle Obama started as Michelle Robinson in a family of four that had little in terms of possessions but a lot in terms of love and life lessons. She and her brother Craig both grew up to be very successful and accomplished individuals – something she attributes almost solely to her mother and father's influence. She painfully details her father's lifelong battle with Multiple Sclerosis but with a pride that only a daughter could have for her father. He never gave up or used his circumstances as an excuse, and this was the running theme of her childhood.
As extraordinary as her children were, Michelle's mother was quick to say that her children were no better than the other children in their southside Chicago neighborhood (which she represents all throughout the book), all capable of the same type of success. It's a truth that Michelle has carried with her throughout her life in her work with the youth and the community.
She Doesn't Like the Cheeto in Chief, Either.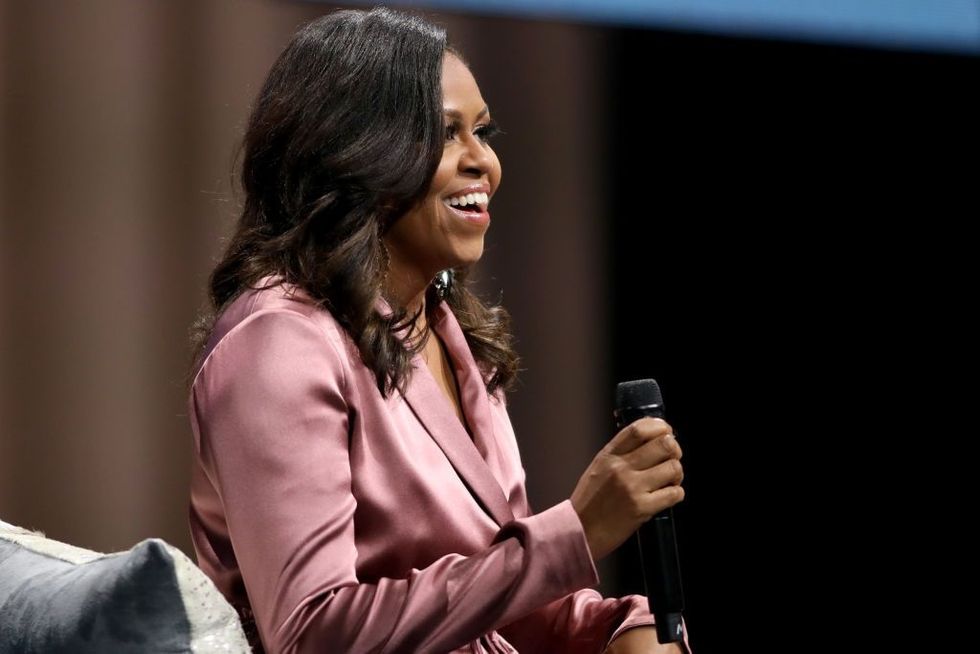 Michelle Obama "Becoming" book tour stop in San Jose
Getty Images
She keeps it all the way 100 with us in her book, and doesn't mince words when it comes to Trump. She doesn't like him, period. He's a disgrace for how he treated President Obama during his Presidency with the whole birth certificate issue and she hated everything that came out regarding his character. She spoke from the heart in the final days of his campaign, displaying her disgust with him and everything he stood for. She could hardly believe that he was voted into office and blames it solely on the Electoral College but she is quick to bounce back and remind us to have hope no matter the circumstance, or who is in office. She firmly stands by her belief that our country is greater than its worst moments and that we will get through this and come out stronger than before – just like any other tragic situation.
For me, the biggest lesson in the book was that we can become who we want to be at any time – it's never too late to do so. Michelle recounts how much she hated being an attorney, even though she was good at it and made a great salary. She ended up taking a pay cut for an opportunity that was more suited to her purpose in life – working with, and helping, other people in the community. She knew she wouldn't be able to do that in her position as an attorney. I can totally empathize, having to work in Corporate America to collect a check but wanting to eventually live my life doing what I love – writing full-time, among other things. Y'all pray for me.
Ultimately, Becoming isn't just her story.
Yes, it recounts the moments in her life, but she is quick to relate her story to any of our stories. She wants us to know that her story is no more remarkable than any of our stories, and that as we all become who we were meant to be, we do so through the lessons we learn from our experiences, education and every moment. Instead of wondering why something is happening to you, you have to ask what lesson can it teach you.
Michelle recounts all the lessons for our benefit, and makes the reader or, in my case, the listener, better for it...
Related Stories:
9 Life-Changing Books Recommended By Celebrities – Read More
These 4 Platforms Are Putting Us On To Books For Us By Us – Read More
7 Books You Should Gift Your Girlfriends, According To A Bookstagrammer – Read More
This Book Completely Changed My Outlook On Life – Read More
Featured image by Getty Images