---
So, let's get real about quarantine hair. For many of us, most days have NOT been pretty. Between dealing with job uncertainties, making sure you're "staying safe" and not catching the Rona, or dealing with the 24-hour news cycle of horror: taking care of one's hair is typically last on the list of things to worry about during a pandemic . However, when dealing with black women's hair (especially natural hair ), quarantine or no quarantine, our hair requires serious maintenance. Otherwise, cue the matting, tangling and looking a hot MESS!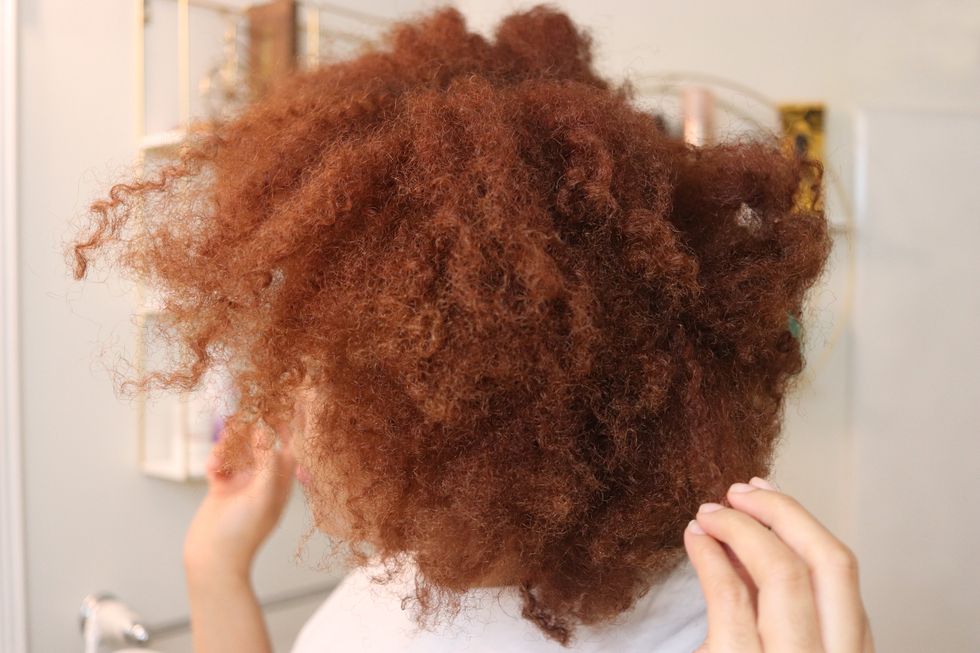 Before
Annisa LiMara/xoNecole
And if you had hair length goals , kiss that goodbye because dry, unkept, breaking-all-the-time hair is NOT growing. Period. Thankfully, I've found that the upkeep of my hair is a form of self-care and that has allowed me to feel some sense of normalcy. Plus, if you stay ready, you don't ever have to get ready.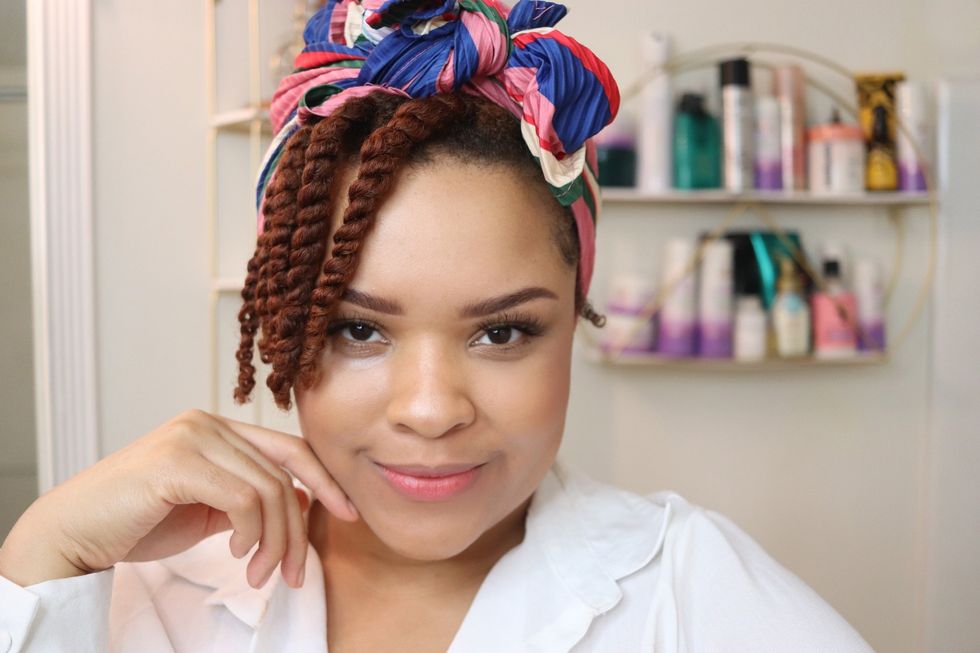 After
Annisa LiMara/xoNecole
Here is the easiest way to take care of your natural hair: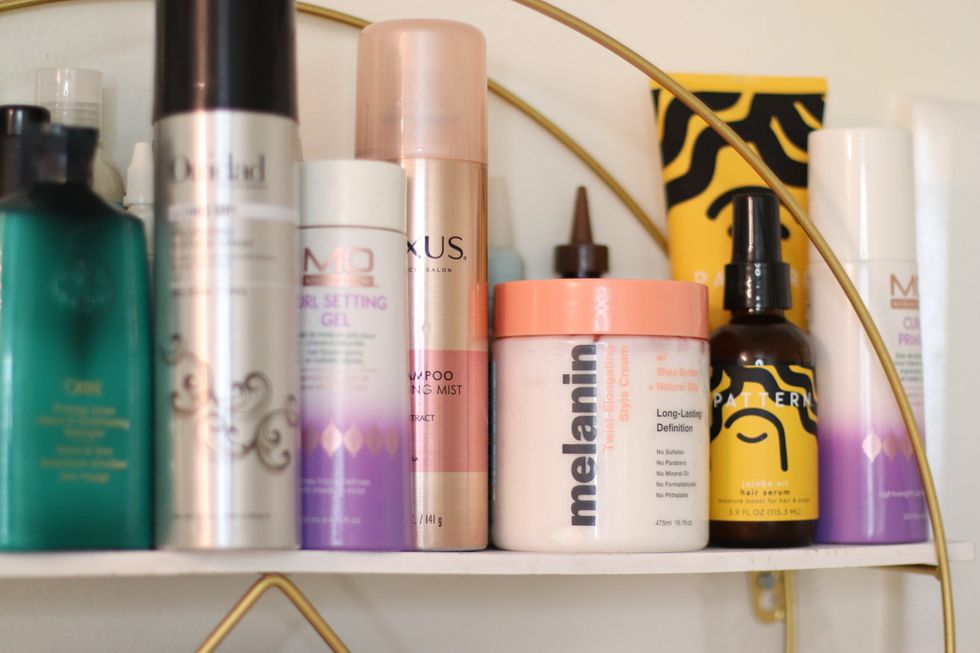 Annisa LiMara/xoNecole
First things first, get your entire arsenal of hair products from shampoos to masques , and gels to serums because if you've gone days or weeks without doing anything under your bonnet or scarf, buckle up. It's gonna be a long middle of the night (for those of us that have no sense of time currently).
All of the products I use are water-based which means it's going to provide the extra hydration I need after neglecting my hair for the first weeks of self-quarantining. Find what works for you and stick with it. Buying new products right now isn't necessary unless you're in dire need and thankfully most, if not all, hair companies are still thriving because they know WE NEED OUR HAIR TO LOOK RIGHT and we will pay to do so (some are even risking their lives)!
During a time like this, twists (a twist out) are the best style for natural hair that I've found. Twists are protective, low-maintenance and versatile. From mini twists to chunky twists to even marley twists, they are easy on the hands and even though they take some time to install, they can last for weeks or even months. In order to achieve this style, first you must pre-poo, wash, deep condition and then, detangle and style.
After letting my hair sit for weeks, detangling required a little more patience so here are the steps to easily detangle and twist: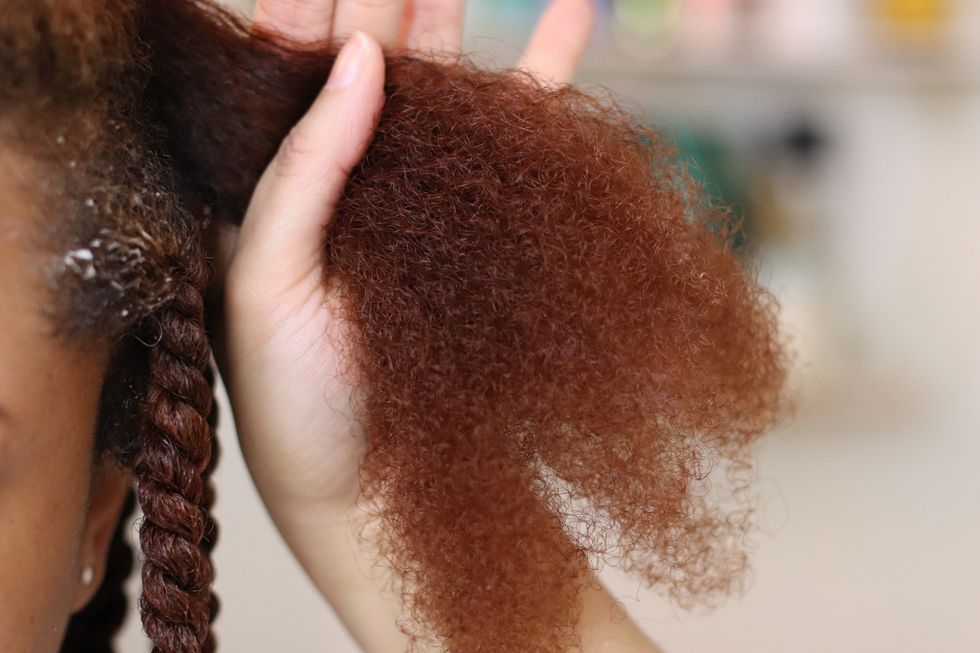 Annisa LiMara/xoNecole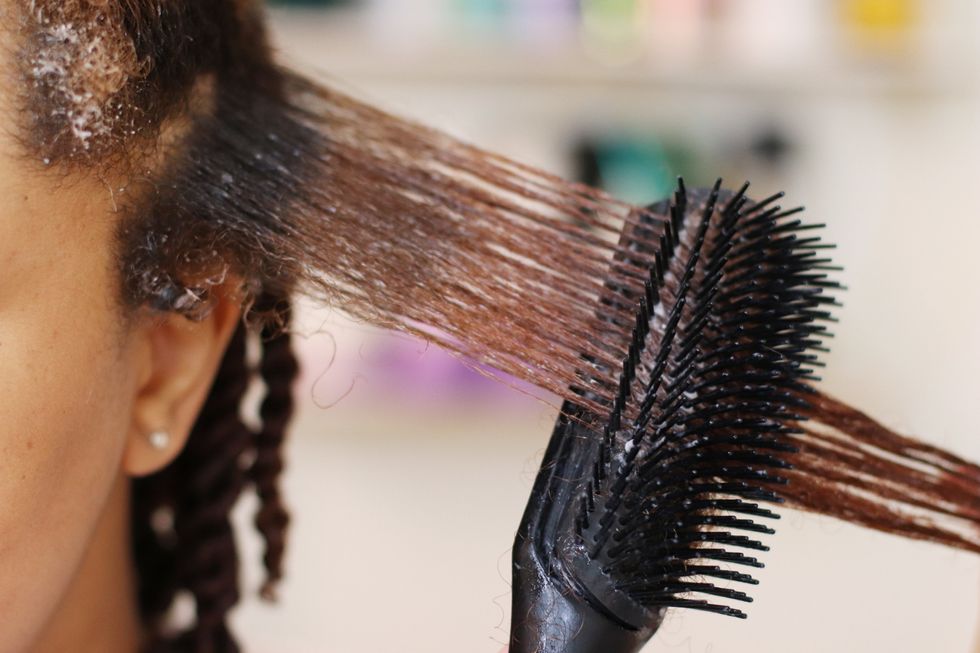 Annisa LiMara/xoNecole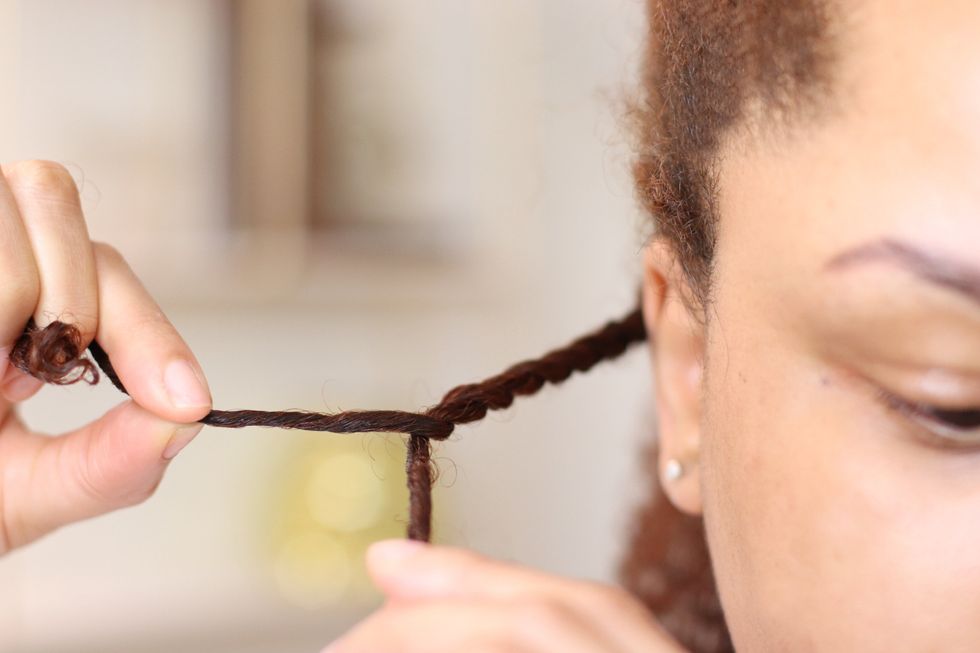 Annisa LiMara/xoNecole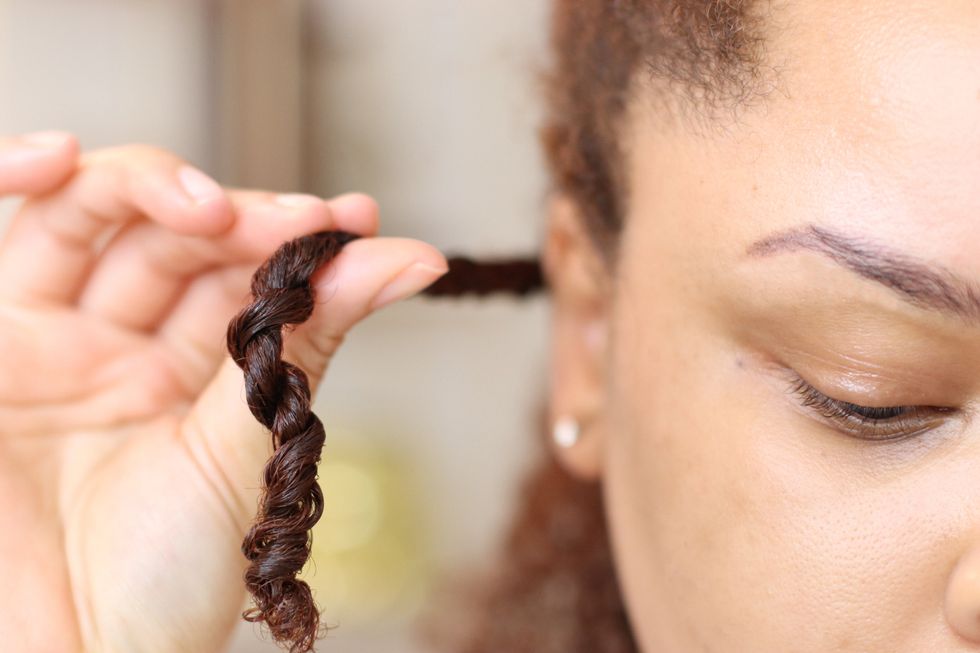 Annisa LiMara/xoNecole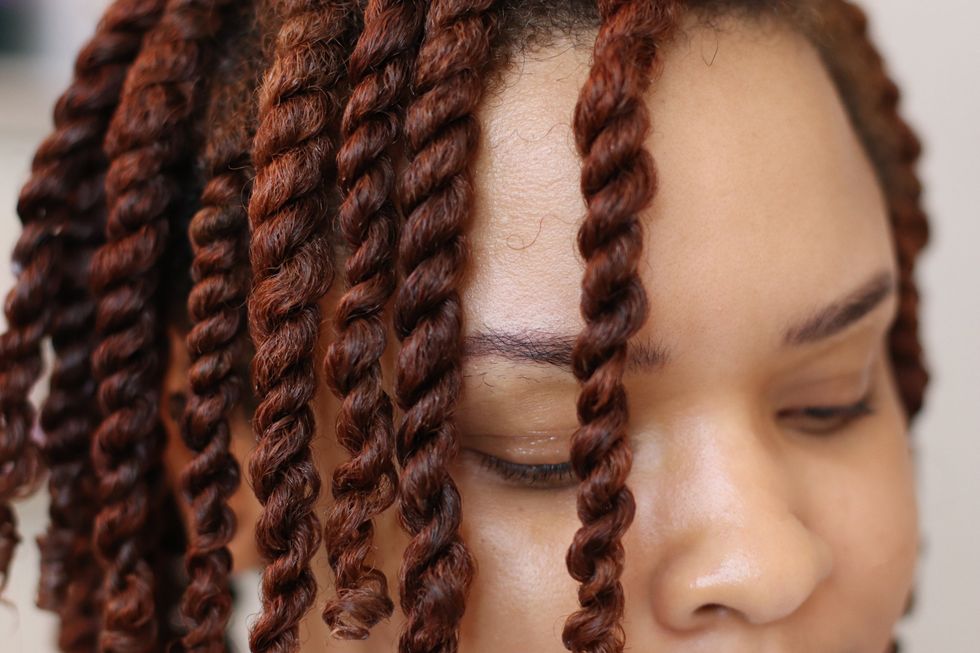 Annisa LiMara/xoNecole
Section off damp hair, starting from the back, and rewet hair with water bottle.
Spray hair with leave-in conditioner, apply an anti-breakage serum and then apply your styler (cream or gel). Tip: I personally used a cream so that when I'm ready to take my twists down, it's more pliable.
Next, use a denman or detangle brush to thoroughly detangle section and prep for twists.
Twist hair into 1- or 2-inch sections. Twist your hair all the way down and finger curl at the ends.
Once all of your hair is twisted, sit under the hair dryer to decrease shrinkage.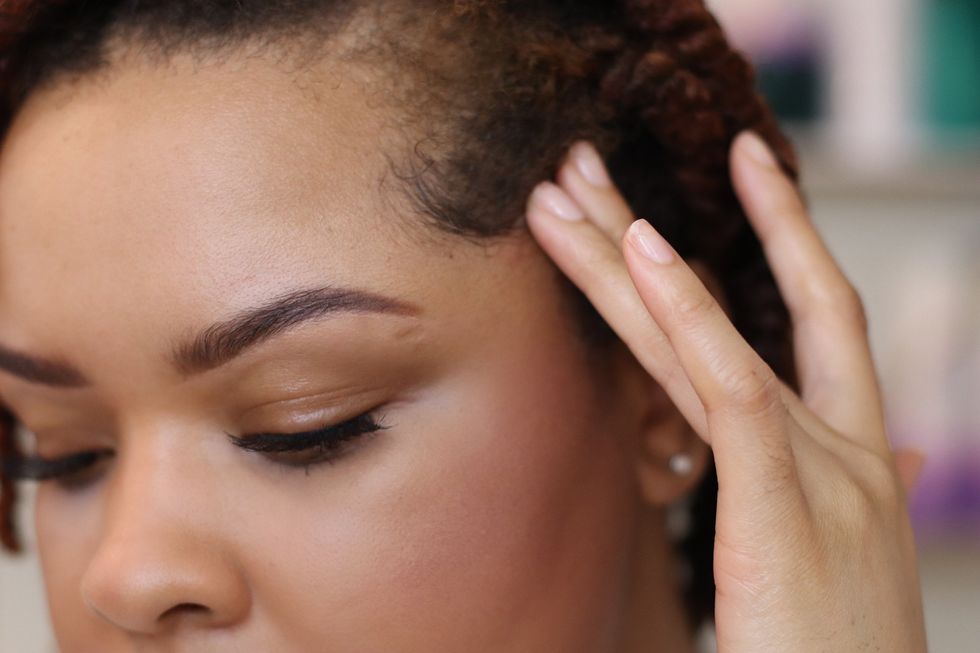 Annisa LiMara/xoNecole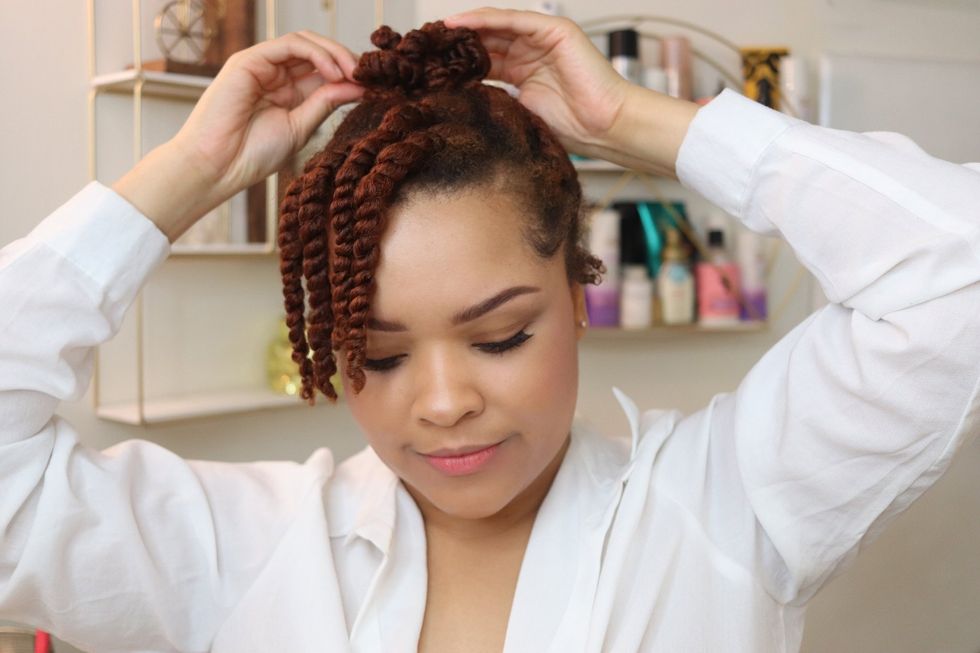 Annisa LiMara/xoNecole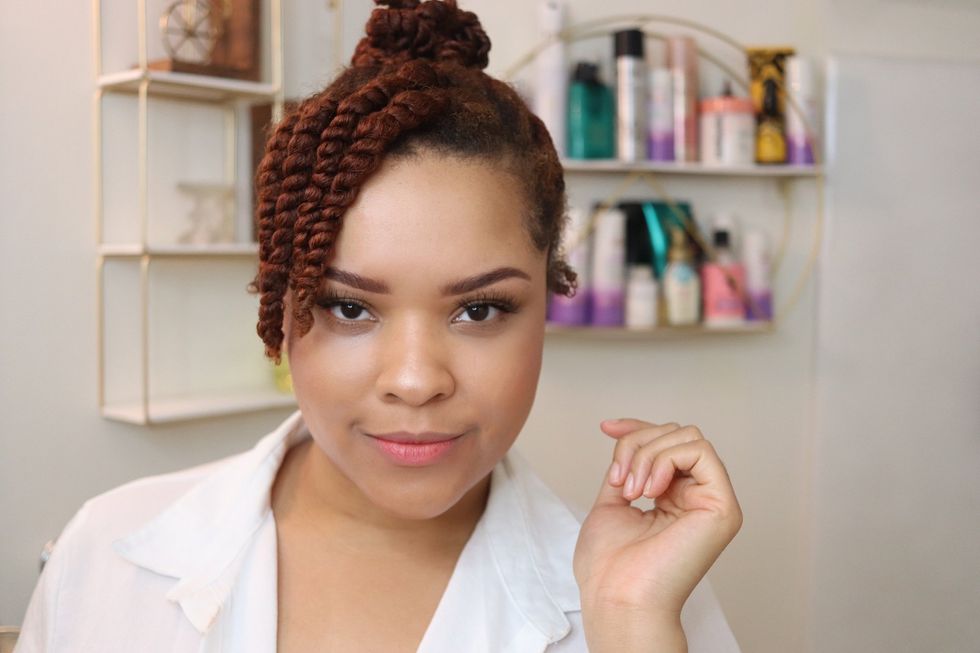 Annisa LiMara/xoNecole
After your twists are thoroughly dry (do not play yourself with damp twists, sis) and apply your favorite edge control, style your hair however you see fit. I typically wear my twists in a bun (or two space buns) with a few hanging in the front. Remember, the smaller the twists, the longer they last, and medium twists are perfect for a twist out after a few weeks. Again, we are looking for versatility, folks!
For additional styling, I'll leave the front out and throw on a cute scarf and leave it as is which can usually last up to two weeks. It's low-maintenance, zero commitment, versatile and still cute enough for any Zoom meeting or virtual "girls' night". It's also practical if you have to go out for essentials; just throw your mask on and leave your hair out or throw a wig on or hat to protect it if you're out in public.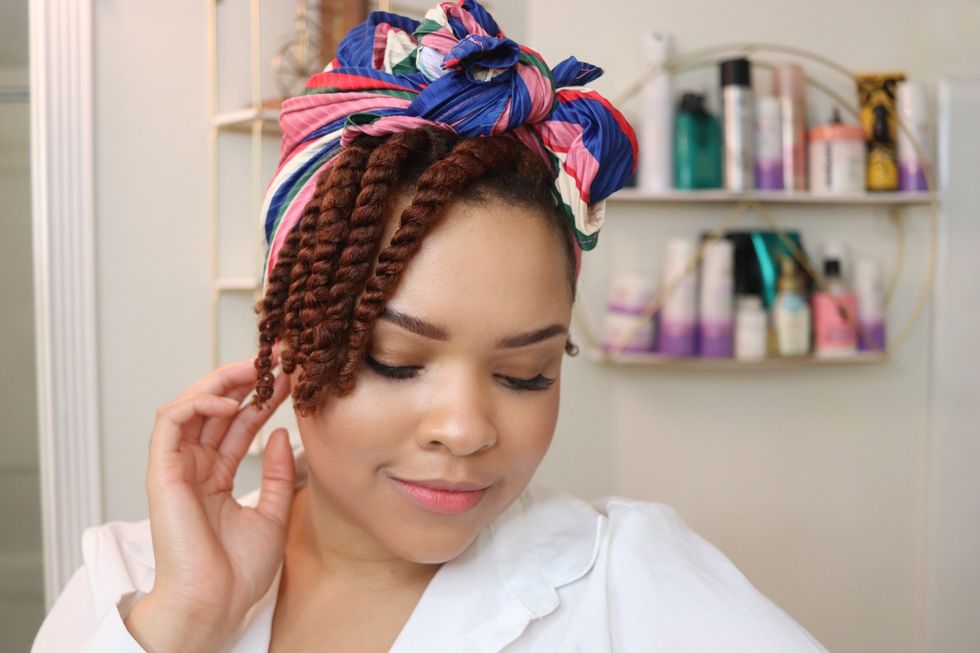 Annisa LiMara/xoNecole
For daily maintenance. just spray with a conditioning hair refresher spray, seal with a light oil and touch up your edges from time to time...that's it. Right now, it is all about convenience and leaving your hair ALONE. That's the best way to keep your hair from looking crazy and taking care of it at the same time, plus it makes length retention even easier if that's your goal.

Bottom line, as we move into a more digital world, we still have to face ourselves and others, so I'd rather do it without the hassle of "doing my hair" everyday. Because in the words of Sweet Brown, ain't nobody got time for that!
Do you have a beauty, wellness or self-care find that you've tried recently and want to share your experience? Join the xoTribe members community to connect with other beauty lovers and share your wins with the tribe.
Featured image by Annisa LiMara/xoNecole
Annisa LiMara
Annisa LiMara is a content creator, influencer, business woman and artist that resides in Atlanta, GA. Originally from Jackson, MS, she is passionate about animals, a Black feminist and launched her YouTube channel back in 2013 after a botched haircut.
Boost
Nov 02, 2023 08:00 AM EST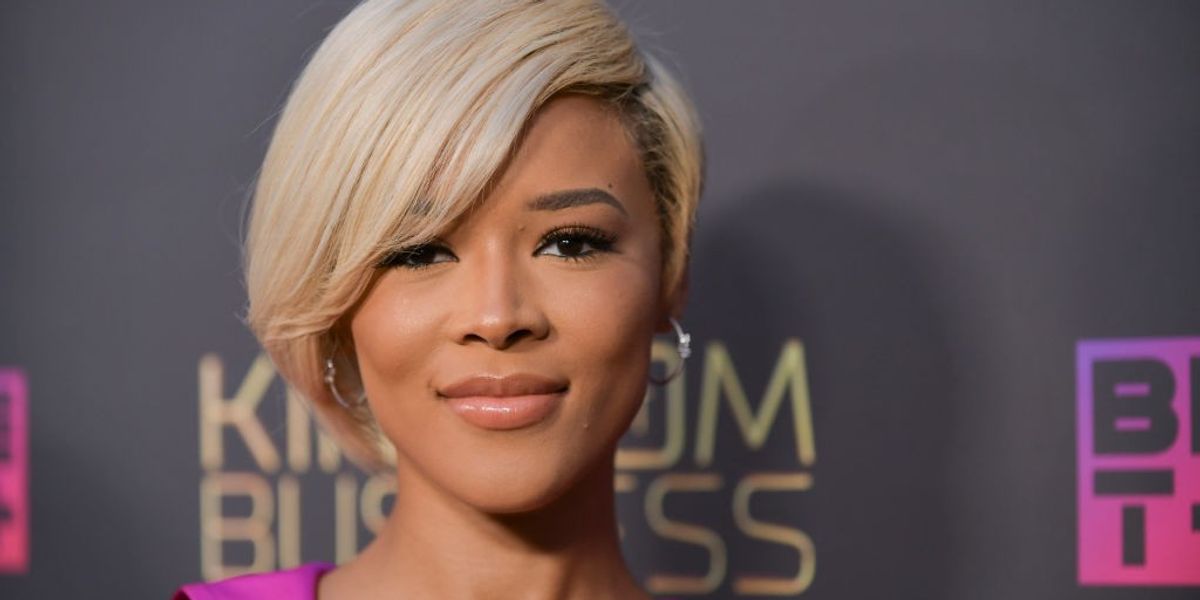 This post is in partnership with BET+.
Kingdom Business is back for its second season, with even more sermons, songs, and serpents. The series picks up where it left off, with actress Serayah as Rbel caught between the stripper pole and the pulpit. With the first lady of the church working desperately against her, Rbel must find a way to live her dreams and honor her friend while figuring out her faith in the process.

Season one served a collection plate of rivalry, deceit, and revenge –– among many other tribulations. Between the 28-year-old's acting, conviction, and harmonious voice, here are a few reasons why season two of Kingdom Business is a must-watch.
If the Spirit Doesn't Move You, Serayah's Singing Voice Will
Rbel, formally known as Rebecca Belle, is a stripper whose life forcibly takes a turn after suffering a tragedy. Through her quest to find the truth, Rbel finds herself at odds with the head of a local church, First Kingdom's Denita Jordan, played by the legendary Yolanda Adams . Rbel unknowingly emerges as what a faithful Christian embodies: a perfectly imperfect human who works every day to try their best while leaning on God. Although struggling with her faith, each ballad sung by Rbel can be felt, as the lyrics relate to personal struggles we all endure in different ways. Gospel songs hit differently when your life is in shambles, and chile, Serayah is singing new life into folks.
Serayah is a Formidable Opponent to The Yolanda Adams
As one of the best-selling gospel artists of all time, it's no easy task to take on the role of a person on the opposing side of greatness. Serayah's Rbel does an excellent job meeting Jordan at her level while shining through her solos. Throughout season one, Rbel emerges as a top streaming artist, an accomplishment that begets something of a holy war.
Serayah's Acting Range is Engaging
As a former stripper trying to make a name for herself in the gospel industry, you can imagine the struggles that could come with it. Rbel goes through a range of emotions, all understandable and relatable. Despite several crises of faith, Serayah ensures Rbel delivers a humbling performance that makes the audience root for her redemption.
The Kingdom Business Soundtrack is Everything
Streaming now on Spotify , Tidal , and Apple Music , the Kingdom Business: Season 1 soundtrack is one you'd want to add to your playlist for high and low times. Aside from four soul-soothing songs from Serayah, the soundtrack also features singles from co-star/Hamilton's Chaundre-Hall Broomfield, gospel artist Chandler Moore, and legend Yolanda Adams.
Serayah's Rbel Makes You Root For Her
With First Kingdom beginning to crumble under the pressure of lies, infidelity, and deception, Rbel's window to take that top spot seems wide open; however, the end of season one showed us the Spirit had other plans. Whether you believ e or not, Serayah's Rbel makes you want to see her win. Who doesn't love a good underdog with a laid 22" bust down? Whether she seeks Him or not, God is proving to be on Rbel's side. But is it enough to turn everything around for her? Will Rbel lean on faith or fear?
With secrets coming to light, success within reach, and the devastating conclusion of season one, you don't want to miss season two––especially with more guest collaborations. Kingdom Business returns to BET+ on Nov 2.
BET+ Original | Kingdom Business | S2 Official Trailer youtu.be
Let's make things inbox official! Sign up for the xoNecole newsletter for daily love, wellness, career, and exclusive content delivered straight to your inbox.
Featured image via Getty Images
Sex & Love - Home Page
Nov 10, 2023 10:00 AM EST

Jeezy has been pulling out all the stops for the promo of his new album I Might Forgive…But I Don't Forget . The iconic rapper tapped legendary actress Nia Long for an intimate conversation about love, trauma, and the Black family. The discussion provided insight into the "All There" rapper's childhood, strained relationship with his mother, who has since passed, and his career mishaps. He also briefly spoke on his decision to file for divorce from Jeannie Mai , saying that he feels "saddened," "disappointed," and "uneasy" about it. However, he believes that God is leading him on a different path.
Throughout the conversation, Nia also opened up about her life experiences, including her relationship with her father, her sons, and her ex-fiancé Houston Rockets coach Ime Udoka .
"You know I had a really public breakup recently. It was a wake-up call for me in the sense that, like ok, you're gonna do this on your own, and you're gonna be fine, and you're not gonna worry about what anyone thinks and has to say 'cause the relationship was rocky for a very long time," she said. "I don't believe that another person can break anyone up like, I just don't buy that.
When Ime was the Boston Celtics head coach, he was caught having an affair with a staffer and was suspended for the 2022-2023 season. This suspension ultimately led to his firing. However, the cheating scandal led to the public rallying behind The Best Man actress, which the mother of two revealed she was "shocked" by.
"I had to realize for myself that anything that happened in the…last year and a half of my life, that shit didn't have nothing to do with me," she expressed. "It didn't have nothing to do with me. I was not embarrassed. The way that Black people stood up for me and the way that Black women were like, 'Oh no, you don't do that to her,' I was shocked because I didn't realize that what I had done or what I've done in my career had so much impact."
While she did admit that things between her and Ime had been "rocky" for a long time, she was trying her best to make things work. But she soon learned that choosing herself was the best option. "I think my older son saw me trying to keep the family together, but I had to come to a place where loving myself was bigger and more important than saving anybody."
While time has passed and both parties have seemed to move on with their lives, we all have our down days. Jeezy checked in with Nia to see how she's truly feeling since the breakup and the scandal that followed. "I think I'm exactly where I need to be, which is some days I'm like totally good, and other days I'm like, oh God, this feels like so much work. And other days, it feels like women shouldn't have to be this strong ," she said, tearing up. "I don't want to be this strong sometimes."
The former couple were together for 13 years and share a 12-year-old son together. Nia also has a 22-year-old son from a previous relationship.
Feature image by Theo Wargo/Getty Images