---
Once upon a time, there was a baby naturalista who used to sit in front of the mirror every night, with her arms held high for over 45 minutes, trying to complete the perfect twist out.
As she huffed and puffed, she wished for a fairy godmother who could end her misery and just grant her poppin' curls at the flick of a wand. But, this naturalista eventually came to her senses and realized: ain't nobody got time for that.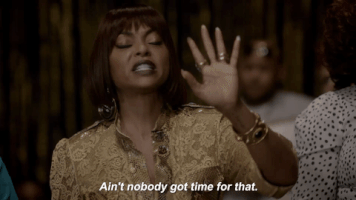 Like many ladies, my time is precious. In a perfect world, I could spend 30-45 minutes every night crafting the perfect twist out, but it just doesn't work that way. Dinner needs to be cooked. Errands need to be run. Assignments need to be completed. In my opinion, one of the hardest parts about the transitioning process is the "orientation period" when you become oriented with your new hair texture, learning which products work best for you and simply building your artillery of no-fail hairstyles. It's not glamorous, and quite frankly, it can be very time consuming and demoralizing.

Despite the highs and lows of the "orientation period", there are ways to make your life a lot easier and still achieve your desired look. While there are nuances for every curl pattern, here is the lazy girl's guide to natural hair, 5 ways to save your precious time and energy:
Condition
Moisturize, moisturize, moisturize! Our hair needs a lot more moisture than our non-curly counterparts, and failure to keep our hair conditioned paves the road to breakage. When I had a relaxer, I'd probably dabble a few drops of hair oil on my scalp once a week and was good to go. If anything, I tried to limit usage of any oils or sheens that would make my relaxed hair look too weighed down. Now natural, I was shocked how much more I need to condition my hair, both in quantity and frequency, in order to achieve the shine and bounce needed for my hair to be healthy and malleable. I find styling 100% easier when my hair is well-conditioned (and a little damp). A lot of the frizziness and tangling I was encountering earlier in my transition process was the result of too little moisture, so now I am religious about leave-in conditioners and deep conditioning.
Tip: Invest in finding your go-to leave in conditioner. For the days I'm in a hurry, my personal favorite is, It's a 10 Miracle Leave-In Conditioner, and the spray nozzle makes conditioning even faster.
Detangle in the Shower
Showers are a whole production in my household. Shaving and face masks aside, I have a whole detangling playlist created for my wash-days. The steam from the shower helps loosen your curls and open the pores in your scalp, allowing for products to be better absorbed. I typically part my hair into 4 sections with clips and then condition and detangle each section – the whole process complete by the time I'm done singing "Neighbors Know My Name" and "Rocket". Those extra 8-10 minutes in the shower save me an additional 20+ minutes while styling, especially if I'm doing a braid or twist out.
Tip: Detangle the ends of your hair first before working your way up to the roots. And, be gentle on your ends to avoid tearing or excess breakage.
KYP: Know Your Products!
This right here is the deal-breaker. My hair with and without products looks like two totally different curl patterns – two totally different people! Finding the products that work best for your hair takes time and it's important not to call off your entire natural hair journey because one product line doesn't work for you. I personally had a terrible experience using Cantu products and was convinced that the whole natural hair movement was a conspiracy created by beauty corporations to drain my bank account. Then, I found Shea Moisture, which went on to be my holy grail for the next year before I transitioned to As I Am products. The point is: products matter. Not only is styling easier with the right products, but they should help increase your overall hair health – which may even result in you "growing out of" and moving onto new products.
Tip: Watch YouTube videos with ladies who have similar textures to your curl pattern and then try the products that worked for them. Also, purchase "tester" hair products in smaller volumes, so you don't end up stuck with large quantities of a failed product.
Recycle Your Twist-Out
In the now *rare* occasions that I do complete a full twist-out, I will only twist and add products one time before "refreshing" it. This means, I will wear my hair down curly the first day and then continuously tie it up at night in a way that will let me repurpose my original effort without having to continuously restyle. At night, I will flip all of my hair up into a "pineapple" and then let my hair back down the next day. It's as easy as it sounds, and "refreshing" the next morning takes me 5 minutes tops. Usually, all of my curls are preserved from the night before allowing me to stretch my original twist out another 2-3 days before transitioning to buns and ponytails.
Tip: Do a really good twist out on the first day and use ample products to ensure that your curls stay defined later in the week.
When in Doubt, BUN or POOF!
I wear my natural hair in a bun so often that my coworkers are star-gazed when I actually wear my hair down for a change. Up or down, slicked or messy, buns make the world go round. Every natural girl will eventually find her no-fail hairstyle and it will become her security blanket. I love that I can slick my hair into a high bun in 60 seconds, tie my edges down for 5-10 minutes, and be out the door in seconds. More often than not, I'll style my bun or ponytail at night and just tie it down with a scarf and sleep in it. The next morning, there really isn't anything for me to do beyond getting dressed for work. It's quick, classy, and relatively effortless. For some, a poof functions the same way.
Tip: Find your quick style. Own it, live it, love it.
Want more stories like this? Sign up for our newsletter here to receive our latest articles and news straight to your inbox.

Featured image by Lydia Anglin