This Is Us might have a majority white cast, but they show love to their African-American viewers like no other. I might only see a handful people on the show that look like me, but so far, they've made up for it when they saluted what it really means to be an Black woman with tresses that wouldn't traditionally be described as "good hair."
---
I've seen a plethora of predominantly Black shows where the woman would go to bed with her hair looking like she just left the salon. I would think to myself, So she's not gonna put on a bonnet?
Then you have moments on This Is Us where Kevin Pearson buys his African-American girlfriend a silk pillowcase and she has to break down why it was so important. Read on to check out how This Is Us embraced natural hair in more ways than one:
5. #SilkPillowCaseMagic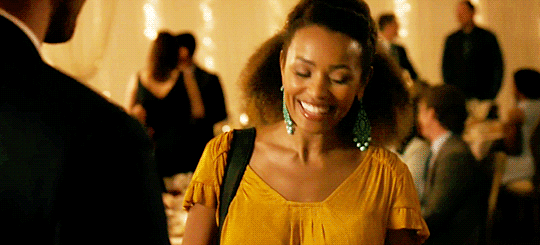 I know I'm not alone when I say Kevin's realization of what it really means to take care of natural hair was everything! This Is Us has been consistent in all of its seasons showing love to Black hair and this season is no different.
In Season 3, Episode 5, he was traveling with his girlfriend Zoe who was upset because she didn't have her silk pillowcase with her. While we know how a silk pillowcase can make or break what happens to our hair overnight, it's completely understandable that Kevin didn't have a clue. Still, being Kevin, he ordered her the best one he could find. His support made him deserve all the applause and then some.
4. Randall's Coconut Oil And Scarf Declaration: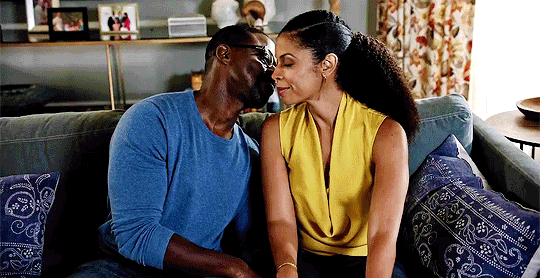 One of the first times I knew that I would be into all things This Is Us is when Randall Pearson gave an epic shoutout to his wife, Beth's, natural hair care routine. Yes, Randall was adopted by a white family, but it's safe to say that he's always intentional about showing love for the Black community. This particular moment happened in Season 2, Episode 7.
Shauna, the mother of Beth and Randall's now adopted daughter, Deja, tried to come for Randall and how woke he may or may not be when it came to raising her Black daughter. He made it clear he's as woke as they come when he said, "Don't get it twisted, sis. I wake up every day to a headscarf and coconut oil. I'm married to a Black queen, not that it's any of your business." From him calling her "sis" (not in a demeaning way), to calling his wife a queen and showing love for her headscarf and coconut oil in between, I'm here for every little bit of it.
3. Beth's Natural Hairstyles: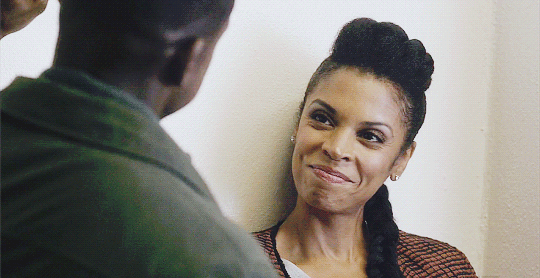 Let's think about this for a second. This Is Us airs on a major network during primetime. Beth Pearson (Susan Kelechi Watson) is one of the main characters. I wouldn't be giving the side-eye if she sported sew-ins and straight hair. But no. I can't even remember a time when Beth rocked anything other than what would resemble natural hair.
From braids to protective styles, I'm in love with her appearance. One of the things that I appreciate most about this, and even the other points in this article, is that This Is Us doesn't do these things to try and prove that it's for African-American viewers. It's so organic that I'm convinced their aim is to simply show the realness of never being afraid or ashamed to embrace our Blackness in a predominantly white environment.
2. Getting Real About Black Hair Care: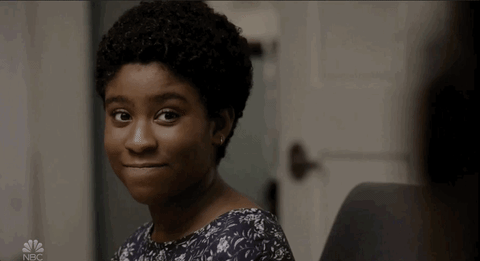 Speaking of Randall Pearson's family, this list definitely wouldn't be complete if I didn't point out the scenario with their adopted daughter Deja's hair. This one took place in Season 2, Episode 4. When she was first introduced to the family, Deja had no clue how to take care of her hair.
While they could have given her a more mainstream-friendly style when her hair was brought back to its healthy status (which they revealed took much more than a wash and a deep condition), they took another route. Plus, Beth and Deja had a tear-jerking bonding moment over their hair, that included Beth reassuring Deja that her struggle with alopecia wouldn't run her life. Fast-forward to now, to say Deja frequently wears her short and sassy natural coils is an understatement. 'Cause homegirl is always rockin em.
1. Pool Scene: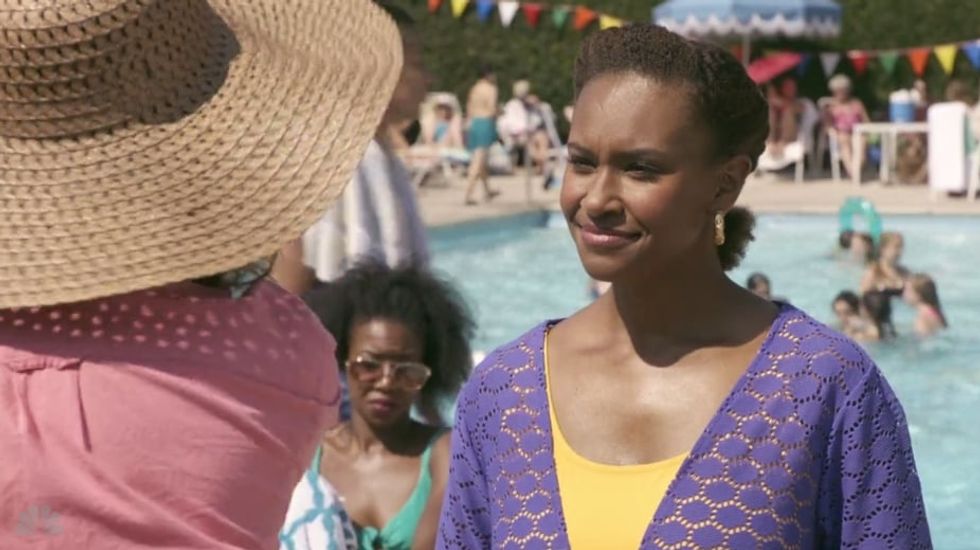 This Is Us/NBC
Before This Is Us showed love for anyone in Randall's family and their natural coils, it didn't take long to bring attention to the fact that his hair is unique too. I feel like the first time This Is Us addressed natural hair was in Season 1, Episode 4 when the old-school Pearson fam took a trip to the pool, in Randall, Kate, and Kevin's childhood days.
The matriarch, Rebecca Pearson, was honestly doing all she could to help Randall adjust to being raised by a white family. But it was a friendly woman at the pool (who ironically is the real-life wife of the actor who plays Randall) who let her know that Randall needed to see a barber who specialized in black hair so he wouldn't suffer from ringworms and hair bumps. It took a minute for Rebecca to come around but she finally did when she saw young Randall scratching his head. She also let him hang out with the woman's family so he could learn more about his own culture. I love how the guest star threw in that Rebecca needed to put lotion on Randall when he got out of the pool, 'cause we get ashy sis.
Do you have any favorite This Is Us moments or natural hair moments you've seen on TV/film? Let us know below!
Related Stories:
Susan Kelechi Watson Learned This Important Lesson On The Pursuit Of Her Dreams - Read More
10 Black Couples On TV That Make Love Make Sense - Read More
Susan Kelechi Watson Of 'This Is Us' Will Not Be Invalidated - Read More
Why Real Depictions Of Black Marriage On TV Are So Needed - Read More

Featured image by NBC.